The Case for Having Health Equity Guide Community Preparedness

The coronavirus pandemic has exacerbated long-standing inequities in communities across the United States. To prepare for the next crisis, communities must build health equity infrastructure now.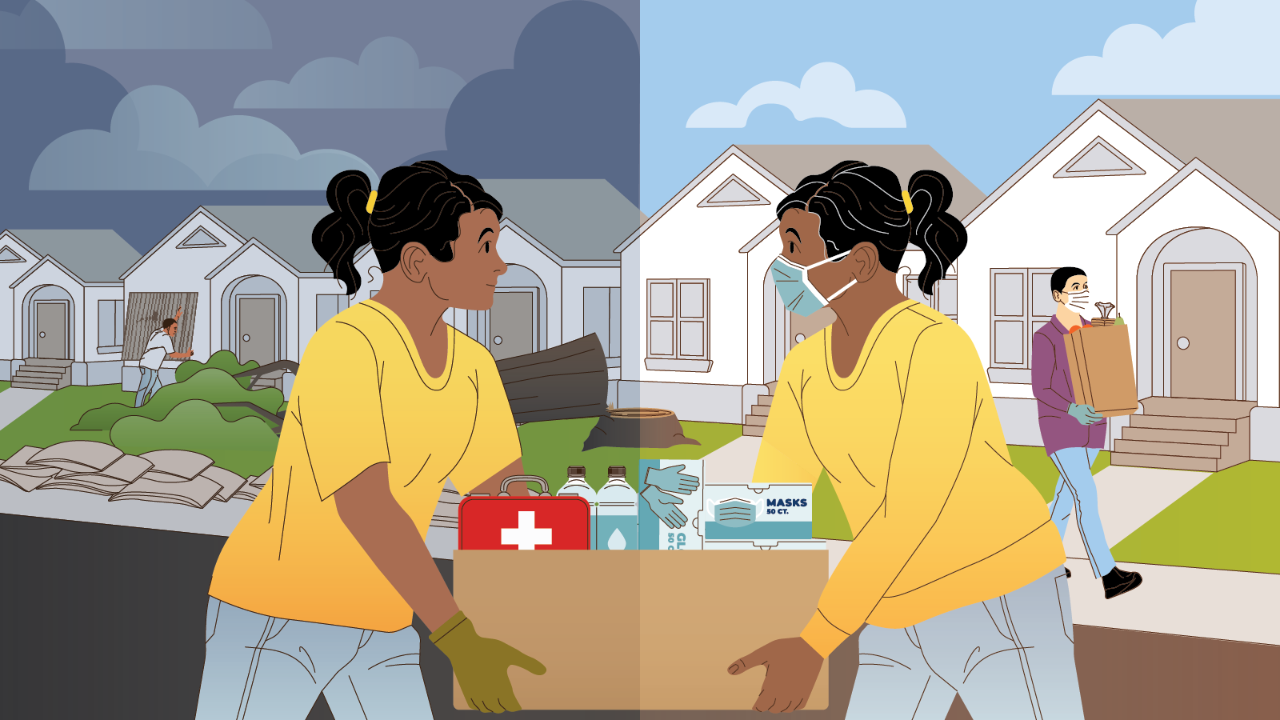 We can't prevent disasters, but proactively developing strategies to address health equity can ease some of their most harmful effects on people and communities. In our research, we've found communities that developed these strategies before and throughout the pandemic were better positioned to target resources to address health disparities that were highlighted and exacerbated by COVID-19.Take Harris County, Texas, for example. In 2014, Harris County Public Health (HCPH) developed a health equity framework that was tested by an outbreak of the Zika virus in the county two years later. This experience informed HCPH's management of the COVID-19 vaccine rollout and decision to collect vaccination data by race. While the state of Texas' vaccination strategy emphasized mass vaccination sites, mobile vaccine clinics administered the one-shot Johnson & Johnson vaccine in parts of Harris County that were hit hardest by the pandemic.
Since the pandemic began, we have been studying nine communities as they navigate the challenges posed by the crisis while striving to promote health and wellbeing. The latest set of reports in the Sentinel Communities: COVID-19 Community Response series, examines the communities' response to the pandemic over the last year. We hope this research will contribute to a broader understanding of the strategies that can create lasting, equitable change.

Both Harris County, Texas, and Tampa, Fla., had strategies and structures in place to holistically address community health and prioritize health equity before the pandemic. These communities have faced disasters like extreme weather events and disease outbreaks in recent years. They were able to leverage tools and infrastructure from past emergencies to quickly mount a response to the pandemic and its ripple effects—from food shortages to housing crises. 
Using Policy to Address Local Disparities
Before the pandemic hit, efforts to build a more resilient, equitable community were well underway in Tampa. The city has welcomed an influx of newcomers in recent years, pushing residents with low incomes farther away from the city center to neighborhoods where housing costs are lower but public transportation is inadequate. Tampa has been directing resources to address these challenges, which Mayor Jane Castor has identified as priorities for her administration. In 2019, Mayor Castor convened advisory groups of experts to develop priorities and strategies to expand access to affordable housing and improve Tampa's transportation infrastructure.
Work to improve economic opportunity in Tampa has continued throughout the pandemic. Mayor Castor established the Economic Advisory Committee in August 2020. This diverse workgroup of 23 community stakeholders was tasked with developing recommendations to reduce poverty, reduce gender and racial disparities in income, and expand economic diversification. Their recommendations, released in April 2021, focused on four key areas: promoting inclusive economic growth, reducing poverty, committing to racial equity, and emphasizing educational opportunity. These recommendations have spurred initiatives to close the digital divide and address the racial unemployment gap.
The intent of these actions is important, but communities also need to measure their impact. Last year, our colleagues launched COVID-19 U.S. State Policy database (CUSP) to assess the equity implications of state-level policies similar to those that Mayor Castor has enacted. 
Having Equity Drive Collaborations 
Equity has been at the center of Harris County's pandemic response, informing decisions around COVID-19 testing strategies and communication with residents of color. HCPH stood up its Incident Command System and within it, a Resilience and Equity Branch which used the Social Vulnerability Index from the Centers for Disease Control and Prevention (CDC) to prioritize testing locations to enhance equity. Outreach teams were deployed daily to community events in areas with high percentages of residents of color.
Harris County's focus on combating health disparities stems from the health equity framework the county established in 2014. Since then, this explicit commitment to equity has shaped day-to-day public health operations, including efforts to utilize data to target policies to areas of the community most in need.
Where Do We Go From Here?
Leaders in Harris County and Tampa have made health equity a priority in regular policymaking and in their response to the pandemic, but they are limited in their authority. While state leadership in Texas and Florida pursued aggressive reopening policies, local public health officials developed more cautious approaches to reopening, guided by CDC recommendations. 
The tension between state and local leaders played out north of Harris County, in Dallas. After the city prioritized racial equity in their vaccine strategy, the state threatened to send fewer vaccine shipments.
Local efforts to promote health equity are also limited by state inaction on Medicaid expansion. Texas and Florida are among the 12 states that have refused to expand Medicaid, exacerbating health disparities for people of color and adults with low incomes. As Dr. Richard Besser writes, "...populations disproportionately affected by COVID-19 are the same populations most likely to be uninsured. These are not coincidences, but patterns that reflect our nation's past and present."
Our research has made it clear that the time for prioritizing equity is now, before the next disaster strikes, whether it is a health crisis, a natural disaster, the effects of climate change, or social injustice. For the health and wellbeing of our communities, we must integrate equity planning into normal routine operations so we are better prepared to weather the next crisis—and address inequities communities face every day.
We can't afford to ignore the hard-learned lessons of COVID-19.
About the Authors
Carolyn E. Miller is a senior program officer in the Research-Evaluation-Learning unit of RWJF. She brings to the Foundation a long and diverse career in private sector, government, and academic research.
Anita Chandra is vice president and director of RAND Social and Economic Well-Being and a senior policy researcher at the RAND Corporation.