Where we live affects how long and how well we live. Yet, affordable housing is out of reach for too many. RWJF is addressing housing stability, equity, and health through data and research.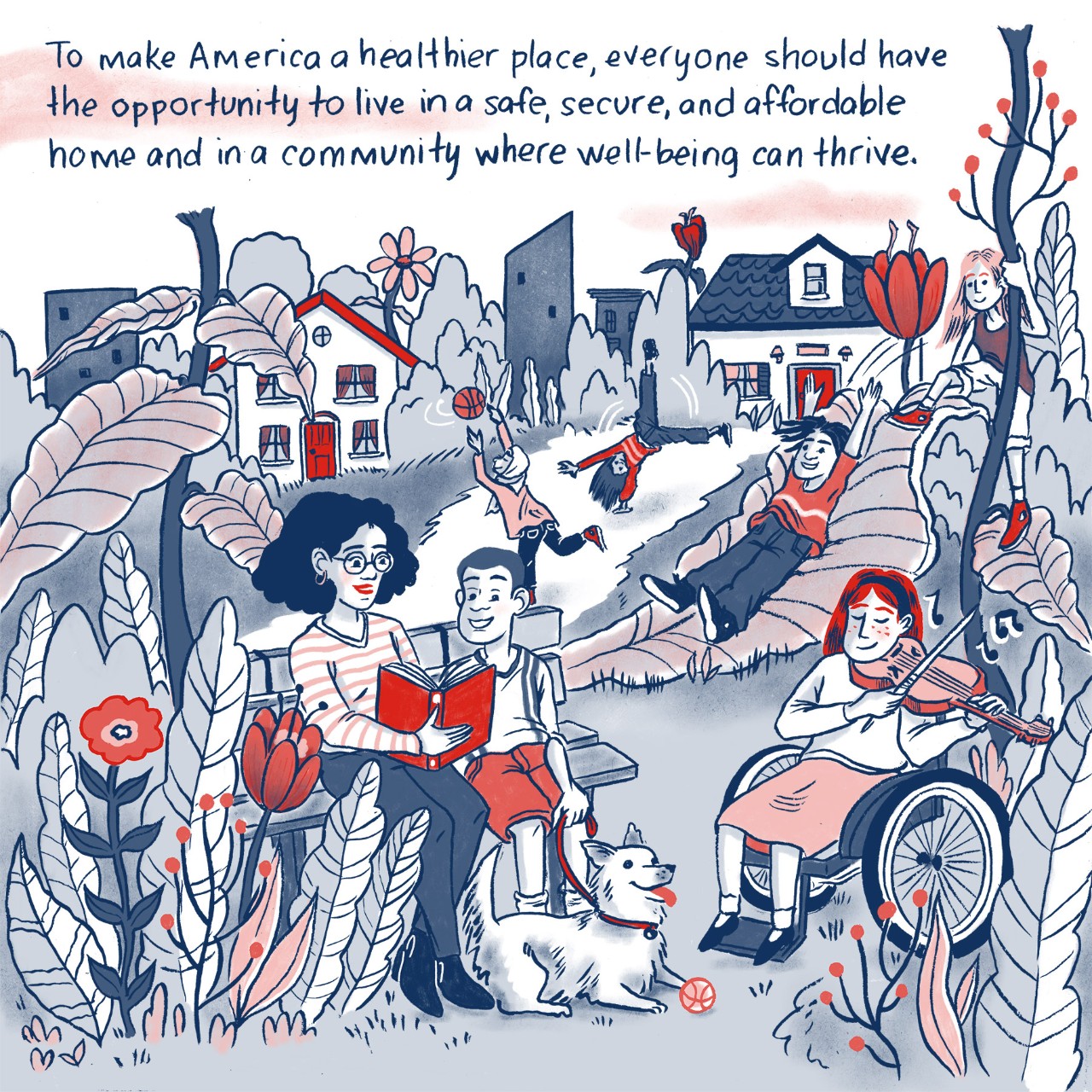 There is growing evidence that safe and secure housing is a critical factor in achieving good health. Where we live can determine whether we're connected to: safe places to play and be active; quality jobs and schools; and transportation to get us where we need to go. Yet millions of people in America live in substandard or overcrowded housing, temporary shelters, in cars, and on streets. Disadvantages also exist for the many living in residentially segregated neighborhoods isolated from opportunity. For them and others, the inability to access quality housing and neighborhoods deepens challenges and makes it much more difficult to be healthy and break out of poverty. 
Housing's profound effect on health is often overlooked and misunderstood. This year, the Robert Wood Johnson Foundation (RWJF), led by President and CEO Richard Besser, MD, is shining a light on the link between housing and health. In his Annual Message, Besser discusses how safe and affordable housing supports positive outcomes across the lifespan—and how unsafe and insecure housing can deepen inequity and undermine a Culture of Health. 
He shares stories from housing initiatives across the country—from Boligee, Ala., to Chelsea, Mass., to San Antonio. These examples show that when we improve the quality and affordability of housing—health and lives also improve. Creating safe and affordable housing—as an essential part of comprehensive efforts to transform impoverished neighborhoods into places of opportunity—becomes a pathway to helping communities thrive.
In this post, we share illustrations that reflect lessons learned from this important work. We also revisit past Culture of Health Blog posts in which experts have explored the role of housing as a determinant of health. With a focus on housing as a key to health, we hope to unlock better health for all.
Safe, Affordable Housing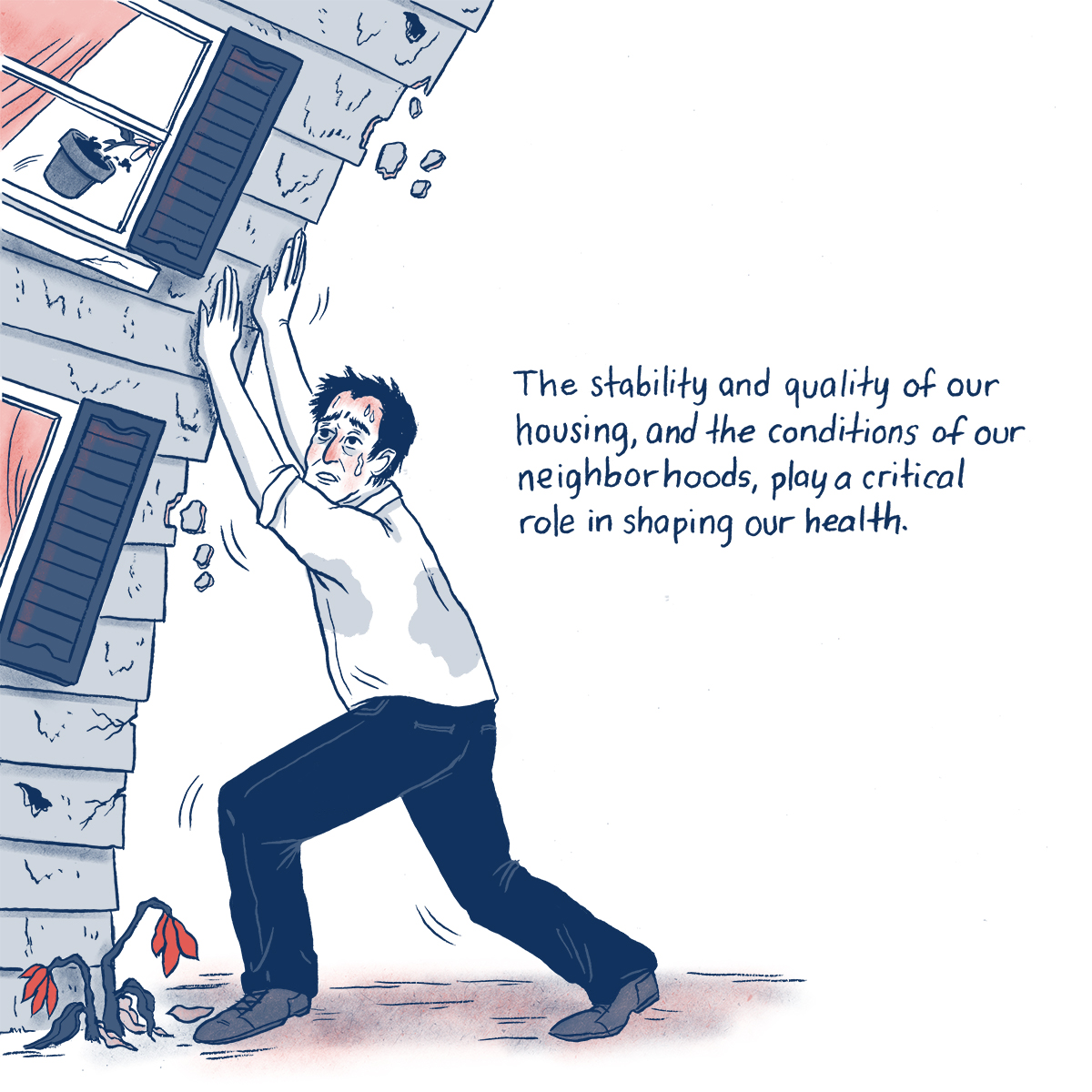 Home is where the heart is, but it's also where our health is. The quality and stability of our homes shape our health, our communities, and our society. When we live in safe, quality homes that are: free of physical, chemical, and environmental hazards; are near decent jobs, good schools, reliable transportation, and safe play spaces, we can flourish. When we don't have these opportunities, we can suffer—and so do our communities. 
As Amy Gillman, a senior program officer at RWJF writes, "There is a strong and growing evidence base linking our homes to our health."
But safe, stable, and quality housing is out of reach for millions of people in America—and that has profound implications for health. "Where we can afford to live impacts where we live," Gillman writes, "and our neighborhood's location can make it easier or harder: to get a quality education; to earn living wages; to afford and have access to nutritious food; and to enjoy active lifestyles."
Housing Costs Can Undermine Health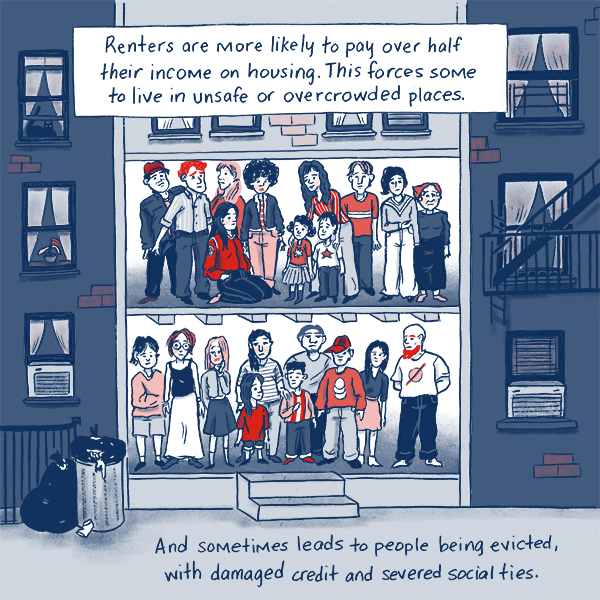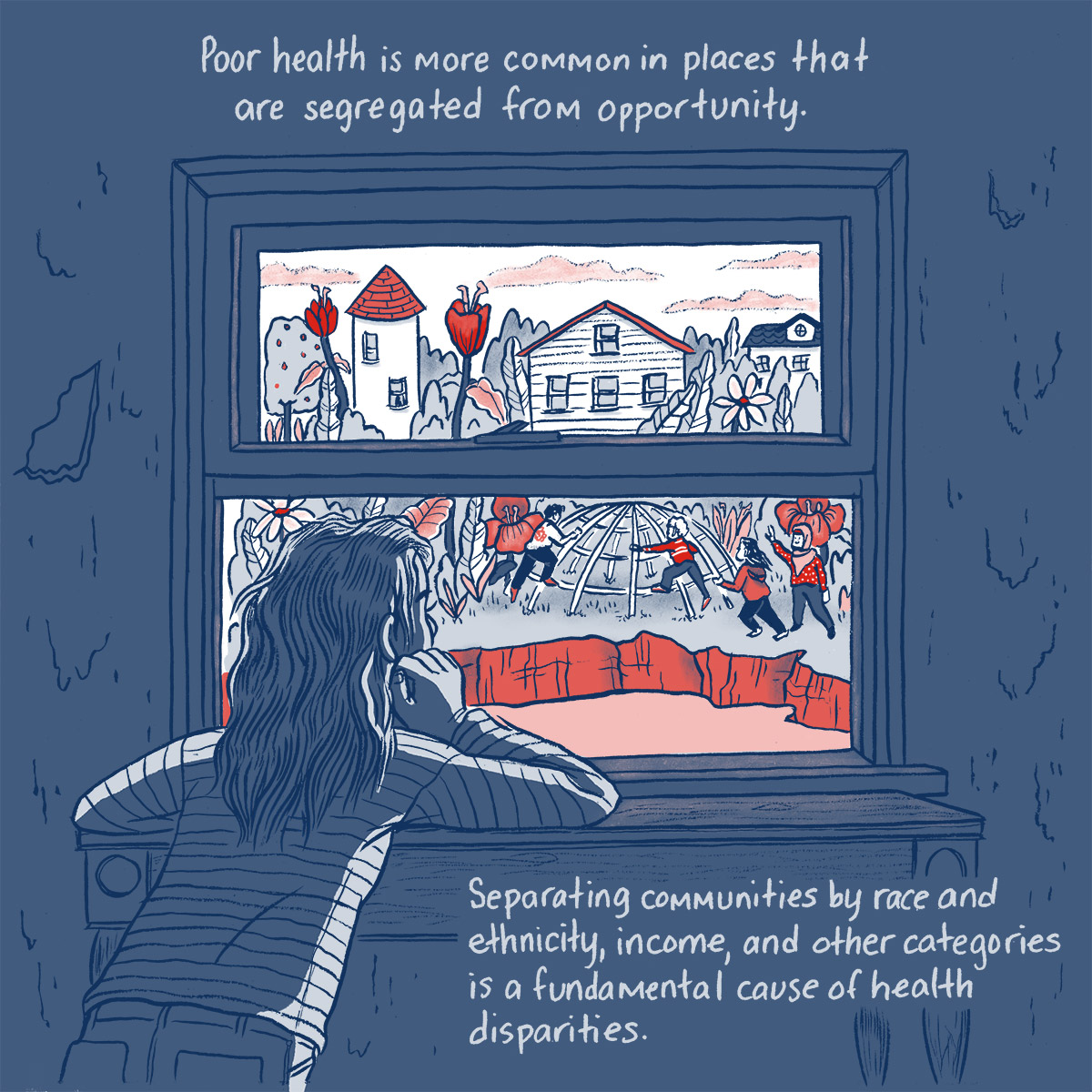 In America, not everyone has the opportunity to live in an affordable, stable, safe home in a neighborhood that fosters well-being.
Unequal access to affordable housing contributes to other inequities, according to Kerry Anne McGeary, a senior program officer at RWJF. "We know there is a direct line from opportunity to equity to health—with access to good schools; affordable housing; safe neighborhoods; and quality health care as some of the key stepping stones," she writes. "When those resources are unevenly distributed across neighborhoods—and sometimes within the same few blocks...health outcomes are certain to be inequitable as well."
End Discriminatory Housing Policies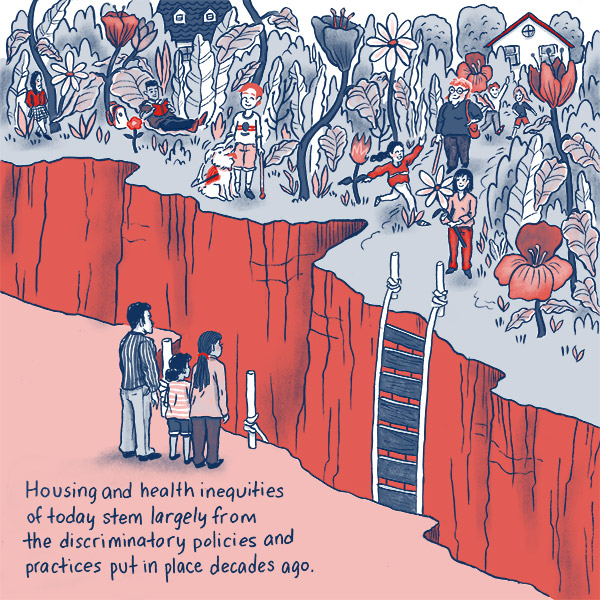 "Not all discrimination is conscious," writes David R. Williams, a professor of public health at Harvard University. It's often built into policies and practices that affect where we live, learn, work, and play—all of which shape our health. 
Over the last four centuries, the "land of the free" institutionalized slavery, forcibly removed Native Americans from their lands, implemented a system of legalized racial segregation, denied housing loans, and more. 
The country has made progress, but racism and discrimination persist. Nearly half of black people, for example, say they have experienced discrimination when trying to rent or buy a house, limiting access to one of the most foundational needs for good health.
The result, says Sheri Johnson, director of the University of Wisconsin Population Health Institute, "has been an accumulation of disadvantage through decades and generations."
Working Together to Create Healthier Places to Live  
The Robert Wood Johnson Foundation is working to build a national Culture of Health where everyone has the opportunity to live a healthier life. The evidence is clear that "where we live affects how long and how well we live"—including our home and all the essential resources to which our home connects us. Learn more:  
Read Rich Besser's Annual Message to understand how our homes are key to our health.

Learn about solutions that could support and protect those most impacted by the COVID-19 eviction crisis.

Explore how to build toward transformational change that guarantees housing as a human right by reading RWJF's latest health policy in brief (released January 2021).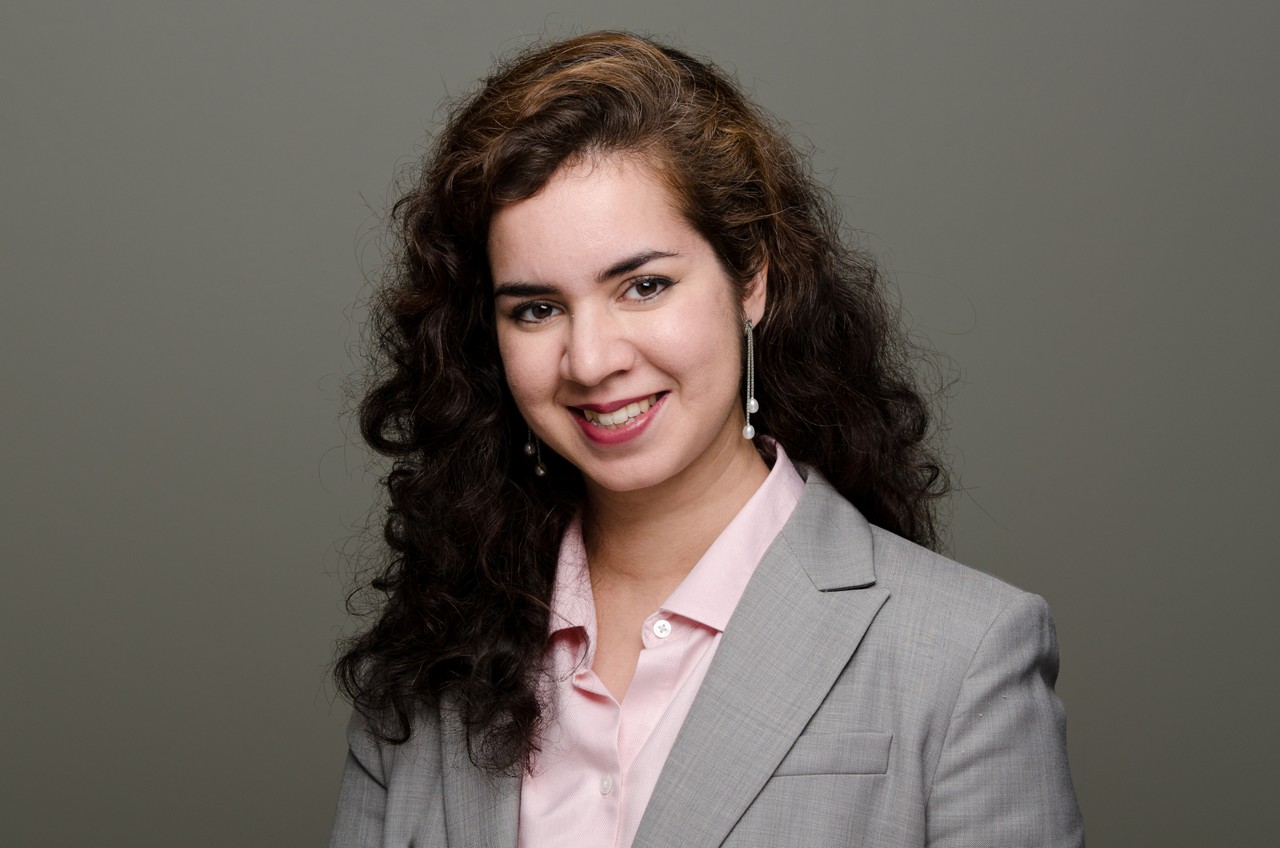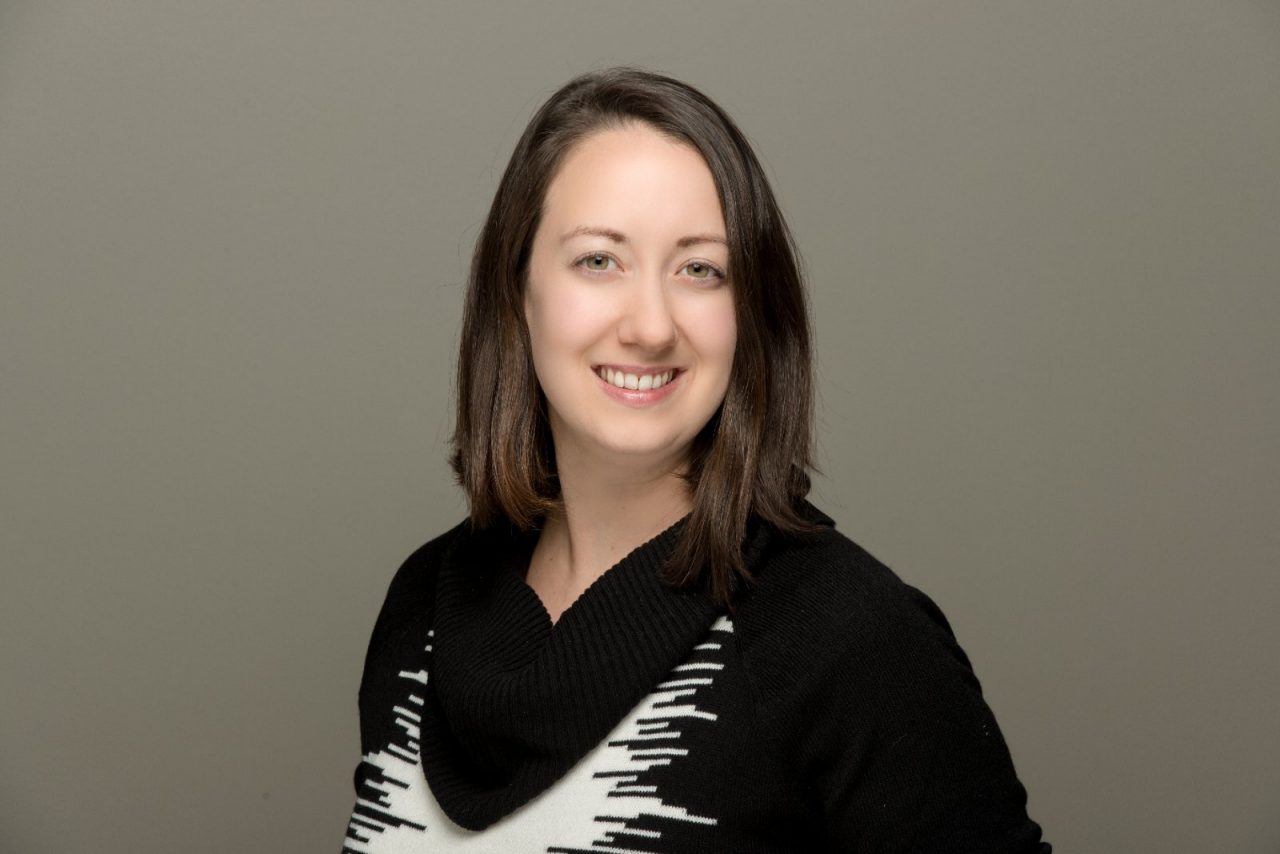 About the Author
Jessica Mark, former strategic communications consultant, brought extensive experience to RWJF's Healthy Communities theme.