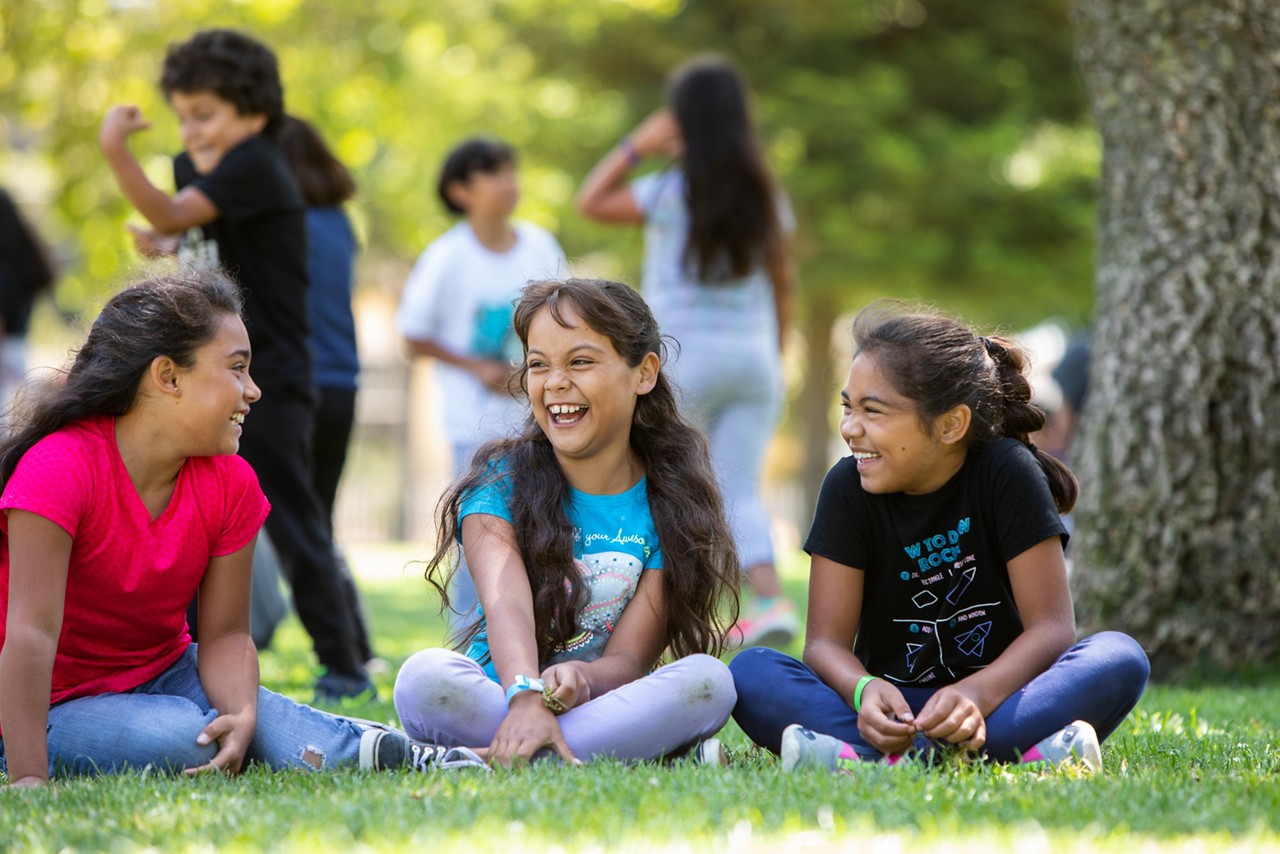 Gonzales, California
2019 RWJF Culture of Health Prize Winner
The 'Gonzales Way': A Can-Do Spirit of Collaboration
---
In the Salinas Valley, the "salad bowl of the world" with fields of lettuce spreading like shag carpet between the mountains of California's Central Coast, the town of Gonzales may be small (population 8,479), but its residents take pride in what they call the "Gonzales Way."
Residents describe the Gonzales Way as a genuine feeling that they can be a force for improving well-being in their community. It's heralded on banners hanging from streetlights and matter-of-factly mentioned in conversation by people who have lived there all their lives or just moved to town. 
"Their can-do attitude allows collaboration to happen and to be successful and effective," says Carmen Gil, manager of health in all policies for the Monterey County Health Department. 
Gonzales reflects how a small community can tap the insight and power of its residents to create change and expand opportunities. City leaders have made intentional efforts to foster an inclusive environment, while leveraging resources and working together to encourage economic development, promote environmental sustainability, and create opportunities for youth. 
"We listen," says City Manager René Mendez, "and we try to understand."  
With an abundance of sun and wind, the city is swiftly switching to alternative energy sources and, through the Gonzales Grows Green initiative, working with employers to reduce their carbon footprint. 
For decades, farmworkers, primarily from Mexico, have been drawn to this farming valley for jobs. 
We listen, and we try to understand.
—René Mendez, manager, City of Gonzales
Much of the land around town is planted end-to-end with varieties of lettuce, while the vineyards on the nearby Santa Lucia mountains produce some of the best Pinot Noir and Chardonnay grapes in the country. 
Gonzales faces challenges, and high among them are the need to increase the availability of affordable housing, expand access to clinical care and provide public transportation. But the community displays a willingness and commitment to be open to ideas and to partner with others. 
About 94 percent of the population of Gonzales is Latino, and more than a third of residents are under the age of 18. Young residents are seen as an asset and empowered to act on their ideas. Voters supported this focus on youth when they approved a half-cent sales tax in 2014 to pay for activities like after-school programs and summer camp; improvements in parks and recreational places; and summertime career training. The money also funds mini-grants of up to $5,000 that allow residents to suggest ideas and lead projects that will improve the town's quality of life—small but important steps, such as upgrading a food pantry or adding new hydration stations for filling water bottles at schools. 
Mayor Maria Orozco has witnessed how Gonzales has changed in her 25 years as a resident and views the Culture of Health Prize as reinforcement that the city is on the right path. "Now residents are more engaged where they feel they have a seat at the table," she says.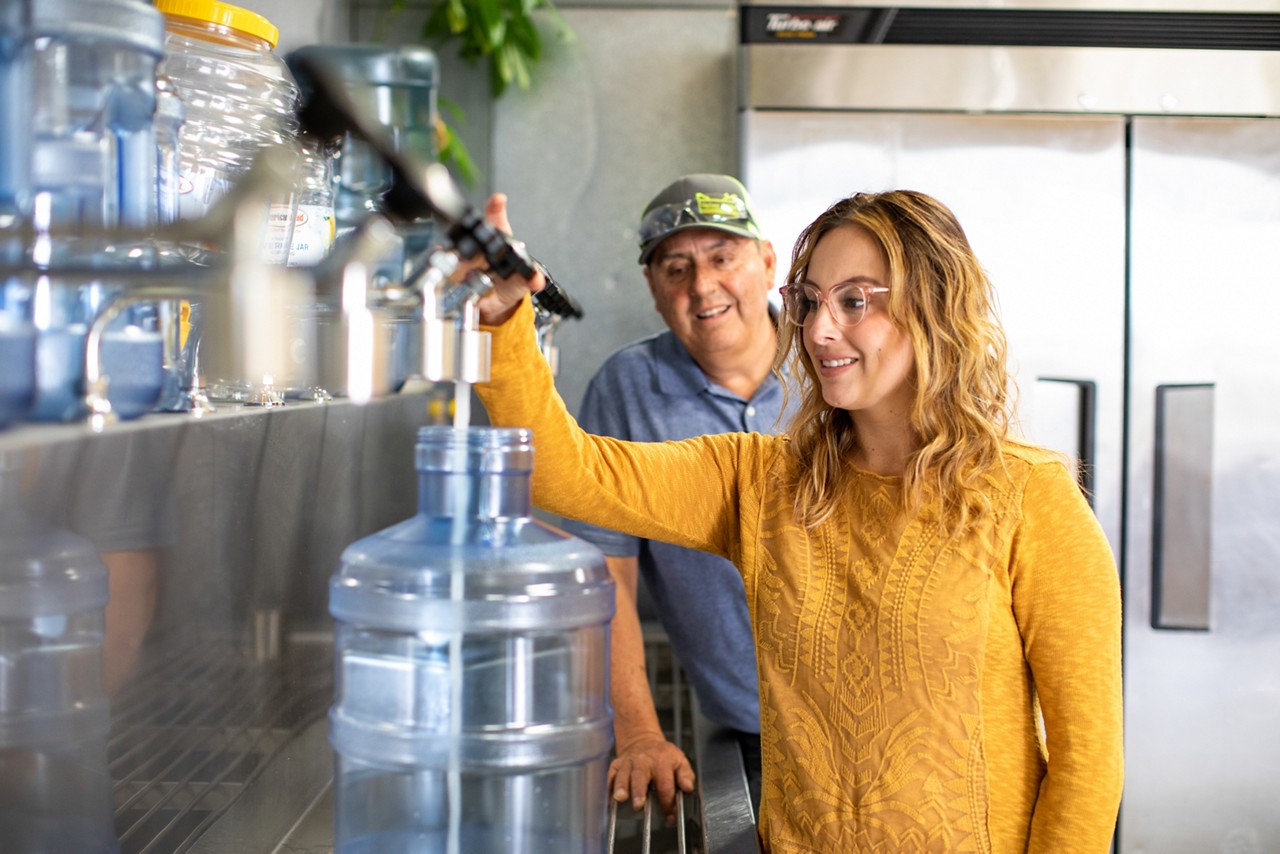 David Pacheco and his daughter, Janet, run a family business that supplies jugs of filtered water for local farms and businesses. They benefited from a low-interest small business loan from the city. Gonzales used a federal community development block grant to create this revolving loan program. The program has made 10 loans worth more than $1 million since its start in 2010. Pacheco used his $75,000 loan to diversify his business by using some of his floor space to sell paletas, or fruit ice pops. "It would have been a difficult road without the loan," Pacheco says through an interpreter.
Nayeli Gomez and members of the Gonzales Youth Council review plans for converting an empty medical office into a Teen Innovation Center, where the city's youth could gather to work on school projects or enrichment activities such as music and art. Members of the youth council were empowered to visit different sites in the region to gather ideas for the center and met with the city engineer to work on the technical aspects of planning. "It's going to be that safe space," says Madisyn Schweitzer, a youth commissioner. "I really hope it becomes this place where people can experience new ideas."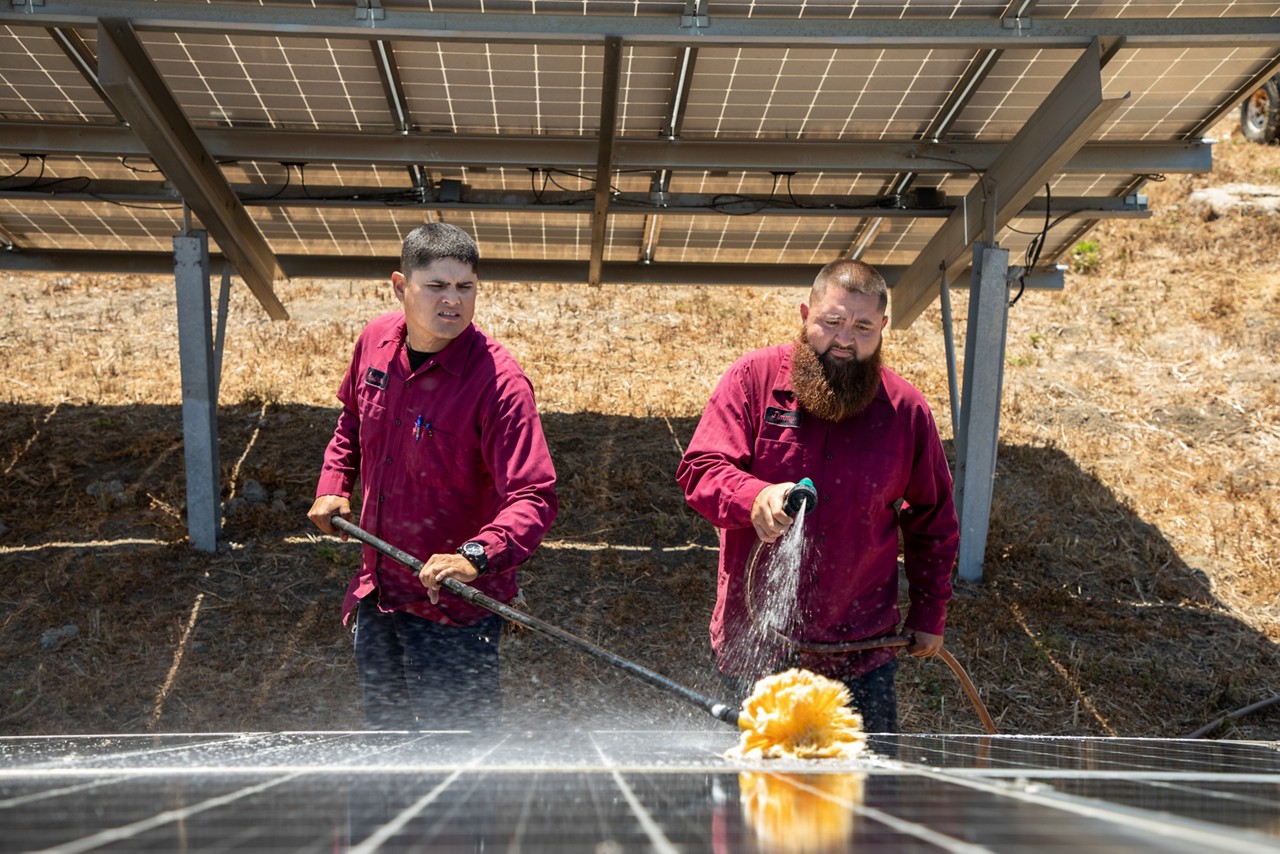 City employees Andrew Lujan (left) and Jamie Vasquez wash solar panels. Gonzales, due to its location in central California, enjoys an abundance of wind and sun and captures both to supply energy to local businesses and municipal sites, including police headquarters and a wastewater treatment plant. Maury Treleven, project manager for the city's sustainability initiative, says Gonzales has already met its 2020 climate action goals for greenhouse gas reduction and is well on its way to meeting 2030 goals. Renewable energy helps reduce city expenses, adds City Manager Rene Mendez, "and now we can use those resources for other things."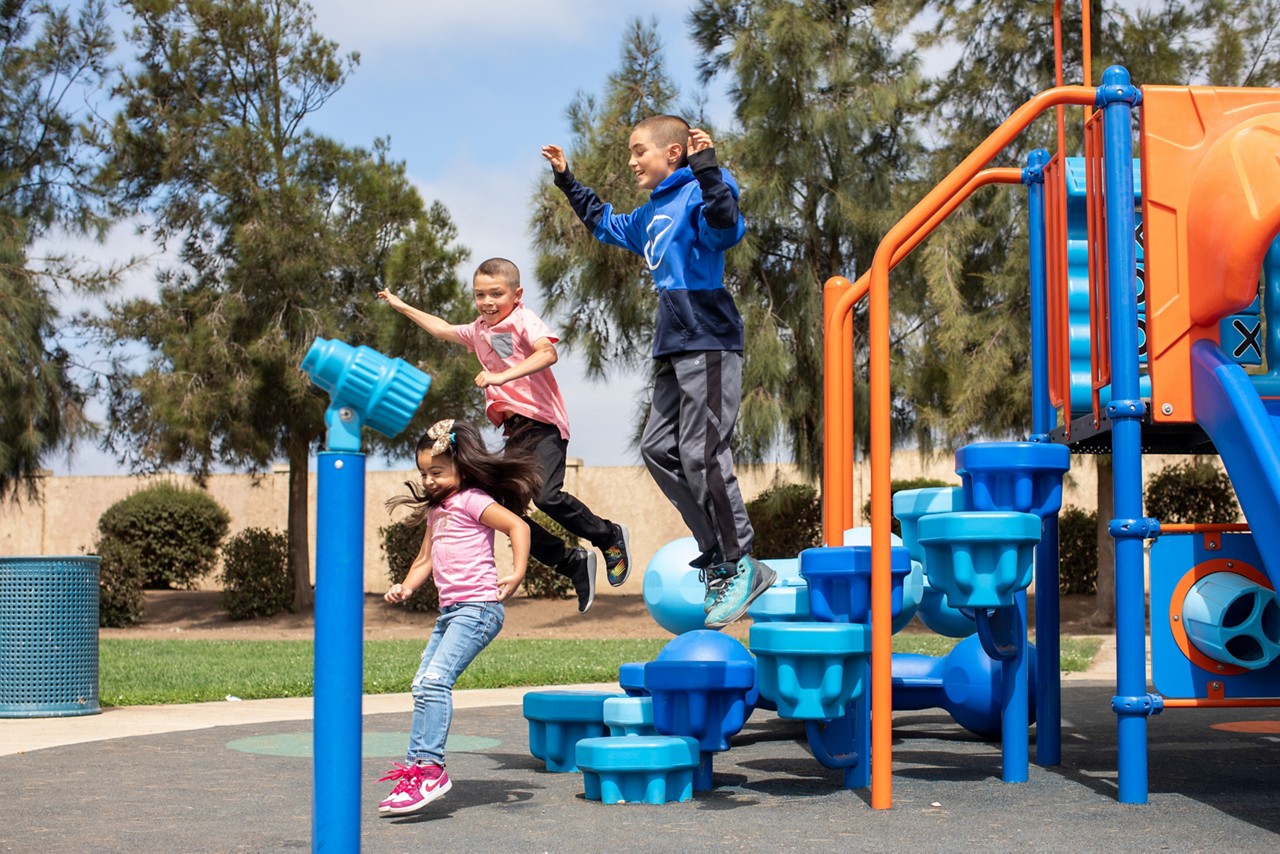 From left, Camilia Jimenez, 5, Julian Brandt, 9, and Steven Brandt, 11, enjoy the Canyon Creek Tot Lot. Before the city of Gonzales built the new $60,000 playground, the parks and recreation department narrowed the design choices to two and asked "experts" to pick the best one. At an elementary school, 4- and 5-year-olds voted by putting plastic coins in buckets representing the design of their preference. "Allowing kids to know that ... adults are listening to them and care about their feelings, wants, and needs goes a long way toward building a relationship with youth," says Sara Papineau-Brandt, Gonzales' recreation coordinator.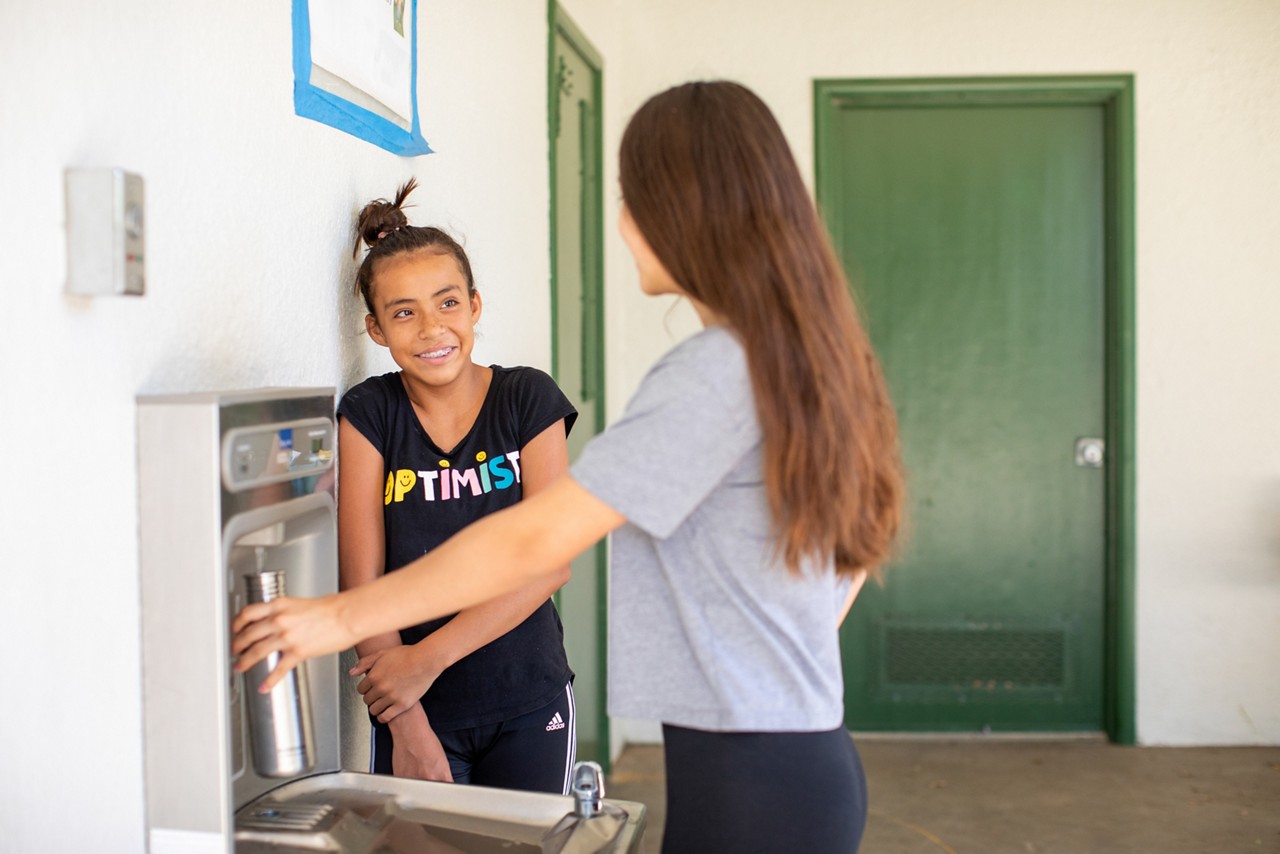 Maria Jose Herrera (left) and Alexa Mendez fill their water bottles at a new hydration station at Fairview Middle School. The station was funded by a Community Action Grant. The grant program is supported through "Measure K," revenue, a half-cent sales tax devoted to projects, programs, and infrastructure that benefit the community. Grant applicants can receive up to $5,000 to turn their ideas—everything from improving a food pantry to covering vision screenings by the Lions Club—into reality. A resident advisory committee reviews applications and City Council approves funding decisions. "Residents are more engaged when they feel they have a seat at the table," says Mayor Maria Orozco.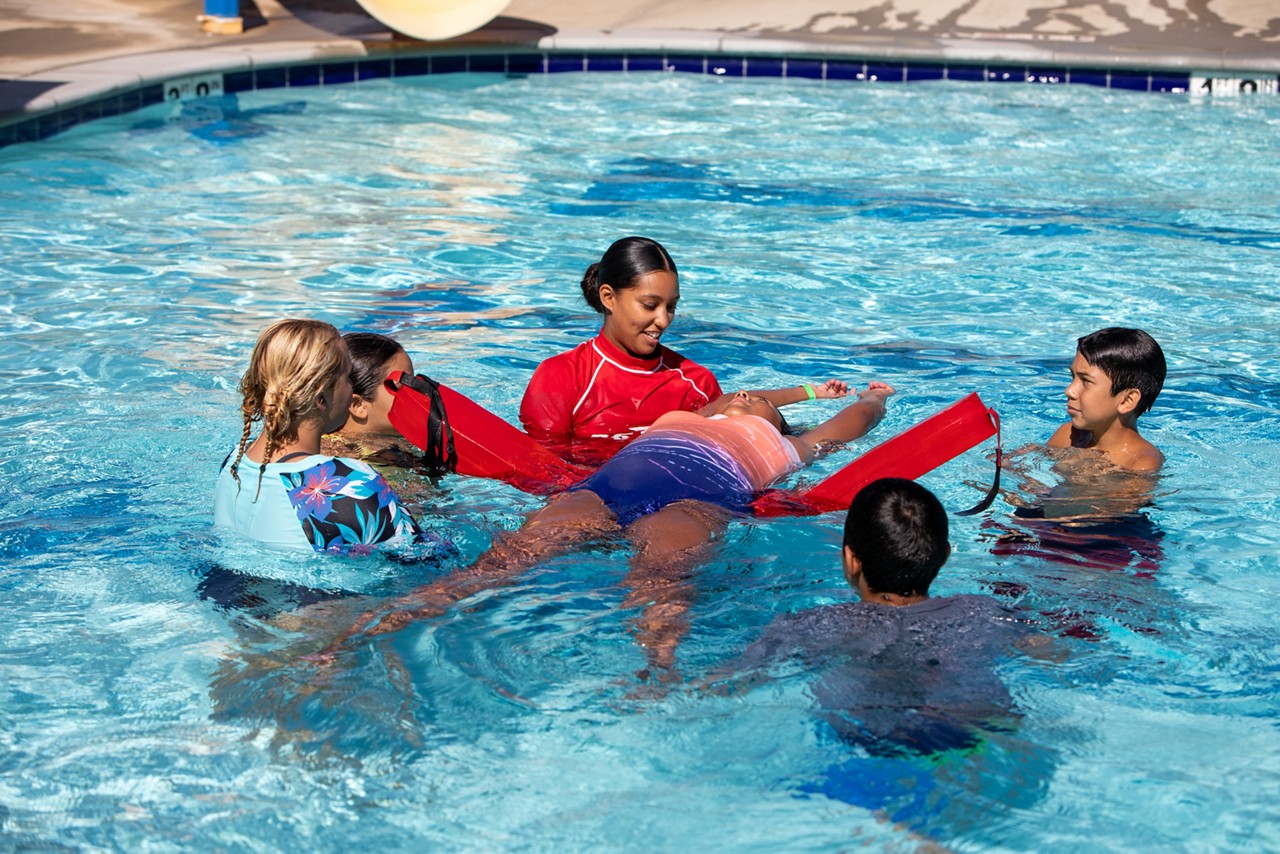 Lifeguard Deja McCrimmon (center) shows young trainees how to rescue a swimmer. The city-supported Junior Lifeguard Program at the community pool serves as a pipeline to employment for teenagers. They learn lifeguarding skills and help with swim lessons. When they are eligible to become lifeguards, their training puts them first in line for consideration for jobs, says Sara Papineau-Brandt, Gonzales' recreation coordinator. The pool manager, she adds, rose up through the ranks, starting as a junior lifeguard before becoming a lifeguard, then senior guard, and now manager.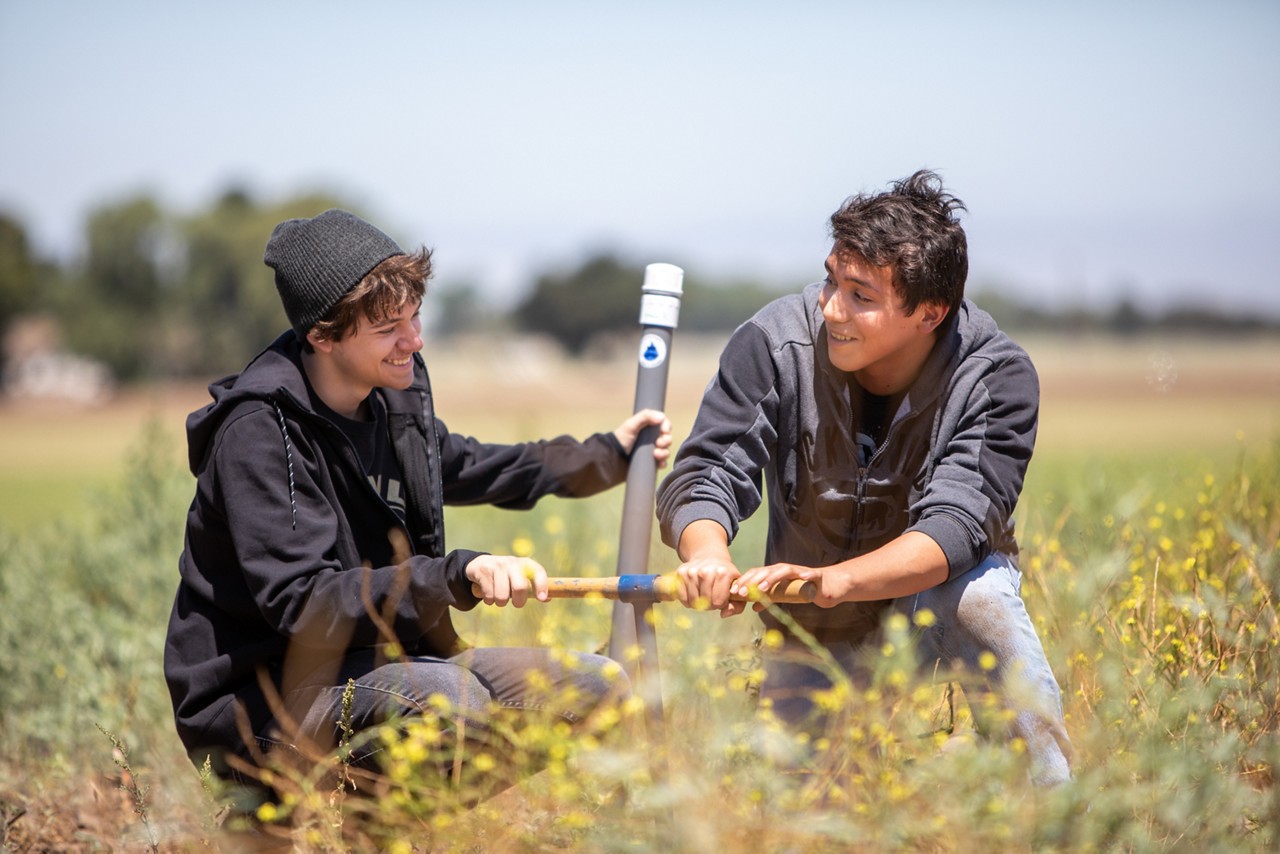 Jerome Russell (left) and Pablo Mendoza-Contreras install a water monitor in a field outside Gonzales. The high school students are part of Wings of Knowledge, an initiative that allows young people to make real-life connections between the science, technology, engineering, and mathematics (STEM) skills they learn in the classroom and the farm, where they collaborate with local farmers. Mendoza-Contreras is interested in agriculture and engineering and, through Wings of Knowledge, worked on turning a vacant greenhouse into a "smart farm." "Our goal is to make a greenhouse that we can manage all the way from our school, all the way from a server," he says.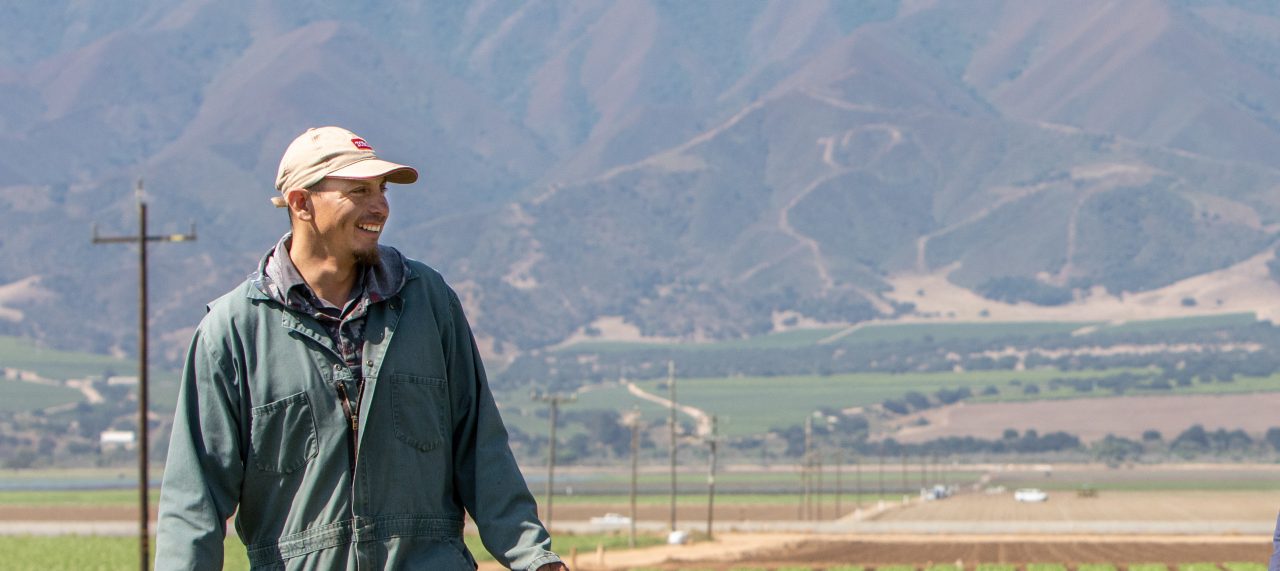 A Clear, Green Vision for Economic Growth
The first thing that catches your eye in Gonzales are the twin wind turbines that stand like sentinels at the edge of an agricultural industrial park on the city's northern border. 
Around town, solar panels power the community pool, police headquarters, a wastewater treatment plant and water wells. 
Thirty miles east of Monterey Bay, Gonzales harnesses the wind and sun to reduce its carbon footprint and demonstrates how a community can use its stewardship of the environment as a way of encouraging economic vitality. City partners are combining efforts to preserve the environment with the need to generate more well-paying jobs to build a stronger Culture of Health in Gonzales.
Gonzales was the first city in Monterey County with a certified climate action plan—a state requirement—and has already met its 2020 target for reducing energy use and greenhouse gas emissions.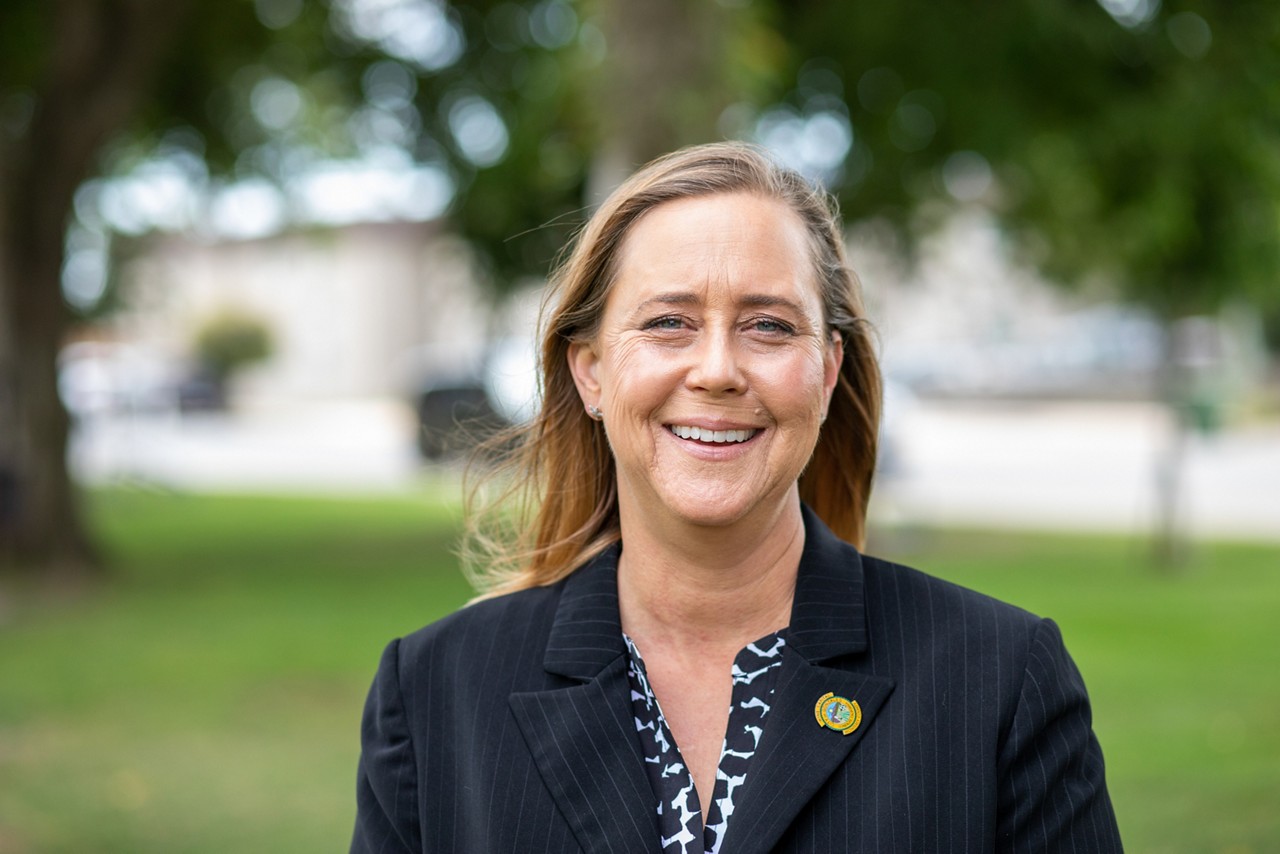 Maury Treleven, project manager, Gonzales Grows Green.
We've been able to provide opportunities for our businesses because we know more about them and how they operate.
—Maury Treleven, project manager, Gonzales Grows Green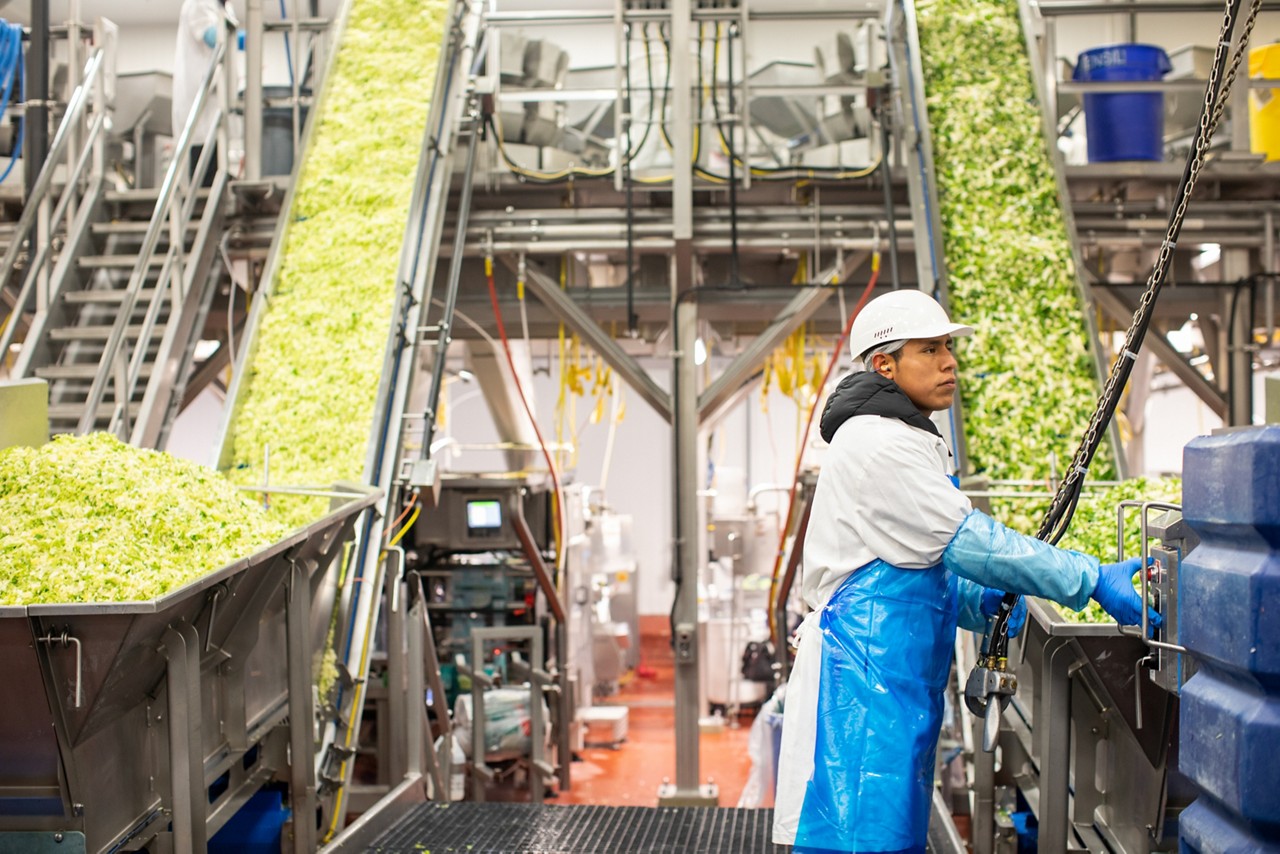 Armando Martinez works the line processing lettuce at Taylor Farms.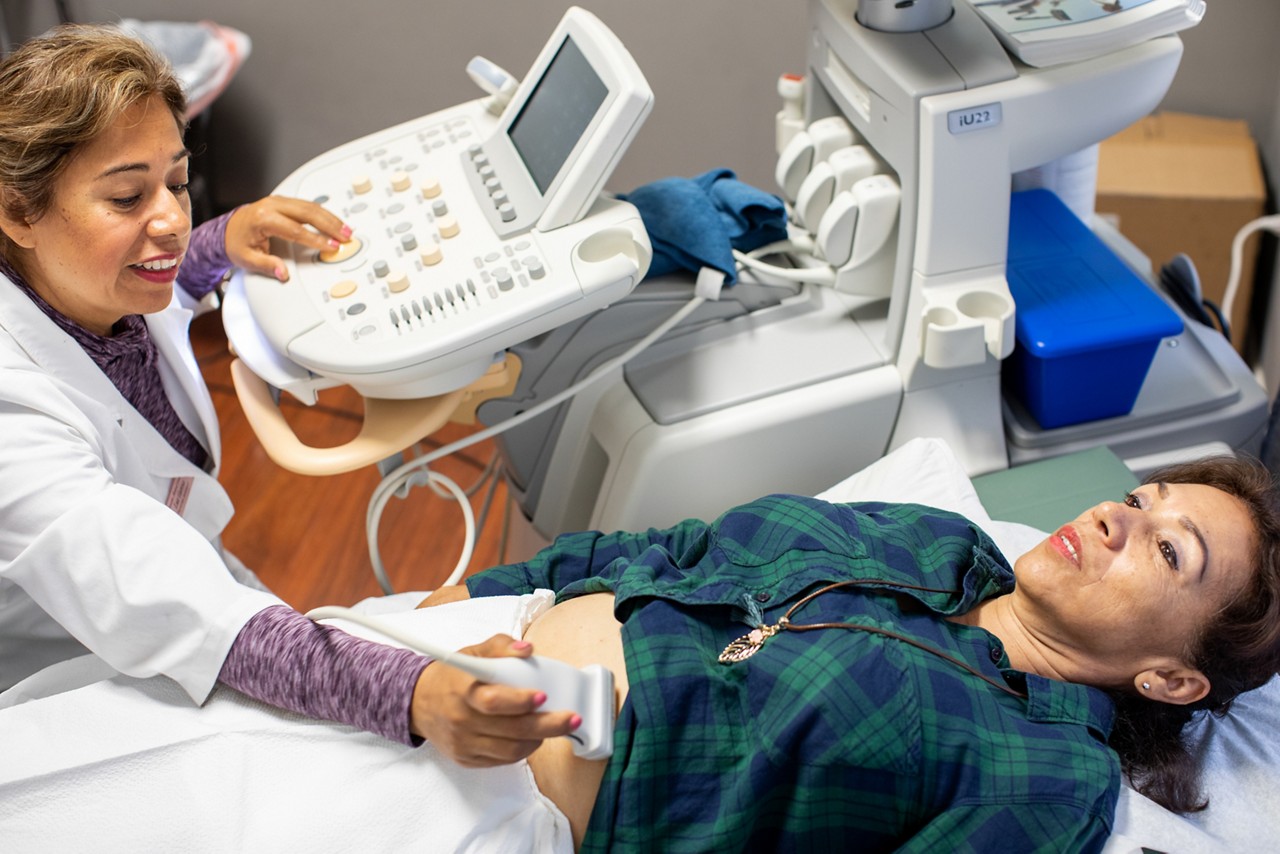 Luz Garcia gives a sonogram to Barajas Quintana Rebecca (right) at Gonzales Medical Imaging Center.
2018 Culture of Health Prize Winner
Eatonville, Fla.
Community leaders in historic Eatonville strive to improve the health of their economy while also boosting the health of residents.
"We're leveraging what we do well to attract economic development," says City Manager René Mendez. 
Work on the environment and economy falls under the direction of the Gonzales Grows Green (G3) initiative, which started a decade ago as a way for the city to interact with businesses on basic needs like recycling. The initiative has since grown into valuable connections and relationships that extend well beyond the run-of-the-mill city business of issuing permits and licenses, says Maury Treleven, G3's project manager. "That really sent us on a path to creating long-standing relationships," she says. "We've been able to provide opportunities for our businesses because we know more about them and how they operate."
One of these relationships came into play five years ago when a major employer—the Taylor Farms vegetable-processing plant that bags salad for national supermarket chains—wanted to expand. The project included supplying energy from a wind turbine but faced a potential roadblock: the flight of the condors. This nearly extinct bird had been reintroduced to the mountains along the Salinas Valley, and the question was whether a towering turbine would be a threat to them. 
City officials proactively asked a nonprofit wilderness society dedicated to protecting the condor to provide an answer first. After investigating, the Ventana Wilderness Society advised that the condor's habitat did not extend to the floor of the Salinas Valley, thus giving the project the momentum to proceed to the next stage of the regulatory process. 
"We brought people to the table," Mendez says. The city owns the land under the turbines, while a nonprofit developer, Foundation Windpower, built and financed the project, and Taylor Farms committed to using its power. Another food processor, Mann Packing/DelMonte Fresh, will use energy from a second wind turbine when it opens a new plant, creating 525 jobs. 
The commitment to economic vitality extends to Gonzales' homegrown small business owners. The city used a federal community development block grant of $400,000 to finance a revolving low-interest loan program for small businesses, which has made 10 loans worth more than $1 million since its start in 2010. Luz Garcia, a physician assistant, received a $100,000 loan to open an ultrasound clinic. Before the Gonzales Medical Imaging Center opened its doors, in a space inside the Gonzales Pharmacy in the heart of town, a patient would have to find transportation to get to Salinas, 17 miles to the north, for an ultrasound. "These services were much needed," Garcia says.
Mendez says the loan program, like the G3 initiative, strengthens connections and helps to create jobs. In the past 15 years, the city has added 1,500 jobs and, in recent years, seen its tax base expand at an annual rate of 9 percent. The pipeline to well-paying jobs will flow back into the community as a health benefit, Mendez says. If someone is earning enough to maintain a satisfactory quality of life, he adds, "you feel better, you treat people better."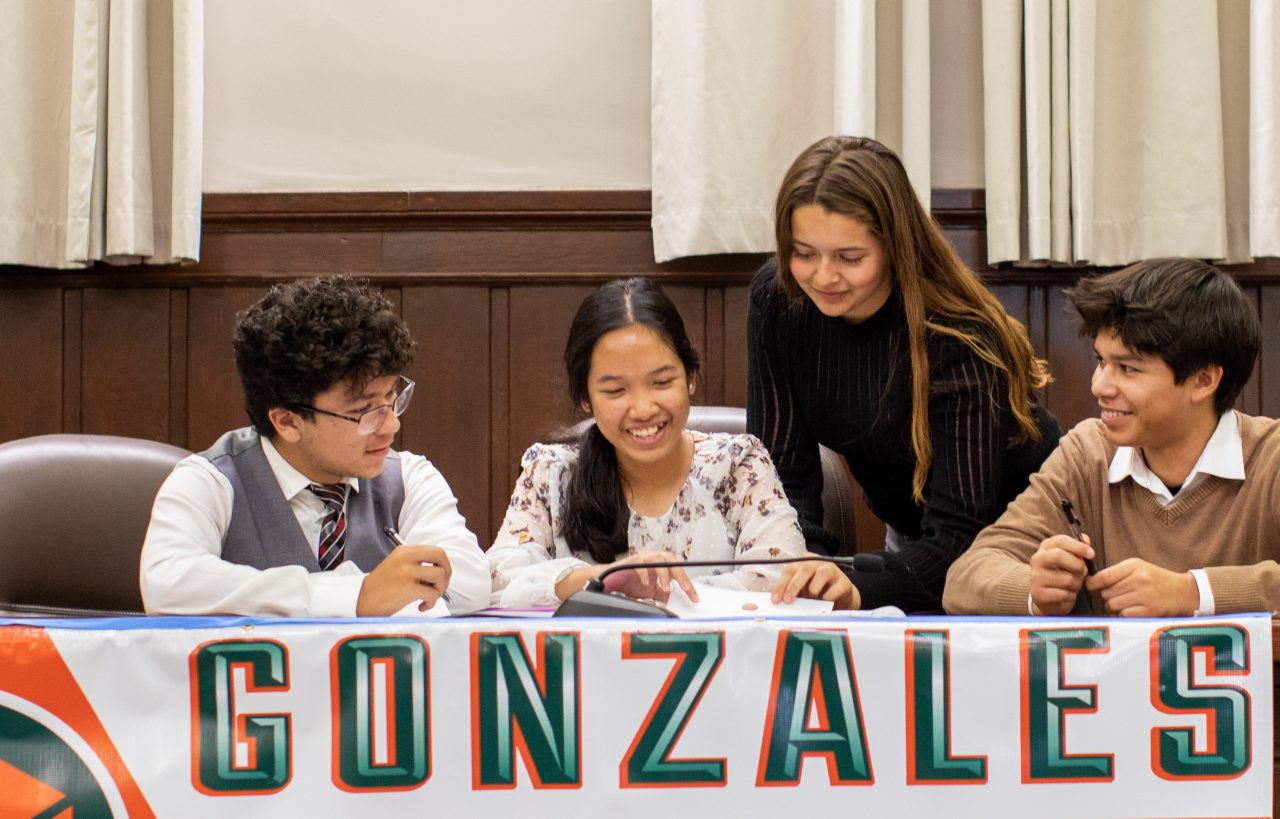 Giving Youth a Voice—and Leading Roles
When the Gonzales City Council approved a law in 2017 to prevent underage drinking at house parties, the town had teenagers to thank for getting the measure started.
The Gonzales Youth Council (GYC), a leadership program with more than a dozen students, brought the idea to the city's governing body and drove discussion on the matter.

"If my voice was heard as a 16-year-old, I know my voice will be heard as an adult," says Fabiola Moreno, now 18, who advocated for the ordinance and now studies political science at San Diego State University. 
The work of the GYC reflects the commitment in Gonzales to cultivating teens as leaders of today and tomorrow. One out of three residents in Gonzales is younger than 18. The community recognizes the importance of a fresh perspective as it finds ways to give young people the tools they need to lead and influence the direction of the city. Both the City Council and the school board include non-voting GYC commissioners. "They ask questions and they also provide anecdotal information in terms of day-to-day life at our high school," says Yvette Irving, school superintendent. "All of that better informs the adults who are making decisions."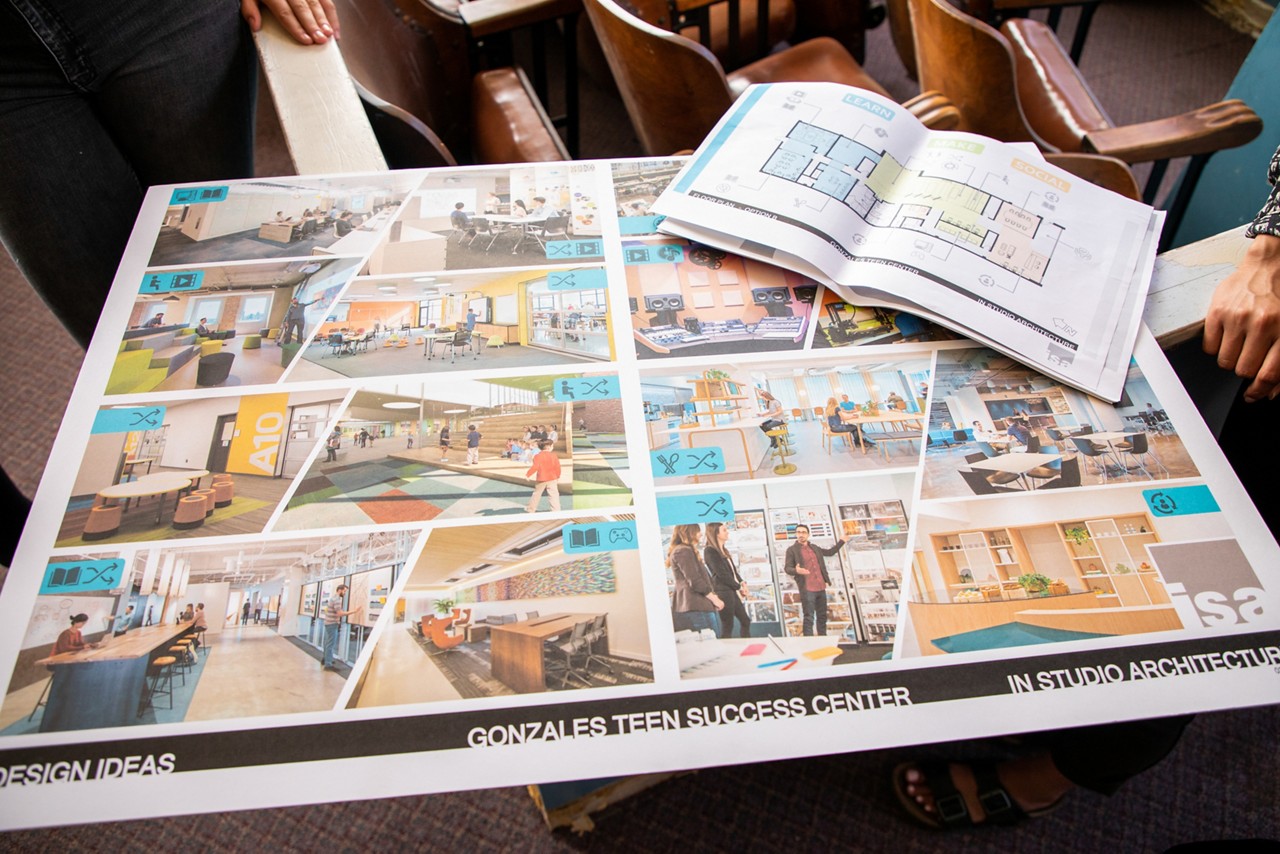 Architectural renderings for Gonzales' future Teen Innovation Center.
If my voice was heard as a 16-year-old, I know my voice will be heard as an adult.
—Fabiola Moreno, student, San Diego State University
With the ordinance targeting house parties with underage drinking, the youth commissioners advocated for education first—a class on drinking responsibly and the effects of alcohol for violators—followed by increasing fines for subsequent infractions. 
Even the very young are encouraged to express themselves. When the recreation department was building a new "tot lot" at a playground, it asked four- and five-year-olds to pick one of two designs by placing plastic coins in buckets as votes. "We wanted to get the kids out there and to [let them] know that it was okay for them to have their own opinion," says Sara Papineau-Brandt, the city's recreation coordinator.
By involving youth in the direction of their city, community leaders are also creating a bridge to their families, who may not be engaged otherwise because of immigration status or language barriers. Investing in youth helps everyone, says City Manager René Mendez. "If they see what they can accomplish," he says, "then the psyche of the community is very healthy and positive."   
Nayeli Gomez, 18, who worked as a summer intern at City Hall before heading to the University of California, Davis, served as a youth commissioner on City Council during high school. "It's never, 'Oh she's young, she doesn't know what she's talking about,'" Gomez says. "It's more they're inspired by what we're doing."
Through her work with the GYC, Gomez helped devise plans to convert a former medical office in the heart of town into a "Teen Innovation Center," a hub where students could hang out with a purpose. That purpose might be collaborating on a school project or honing new skills in music and art. GYC members toured other teen sites in nearby Silicon Valley to come up with ideas and have put together a proposal for raising funds. 
Magaly Santos, 15, whose family works in agriculture, sees her involvement with the GYC as a way to give back. "I just see how much my parents give to me," Santos says, adding that she wants to put her knowledge and skills to use "to improve the city." 
The community's interest in youth development, as well as its willingness to collaborate, drew a former Silicon Valley software engineer, Vahid Motazedian, to establish the Wings of Knowledge project in Gonzales. Teens apply STEM skills in work with local farmers to solve problems or to help them grow better crops. Motazedian, who launched the initiative three years ago, expanded the project in Gonzales because of the reception he got from the city. "It's just a fantastic place to get things done, very fluid and dynamic," he says. "That's how we do stuff in industry."
Pride in the youth of Gonzales can be seen in banners around town that herald recent high-school graduates, heading to technical schools, community college, or universities such as the University of California in Los Angeles, Davis and Berkeley. The hope is that they stay connected to their community. "We've seen many of our youth who have graduated from our high school come back and are now working to make Gonzales a better place for their children," says Mayor Maria Orozco.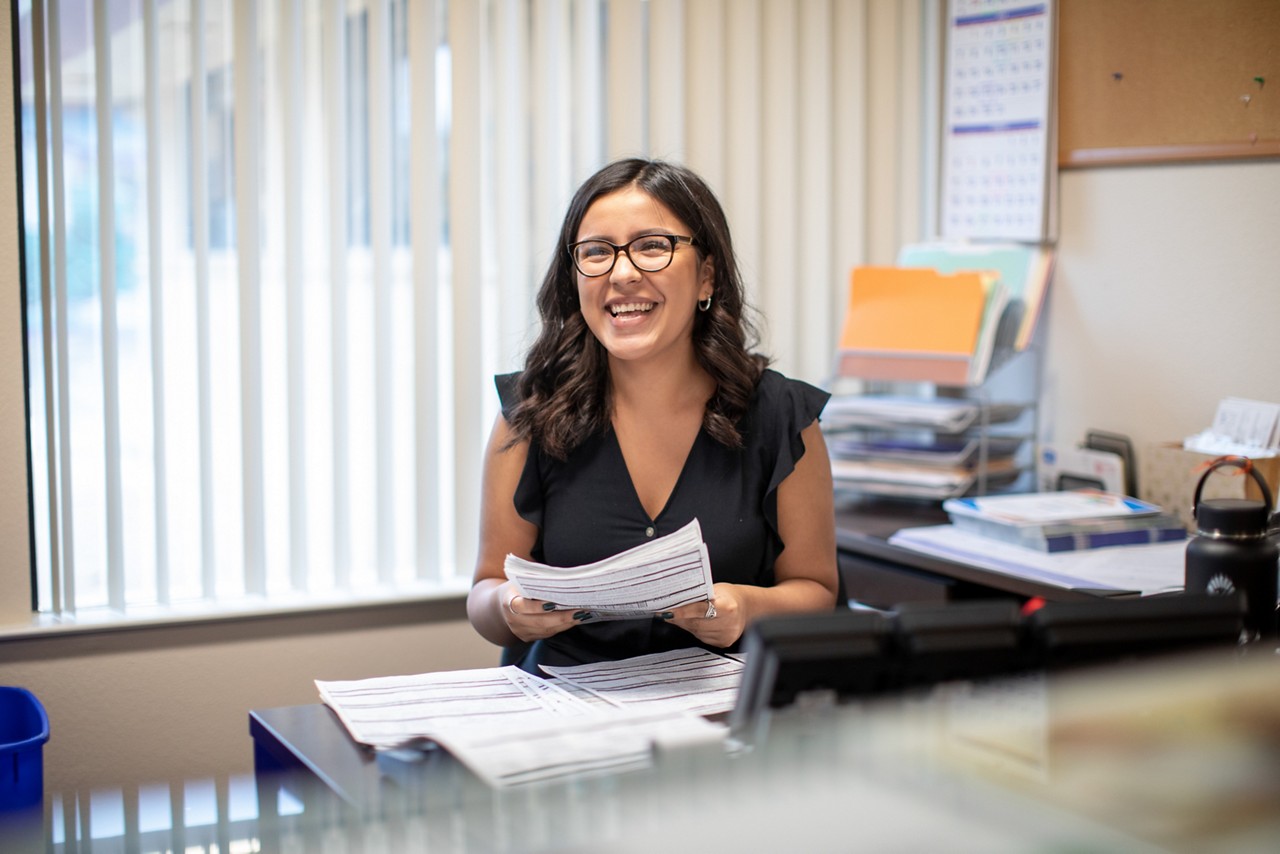 Nayeli Gomez during her summer internship at Gonzales City Hall before she heads to the University of California, Davis.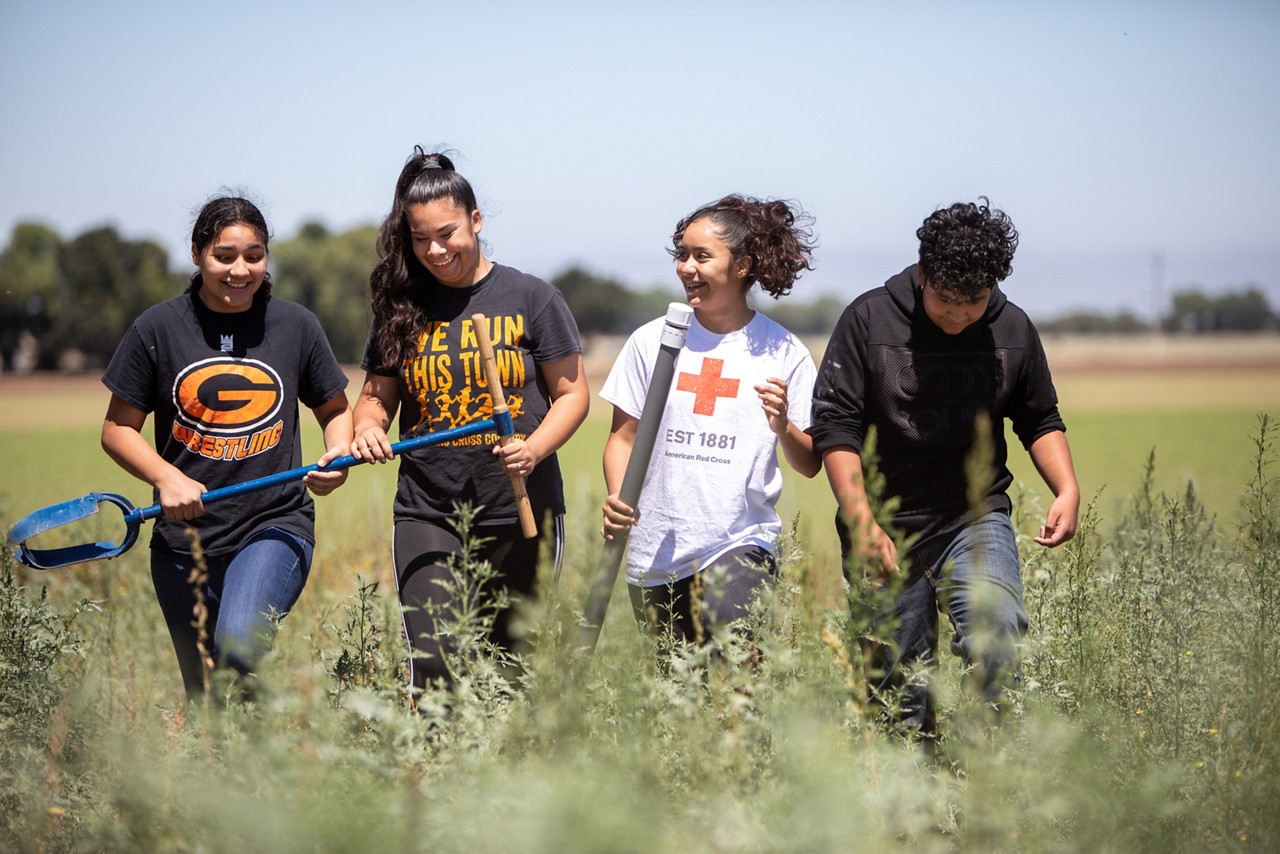 As part of the Wings of Knowledge program, Veronica Rodriguez, Leslie Hernandez, Maria Lopez, and Andres Hernandez (left to right) work on engineering projects on Gonzales farms.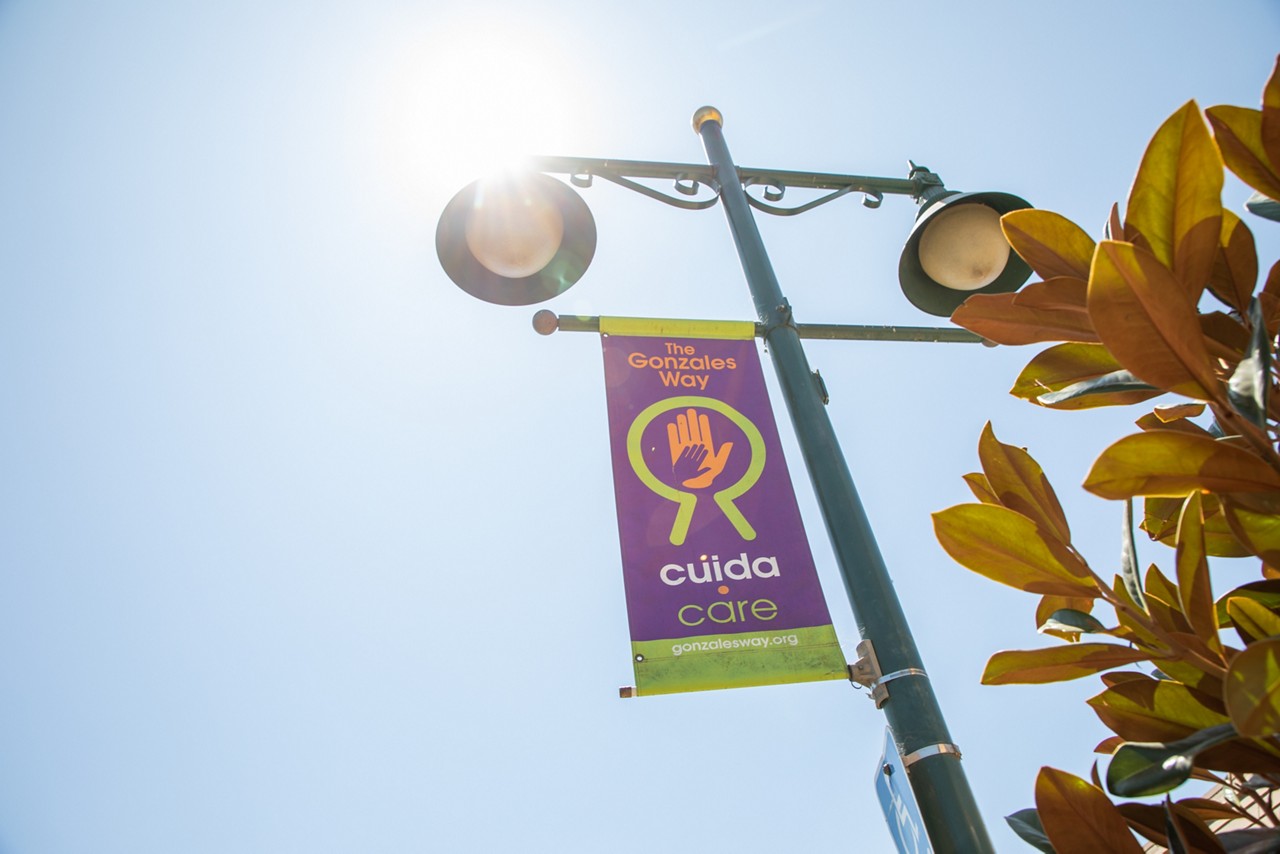 How a Small Town, With a Big Heart, Achieves Great Things
2016 Culture of Health Prize Winner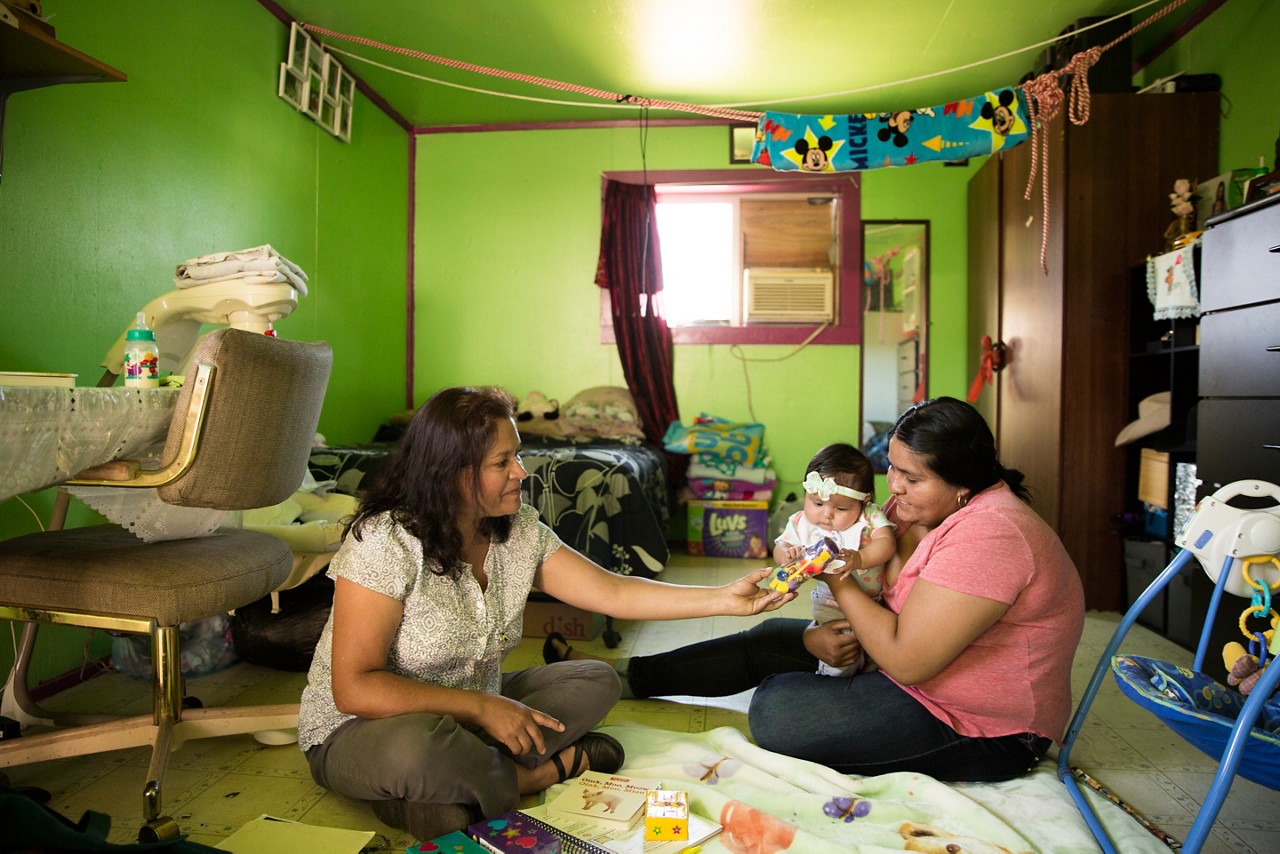 Columbia Gorge Region
In the Columbia Gorge Region of Washington and Oregon, community health workers have connected people to services for more than 25 years.  
Four years ago, Emily Rios moved to Gonzales because her husband wanted to raise his own family in the town where he grew up. A transplant from the suburbs of San Diego, Rios instantly fell for the small-town appeal of her new home. 
"People just step up every day to make this a better place for everyone," says the 31-year-old mother and former music teacher. 
Residents of Gonzales talk about feeling connected and take exceptional pride in the notion that anyone can be a force to improve the community. Rios describes the much-touted Gonzales Way as an "everyone-looks-out-for-everyone mentality."
It can be a small gesture like when a local pharmacist, Jimmy Eitoku, needed a place to conduct weekly classes on managing diabetes and the city opened the doors of the City Council Chambers. "They just handed me the key and said, return it when you're done," says Eitoku, owner of the Gonzales Pharmacy.
Or it can be a serious challenge like addressing a shortage of healthcare providers.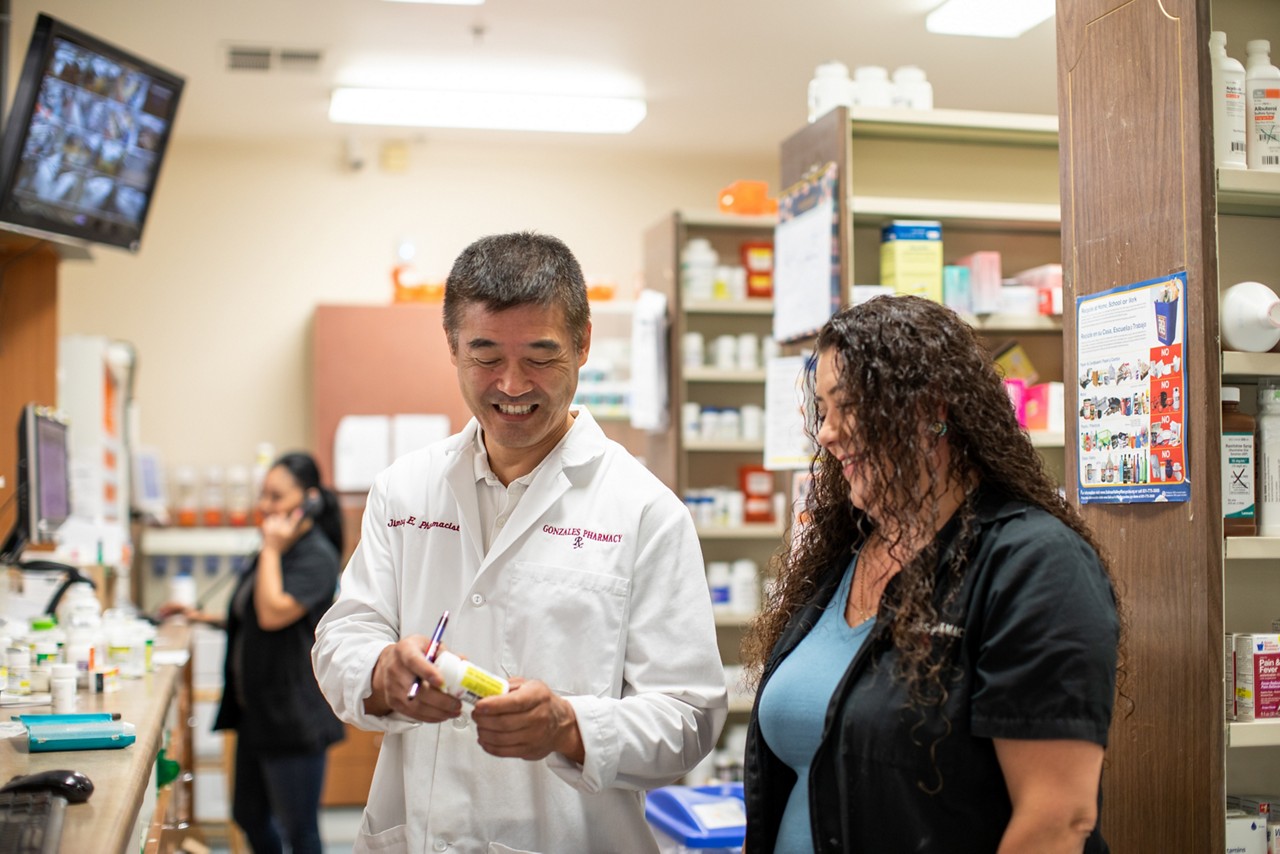 Pharmacy technicians Rosa Leon (left) and Imelda Lopez (right) with longtime owner Jimmy Eitoku (center) at Gonzales Pharmacy.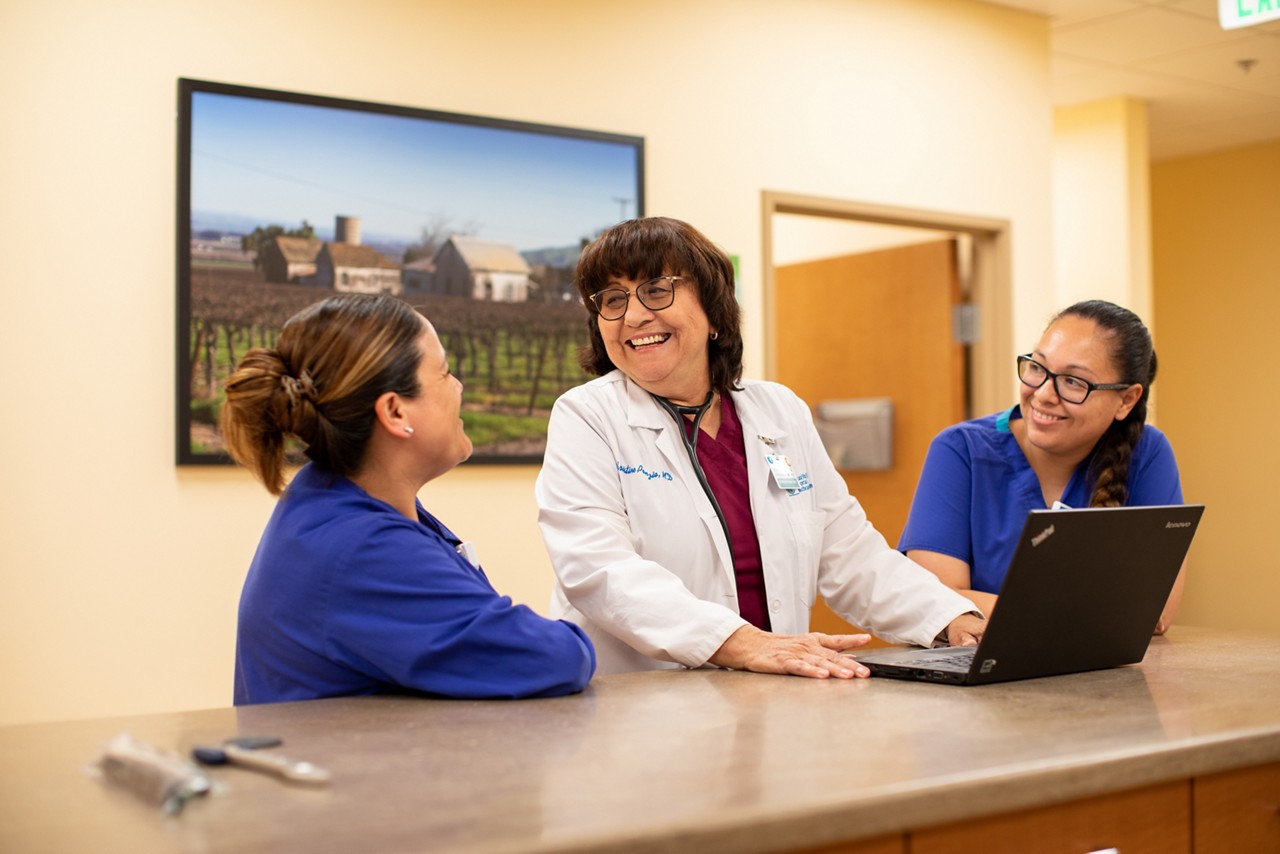 Dr. Christine Ponzio (center) with nurses Lorena Ortic (left) and Patricia Perez (right) at the Taylor Farms Family Health and Wellness Center.
In 2012, a county-led assessment of the health needs in Gonzales found that one in five people had no regular physician or clinic for preventive and routine care. At the time, Christine Ponzio was overwhelmed as the city's sole physician and decided to merge her practice into the Salinas Valley Memorial Healthcare System (SVMHS). The health system, in turn, set out to build a new wellness center, with a local employer, Taylor Farms, donating $1 million toward the $3 million cost. "It was heartening for that to happen," Ponzio says. Gonzales now has three full-time physicians and three physician assistants.
At the same time, a second nonprofit clinic opened that caters to farm workers. As more people are getting the care they need, both clinics are expanding and adding services, including onsite rehabilitation for farm workers. Lifted by a sense of possibility, residents in Gonzales are encouraged to engage in shaping solutions and owning outcomes. A group of about a dozen residents participated in a Resident Leadership Academy, convened by the Monterey County Health Department. The group, which introduced participants to policy development, engagement, and advocacy, "paved the way for more collaboration to come with the local residents," says Carmen Gil, manager of health in all policies for the Monterey County Health Department.
City leaders, too, give people space to agree or disagree. One of the community's most pressing challenges is adding more units of affordable housing. But the city had to table a recent plan for a new development after some residents objected to using a city parcel that had previously been earmarked for a community center. In the wake of the project's rejection, city planners have invited residents to meetings and workshops to discuss all the issues that were raised as they work to address their concerns and revise their approach to the project.  "It takes work to go back to the community to listen, and be authentic about it," says City Manager René Mendez.
In building a Culture of Health, the community makes intentional efforts to create a sense of belonging, security and well-being by drawing people together through efforts like the Friends, Family and Neighbors program, run by Community Action Partnership of San Luis Obispo and funded by the city and the United Way Monterey County. Recognizing that many parents rely on friends or family to take care of their children, the program hosts playgroups to allow toddlers as well as their caregivers to connect. Volunteers show caregivers skills and activities that they can apply to prepare children for school.  
Emily Rios volunteers for the playgroup, teaching children songs in English and Spanish. "As a stay-at-home parent or as a caregiver, it's hard sometimes to get out and about," she says. "Every other Wednesday, this gives them a reason to get out, to go for a walk, to get out in their community." 
The playgroup, she says, is part of the Gonzales Way. 
"I know my husband and others who want to come back here and raise their families here because of that special Gonzales connection," Rios says. 
People just step up every day to make this a better place for everyone.
—Emily Rios, Gonzales resident, mother, and former music teacher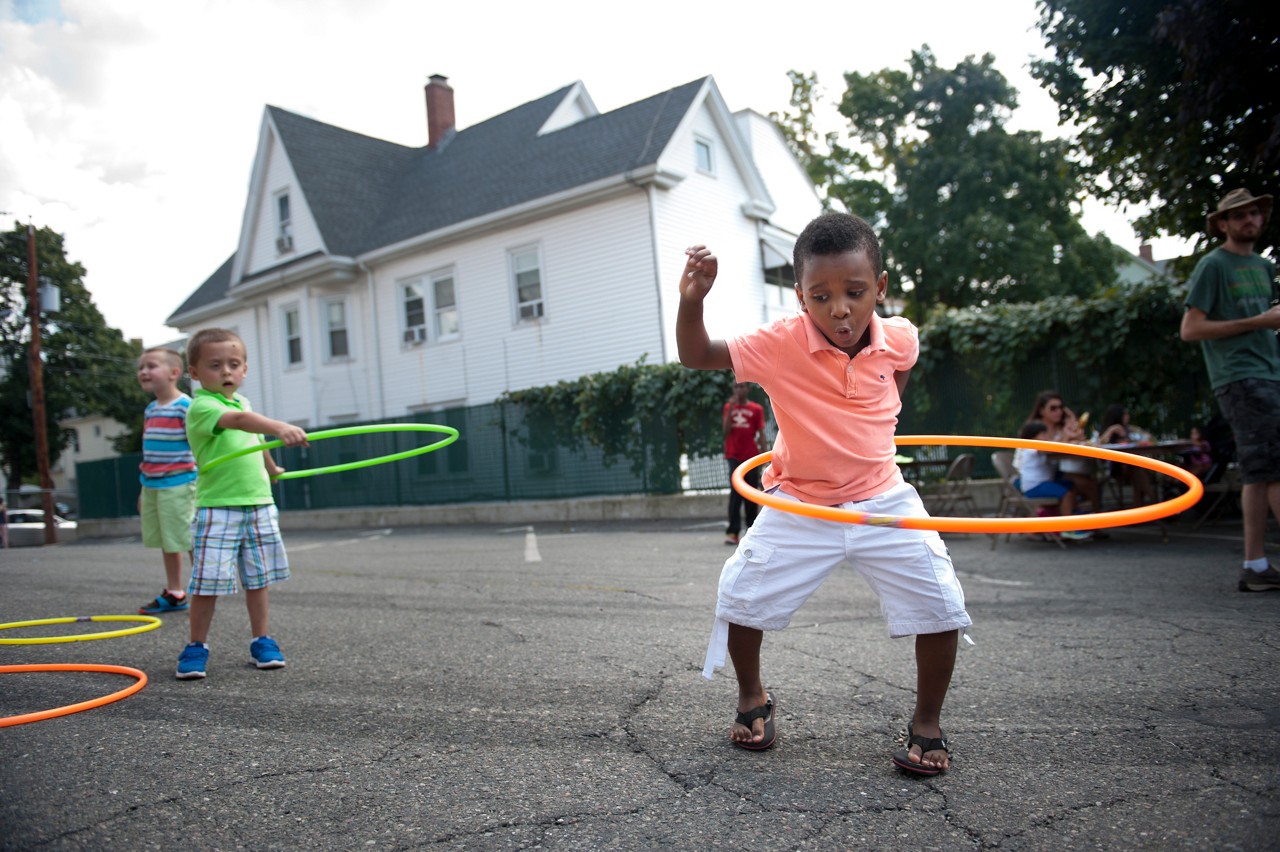 The Culture of Health Prize
The Prize honors and elevates U.S. communities working at the forefront of advancing health, opportunity, and equity for all.