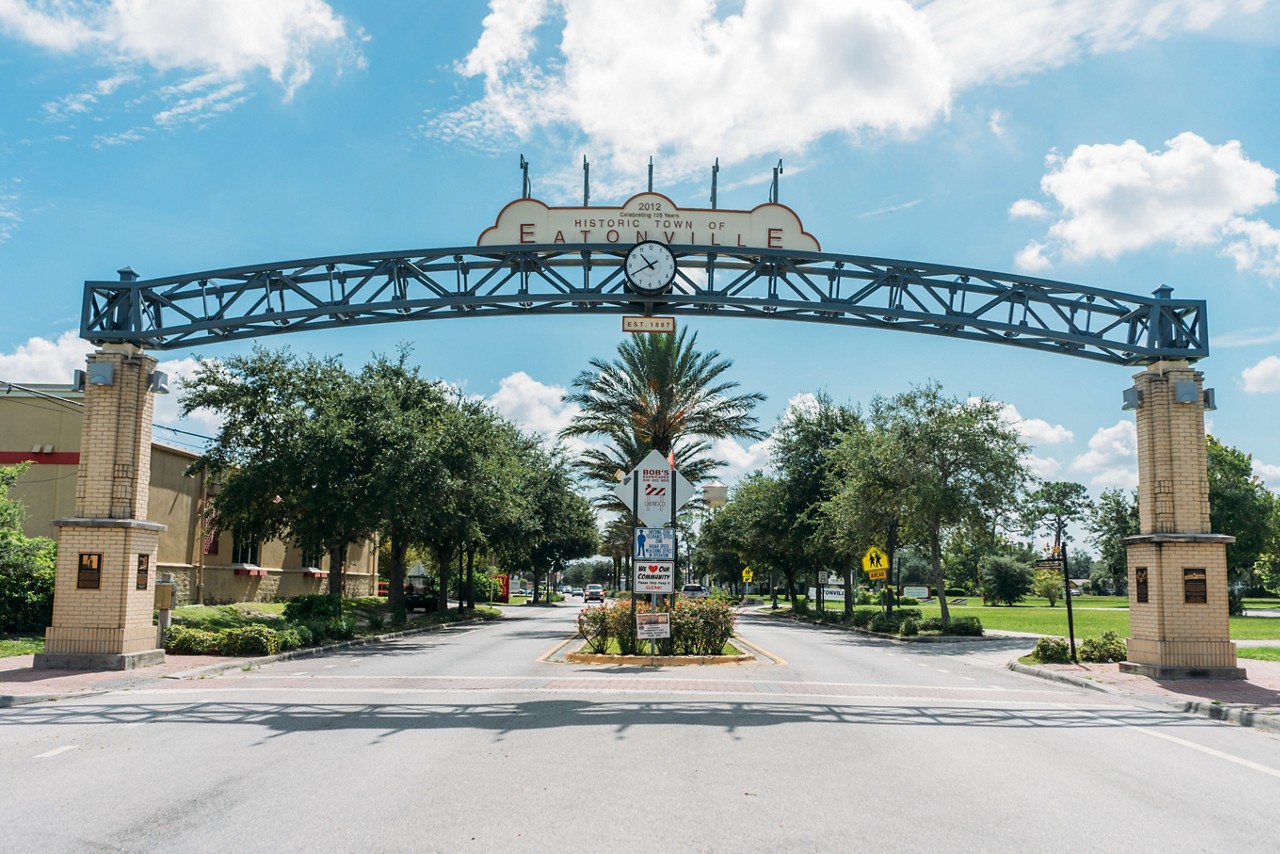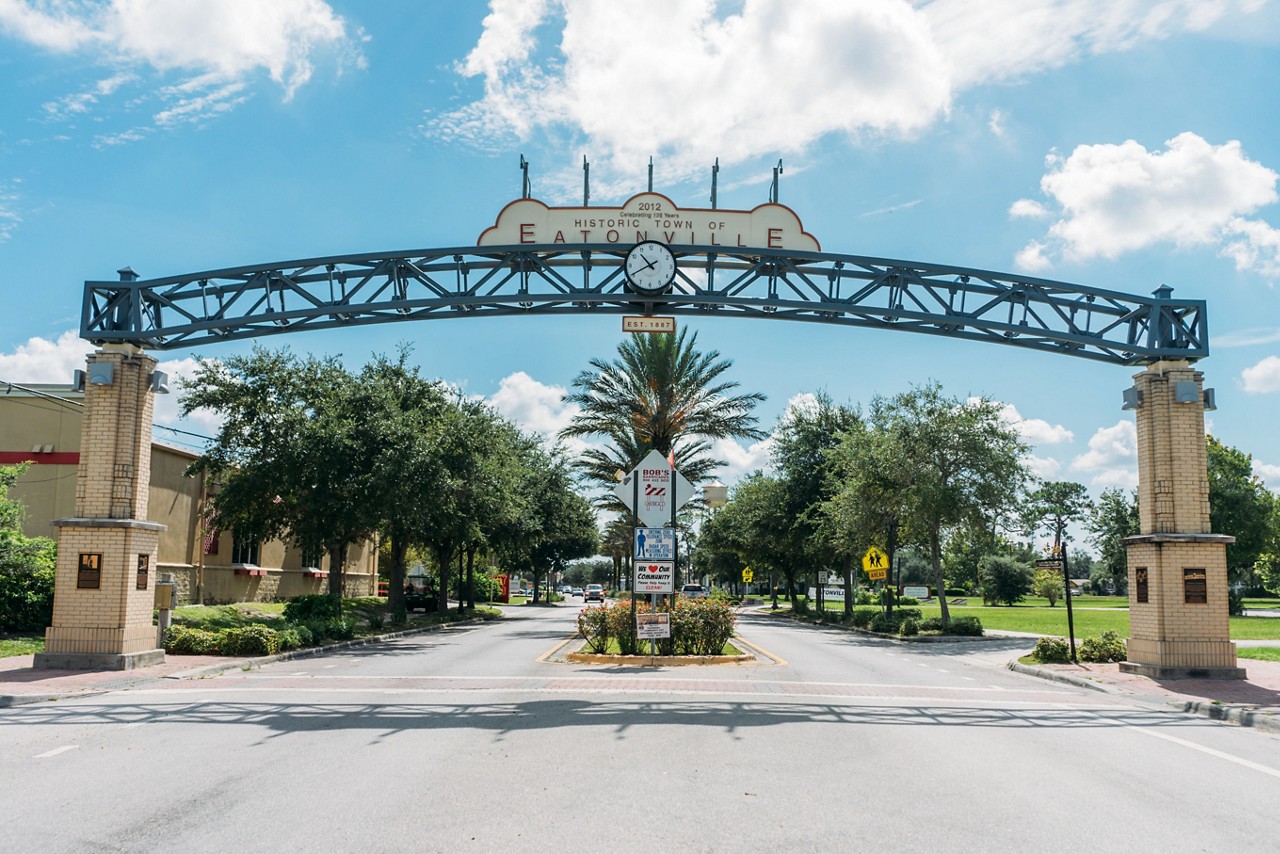 Eatonville, Florida
2018 RWJF Culture of Health Prize Winner
A Historic Town Sets its Eyes on the Future
---
Standing in 100-year-old Ella Dinkins' yard in Eatonville, Florida, one sees pieces of the rich and complex history of this municipality of about 2,200 people, the oldest historically black-incorporated town in America.
There's Lake Hungerford to the west, a taste of the countryside that once surrounded the 131-year-old town, which sits just outside Orlando. There's Dinkins' rambling white house—expanded by her father, who also helped build Eatonville's first one-room school. There's the garden, once farmed by Dinkins and tended today by volunteers eager to provide healthy food for their neighbors. And, running east of the property, there's Interstate 4.
Since its construction in the late 1950s, the federal highway has cleaved Eatonville in two. That indignity changed the town but miraculously didn't destroy it.
"As long as I can remember, I've known about Eatonville's historic significance," says 24-year-old Jasmyne Reese, whose family has been here four generations. She works for the town's Community Redevelopment Agency, promoting urban renewal.
Founded by freedmen on land acquired from a rare white landowner willing to sell large tracts to black people, Eatonville today is characterized by multigenerational ties, tight-knit camaraderie, and deep pride in its place in history. This predominantly black community survived when others did not. Now, the town is determined to thrive.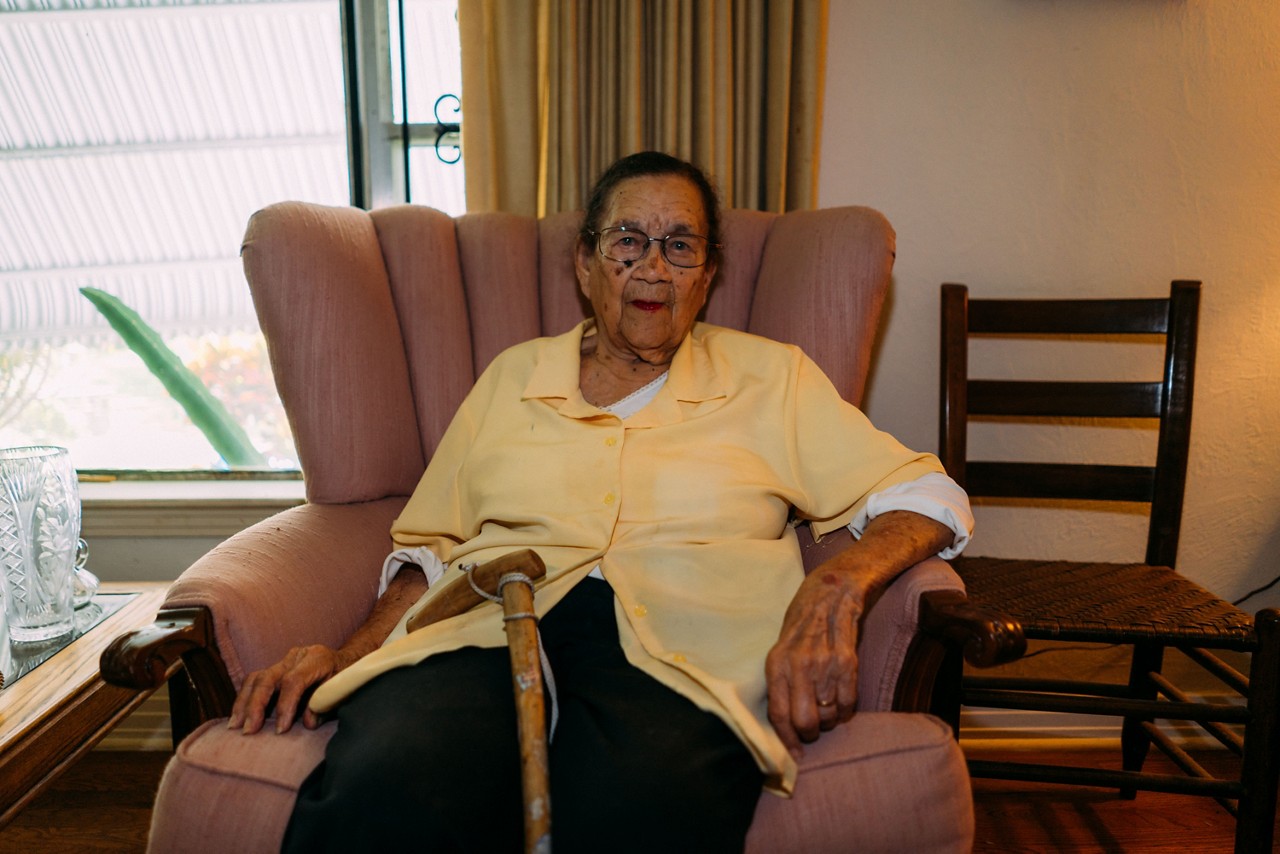 Ella Dinkins, 100, at home in Eatonville, reminisces about her family, her home, and her town's history.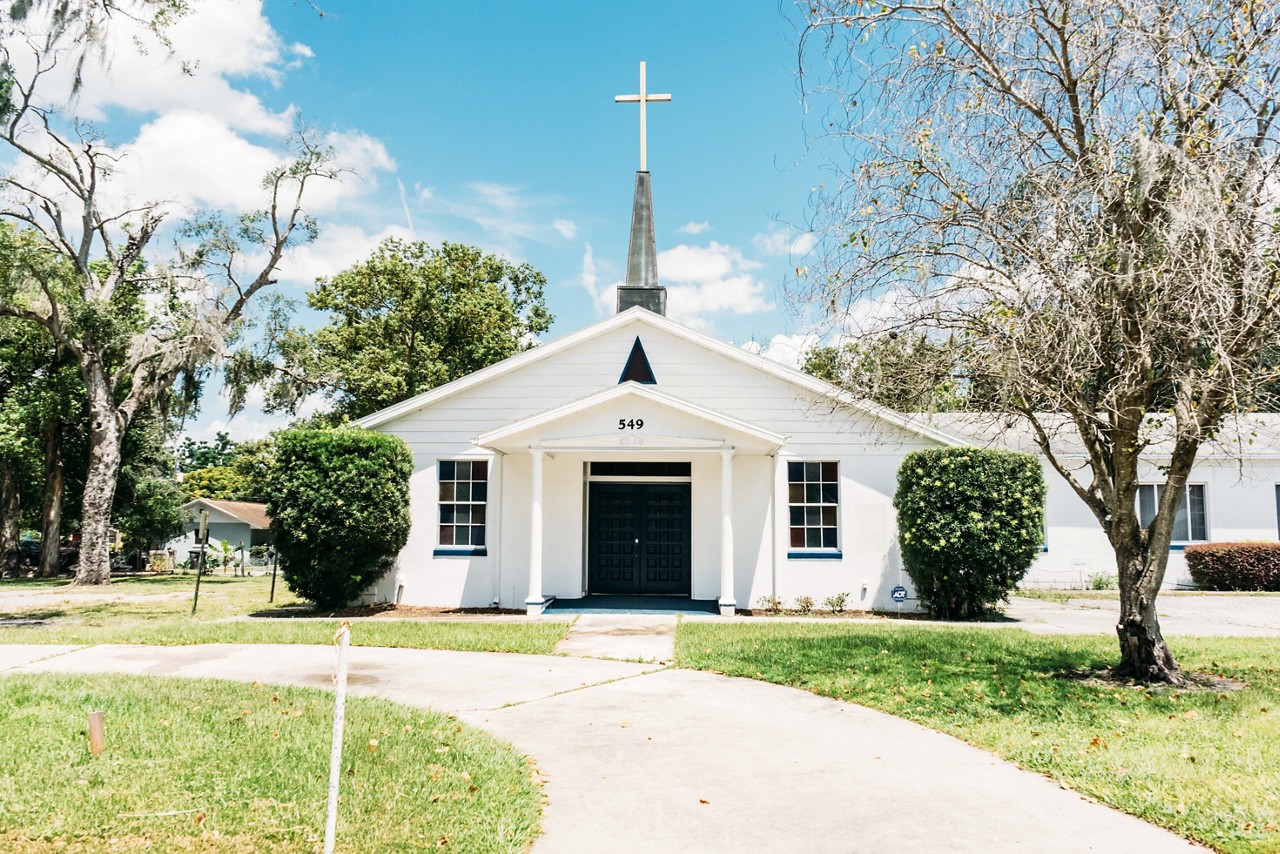 St. Lawrence Church is the oldest of Eatonville's nine churches. Its original location is across the street.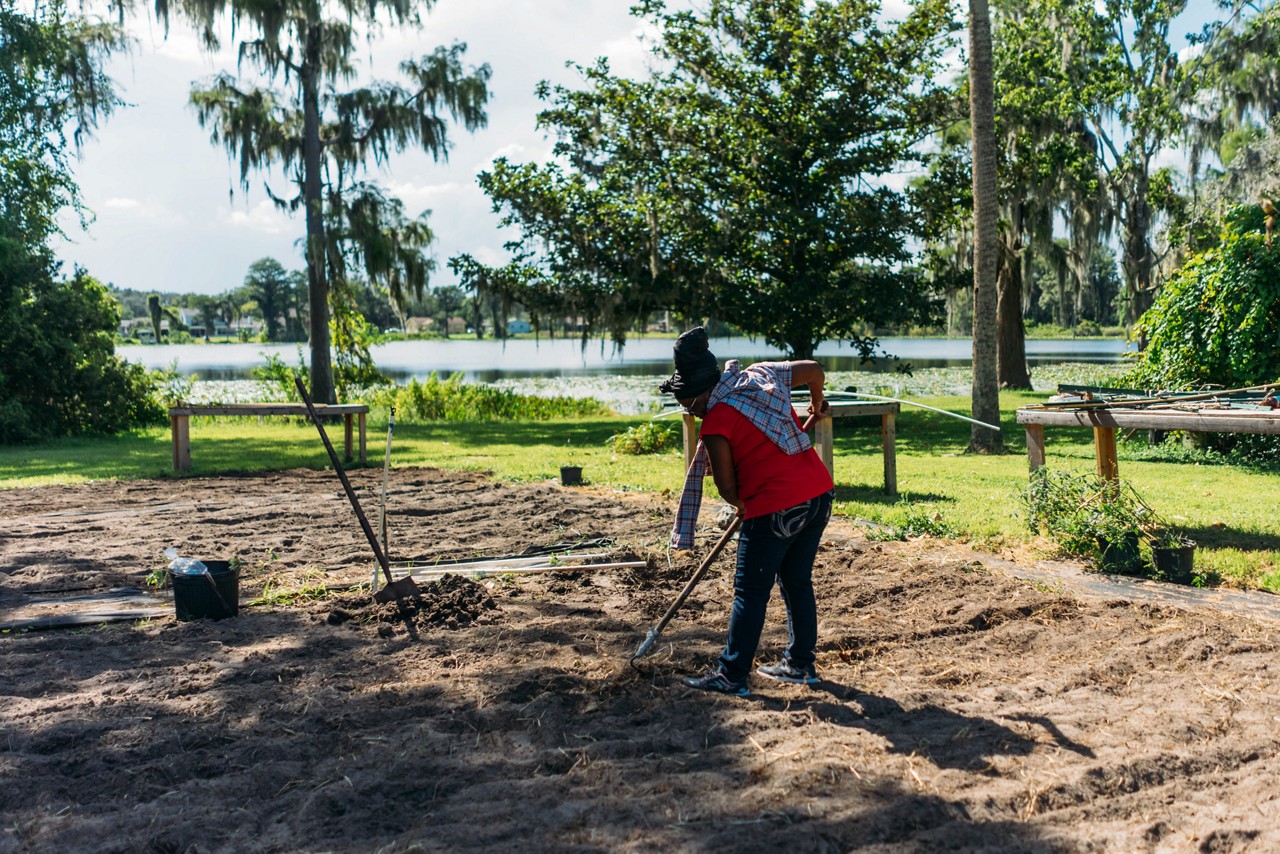 Darlene Zachery, a member of the Yards and Gardens Club of Historic Eatonville, works the community garden on Ella Dinkins' property.
Residents, government leaders, and self-described Eatonville "fans" who work here, have friends and family here, or worship in the town's many churches have over the past decade or so worked hand-in-hand to build a healthier town. The conversations fueling their efforts go beyond healthy habits to the roles played by economic growth, education, housing, safe streets and sidewalks, access to care, and community leadership and engagement.
With its energized pride of place, the town has moved off a list of 12 "distressed" communities in Metro Orlando and twice won recognition from the state of Florida for taking steps to promote healthy weight among residents.
Now, Eatonville is at the starting line of what people here hope will be the transformational development of 95 downtown acres within sight of I-4. They're working to create an economic hub on the site, home to a now-shuttered public high school that started as a historic private preparatory school for black students during segregation.
For a town with such deep roots, winning the Culture of Health Prize is one more piece of validation of everything they've done to reach this moment, says Mayor Eddie Cole, who moved to Eatonville to promote youth development 34 years ago.
"It's like a football player inducted into the Hall of Fame," he says. "It's like winning an Oscar. It's like winning a Grammy. This is our time to shine."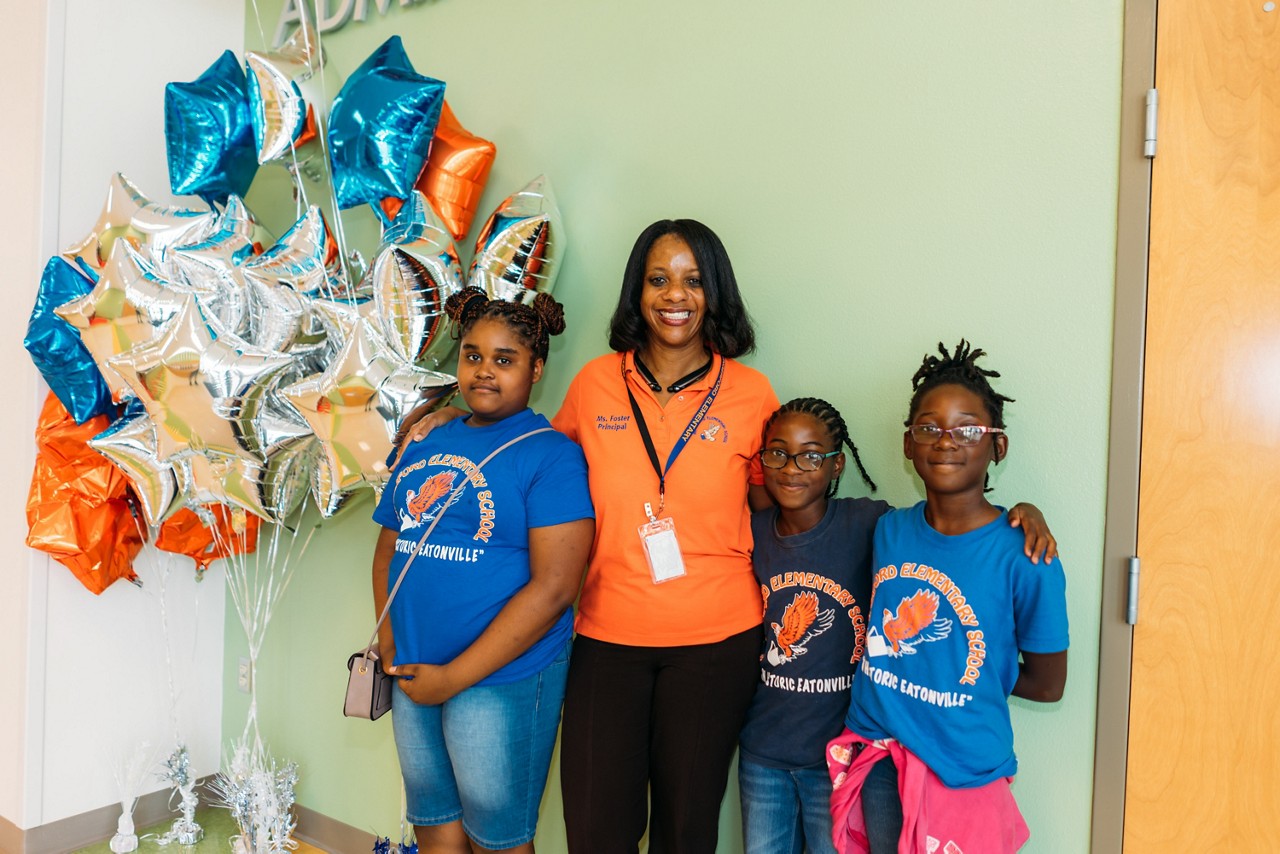 Principal Letecia Foster (center) with (from left to right) Dahlia Clarke and Shakila and Takila Maxie in Hungerford Elementary School's brand new building, which opened in August. "We needed a modern facility and state-of-the-art technology in our classrooms," Foster says. "Just like everyone else has." Classrooms now have interactive whiteboards and computers, and STEM is incorporated throughout the curriculum. Foster also works closely with the mayor, churches, and businesses to raise money for uniforms and supplies, and makes sure every family has the things they need—from coats to holiday meals to a place to live. "It's a very close community," she says.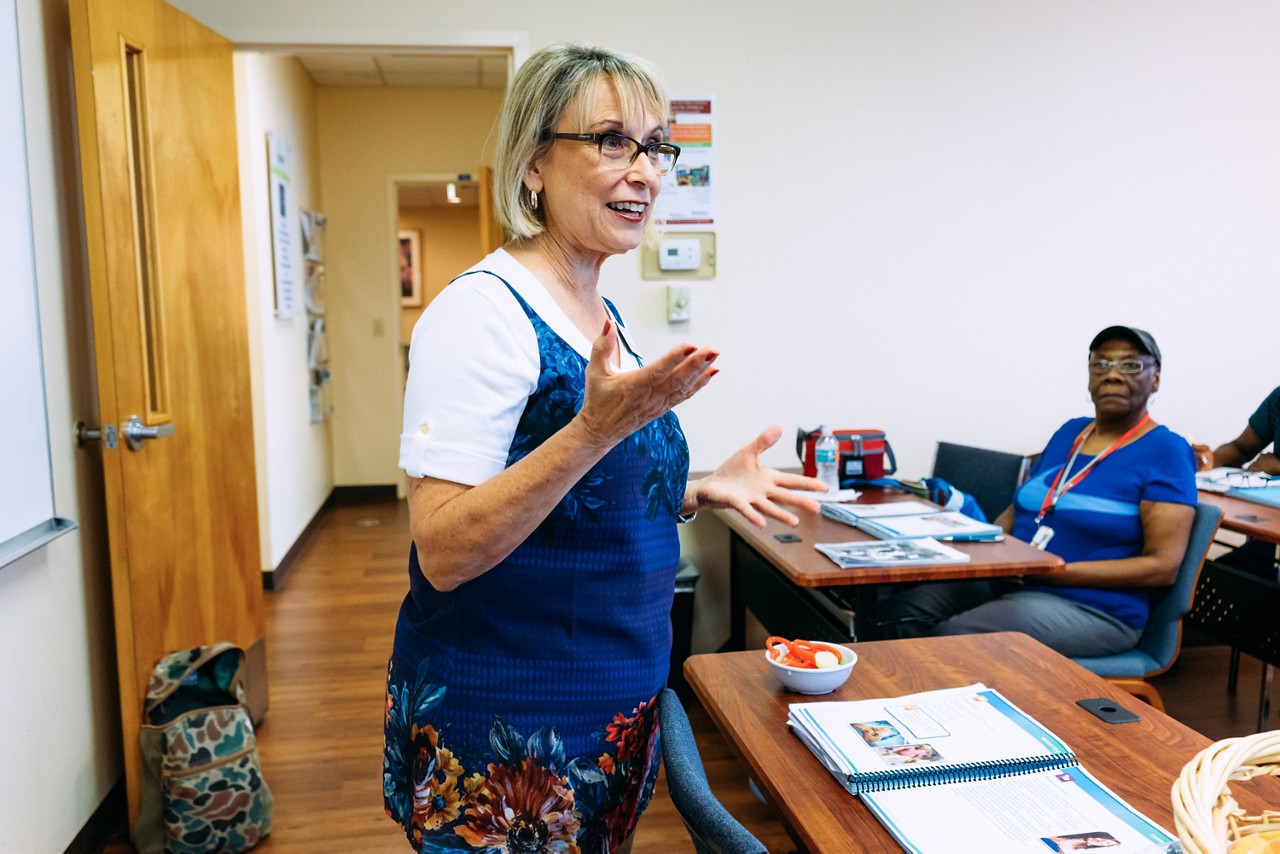 Pamela Ellis listens to registered nurse Bonita Anderson Peters, of Orlando primary care provider Grace Medical Home, during a diabetes prevention class at Healthy Eatonville Place. Opened in 2014 in response to alarming diabetes rates in Eatonville, the storefront supports the health goals of people with diabetes and enables those at risk to stop the disease before it starts. Soon, a case management program will help participants deal with things like lack of transportation or not having a medical home. "Those could be the barriers that are preventing people from getting to the doctor or taking their medications," says Healthy Eatonville Place's director, Constance Brown.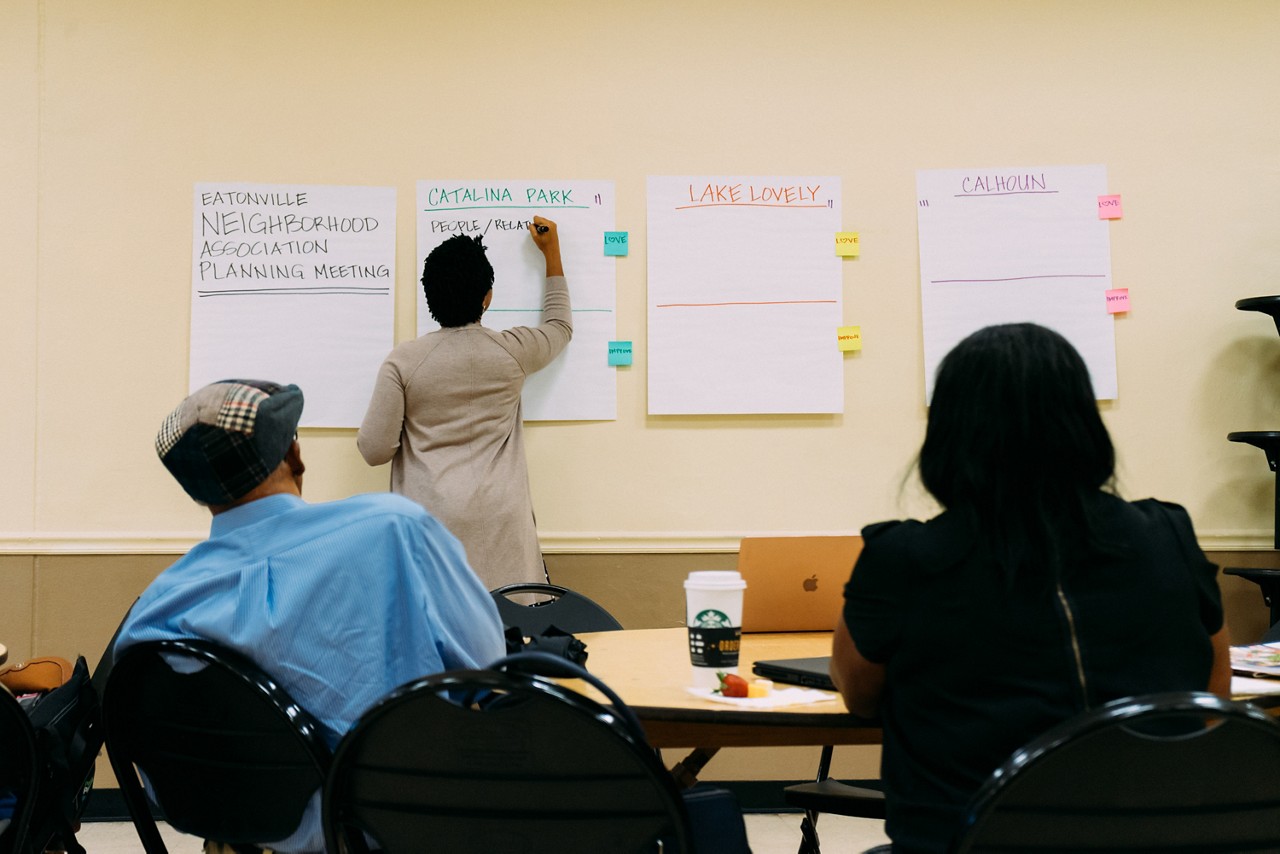 At a neighborhood association planning meeting at the Denton Johnson Community Center, Eatonville residents Michael French and Holly Tanyhill take part in an activity led by Natalie Jones of the Polis Institute, an Orlando nonprofit that helps solve social problems. Jones asked participants to list what they love about their neighborhoods—and what they want to improve. Eatonville is actively working to engage residents in making changes that boost health and social cohesion. Earlier this year, the town's planning department hosted a workshop run by Urban Land Institute, a national urban planning nonprofit, in which residents learned what it takes to redevelop an urban area.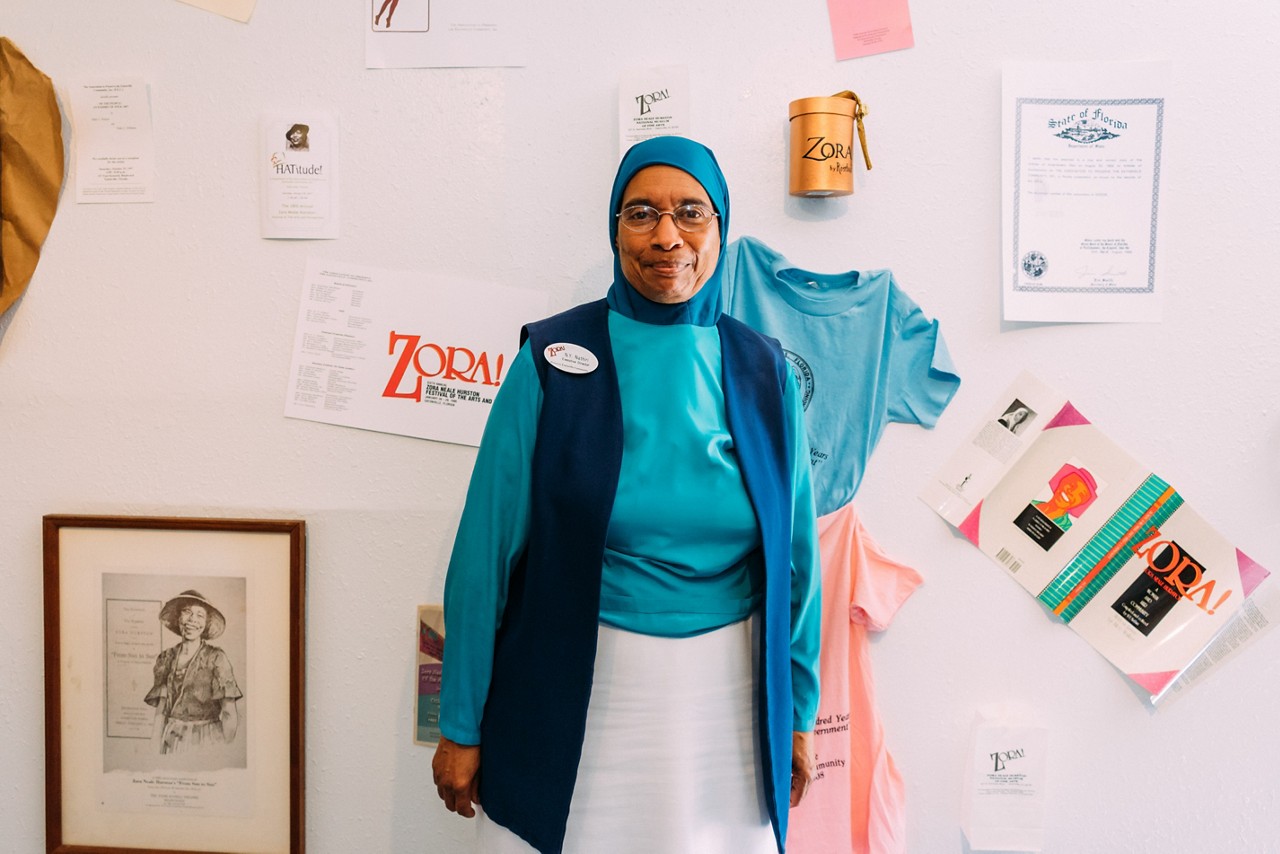 N.Y. Nathiri, executive director of the Association to Preserve the Eatonville Community, Inc., stands at the Zora Neale Hurston Museum of Fine Arts, which draws visitors from around the world. Eatonville residents take great pride in Hurston, a late Harlem Renaissance novelist and anthropologist who grew up in the town. Her vivid recollections of life in Eatonville decades ago form an important link to the past that matters for the health of the town today, Nathiri says. "When people know who they are, they know of their history, they know how they fit into that history. It allows for a kind of security."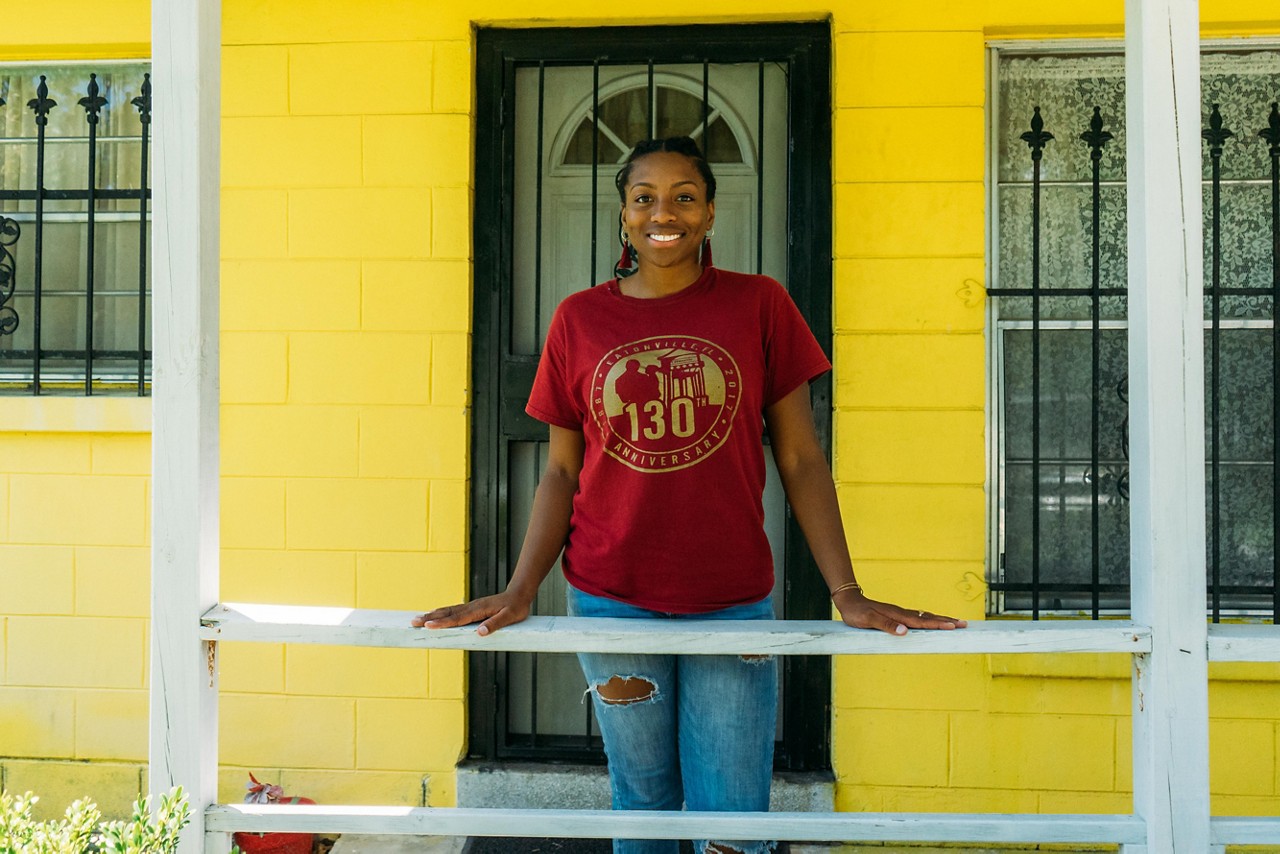 Jasmyne Reese, neighborhood coordinator for Eatonville's Community Redevelopment Agency (CRA), which oversees urban revitalization efforts, stands in front of her grandmother's house that's been in the family since it was built in 1965. "This is my home," Reese says, "Even when I went off to school, this is the address I used, not even my mom's." Now she lives in Altamonte Springs, Florida, about five miles away. Eatonville aims to make sure it has housing options for the old and the young. The CRA makes grants to replace roofs on older homes, and new residences will be included in the town's planned development of several large tracts of land.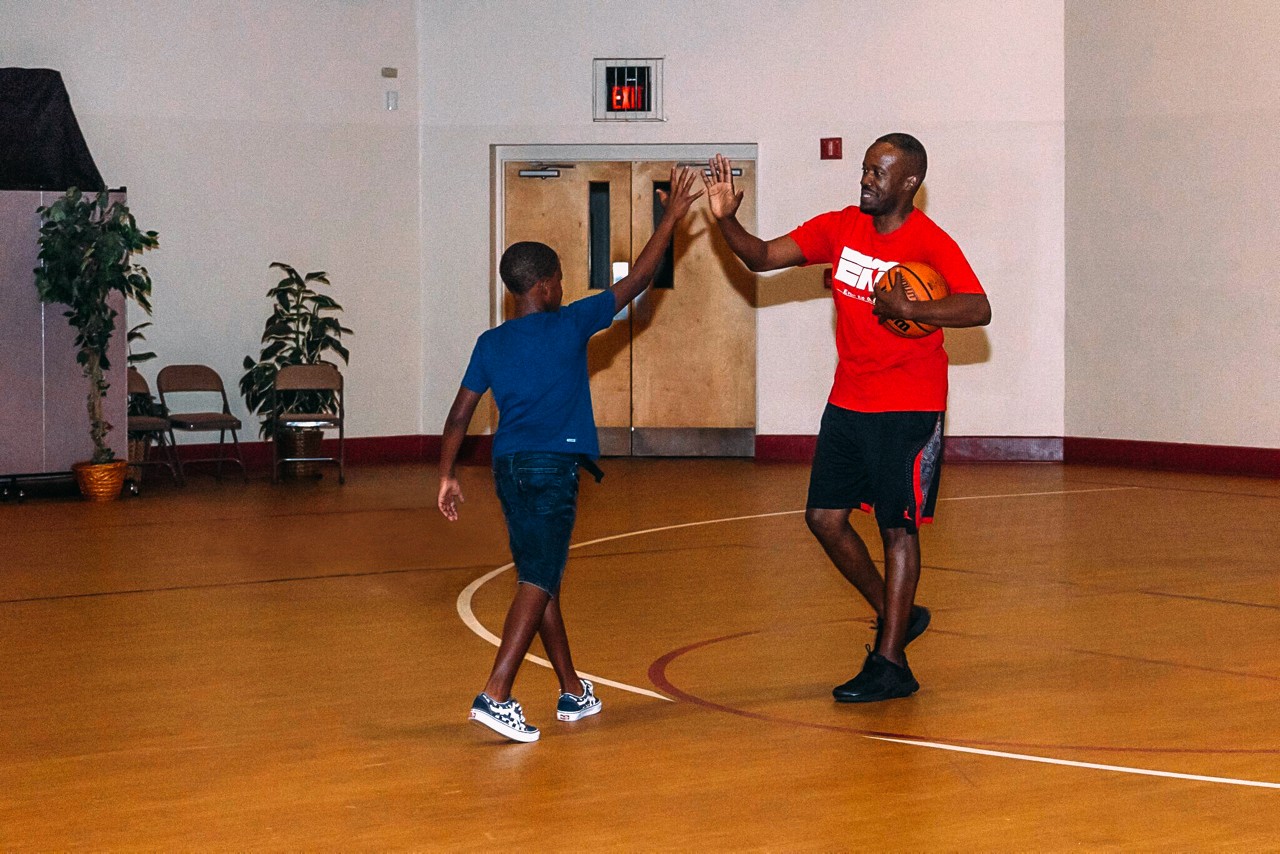 Eatonville Mayor Edward Cole plays basketball at the Fifth Quarter Program, an activity that takes place Friday evenings at The Life Center Church after high school sports games, to give young people something fun and active to do at night. Eatonville's churches—there are nine today—have historically supported the town and its residents in myriad ways. From running diabetes prevention programs and food pantries to providing utility-bill assistance, fitness classes, and after school programs, "They play a key role in our community," Cole says.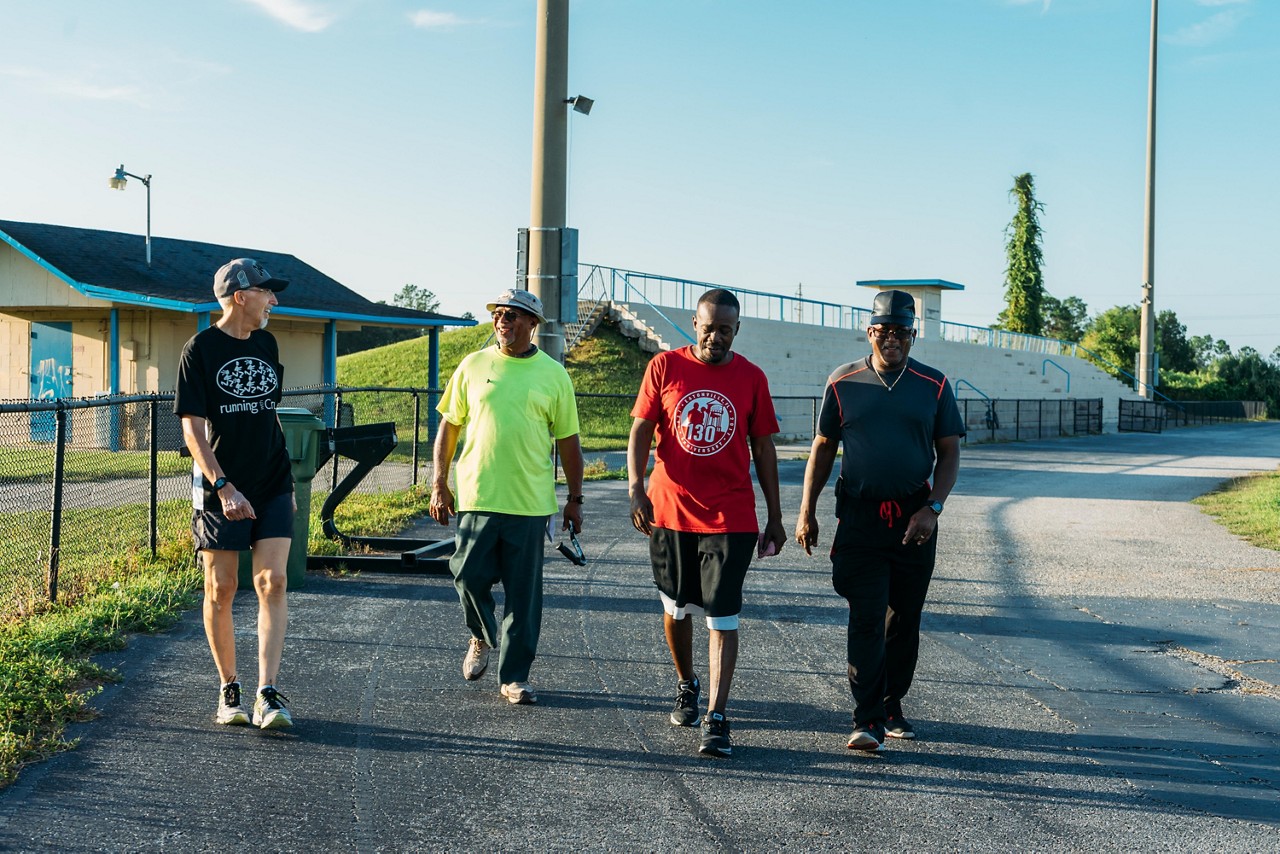 Heeding a Wake-Up Call for a Healthier Town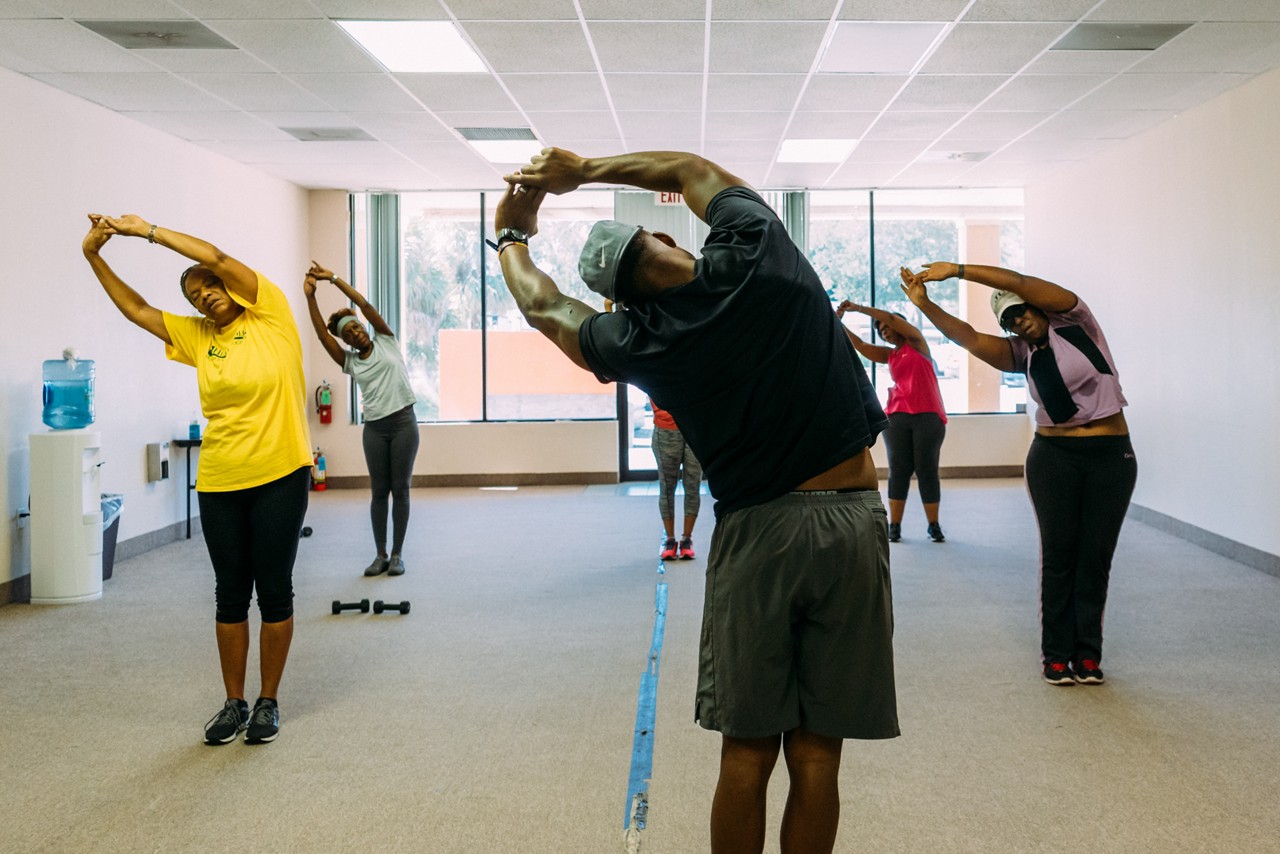 Damien Prieston leads an exercise class at the Eatonville Commerce Center.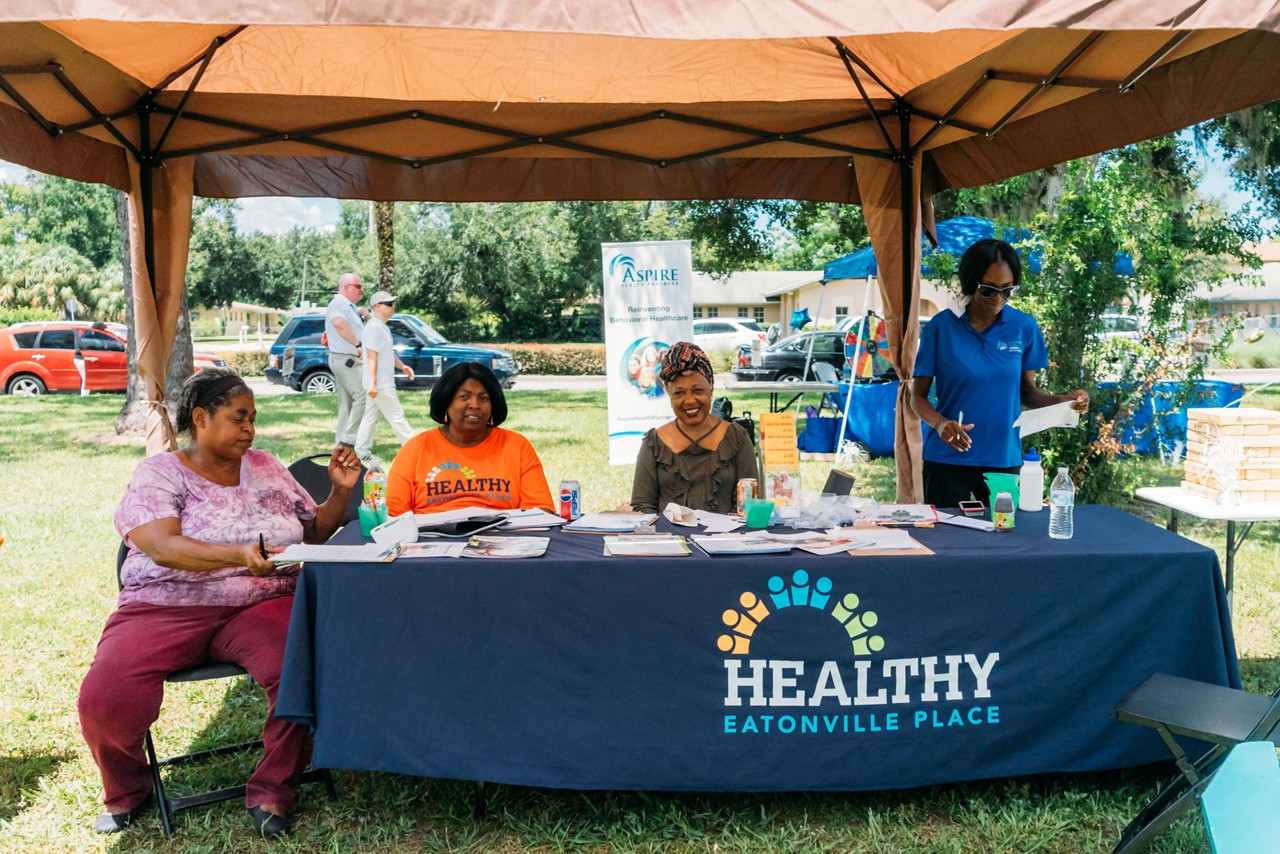 Women sit behind a booth at a health fair. The Healthy Eatonville Place booth at Eatonville's Founder's Community Day celebration. The town marked its 131st anniversary this year.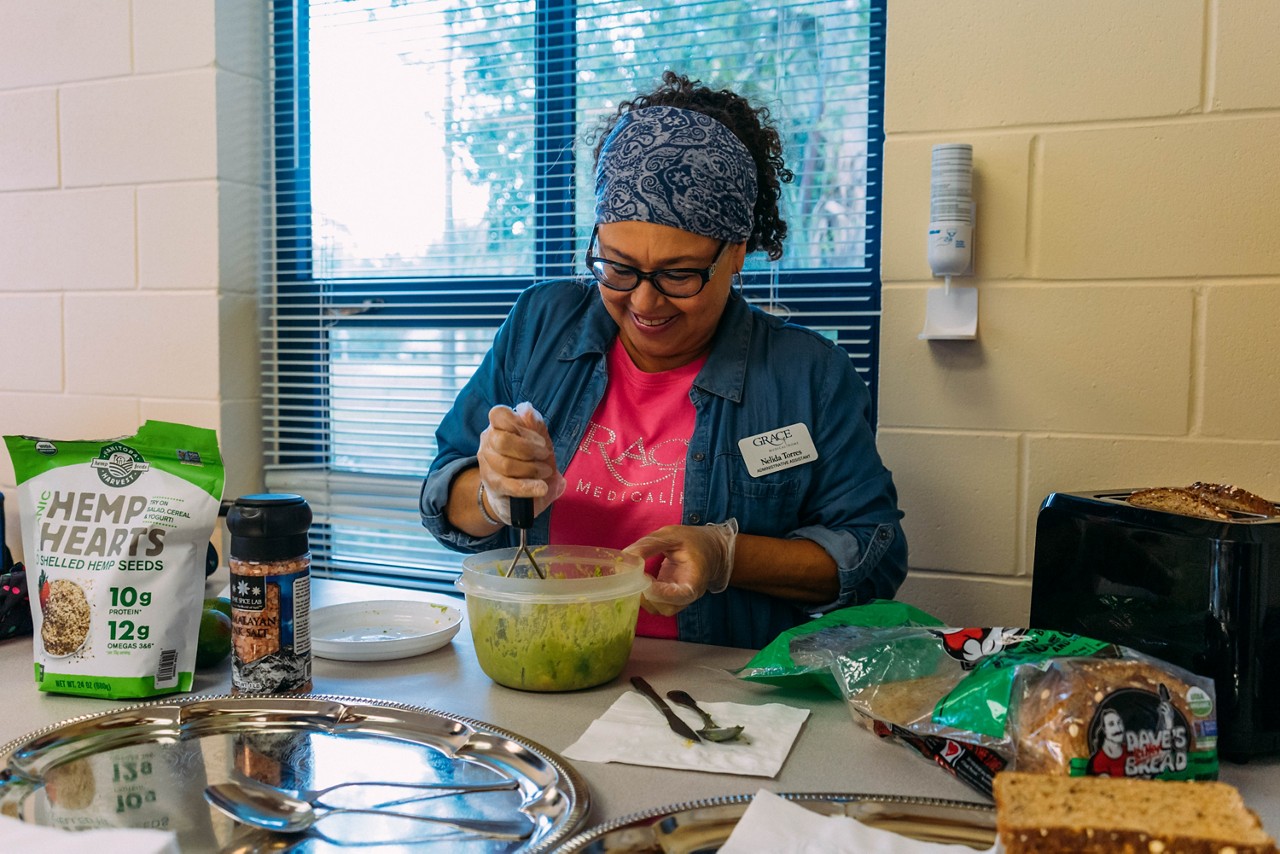 Nelida Torres of Grace Medical Home prepares avocado toast during a diabetes education class at Healthy Eatonville Place.
Seven years ago, real estate agent Alvin Moore nearly fell into a diabetic coma. He had thought he was merely suffering from a cold. Then he collapsed and was rushed to the emergency room.
When Moore, an Eatonville Councilmember at the time, shared his story at a town council meeting soon after his four-day hospital stay, person after person came up to him to say they had diabetes or prediabetes.
Moore was overwhelmed by the response. "Wow, that's a lot of people," he thought.
So, he reached out to the Orlando chapter of the American Diabetes Association and the Winter Park Health Foundation, an Orlando-area philanthropy. Within months, the foundation supported a baseline study that uncovered a shocking finding: Nearly 1 in 4 Eatonville adults had diabetes.
With the problem quantified, the town became galvanized not only to fight diabetes, but also to make Eatonville a healthier place. Important institutions, such as town hall and Eatonville's nine churches, got involved in boosting physical activity and diabetes awareness. In 2011, then-Mayor Bruce Mount launched "Walk and Talk With the Mayor," which 20 to 30 people turned out for twice a week. And the Winter Park Health Foundation, the Orlando chapter of the American Diabetes Association, and Eatonville churches brought a church-based diabetes prevention, education, and management program to town in 2012.
To boost the community's efforts in moving from awareness and management to addressing the root causes of physical inactivity and poor nutrition, Healthy Central Florida—an initiative of the Winter Park Health Foundation and Florida Hospital—created Healthy Eatonville Team. It is made up of residents and partners from nonprofits and health and social service organizations who recommended ways to make the town healthier.
"We look at the needs in the Eatonville community and see how we can meet those needs," says current Healthy Eatonville Team co-facilitator Pradely Merone, a community events specialist at Community Health Centers, an Orlando clinic that serves Eatonville residents.
Over the past few years, Healthy Eatonville Team has refurbished the gym of the town's shuttered high school, installed bike racks around town, and funded nonprofit- and church-led projects such as a fruit and veggie stand and a free bike share at Eatonville's library. They also advocated for a healthy community design when the town updated its community redevelopment master plan, which governs taxpayer-funded urban revitalization efforts, in 2016. Now health-minded changes like sidewalk renovations, street lighting, and improved parks are eligible for funding.
Healthy Eatonville Team also suggested having a visible storefront location in town for diabetes and wellness programs. In 2014, Healthy Central Florida and Florida Hospital founded Healthy Eatonville Place—which provides health and wellness services, and studies approaches to prevent and manage diabetes—in an existing building in the town.
People who agree to monitor and track their health goals with Healthy Eatonville Place staff receive one-on-one support and take part in free nutrition, cooking, and other classes to help prevent or control diabetes. They can also participate in support groups. Participants' progress and biometrics are tracked at six-month intervals, and the data are being used to find ways to better fight diabetes. The center's staff and researchers believe they're on the right track: Of 273 participants followed for six months to three years, 97 percent diagnosed with prediabetes did not develop diabetes, according to Florida Hospital results released this year. Eighty percent who started with uncontrolled diabetes reached their blood pressure goals, an important step toward reducing risk of heart disease and stroke.
"As a nurse, it's been so refreshing to see the community really concerned and making changes and improvements" for better health, says Tonja Williams, parish nurse at Eatonville's Macedonia Missionary Baptist Church. "We're just really pulling together to make it happen."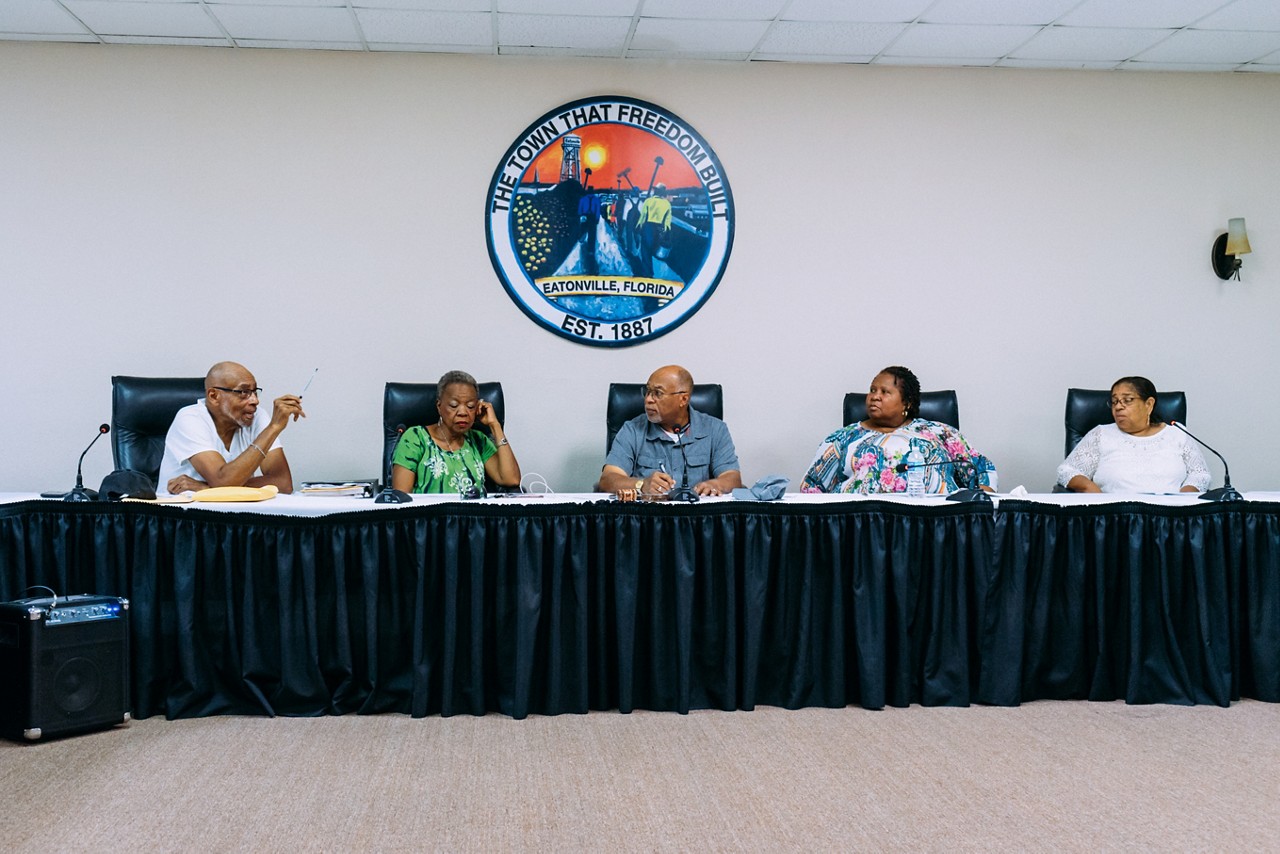 Growing the Economy to Feed Better Health
When Eatonville Town Planner James Benderson talks to elected officials, residents, and other stakeholders in town, they all want the same thing.
"Basically, a better quality of life while preserving the history and character of the town," he says.
Eatonville's leaders take a holistic view of health. They are striving to improve the health of their economy, while also improving the health of their residents. To that end, Eatonville is working toward creating a thriving business district to strengthen the town's tax base; improving the town's infrastructure, streets, and parks; and boosting education and economic opportunity for residents.
Among the town's priorities is boosting economic activity and its tax base by making better use of a key asset: the 95-acre site of the historic Hungerford Preparatory High School, originally established in the late 19th century to educate black youth. Run by Orange County Public Schools since the 1950s, the high school closed 10 years ago because of low enrollment and budget constraints.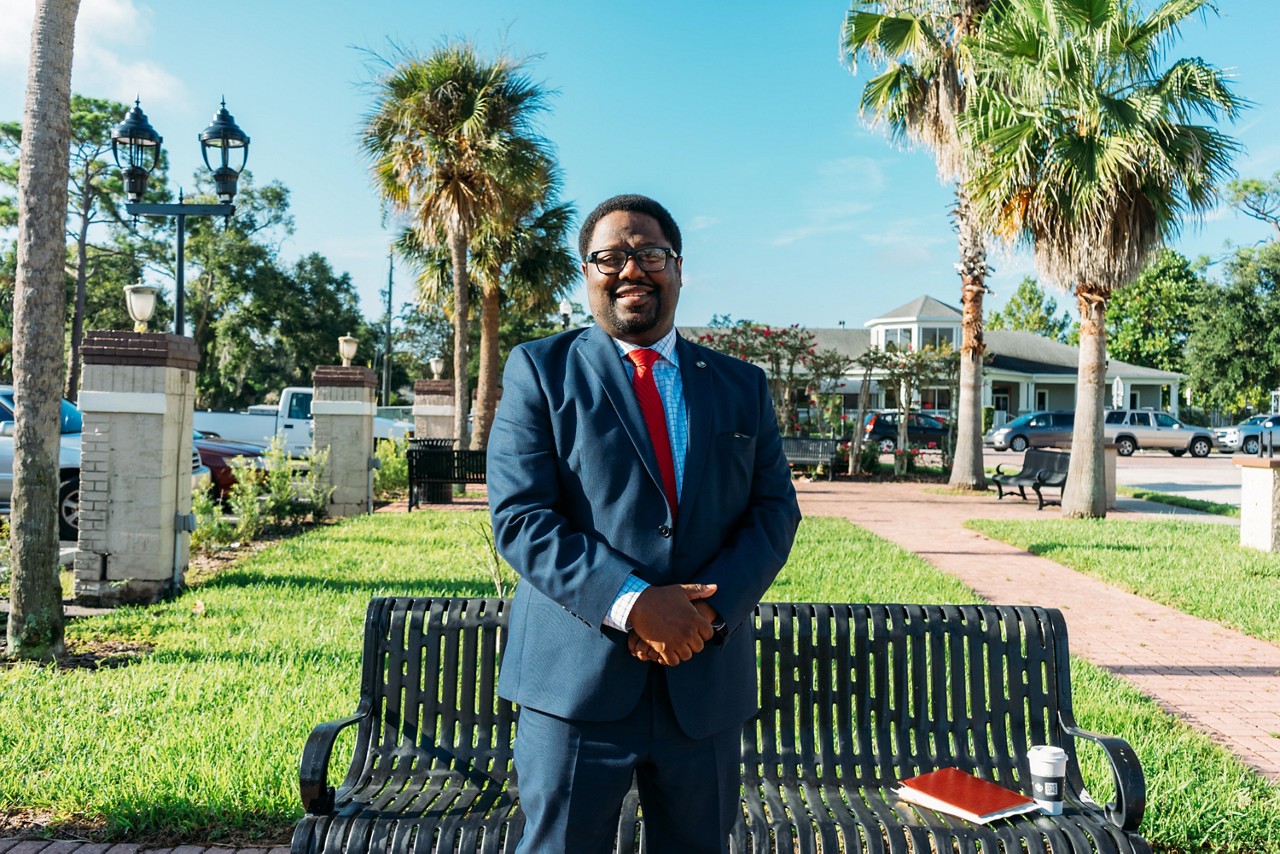 James Benderson, Eatonville's town planner and executive director of its Community Redevelopment Agency, outside Town Hall.
With approval from the Eatonville Town Council, the school board sold data center company HostDime five acres of the Hungerford property on which to build a seven-story headquarters slated to open next year. Town leaders liked HostDime's commitment to staying in Eatonville, where it has had a data warehouse since 2006; its likelihood of attracting other tech businesses; and its pledge to provide free, superfast Wi-Fi across much of Eatonville.
The school board and the town have made an agreement with another company to develop the remainder of the Hungerford Prep tract into a combination of residential, commercial, and retail properties. That same deal includes plans to develop a separate, smaller parcel on the western side of town into residential buildings with retail space in front.
Others want to make the most of interest in Eatonville's history as America's oldest historically black-incorporated town and in the late Harlem Renaissance novelist and anthropologist Zora Neale Hurston, who grew up here and wrote about Eatonville. Founded in 1990, the nine-day Zora! Festival attracts tens of thousands of people a year to Eatonville and nearby towns. Building meeting space in Eatonville could keep more of the arts and culture event's $2.5 million-a-year economic activity in town, says founder N.Y. Nathiri, and promoting year-round tourism could bring in jobs and even more revenue.
As Eatonville strives to attract more economic activity, it is taking steps to prepare residents for the future with high-quality education and training that can create a pipeline of talent for the new jobs coming in. In August, Hungerford Elementary School—where students often have had to make do with hand-me-down textbooks and almost 9 in 10 receive free or reduced lunch—moved into a new, modern facility with interactive whiteboards in every classroom. STEM subjects are infused into every lesson to put students "one step ahead," says Principal Letecia Foster.
Until recently, Eatonville had no vocational programs. Last year, the town entered a partnership with Orlando's Valencia College to train residents for construction trades. The first class of 17 students received their certificates last fall, and another group completed training this summer. Soon, one of the elementary school's former buildings will house a welding program.

These aren't just investments in the town's economic future. They're investments in the health of its residents. By enhancing access to jobs and education, Eatonville aims to create the conditions that allow all residents to reach their best possible health and well-being.
HostDime founder and CEO Manny Vivar, who started his company as a college senior 17 years ago, says he wants to set up a STEM lab for students in his new headquarters to help prepare them for future jobs in the tech economy. He's deeply invested in working with Eatonville leaders to ensure that this place so steeped in history gets a new life and new energy.
"We look forward to helping the town thrive," he says.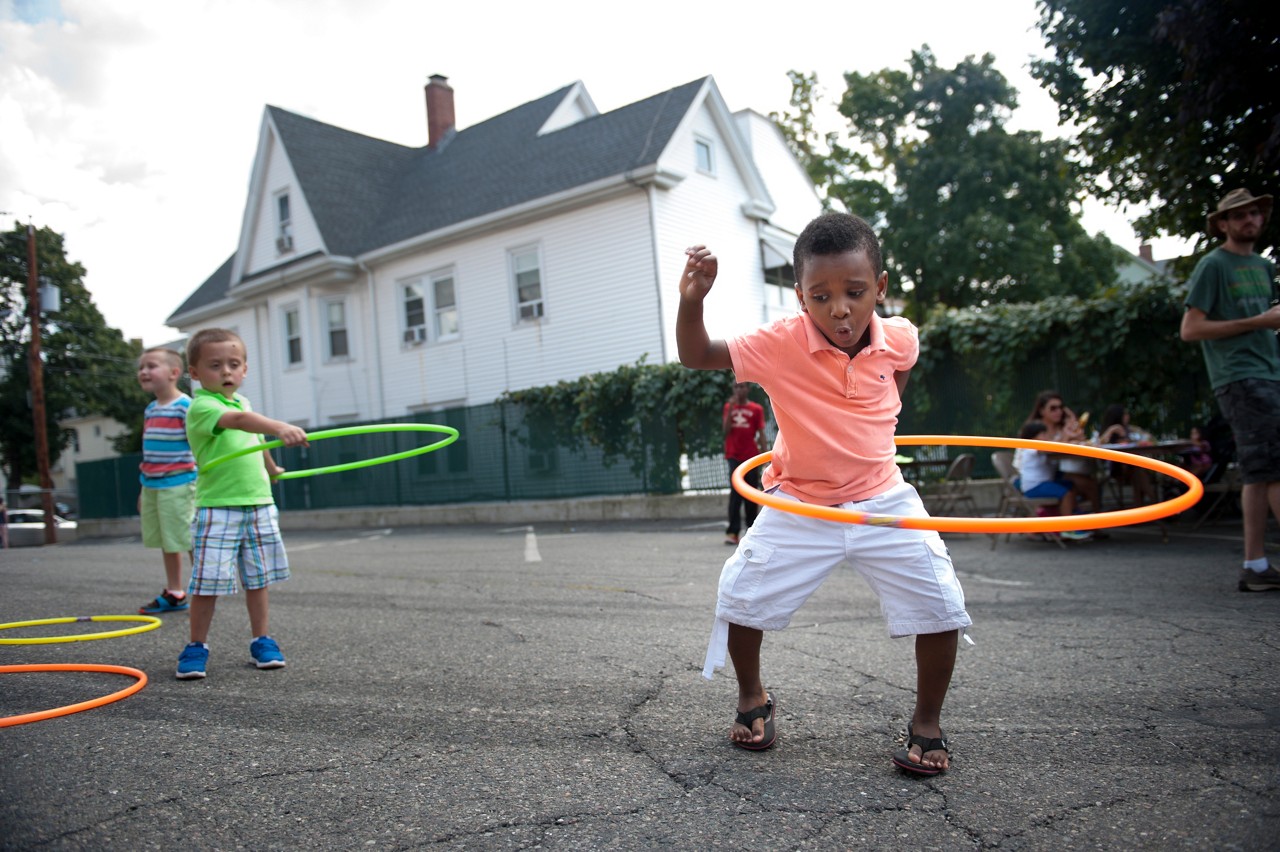 The Culture of Health Prize
The Prize honors and elevates U.S. communities working at the forefront of advancing health, opportunity, and equity for all.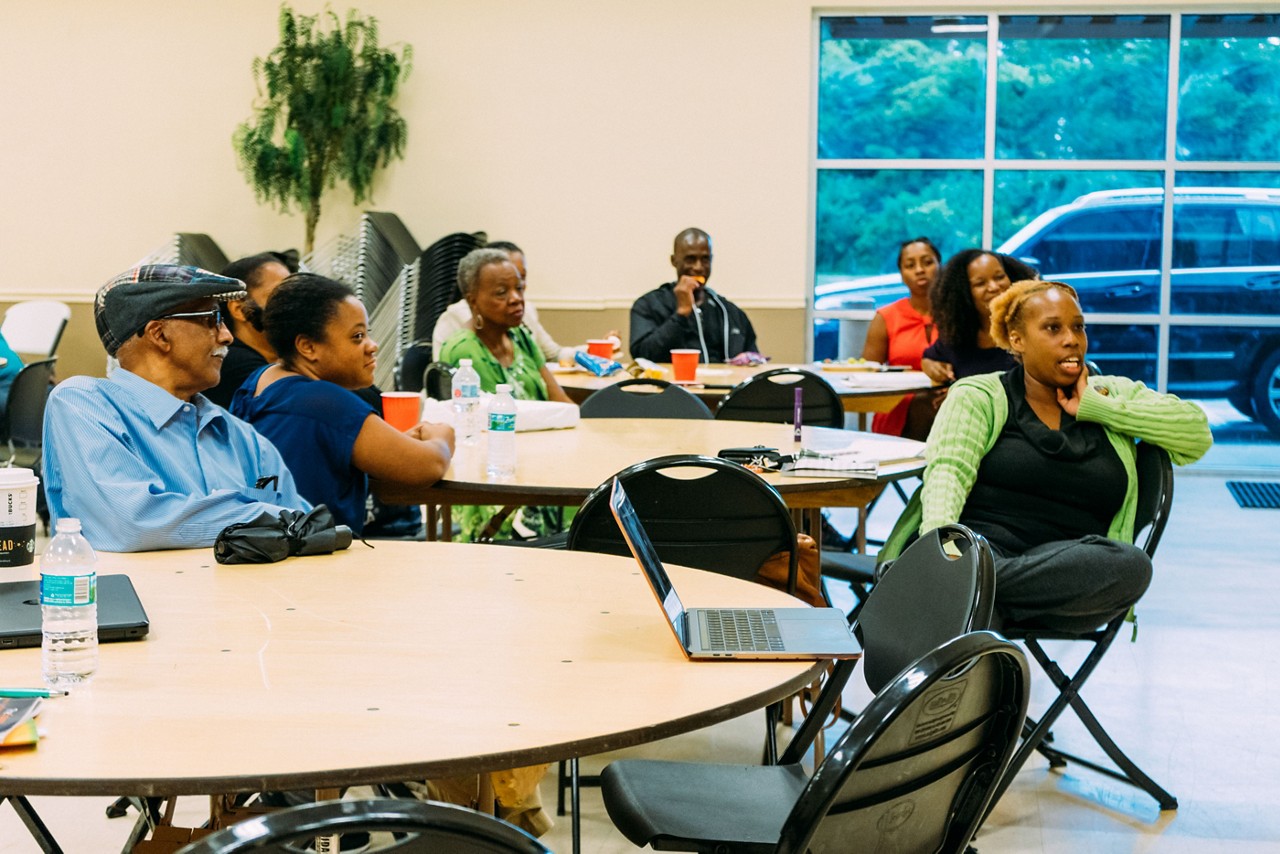 Empowering Residents, Nurturing Homegrown Leaders
At Eatonville's Hungerford Elementary School, 3rd-grade teacher Shermeka Scott teaches her students how to stand straight, look a person in the eyes, shake hands, and introduce themselves.
When Eatonville Mayor Eddie Cole takes his morning walk through the town's neighborhoods, he tells every resident who shares an opinion about local affairs, "You're the mayor!"
These are among the little ways Eatonville encourages all members of the community to see themselves as leaders. In America's oldest historically black-incorporated town, self-determination is woven not only into the story of the town's founding by freedmen 131 years ago, but also into more recent history.
Residents and town leaders have, over the past three decades, kept Orange County from widening the historic section of the town's two-lane main street, opposed construction of a medical waste incinerator plant, and chased out adult entertainment businesses.
In keeping with that tradition, and as the journey to build a healthier Eatonville has gained momentum over the past seven years, local government leaders have come to see residents' engagement as a key way to keep the forward motion going and build the sort of Eatonville people here envision.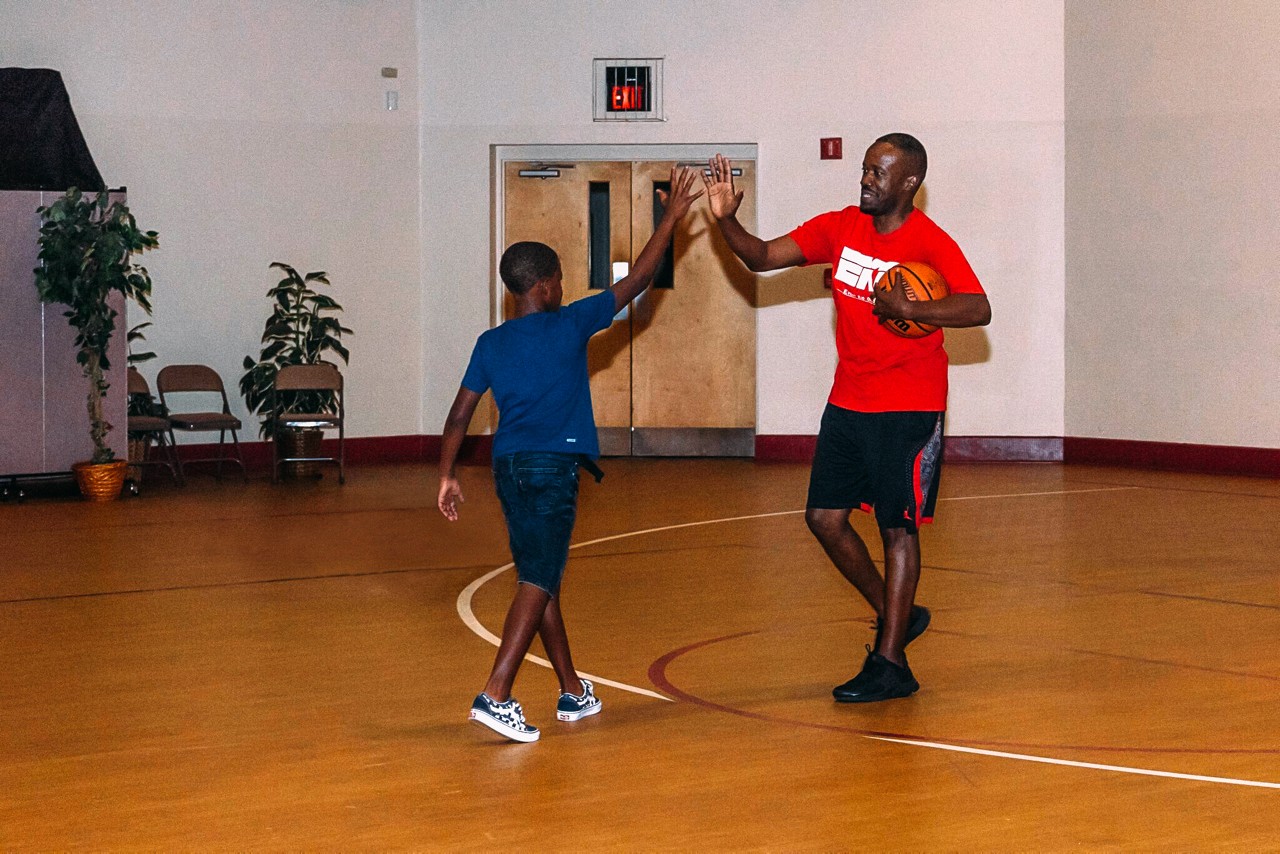 Eatonville Mayor Eddie Cole plays basketball with young people at the Life Center Church.
In 2016, Leadership Eatonville launched with funding from the Winter Park Health Foundation. Facilitated by the Polis Institute, an Orlando nonprofit that helps solve social problems, the six-session program and follow-up workshops equipped participants with the organizing, relationship-building and negotiation skills to dream up and implement projects that boost health and wellness. The goal is to enable residents and others who care about Eatonville to create lasting solutions that address the underlying causes of poor health. A total of 32 people of all ages took part in the program in 2016 and 2017.
Kurt Carrington, a fitness instructor and retired Marine, was among the first cohort of students.
"I didn't know anything about how you go about structuring a community project," he says. Soon, Carrington was knocking on doors to gauge residents' interest in seeing middle school and high school STEM programs established in the town.
Eatonville also is encouraging residents to see that their participation in the governance of their town matters. Retired psychiatric social worker Maye St. Julien, who chairs Eatonville's Historic Preservation Board, was one of the five residents chosen by Town Council two years ago to update the town charter—the legal document establishing it as a municipality and setting up how it will function. The charter hadn't been revised in nearly 20 years.
The updated document passed in a December 2016 ballot measure with support from 84 percent of Eatonville voters. Among its provisions is giving the town's registered voters "power to require reconsideration by the Council of any adopted ordinance." It also lengthened councilmembers' terms from three to four years and requires the mayor to appoint a chief administrator. These changes have boosted government capacity, improved trust and transparency between residents and town leaders, and enhanced their ability to build a healthier, more civically engaged community. "My feeling is that we're really on a new track," St. Julien says.
Eatonville is planting the seeds of further progress by nurturing the next generation of leaders. The town of just 2,200 people boasts a plethora of groups that work to give youth the building blocks of leadership and success, from town government and Eatonville's nine churches to the Boys & Girls Club and Every Kid Outreach, a faith-based nonprofit.
Building up the town's young people is second nature to Mayor Cole, who spent more than 30 years promoting youth development as head of several nonprofits and the Eatonville recreation department.
"I mentor kids because they need me today, and I need them tomorrow," he says. "It's so important that they are successful."
One such success is Rod Bargaineer. He was mentored by Cole 30 years ago as a summer camp counselor working for the recreation department. Now, he directs the department. When Bargaineer hires a new cohort of teens to work for him each summer, he says he's simply paying it forward.
"It's an honor to give kids the opportunity I had," he says.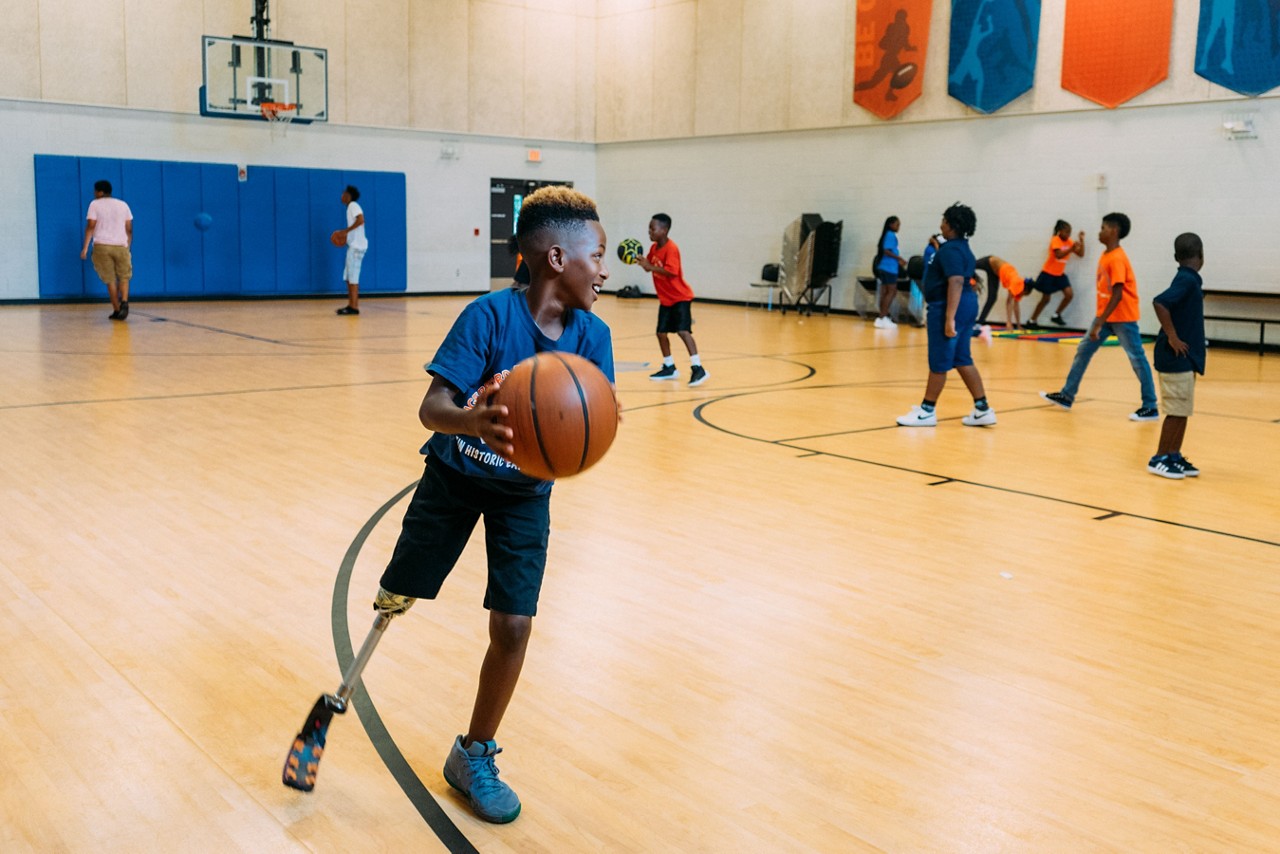 Elementary school students enjoy a game of basketball at Eatonville Boys & Girls Club after school.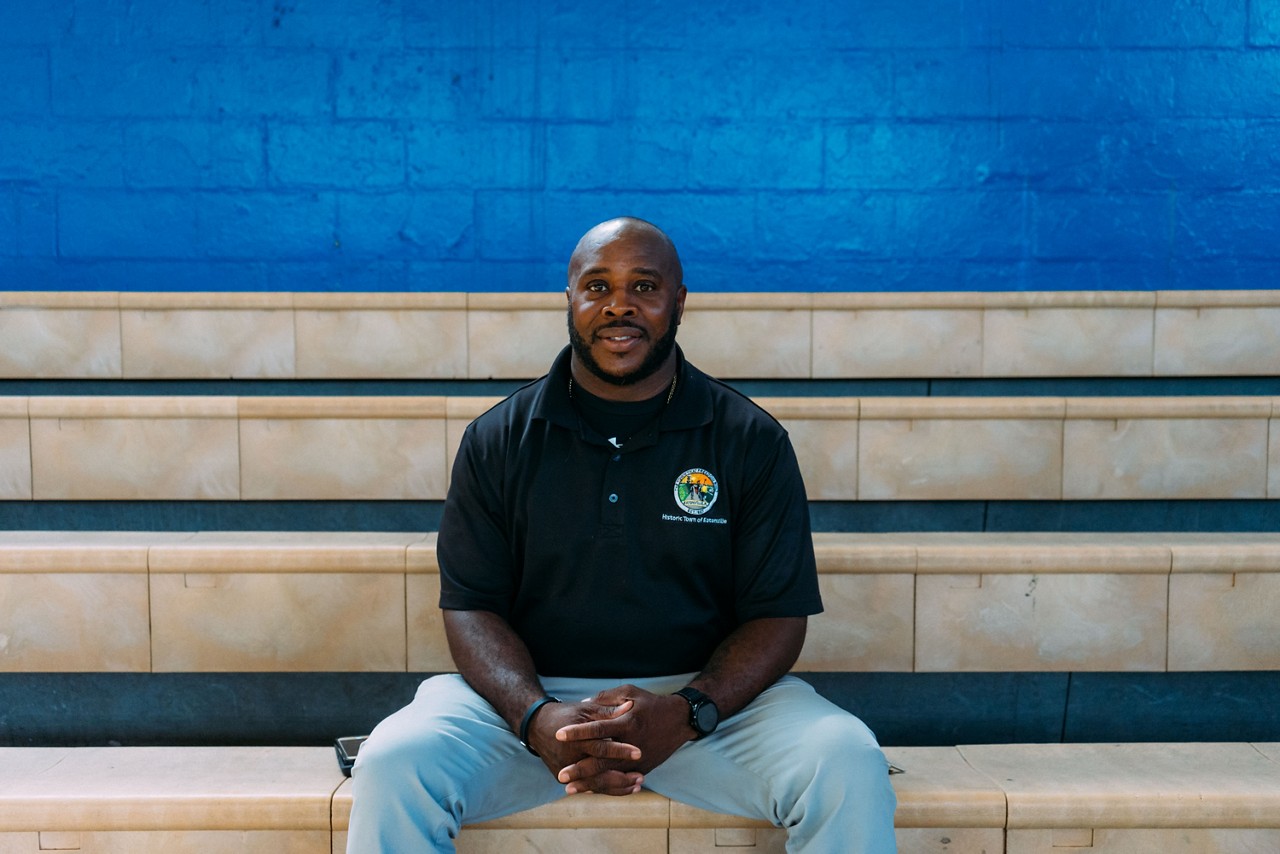 Rob Bargaineer, Eatonville's recreation director, at the old Hungerford Preparatory High School gym.