Marketplace Pulse: Medicaid Managed Care Organizations in the Individual Market
Research
May-20-2019
|
Hempstead K
|
3-min read
The Marketplace Pulse series provides expert insights on timely policy topics related to the health insurance marketplaces. The series, authored by RWJF Senior Policy Adviser Katherine Hempstead, analyzes changes in the individual market; shifting carrier trends; nationwide insurance data; and more to help states, researchers, and policymakers better understand the pulse of the marketplace.
The growing participation of Medicaid Managed Care Organizations (MMCOs) has been one of the main carrier storylines of the Affordable Care Act (ACA) marketplace. MMCOs were instrumental in filling bare spots left by exiting commercial carriers in advance of the 2018 plan year. Of the 789 county level entries or expansions that occurred before the 2019 plan year, about 20 percent reflected increased participation of MMCOs. MMCO plans tend to be competitively priced, in part due to their use of narrow networks and lower provider payments. A recent analysis by the Urban Institute notes that benchmark premiums are lower in states where Medicaid MCOs participate in the marketplace. MMCO participation may also improve continuity of care for enrollees who switch between Medicaid and marketplace plans as their income fluctuates.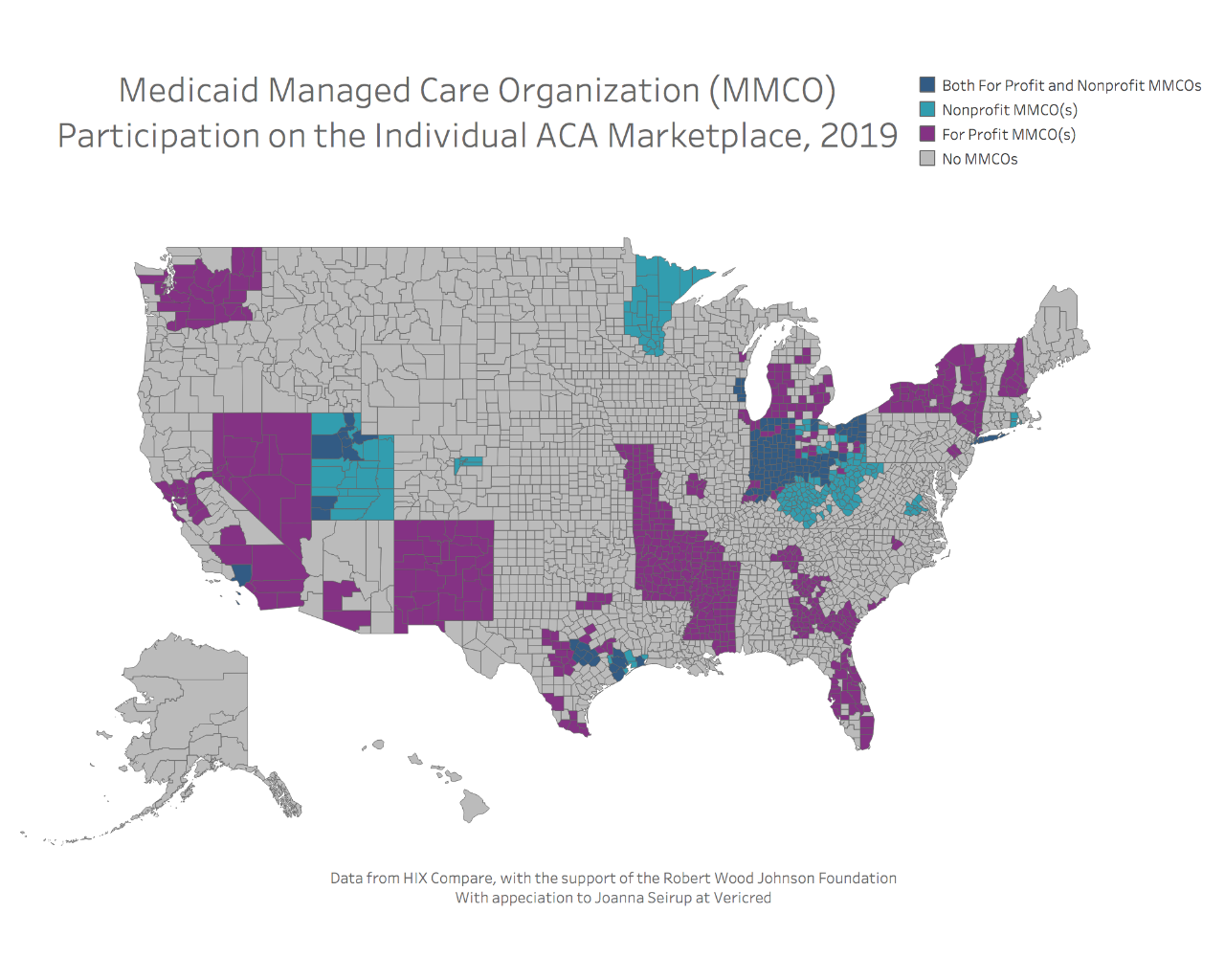 In 2015, there was at least one MMCO in 542 counties; by 2019 that number has increased to 952. The share of the population in a county with an MMCO in the marketplace increased from 48 percent in 2015 to 57 percent in 2019. Yet there are opportunities for more growth. Currently 28 percent of large metro residents, 61 percent of small metro residents, and approximately 71 percent of rural residents live in a county that is not served by an MMCO. Massachusetts, Pennsylvania, North Carolina, and Virginia are examples of populous states that currently have little or no MMCO penetration in the individual market.
MMCOs in the individual market include nonprofit plans and several large publicly traded companies. Most of the nonprofit MMCOs are small community safety net plans associated with a health system, city, or county government. One exception is the multi-state CareSource. These plans are geographically constrained and have limited opportunity for growth. Centene and, to a lesser extent, Molina have dominated MMCO growth, either by expanding their footprint in existing markets or entering new states. In fact, Centene is the largest overall participant in the ACA marketplace, with approximately 2 million members. Molina, the second largest MMCO in the marketplace, has approximately 275,000 members.
The pending acquisition of WellCare by Centene is evidence of a continuing growth imperative, although recent stories about a possible takeover of Centene by Humana have implications for the WellCare deal and potentially for Centene's broader strategy. Molina's recent loss of Medicaid contracts in Florida and New Mexico may incentivize the company to seek new members in the individual market. Yet the MMCO provider payment strategy may not be feasible in places where providers have more market power. And with marketplace enrollment relatively flat in recent years, it is not clear whether expanding participation will provide a sufficient opportunity to gain new members, particularly as compared with the faster growing Medicare Advantage market.
There are a few potential new opportunities in the individual market. Some states are interested in creating public plan options such as Medicaid buy-ins to provide more affordability in the individual market. In one sense MMCOs seem well positioned to compete for these opportunities, given their focus on cost control. On the other hand, if states set provider rates, the comparative advantage of the MMCO may be reduced. The proposed Health Reimbursement Account rule, which has yet to be finalized, would create new incentives for employers to help pay for employee enrollment in the individual market. However, lack of experience with group coverage and differences in plan design could make employers less likely to exercise this option in markets that are served primarily by MMCOs.
With rate filing season approaching, it is natural to contemplate the prospects for changes in carrier participation, particularly those that might result in increased competition. Many current individual market participants, like blues plans and regional and provider owned systems, are geographically constrained. New national carriers such as Oscar and Bright Health have focused on close ties to highly regarded health systems such as Cleveland Clinic, which may limit their opportunities for expansion. A major return to the market by other commercial carriers seems unlikely. Large scale growth in the individual market is probably most feasible for the publicly traded MMCOs, but it remains to be seen whether or not this will seem like their best opportunity.
Brief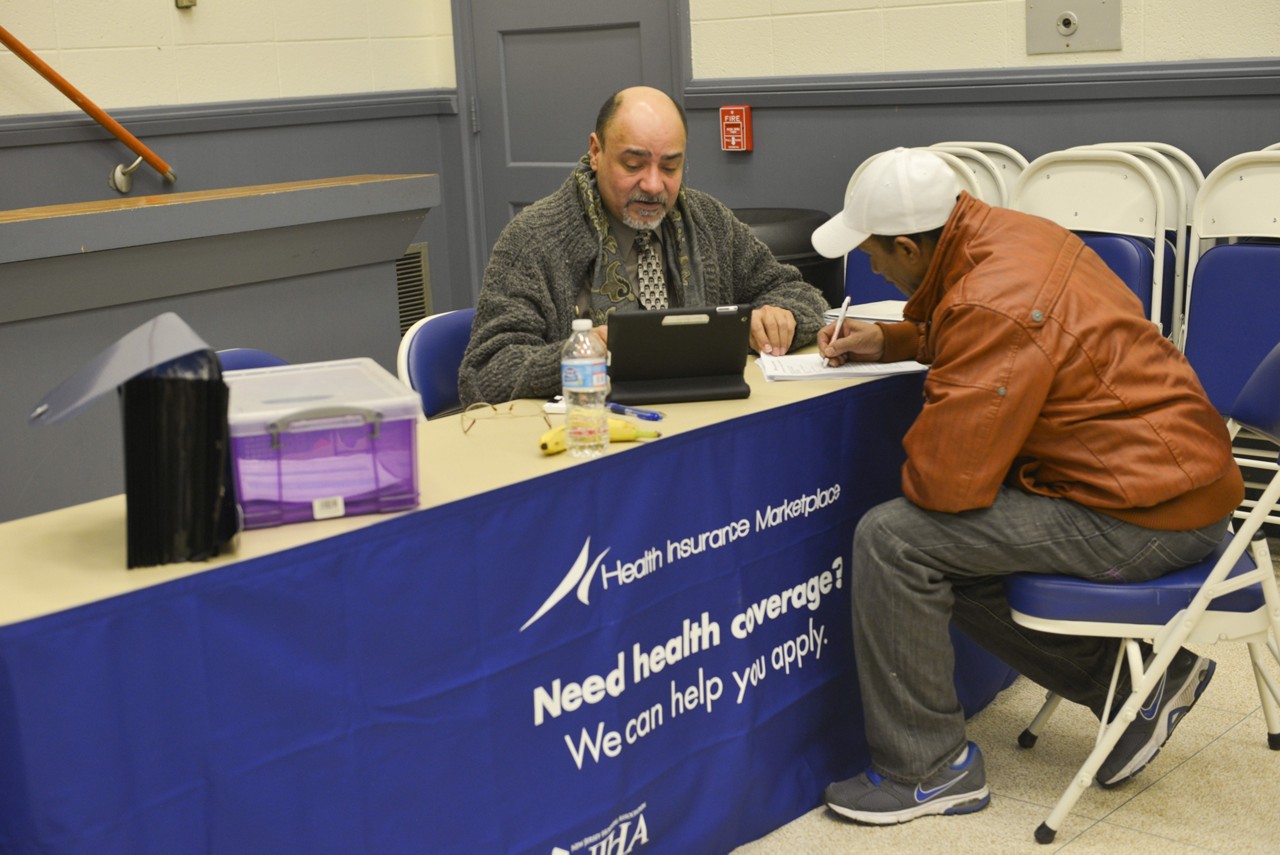 Marketplace Pulse: Are the Markets Ready for the HRA Rule?
Starting 2020, employers will be able to use HRAs to help pay for individual market coverage for employees, which causes some anxiety among market watchers.
RWJF Feature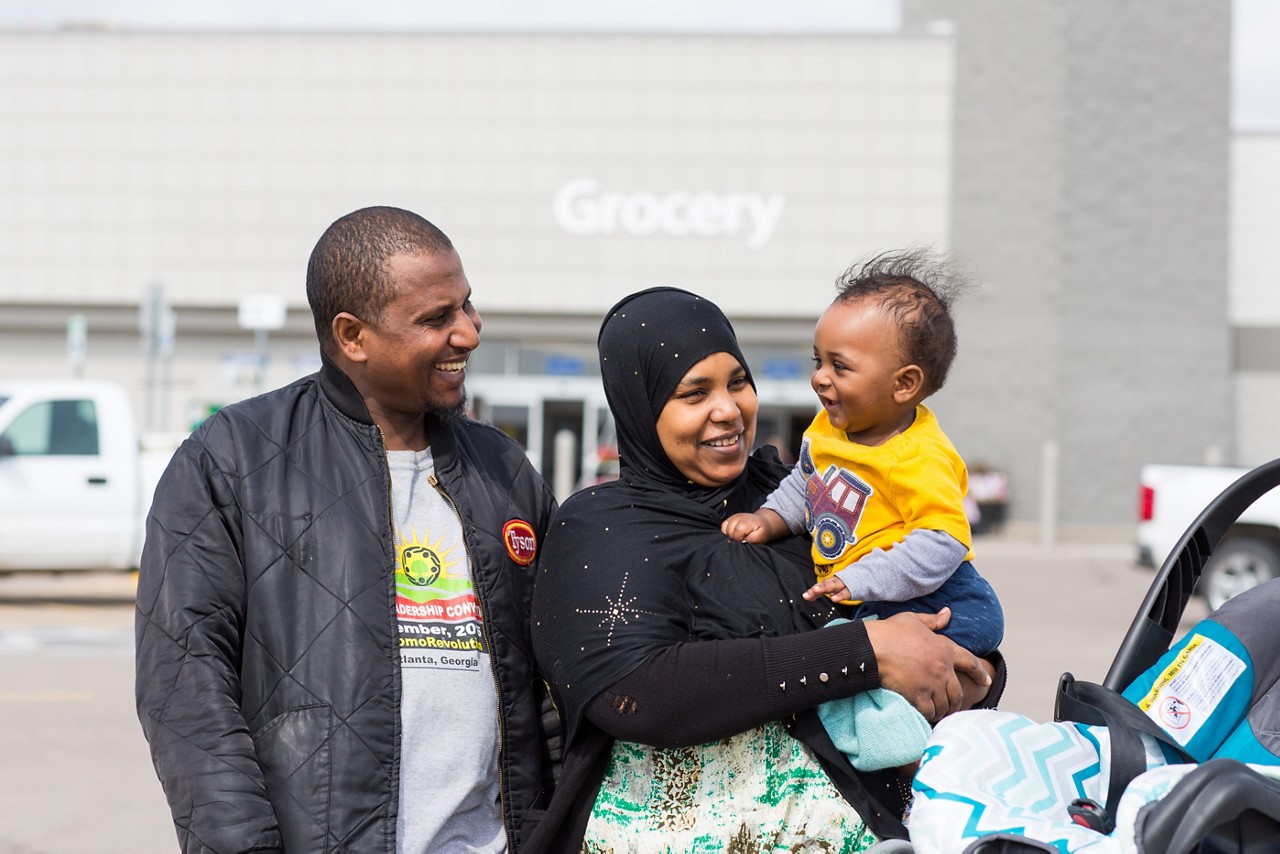 Medicaid
Stable, affordable health coverage for people in the U.S. is the starting point to improving health outcomes and building a Culture of Health. In the U.S. nearly 75 million people rely on Medicaid for health coverage.