Building food systems that support health and economic inclusion for all requires acknowledging that those closest to the challenge are also closest to the solution.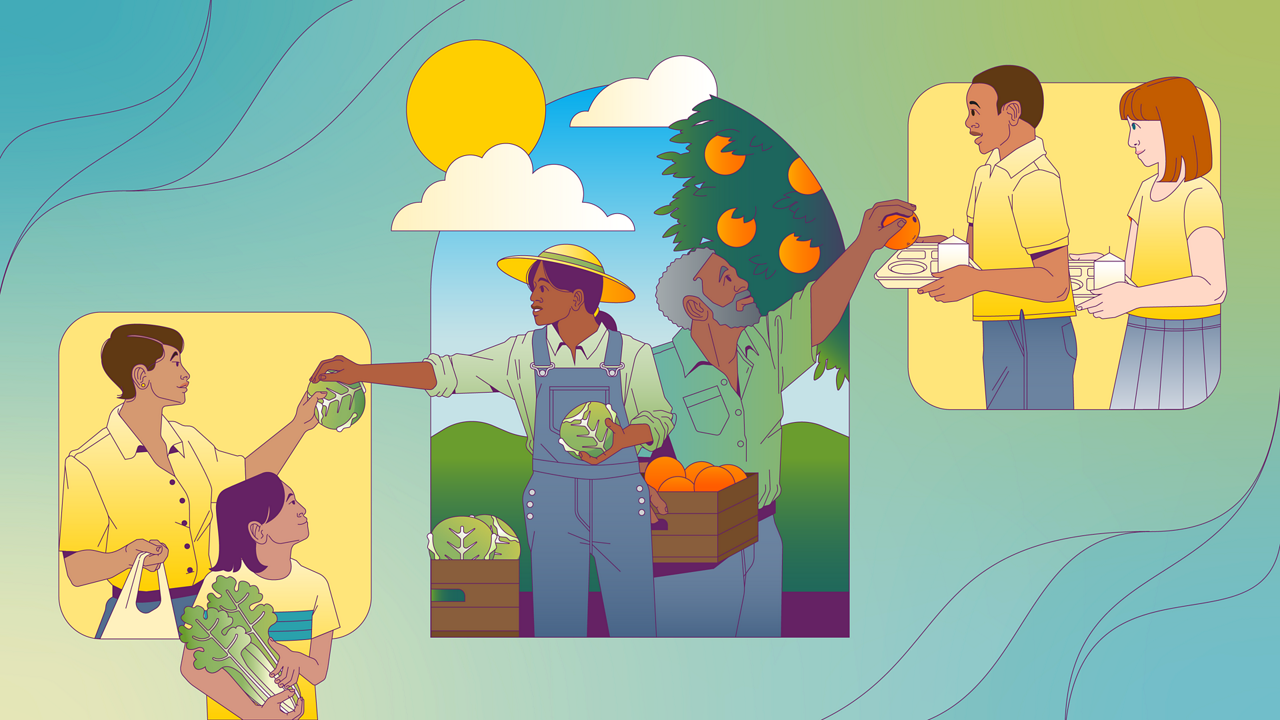 Editor's note: This post by Diana Rivera, program manager at Vital Village Networks, shares insights about her team's work to build community power in local food systems. Vital Village is a Boston-based network of residents and organizations committed to maximizing child, family, and community wellbeing. The post originally appeared on the State of Childhood Obesity.
Coming from a family of farmers in the Philippines, I grew up with a deep appreciation for the land. For my family and me, land represents so much more than a patch of ground that provides us with the food we need to survive; it's also a beautiful reminder of our heritage and the sense of connection created when people come together to grow food, care for, and feed their neighbors.
While my native country is rich in natural resources, I saw firsthand how the benefits and profits of growing crops—and the larger systems and policies that shape them—were not supporting the Filipino people who lived there and nurtured the soil. The land, its resources, and people have long been exploited, with much-needed food being exported, farmers struggling to earn a living wage or feed their families, and our communities—my fellow kababayan—hurting as a result.
Many families across the U.S. are facing similar challenges: experiencing hunger; lacking access to affordable, healthy, and culturally relevant, fresh food; and being economically excluded. These circumstances are a reality for millions of people living in America, and they often exist because community members who are most impacted by inequities in the food system are excluded from opportunities to elevate their voice or activate their power to influence where and how their food is produced, priced, or sold.
What's the solution? Building community-powered food systems.
I think of our food system as a web: an interconnected set of relationships, dependent on the contributions of farmers, retailers, grocery store clerks, schools, restaurants, community gardeners…and more. Anyone who is part of ensuring that people can access and afford the food they need to thrive with dignity is integral to the food system.
A central longstanding challenge we face is that most food systems we encounter today are not community-powered, but profit-driven. Rather than building on existing strengths and relationships within a community, many food systems—spurred by economic or political interests—exclude community members from decisions that directly impact their health and wellbeing. This in turn reinforces the health inequities experienced by those most affected by food insecurity, particularly people of color and people living in low-income and historically disinvested communities. When we invest in redistributing the power and decisionmaking capacity in our food systems, we invest in health equity.

So how do we do that?
1. Build capacity among emerging young leaders.
At Vital Village, we believe in creating opportunities that lift up existing community capacity and foster learning connections for local leaders on the ground. Through the Community Food Systems Fellowship, fellows are given the space and support to think creatively about the challenges their communities are grappling with, and what it would take to achieve transformative change—not only as individual agents of change, but as a movement of grassroots leaders across the country committed to collective action. Providing young leaders and leaders of color with the resources and collaboration they need to learn from and with one another is integral for driving equity at the local level.
When members of historically excluded groups harness their capacity to elevate their voices, they're not just speaking for themselves: they're also lifting up the voices of their community that point to critical actions for creating healthy communities of opportunities.
2. Redistribute the power so that people with lived experience of hunger and inequity have a say.

When it comes to building more equitable, sustainable food systems, it's not just about having a seat at the table. We also must look critically at who designed the table, understand who picked the seats in the first place, and perhaps redesign the table altogether. You've heard the phrase, "Nothing about us without us," so why isn't that our approach when it comes to improving our food systems? Those who most experience the challenges of hunger or food insecurity—like the parent of a young child on SNAP or WIC benefits, or food chain workers who help put food on the table but are unable themselves to afford food for their families—should be able to define for themselves a food system that works for them and honors their ability to live a full and thriving life.
At the core of our mission is centering the dignity and contributions of every member of our food systems, whether you're a farmworker or a child eating a school lunch, and redesigning a system that honors those experiences.
3. Invest in small farmers, especially Black, Indigenous and farmers of color.
Small, local farmers are central to a thriving local food system. Not only are they managing the high-stakes, labor intensive operations of their business, but they're also helping to drive local economies, caring for the communities they live in, making sure their families are fed, and nurturing the land through sustainable practices—all while producing delicious, healthful food that reinforces our connection to land, people, and culture.
We must do more to invest in farmers who have historically been denied the ability to own or access land, including by developing pathways that allow them to move from leasing their fields, gardens, and pastures to owning them. This can be accomplished through resource-pooling across multiple farms and other land link strategies. Building communal ties can also benefit local food producers: families should meet the farmers who provide the food they eat.
A food system we can believe in.
As we work to build better food systems that support health for all and economic inclusion, we must remember that those closest to the challenge are also closest to the solution. Shifting the power structure at every level to create space and decisionmaking power for those who have been harmed, excluded, or marginalized by our current food systems can only create stronger, more equitable, and more sustainable communities—now, and in the years to come.
 
About the Author
Diana Rivera is a public health social worker who is committed to advancing racial, economic, and health equity to ensure that communities thrive.