How Newark Harnessed the Power of Partnerships During the Pandemic

From vaccinations at bus stops to leveraging social media, citizens of Newark, New Jersey, banded together to advance health equity during the pandemic.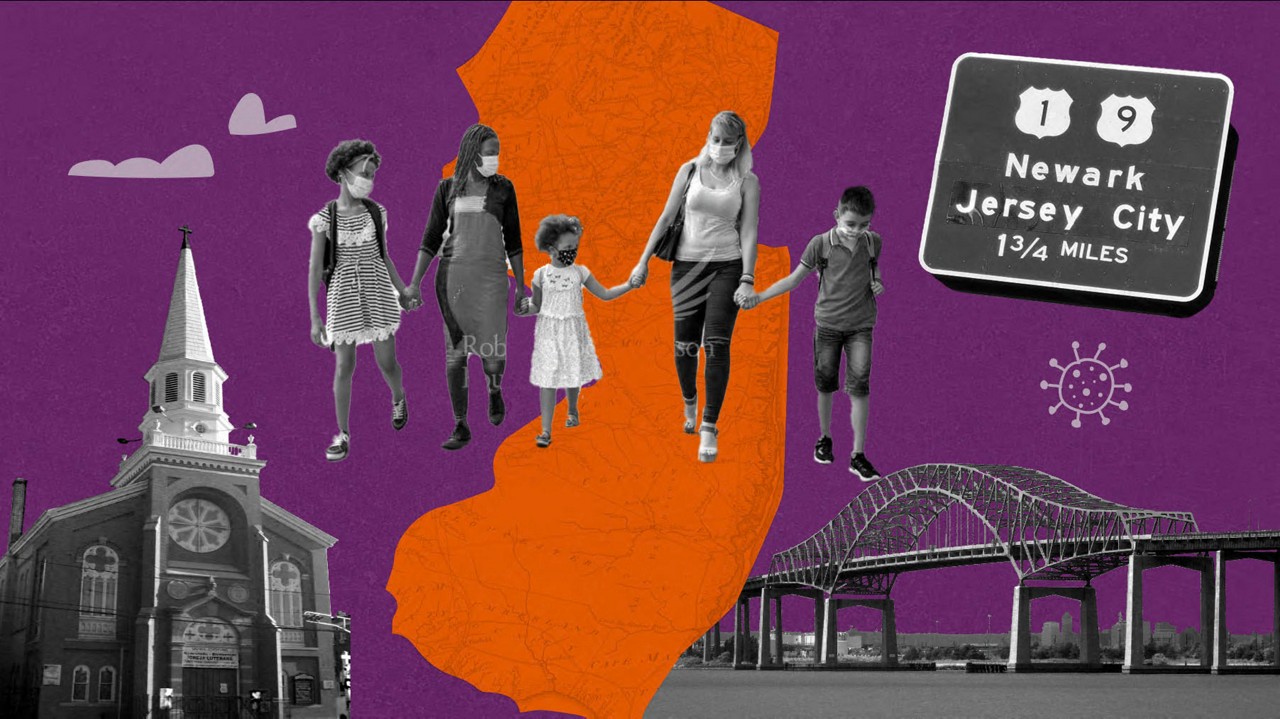 "Newark is hella good in a crisis."
These seven words have stayed with me for months after visiting Newark, New Jersey to see—and feel—how the work of advancing a Culture of Health looks in communities. If you're anything like me, you know Newark as the home of an international airport but maybe not much beyond that.
Like many townships and cities in the Foundation's home state of New Jersey, Newark is a quintessentially American city, reflecting all of the historical structural barriers and promising opportunities that come with that designation. It is a racially and ethnically diverse mid-sized city of more than 300,000 residents, 48 percent of whom are Black. Thirty-seven percent are Latino.
The Ironbound section of Newark—which is in the city's East Ward—is considered a multi-ethnic, working-class gem. Within this ward are multitudes, including the Federally Qualified Health Center (FQHC) run by Saint James Health. Nicole Fields, President and CEO of Saint James Health, stood out to me on a panel that discussed lessons learned during the COVID-19 pandemic held at the New Jersey Performing Arts Center in October because of her unflappable demeanor. It's a trait that certainly came in handy when the pandemic changed all of our lives forever and took hold in the U.S. more than three years ago this month.
The line, "Newark is hella good in a crisis," was one of the takeaways from Fields, and echoed by Mayor Ras Baraka at a reception after the panel. Fields described how her FQHC takes care to be accessible to anyone, offering services in multiple languages, including Portuguese. "My family has been in Newark a long time," she said when I followed up with her in December on Zoom. "I've been doing this in Newark for awhile."
Engaging trusted community leaders
Fields described important innovations—and revelations for those of us passionate about health equity that can be useful outside of crisis. They included expanding partnerships beyond the health and healthcare system.
It also included enlisting trusted community leaders like Rev. David Jefferson, pastor of what is believed to be the largest Black church in Newark, Metropolitan Baptist, which has about 7,000 members.
It included having a key ally in Mayor Baraka, whom, Fields said, "never said no to me," even when he was a little nervous about her plan to vaccinate residents at bus stops (which worked). Mayor Baraka enlisted the help of Raul Malave, Assistant Public Safety Director. Knowing they couldn't stick to the rigid city government playbook during a time of crisis, Fields noted how creative Mayor Baraka's leadership was. "All the rules lifted during pandemic made it easier for us to move in general, leveraging all the people in the community. We have a good clergy association in Newark, they have a close relationship with the mayor's office," she said.
Addressing fears and debunking misinformation
Mayor Baraka was on Facebook live every day, communicating with the community. Many of the city's pastors got vaccinated on TV to show residents they were still healthy afterwards. "A lot of people think that what we were hearing from our patients was crazy. Tuskegee came up," Fields added, referring to the U.S. Public Health Service's infamous and devastating experiment on Black men. "You had to understand where the fear was coming from. No one dismissed them. Top down, that was promoted. The mayor would say to all of us, before Facebook Live, what have you heard from patients. He would give them actual facts against the things that they were afraid of. We had a huge network and would send out FAQs. Preparing your providers to hear those things."
Schools and churches were closed, but in Newark, community partners used this opportunity to create vaccination sites in the closed high schools, which led to a 100 percent vaccination rate. Almost 200 firefighters with Newark Public Safety were trained to provide vaccinations, since they weren't working. They went to churches like Metropolitan Baptist to vaccinate residents and debunk widespread misinformation about COVID and the vaccination.
"It was the power of our partnerships that got us through the pandemic," she said. "I saw nonprofits come together and run together better than I've ever seen before in my life."
The challenge to continue progress
Now the challenge is continuing the momentum based on what Fields and others who care about health equity and saving lives have learned.
"We're burning out our providers because we get people in for preventative screenings, but once we find things like cancer, we can't convince our patients to get care," Fields said, adding that one barrier seemed to be low levels of trust among Black and Latino patients. "We have managed Medicaid and transportation. Who can convince them to get treated"?
The same thing is true for high rates of diabetes and hypertension, which seem like low-level problems until they go untreated. Fields mentioned the sad case of a patient diagnosed with Stage 1 cancer who did not get follow up treatment and died from Stage IV cancer complications as a result. "We think it ties back to the trauma in our city. So many of them have seen people die from bullets which seems immediate."
"We need to go back to focusing on the whole patient," Fields said. A striking example of the aftereffects, or other issues that emerged during the pandemic, was a marked increase in depression. "So, we began screening for high blood pressure and depression when vaccinating people."
Incorporating the lessons learned during the intense, frightening early days of the pandemic, leaders like Rev. Jefferson and Fields have created a healthcare model that, in Jefferson's words, "meets people where they are and will save lives every day."
The question will be how we all can have radical imagination to hold and fortify the network in times of relative normalcy and calm. To use the network that has been created to convince people they can "be in charge of their health care" and reduce instances of chronic disease. To move from "Newark is hella good in a crisis" to "Newark is hella good at giving patients what they need."
About the Author
Joshunda Sanders is senior executive communications officer to Rich Besser, president and CEO of the Robert Wood Johnson Foundation.