With the City Health Dashboard, communities across the United States are using data presented on a feature-rich website to create healthier and more equitable communities. Lessons learned will help more community leaders pinpoint local health challenges and close gaps in U.S. cities and neighborhoods.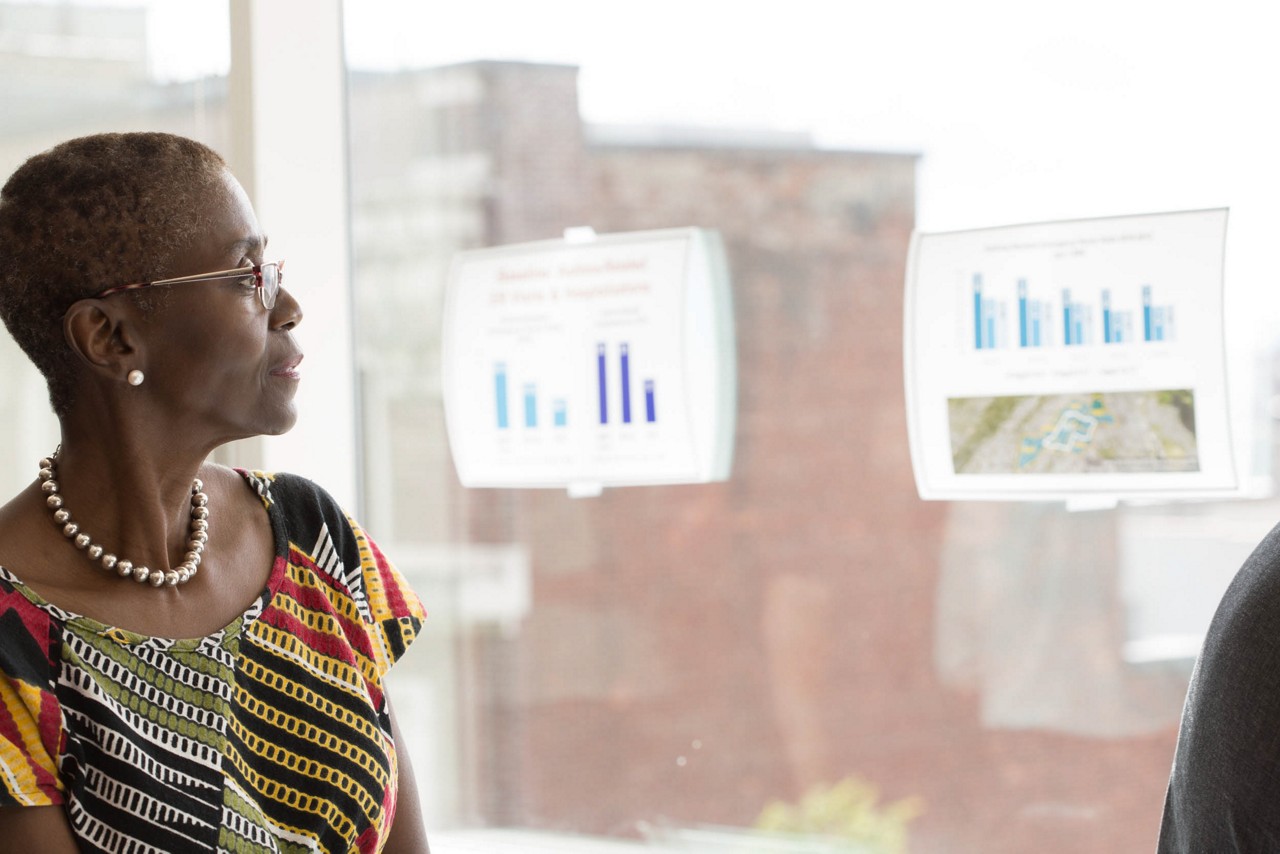 If you knew children born and raised in one neighborhood of your city tend to live 10, 20 or even 30 years longer than those raised in another, what kinds of questions would you ask?
Local data on social, economic, and health factors can help city planners, policymakers, and community advocates illuminate approaches to such challenges and drive change.
We heard from city leaders that there was a lack of data at the city and neighborhood level clearly showing which factors have the greatest influence on their community's health and well-being. So we got to work and created the City Health Dashboard. Launched in 2018, the Dashboard integrates city- and neighborhood-level data from multiple national sources, providing 37 measures that address health, such as obesity rates and life expectancy, and conditions that shape health, such as child poverty, unemployment, and residential segregation. The country's 500 largest cities—those with populations of approximately 66,000 or more—are all represented in the Dashboard, which also includes a rich set of resources to help cities take action to improve health.
For the City Health Dashboard team, our first year exploring the power of local data to understand and improve health was an exciting one, with many lessons learned. We delved into data on the availability of parks and affordable housing, rates of children in poverty and obesity, and other factors that affect health in the nation's largest cities and towns. Out of this data exploration, we continued to address gaps in data needs, adding new features that make the Dashboard an even more powerful tool for cities and communities working to build a Culture of Health. We are excited to share three things we've learned from our first year, and we invite you to explore the Dashboard for yourself.
First, local data is so powerful because it allows cities to dig deeper into the factors that drive health. It's hard to be healthy when you live in places where you can't buy healthy food, find housing that is safe and affordable, or secure good-paying jobs. Local data illuminate these gaps, pointing to opportunities to take action and improve health. Neighborhood data is particularly helpful for small and mid-size cities that may lack the resources and capacity to conduct more comprehensive data collection and analysis.
With the Dashboard's data and easy-to-use visualizations, community leaders in cities like Grand Rapids, Mich., population 195,355, can see how opportunities for health and well-being in neighborhoods right next to each other may differ drastically.
To ensure economic growth is equally distributed across communities in Grand Rapids, local officials used the Dashboard's data on unemployment, income inequality, child poverty, and life expectancy to identify what they call "Neighborhoods of Focus" where residents are struggling the most. With partners like Invest Health, the city decided to focus on these 17 identified neighborhoods to make improvements and close opportunity gaps. For example, when the city received over $50 million in Low-Income Housing Tax Credits to provide more affordable housing, it targeted these resources to these Neighborhoods of Focus, ensuring the funds reached those who needed them most. Dashboard data provides the level of granularity city leaders need to identify patterns, connect the dots, and convene diverse community members to address issues for improving health.
Second, the Dashboard has revealed remarkable patterns regarding residential segregation and life expectancy. The Dashboard shows large gaps in life expectancy, some as large as 20 to 30 years, between neighborhoods within many cities. While the average gap across the Dashboard's 500 cities between the neighborhoods with the shortest and longest life expectancies is 12.4 years, cities that have higher rates of neighborhood racial/ethnic segregation also tend to have greater life expectancy gaps between neighborhoods. Chicago has the largest gap in life expectancy at 30.1 years. Washington, D.C., has a life expectancy gap of 27.5 years, followed by New York City (27.4 years).
Dashboard data show that residential segregation is associated with shorter lives. This can be caused by a number of factors. Children who grow up in segregated neighborhoods tend to have less access to good schools and green spaces in which to play and exercise, as well as higher exposure to crime and environmental toxins. When these factors are combined, their influence on health can be especially damaging.
The good news is that we have tools and policies to help cities and communities improve their residents' health. Research shows that universal pre-K programs, safe and affordable housing, higher minimum wage, and increased access to primary care all work to improve health. The challenges and the solutions will be different for every community. The Dashboard data equips cities to dig deeper and start conversations about how to build thriving and more equitable communities by improving education, housing, economic opportunity, and other factors.
Lastly, we've identified Dashboard features that are particularly valuable and strengthened them. We updated our Take Action section, offering city and community leaders additional strategies to drive change. For example, in addition to identifying resources for designing a "complete streets" policy to make roads safe and accessible to pedestrians and vehicles, you can now explore funding opportunities and partnership strategies that can help make these initiatives a reality in your community.
New interactive maps let you see where and how measures overlap, neighborhood by neighborhood. For example, in Buffalo, N.Y., neighborhoods with higher rates of children in poverty also tend to have higher rates of mental health issues. While this might seem intuitive, backing up intuition with data is how resources get allocated, programs enacted, and change initiated at the local level.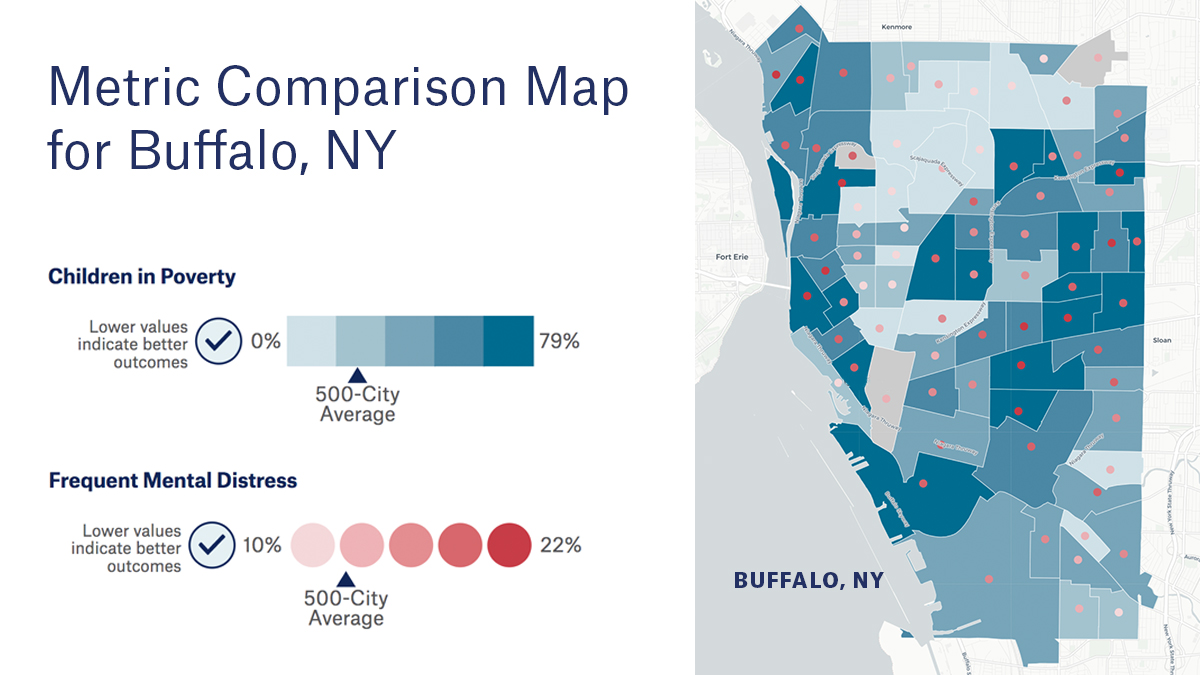 With 37 measures of health and well-being for 500 cities, you can use the Dashboard to compare across and within cities. With the addition of multi-year data for 29 metrics, you can now also track changes in your community year by year. These new Dashboard features help communities better understand their greatest challenges and, more importantly, to take action where it matters most.
Visit www.cityhealthdashboard.com to explore the data, subscribe to our email list, and follow us on Twitter @cityhealthdata for the latest updates.
 
About the Author
Marc N. Gourevitch, MD, MPH, is the Muriel and George Singer Professor and founding Chair of the Department of Population Health at NYU Langone Health. The focus of Dr. Gourevitch's work is on developing approaches that leverage both healthcare delivery and policy- and community-level interventions to advance the health of populations. Dr. Gourevitch leads the City Health Dashboard. 
City Health Dashboard was created by NYU Langone Health, Department of Population Health, in partnership with NYU Wagner Graduate School of Public Service, the National Resource Network, the International City/County Management Association, and the National League of Cities, with support from the Robert Wood Johnson Foundation.