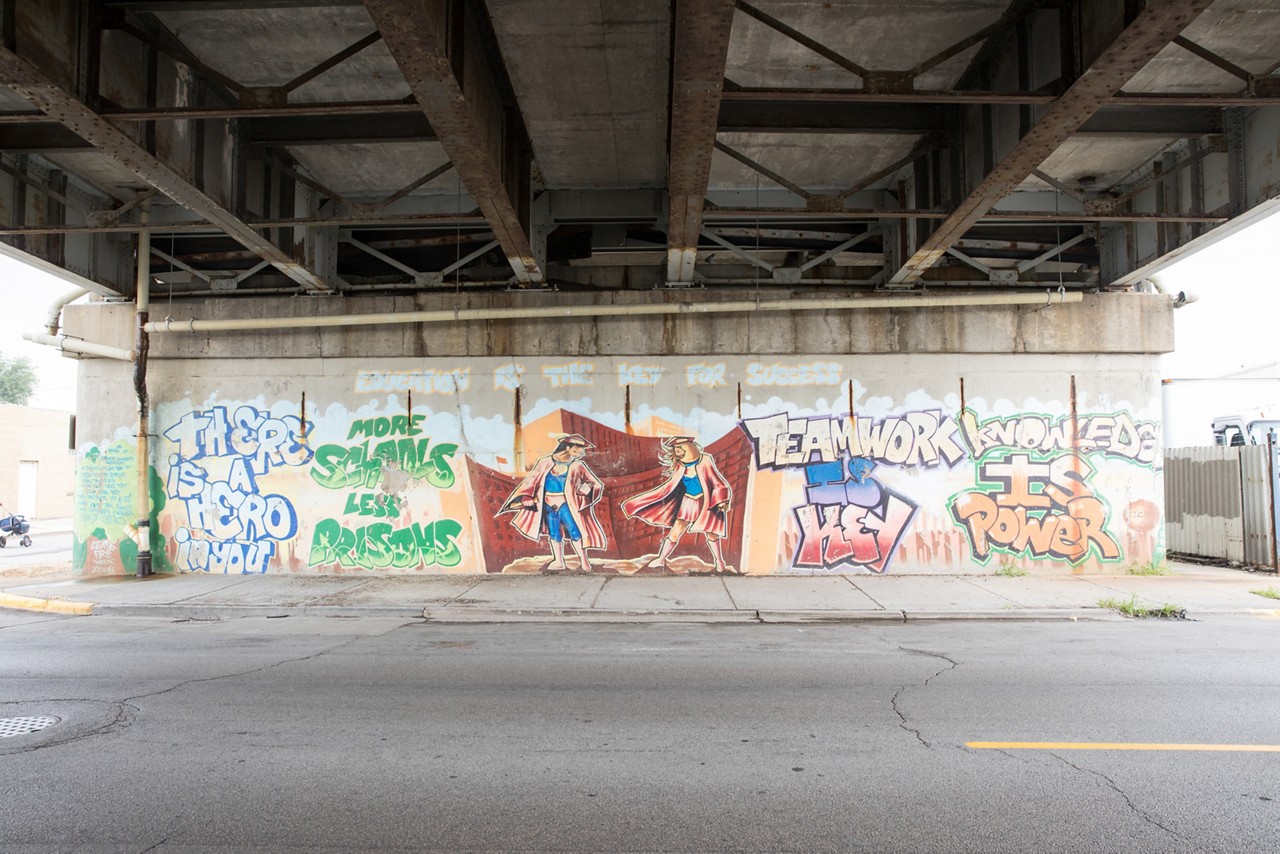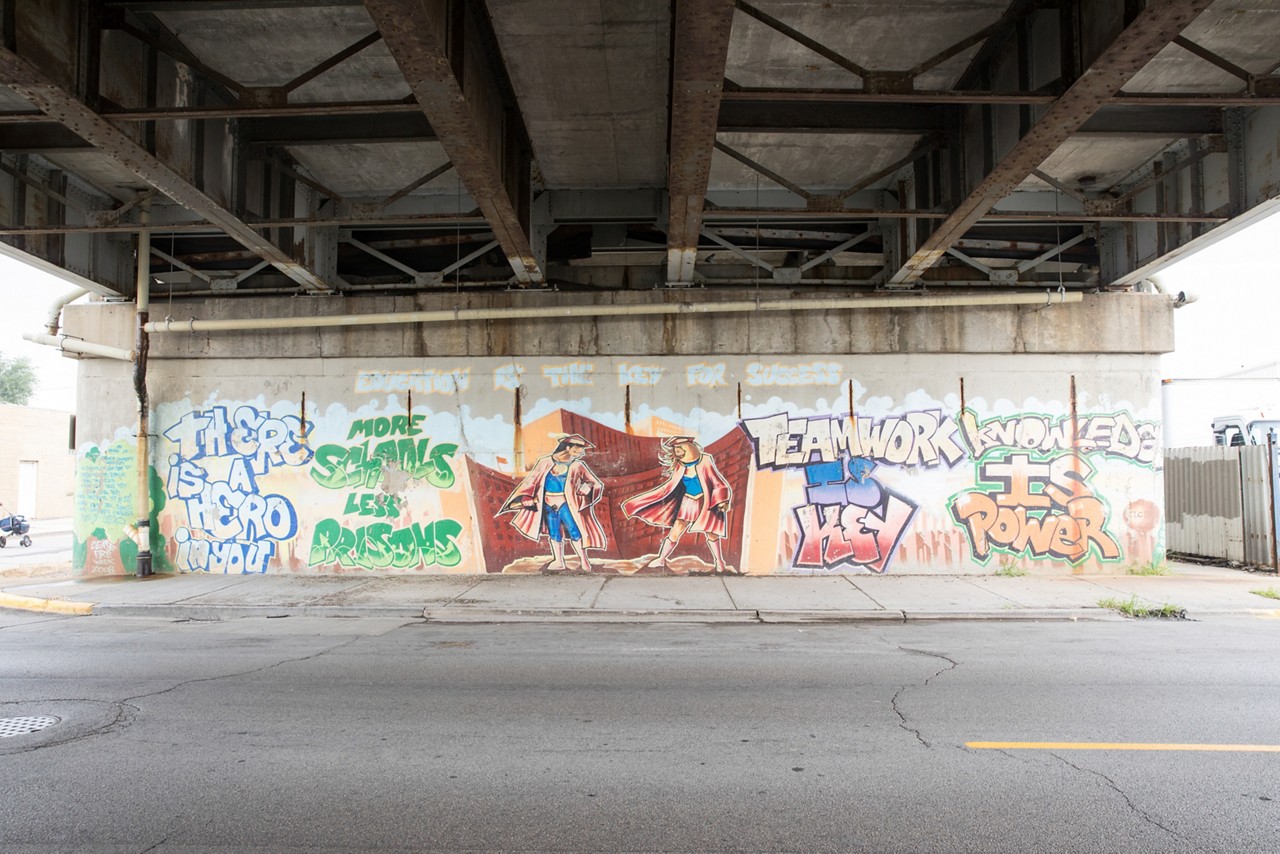 Cicero, Illinois
2018 RWJF Culture of Health Prize Winner
A Unified Path Toward Better Health 
---
Longtime residents of Cicero talk about the way things were and the way things are. Two decades ago, this community of 83,000 people, just outside of Chicago, was tormented by street gangs, a situation that was fueled by poverty, disconnected youth, and a lack of resources. Today, Cicero is on a path few residents could have imagined before, with ground-up action and tangible results leading this Cook County community toward a sustainable Culture of Health.  
Cicero, which is 89 percent Latino, shines as an example of residents, young and old, uniting as a community to make broad and deep progress around a set of shared goals. The spirit of collaboration that started 10 years ago with the drive to tackle gang violence has gained traction and spread into other areas. Today, the Cicero Community Collaborative (CCC) serves as a platform to give everyone a voice in defining needs, agreeing on priorities and taking actions that give everyone a chance at a healthier life.
"As simple as it sounds, they are genuinely working together for the good of the community, which is difficult to do," says Jackie Rosa, a community engagement manager for the United Way of Metro Chicago.
In 2016, United Way named Cicero one of 10 Neighborhood Networks, which will bring the CCC long-term financial support to address the town's most pressing challenges. A community summit in 2007 led to action on multiple fronts to address the root causes of gang violence—from the lack of parental involvement in the lives of young people to poverty, illiteracy, linguistic isolation, and the lack of knowledge regarding community services or resources.
The CCC aligns residents and 23 partner organizations—nonprofit service providers, schools, local government, law enforcement—around the most challenging issues in their journey for better health. Cicero has come together to increase safety, enhance the education of young children, and develop the leadership skills of residents.
This six-square-mile town, notorious in the 1920s as the hideout for mobster Al Capone, grew up a century ago around job-generating railyards and factories. Today, the only remnant of the old Western Electric factory, which employed 45,000 workers at its peak, is an abandoned brick water tower that looms over a strip shopping center. Along the main thoroughfare of Cermak Street, the shops and restaurants, started by first-wave immigrants from Eastern Europe, have made room for the vibrancy of mercados and the sweet aroma of taquerias.
The Culture of Health Prize will bring the town national attention for something positive, says Elida Ortiz, a long-time resident and the CCC coordinator. "We've worked very, very hard to change that perspective."
Blog Post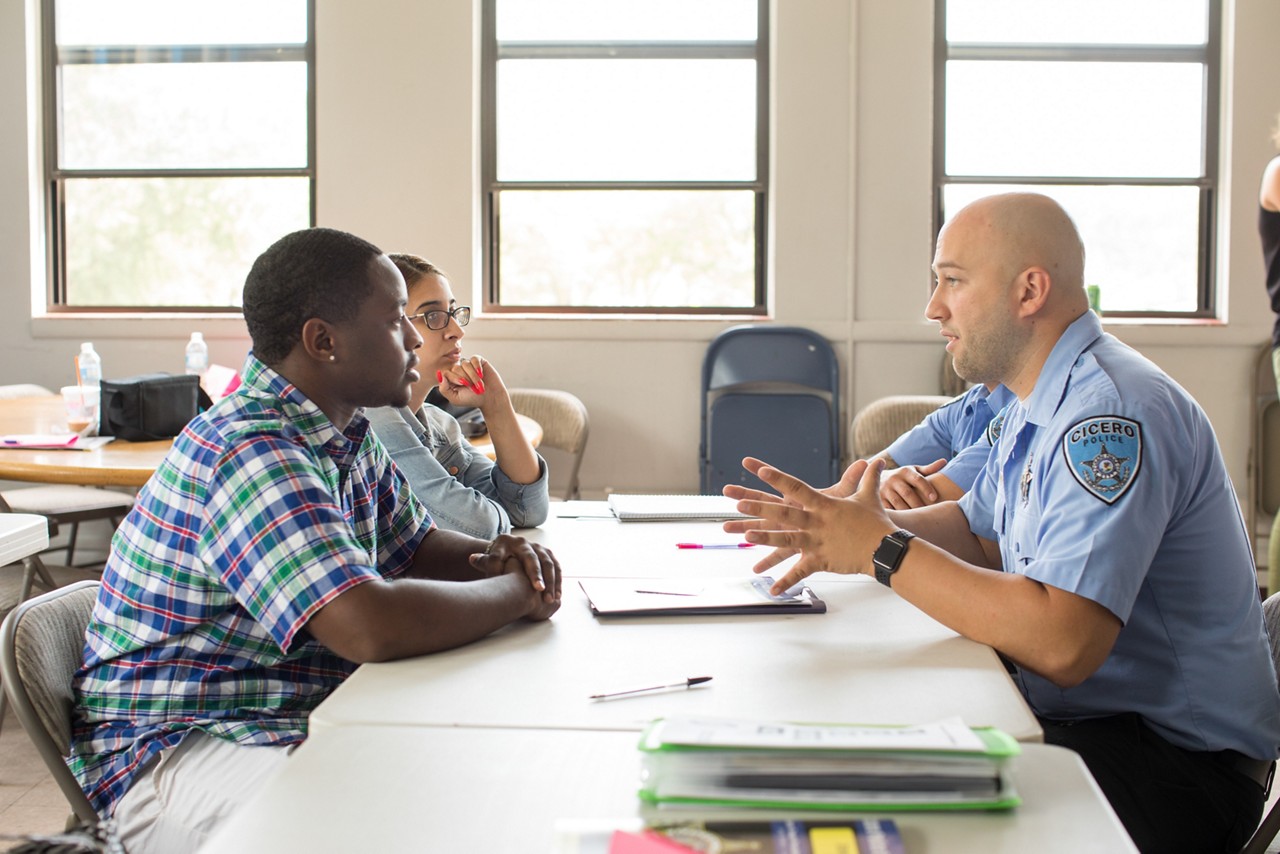 Training Police to Handle Trauma
A course for police officers in Cicero is helping them identify and address trauma on the job, and manage it in their own lives.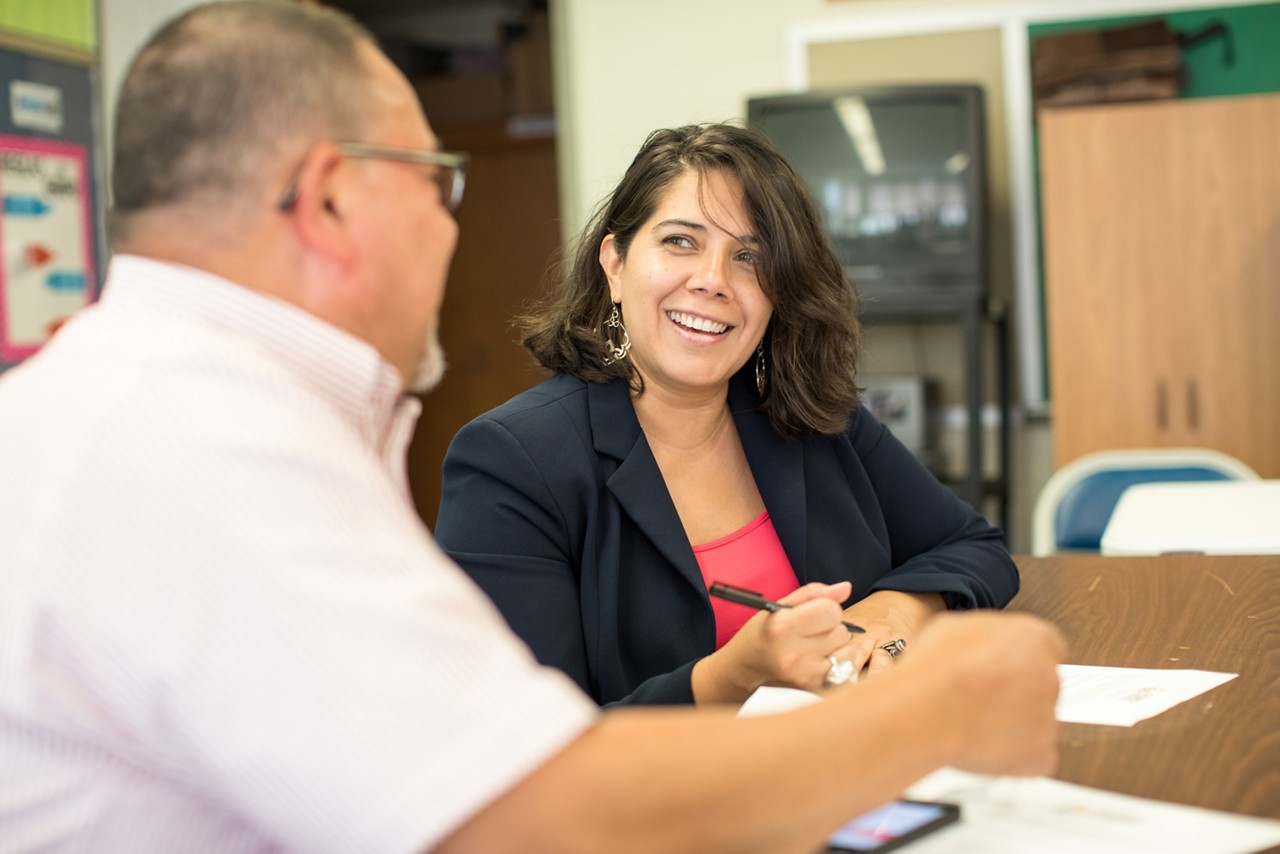 Mariana Osoria, vice president of centers for nonprofit Family Focus, with Freddy Calixto, the agency's family support manager, lead a meeting of the Welcoming Committee, an initiative started by the Cicero Community Collaborative (CCC). Six-square-mile Cicero's population is 89 percent Hispanic, including many new arrivals from Mexico and Central America. The Welcoming Committee supports new immigrants and refugees in Cicero and ensures service providers offer help in English and Spanish. "We want to make sure that everyone in the town of Cicero feels welcome, like this is their community," Osoria says.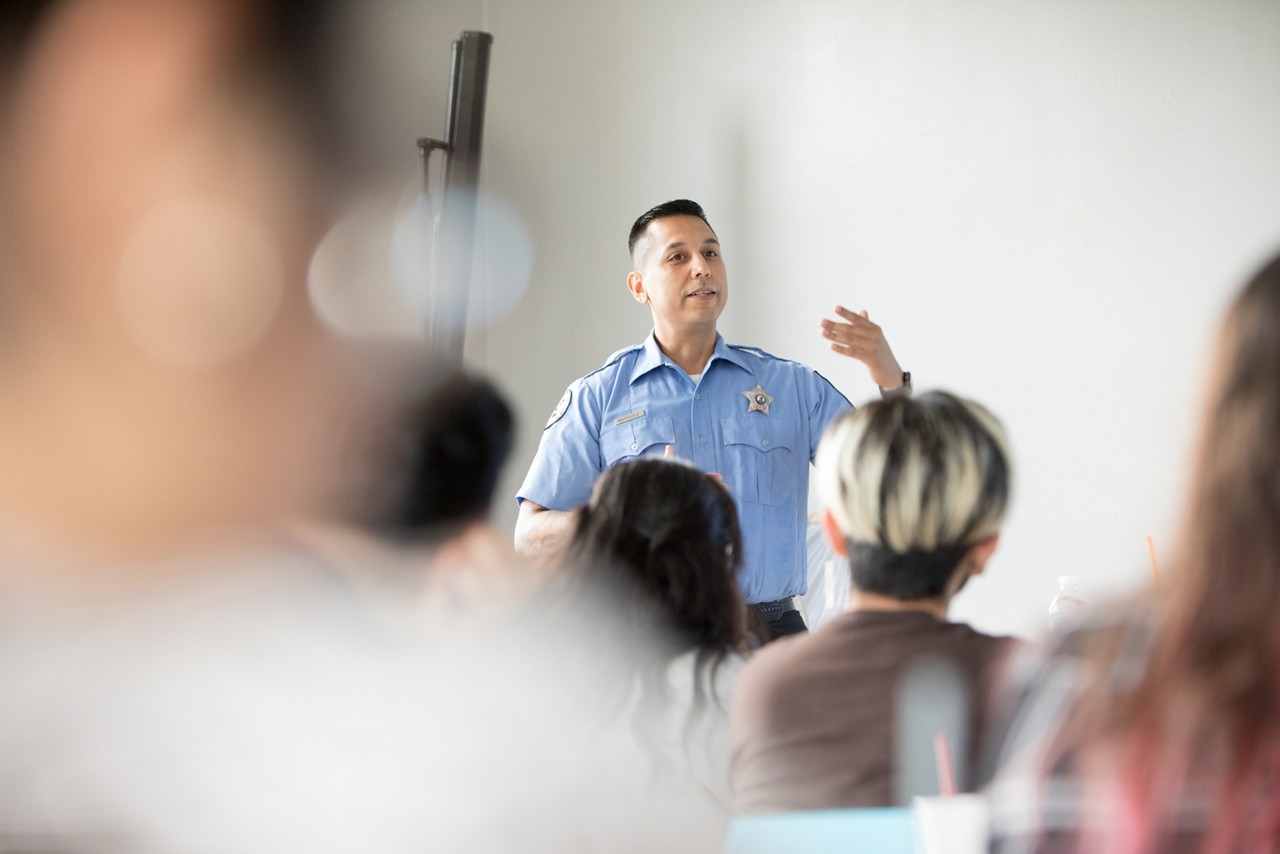 Officer Andrew Marquez trains interns at Youth Crossroads, a nonprofit that works with at-risk youth and builds leadership skills among young people, on how to recognize and deal with street gangs. In the past decade, the Cicero Police Department has changed the way it approaches the community. Building better connections with the community "will help them solve crimes faster and will make victims and witnesses more willing to approach police officers with information," says Jaclyn Wallen, a Youth Crossroads therapist who works closely with the department.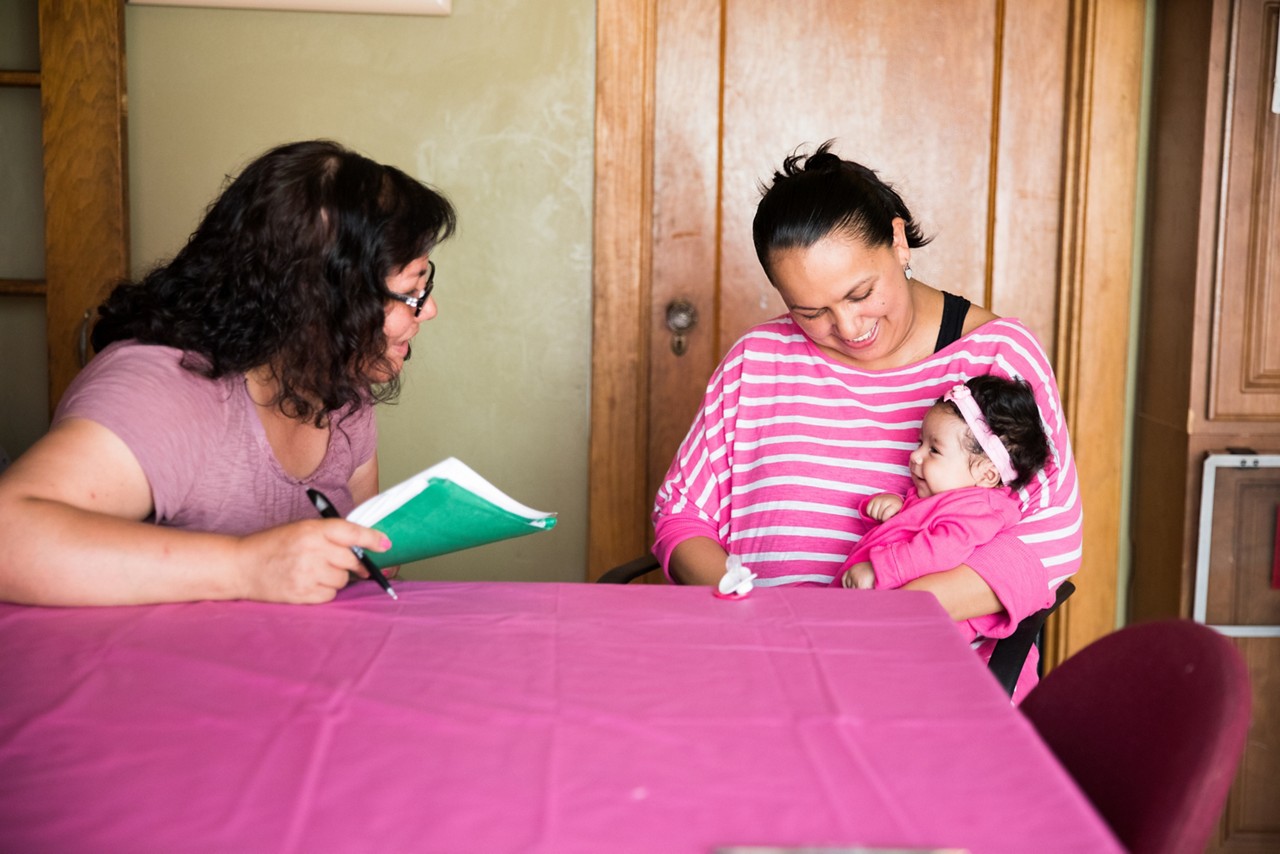 Concepcion Acosta (left) of social services nonprofit Family Focus makes a home visit to check on Maria Ramirez and the development of her three children, including 2-month-old Galilea (pictured). Family Focus promotes the well-being of children from birth by supporting and strengthening families. The organization works alongside all parties to improve quality of life for Cicero families as part of the Cicero Community Collaborative. "Our partners in the town of Cicero really understand ... and know that working in those first three years of life is critical," says Mariana Osoria, Family Focus vice president of centers.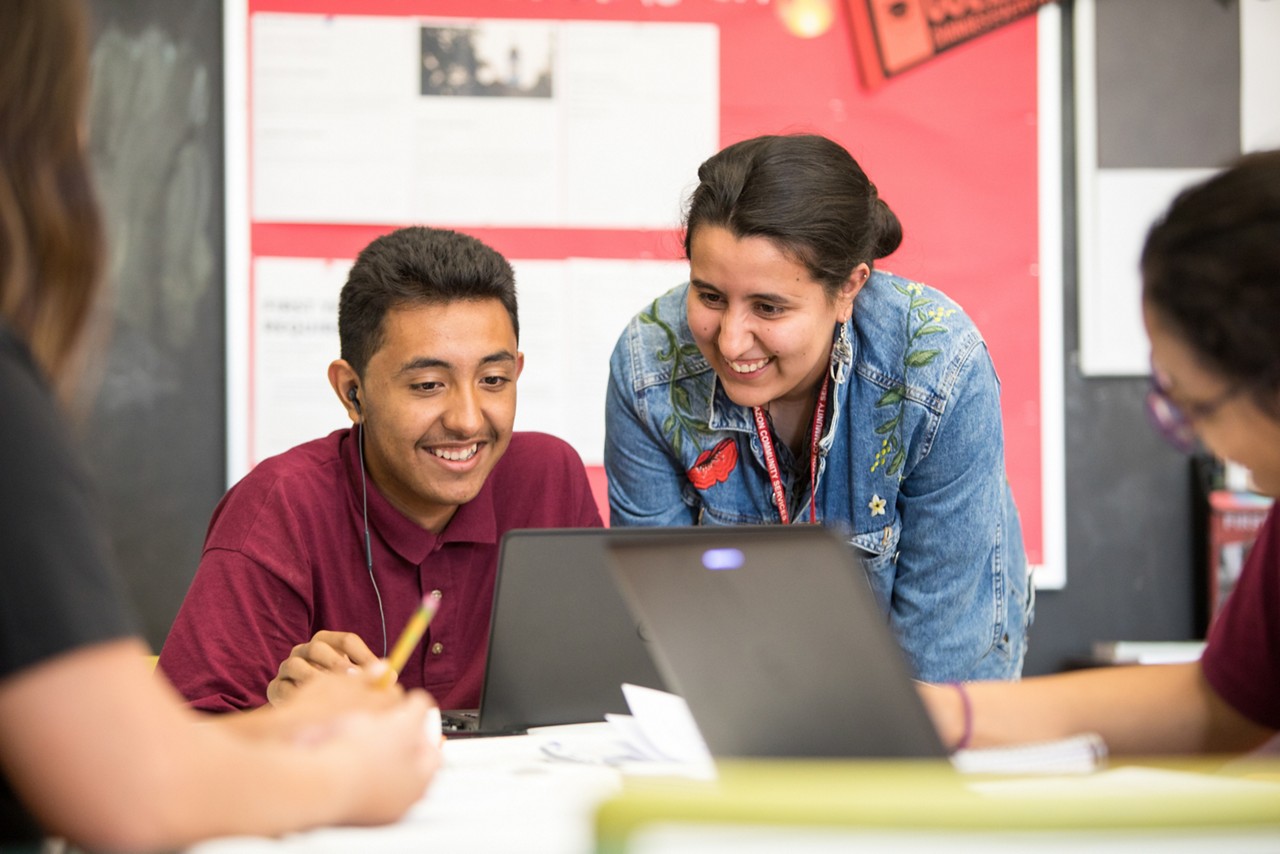 Fabiola Avitia (right), a counselor for Corazon Community Services, a nonprofit that works with youth and families, helps Efren Avitia with his homework at the Fuerza Center. Open to ages 12 to 18, Fuerza Center aims to be a haven for young people.
 Free after-school programming provides an environment of learning and creativity while engaging youth. The long-term goal: Creating future community leaders.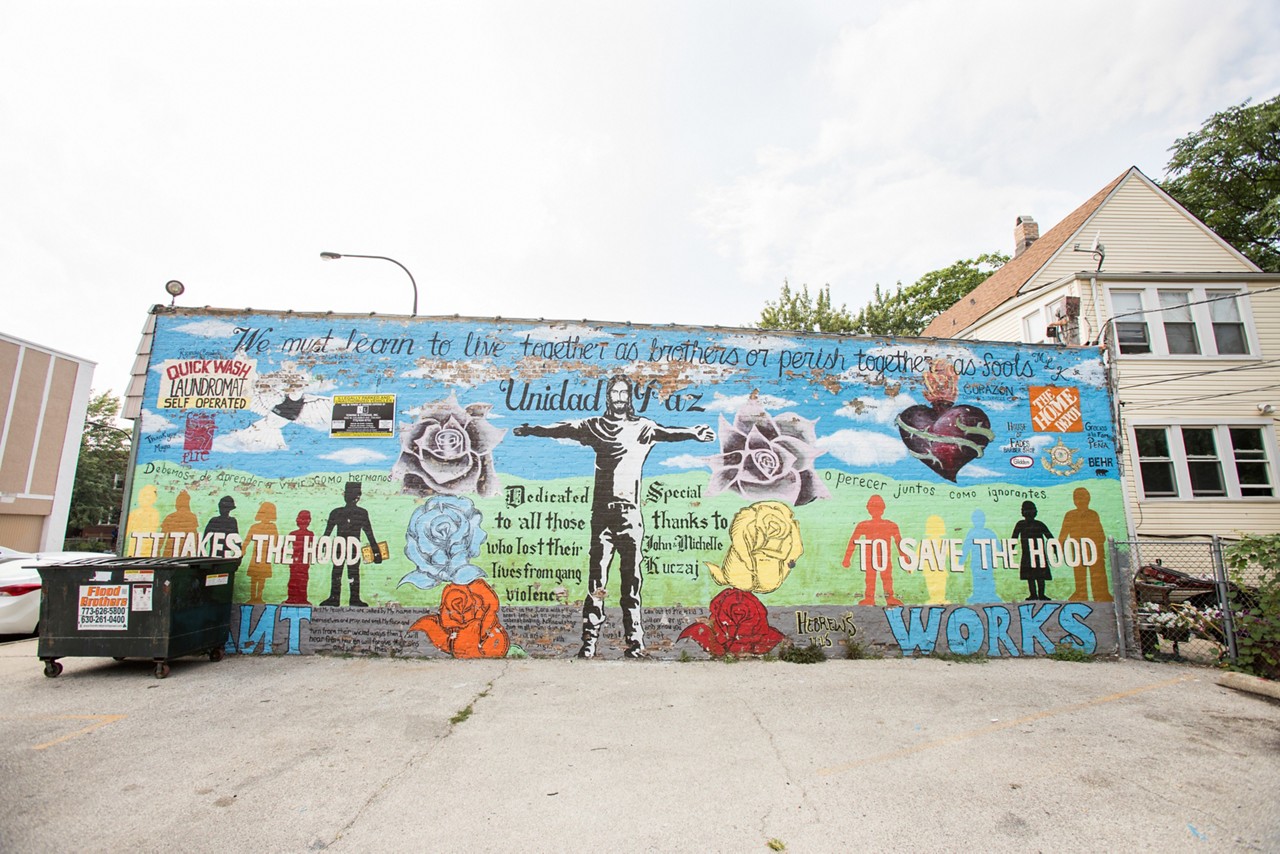 On the side of a building near a laundromat on W. 14th Street, members of four rival gangs met in the summer of 2013 to create a mural in memory of the people who had died because of gang violence. The Peace Mural stands as counterpoint to the graffiti used by gangs to taunt each other. The project was sponsored by Corazon Community Services' Fuerza Center, which also helps to rehabilitate young men and women from gang life by offering low-cost tattoo removal services and other supports. "You're trying to change people's minds; you're trying to impact the person to think about the impossible," says Ismael "Izzy" Vargas Jr., who directs the center.
Jennifer Gaucin (left) and Bernice Cruz (center) register Claudia Gonzalez for the Corazon Community Services "Break the Violence" event. The high school students are Health Ambassadors, trained by Corazon to work with peers and in the community on ways to improve health and quality of life in Cicero. At Break the Violence, parents bring young children to a small park for an evening of games in a safe environment. "If the community comes together," says Gaucin, "there will be less crime."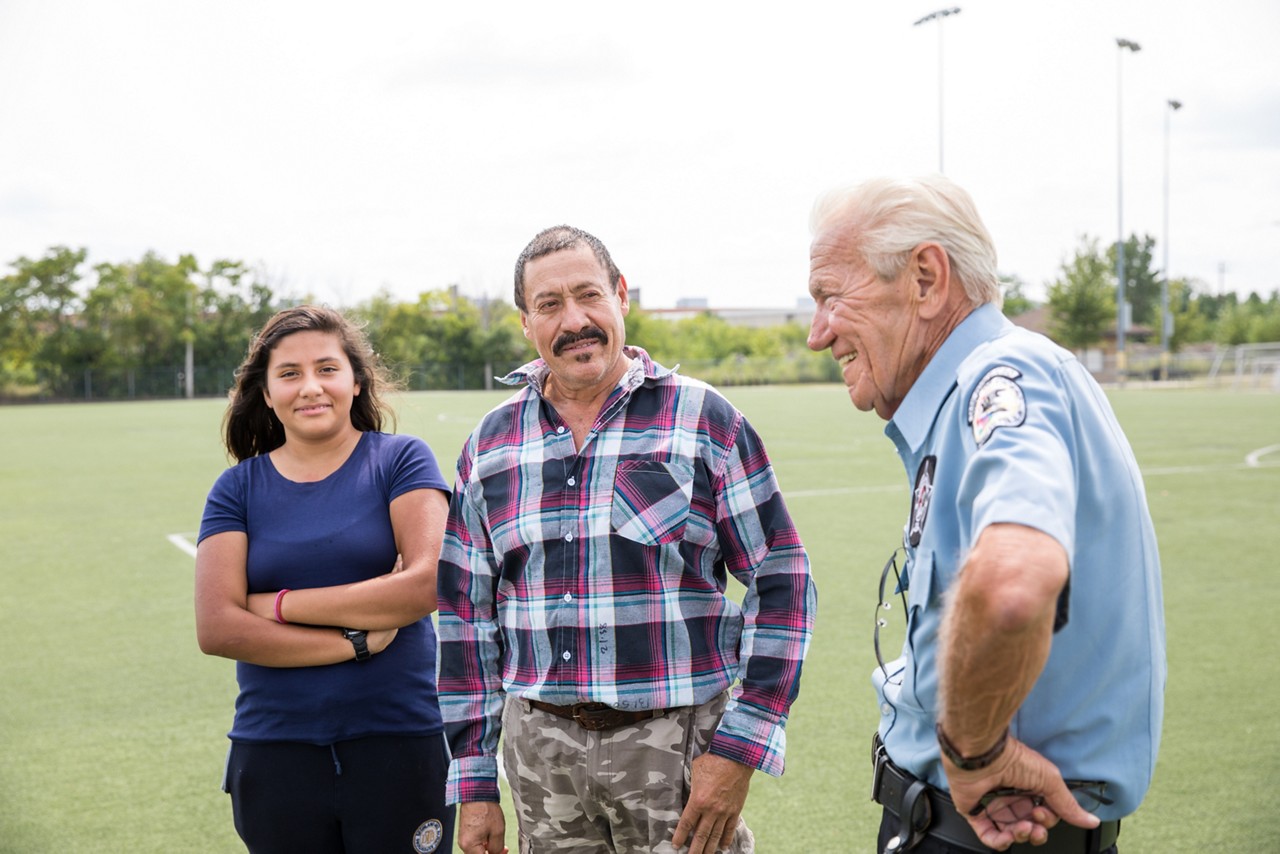 Empowered, People Became a Force for Safety
The parents in neon green vests are easy to spot among the throngs of students on the sidewalks around the J. Sterling Morton East High School.
"That jacket," says 17-year-old Eduardo Gaborit, "became a symbol of security around school."
His mother is part of the Parent Patrol, a corps of volunteers stationed every morning and afternoon at all schools in Cicero. "I'm not only watching out for the safety of my child. I'm watching out for others," says Silvia Consuelo Gaborit, a mother of three.
How the Parent Patrol got started and grew mirrors a larger story of change in Cicero. The group emerged out of a movement that took root more than a dozen years ago, when neighbors rallied to restore safety on the streets. In doing so, they set Cicero in a different direction, propelled by the belief that the community could best move forward by working in tandem.
Ismael Vargas, a town employee who also serves as a chaplain for the police and fire departments, points to 2004 as a turning point. Gang violence was intensifying, with police reporting 65 shootings and 14 homicides that year. Members of more than two dozen gangs openly tried to recruit young people and instigated fights near the schools.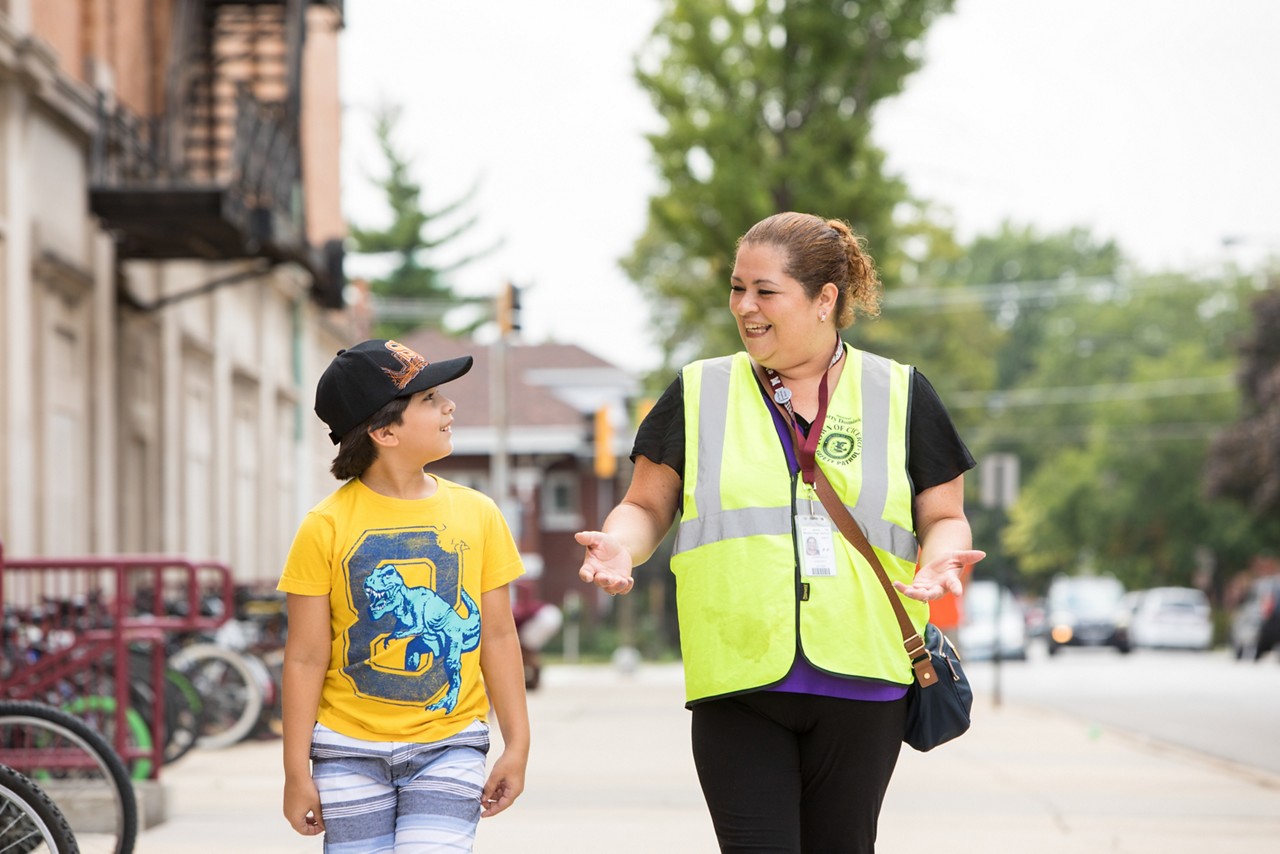 Parent Patrol member Silvia Consuelo Gaborit walks with her son, Brian Gaborit. The Parent Patrol helps Cicero youth feel safe going to and from school.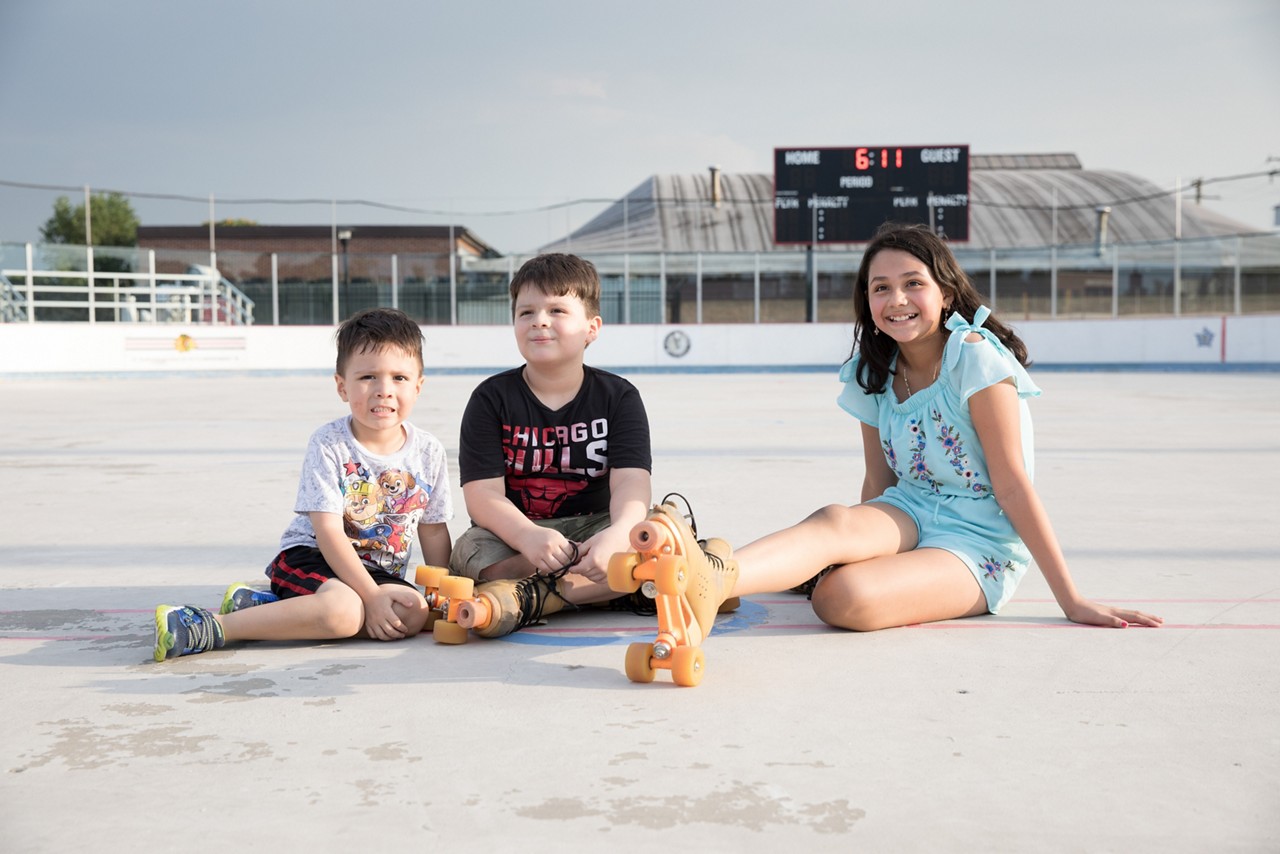 Lesly Gonzolaz (right), Christopher Gonzolaz (center) and Emmannel Rios (left) at Cicero Community Park, a public space that has been made safe for families.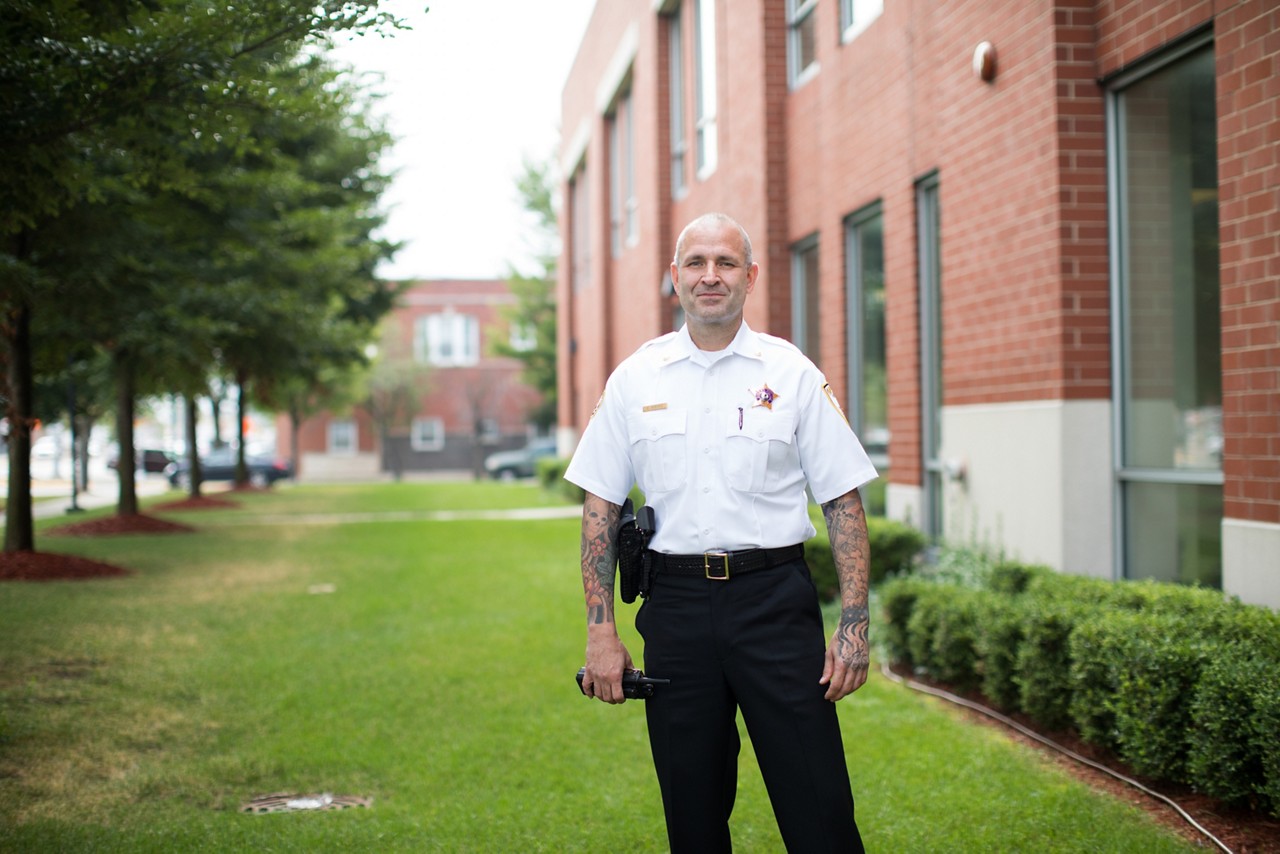 Commander Vincent Acevez, an 18-year veteran of the Cicero Police Department, has worked most of his career in the Gang Crimes Tactical Unit.
Healthy Communities
RWJF supports initiatives that enable communities and all of their residents to thrive and reach their greatest health potential by improving the contexts in which residents live, learn, work, and play. 
Town government and police focused attention on gang-related violence, while residents, recognizing their individual role in addressing the root causes of gang participation—such as the lack of parental involvement in the lives of their children and the cultural barriers that often separate mothers and fathers from their "Americanized" children—stepped up to do more.
"The community would always point fingers at the police department, government, nonprofits, for not doing enough," Vargas says. "My question to everyone was, 'What about us? What's our responsibility?'"   
"We know one of the most effective ways to prevent our youth from getting into gangs is feeling connected to something—either school, community or family," says Rosario Pesce, a former high school psychologist in Cicero and now the coordinator for clinical training at Loyola University Chicago.
Seven families joined him in starting a Parent Patrol. Building on the interest, School District #99, which includes Cicero's elementary schools, worked to train 20 volunteers on how to navigate situations and solve potential conflict with gang members. Today, the Parent Patrol has 300 volunteers who operate at all of the town's 16 elementary schools as well as the high school.
"They're not cops. They're not security. They're parents helping the process of keeping the community safe," Vargas says. "Your voice is the authority you have, and it is enough."
That collective of parent voices was bolstered and supported by change at all levels, through the systems and policies that shape the conditions in Cicero. Improving safety became a priority across many sectors, leading to changes in the way the police operated, support in schools with more counseling for students who have experienced trauma in their lives, more interaction between parents and schools, and more outreach to teens who would be most tempted by gang life.
A decade ago, the police bolstered its gang unit and began an intentional effort to build better connections with the community, forging what Commander Vincent Acevez calls "significant and meaningful" relationships. Acevez sits on the safety committee of the Cicero Community Collaborative, a coalition bringing groups to the table to set a collective agenda for residents.
The police department "has changed our entire culture," says Acevez, head of the Gang Crime Tactical Unit. Officers hold regular Neighborhood Watch meetings and organize basketball and softball tournaments to interact with young people. Last year, Acevez worked with therapists from two nonprofits and the high school to train all officers on how to better interact with people who have been exposed to trauma or repeated stress.
Gangs have not disappeared, but the town has successfully tamped down the level of street violence. In 2017, Cicero had seven gang-related shootings and one homicide, a dramatic improvement over years past. "I tell people it wasn't us," Acevez says. "It was the community becoming involved with our department."
Community safety remains a concern, but it is no longer the most pressing issue. In 2016, residents cited as their top challenge helping children reach educational benchmarks, according to researchers from Loyola University Chicago, who conducted surveys, focus groups, and one-on-one interviews.
"Street violence brought people out," says Meg Hefty, co-chair of the Cicero Community Collaborative. That engagement led to tangible results and visible impact, encouraging a greater willingness to act on other fronts. "It's been affirming," Hefty says.
We're on the cusp of a lot of potential change and opportunity.
—Meg Hefty, co-chair, Cicero Community Collaborative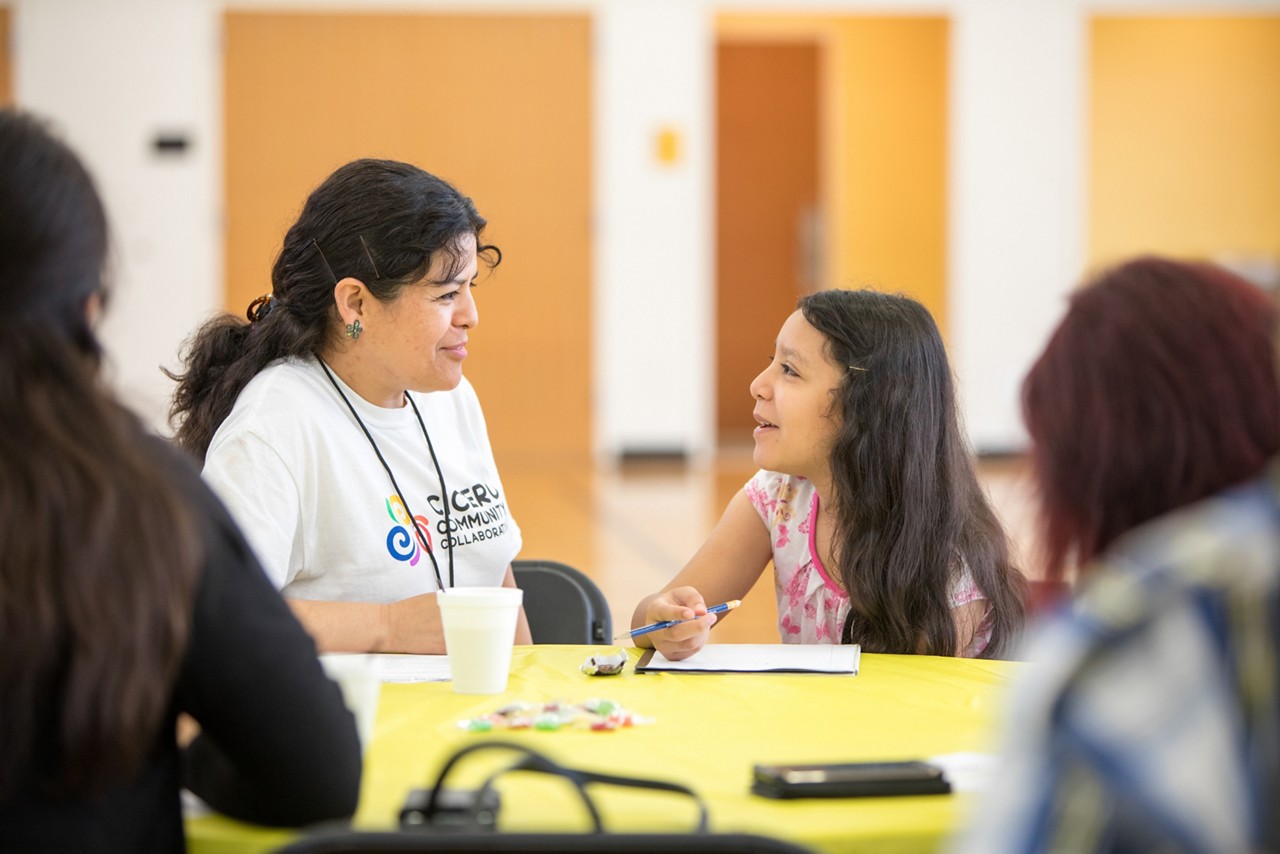 Mission to Lift Youth Starts With Education
At the start of 2018, freshmen at the J. Sterling Morton East High School in Cicero were asked about trauma in their lives. The results from 850 students revealed:
12 percent had witnessed someone being shot;
50 percent had been slapped, hit, or punched;
23 percent had experienced a separation from their parents for more than a few days for reasons such as incarceration, divorce, or deportation.
Meghan Meyer, a psychologist at the high school who administered the survey says, too often, teachers and staff are trained to put "Band-Aids" on problems like absenteeism or disruptive behavior.
"We were not aware of or addressing the root cause of why students struggle, which I believe is the trauma in their lives," she says.
The survey sounded an alarm for teachers and administrators. As a result, the school district plans to train all of its 370 high school teachers, as well as security staff, on how to better prevent and deal with the effects of trauma.
The community has made a strong commitment to young people, with a particular focus on improving the development of the youngest while making other efforts to directly engage youth. As an urban enclave, where 1 in 3 children lives in poverty, Cicero faces many challenges and is working on multiple fronts to change the course of young people's lives.
2017 Culture of Health Prize Winner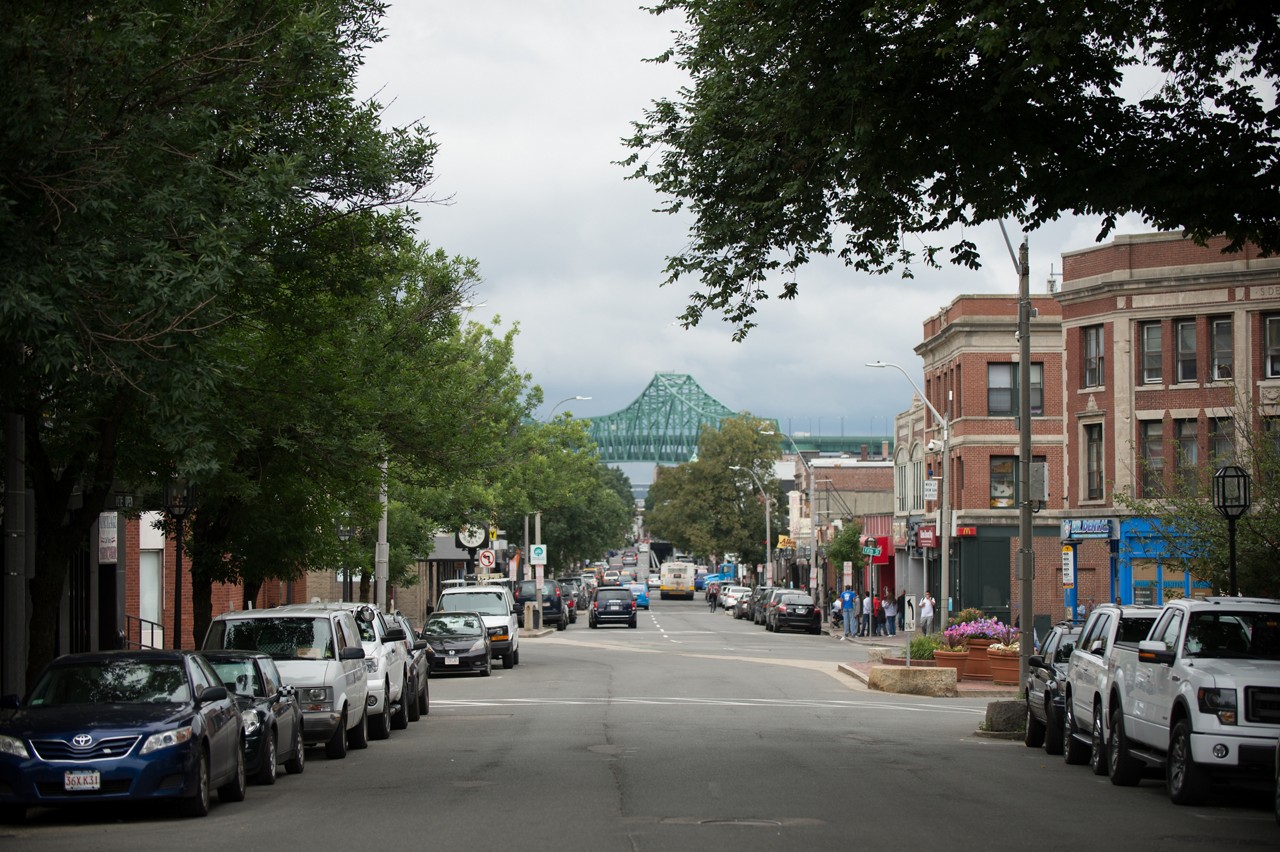 Chelsea, Mass.
This tiny city across the Tobin Bridge from Boston is tackling big urban challenges with innovation and heart.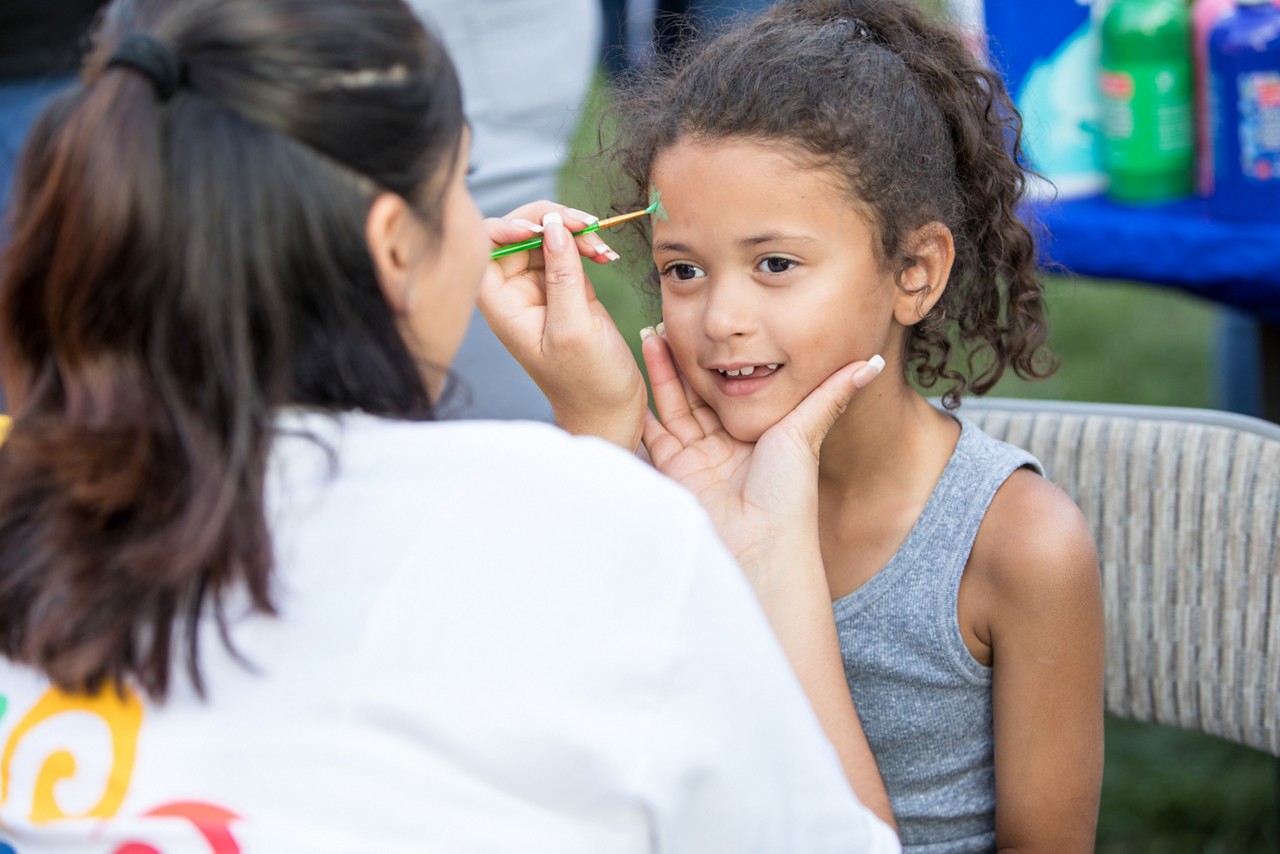 Aerabella Rodriguez has her face painted at Corazon Community Services' Break the Violence event, which offers activities for children and parents.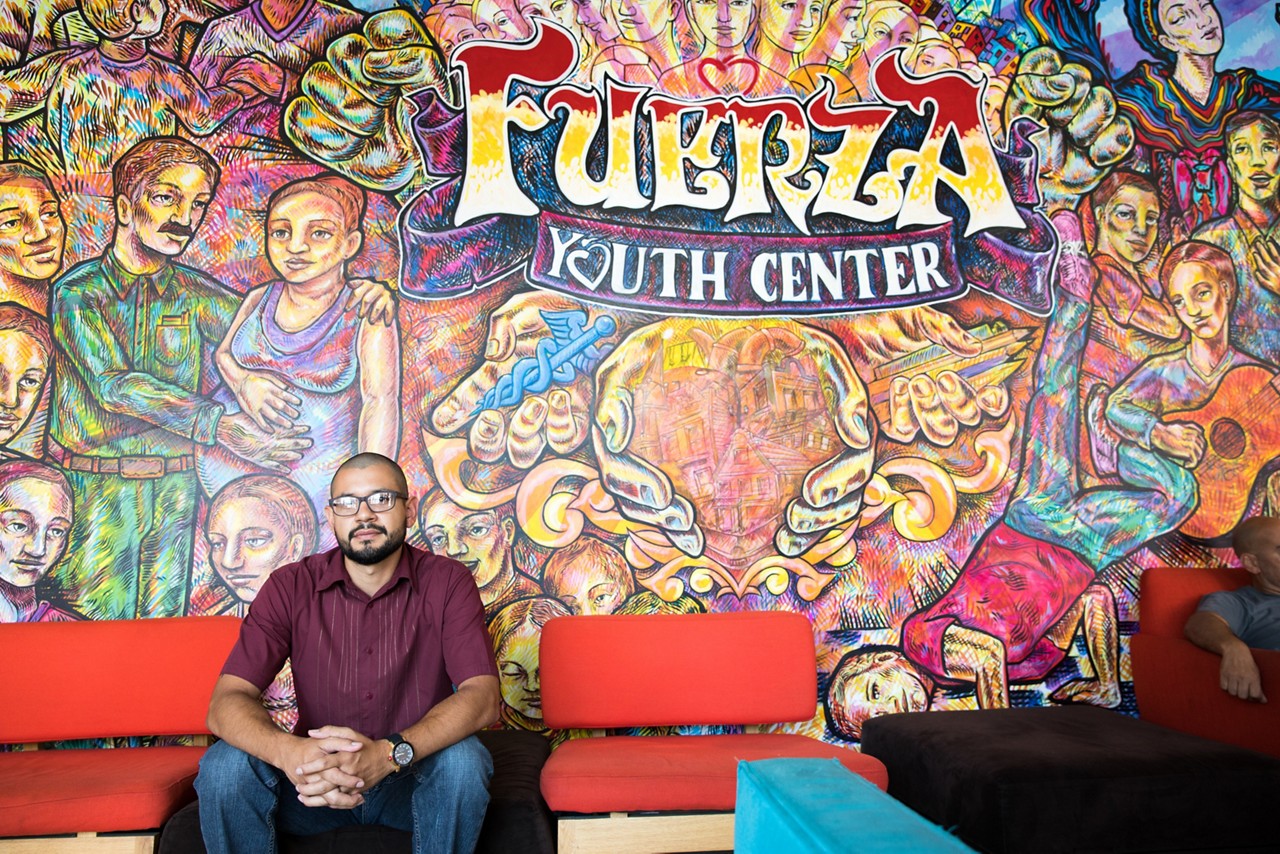 Ismael "Izzy" Vargas Jr. is director of youth services at Corazon Community Services, a nonprofit that offers holistic social services in a culturally sensitive environment to improve quality of life for families, children, and youth.
"Everybody has the same mission," says Elida Ortiz, coordinator of the Cicero Community Collaborative (CCC). "It's for youth, it's for parents, it's for families."
Action has coalesced around improving outcomes for the town's 10,000 children younger than five. Even in a state hobbled by budget cuts, Cicero has secured funding for nearly 800 pre-K slots and instituted all-day kindergarten.
The Parent Ambassador program, coordinated through the Cicero Community Collaborative, helps to bring support to children and caregivers. Parents serving as ambassadors connect with other parents—often in their homes—to deliver a message on the importance of early childhood development. This peer-to-peer connection aims to help families overcome cultural barriers that may isolate them.
Linda Rios, a coordinator for All Our Kids Early Childhood Network (AOK), says Cicero is a "complex" community because of the large immigrant population, which makes the need for outreach even more critical.
"It's difficult to bring families to the table," says Rios, whose state-sponsored agency supports collaboration among service providers working with young children. Rios says there are practical barriers such as the lack of transportation or language challenges, as well as a reluctance among many Latino families to send very young children to pre-K classes outside the home.
Cicero has a history of advocating for the health interests of young people. In 2007, residents fought to stop the state from shuttering a school-based health clinic at Morton East High School because of a lack of funding. "Adolescents are the least likely to access health care," says Candida Flores-Matheu, a nurse who runs the clinic. In addition to free or low-cost medical care, more than a third of the students who access services are receiving counseling for mental health issues.
Family engagement and support are critical to the healthy development of youth, and the community has taken significant steps to connect with and serve young people in Cicero. The school district now offers social workers and school-based counselors who meet with students during the school day to make access easier.
The services, which are promoted in a peer-to-peer fashion by student health ambassadors, has resulted in a decrease in school discipline reports and better classroom performance. Groups like Corazon Community Services' Fuerza Center and Inner City Impact, meanwhile, offer after-school activities for teens to foster a greater sense of involvement and direction.
More young people want to make changes for the good.
—Ismael "Izzy" Vargas Jr., director of youth services, Corazon Community Services' Fuerza Center
"Our mission is to catch those kids who may feel disconnected," says Ismael "Izzy" Vargas Jr., director of youth services at Corazon's Fuerza Center—with "fuerza" being Spanish for strength. The center's storefront, with its bright mural of faces, stands out on a busy commercial street as an inviting place. Inside, knots of students are huddled around tables doing homework, while others relax playing pool or work on art projects. There's a reminder on the wall for college visits, and for those students with sights set on higher education, there is help available for filling out admissions applications.
The young people at the center are advancing a new narrative for Cicero, painting the community for what it is today rather than focusing on the challenges of years past. They're sponsoring "Break the Violence" events—which include safe places to connect, learn about services, and simply enjoy the summer months—as part of the annual "Peace Movement."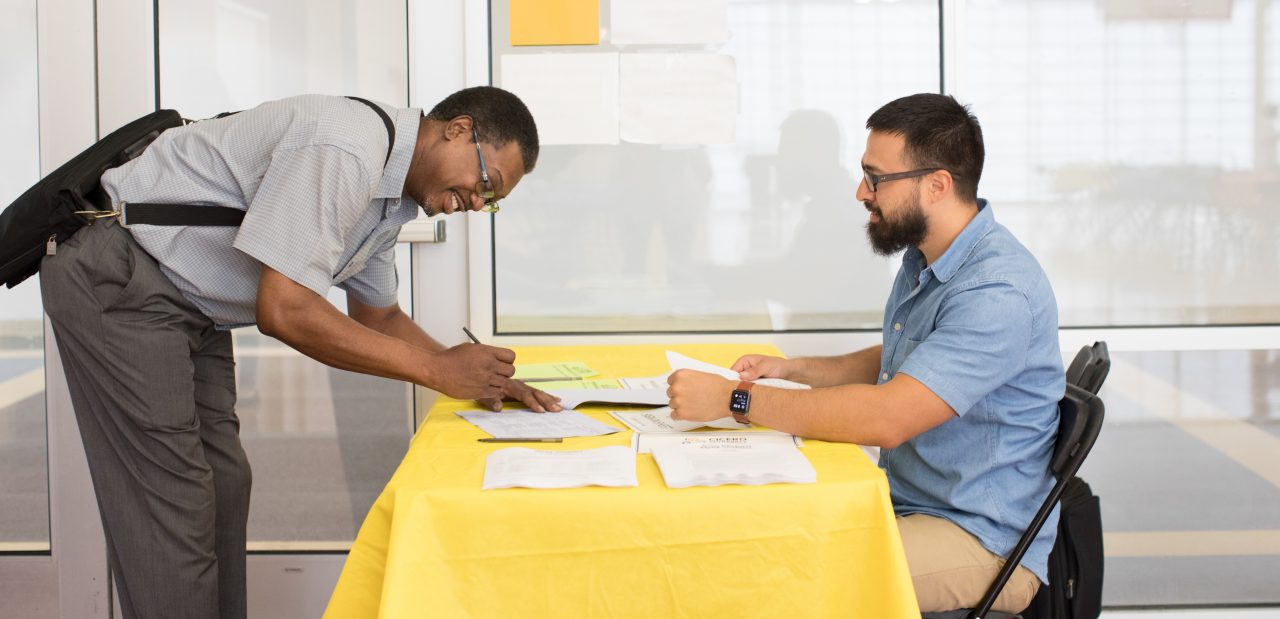 Cultivating Homegrown Leaders to Improve Lives
Even before the doors open at St. Francis of Rome School, dozens of parents and young children start lining up for free medical screenings.
Inside, the first people they will meet are neighbors in white shirts with "Cicero Community Collaborative" written in big, bright colors, who greet them at the entrance—in Spanish if need be—and show them how to register.
These Parent Ambassadors are "critical" to the success of the event, says Kate Mulvaney, the health initiatives coordinator for Catholic Charities. She says many of the families taking advantage of free check-ups are newcomers to Cicero, and a Parent Ambassador can make them feel welcome.
In Cicero, parents and youth are encouraged to play a direct role in driving change and addressing the root causes of the challenges they face as a community—such as ensuring that more young children are enrolled in early childhood education, or giving teens the supports they need to finish high school, or advocating to keep a school-based health clinic open. Mothers and fathers serve as navigators for newcomers who may be unfamiliar with schools or community services like pre-K programs or home visits for infants. Teenagers, meanwhile, are trained as peer advisers working in health and community safety.
Parent Ambassadors are just one example of the network of support that has grown and expanded in Cicero, creating a new generation of leaders who bring their own experiences to the table to usher in meaningful change. They know the issues because they have lived them. They work through the Cicero Community Collaborative (CCC), which has identified the most pressing issues facing residents, including improving educational outcomes, ensuring safety and welcoming new residents.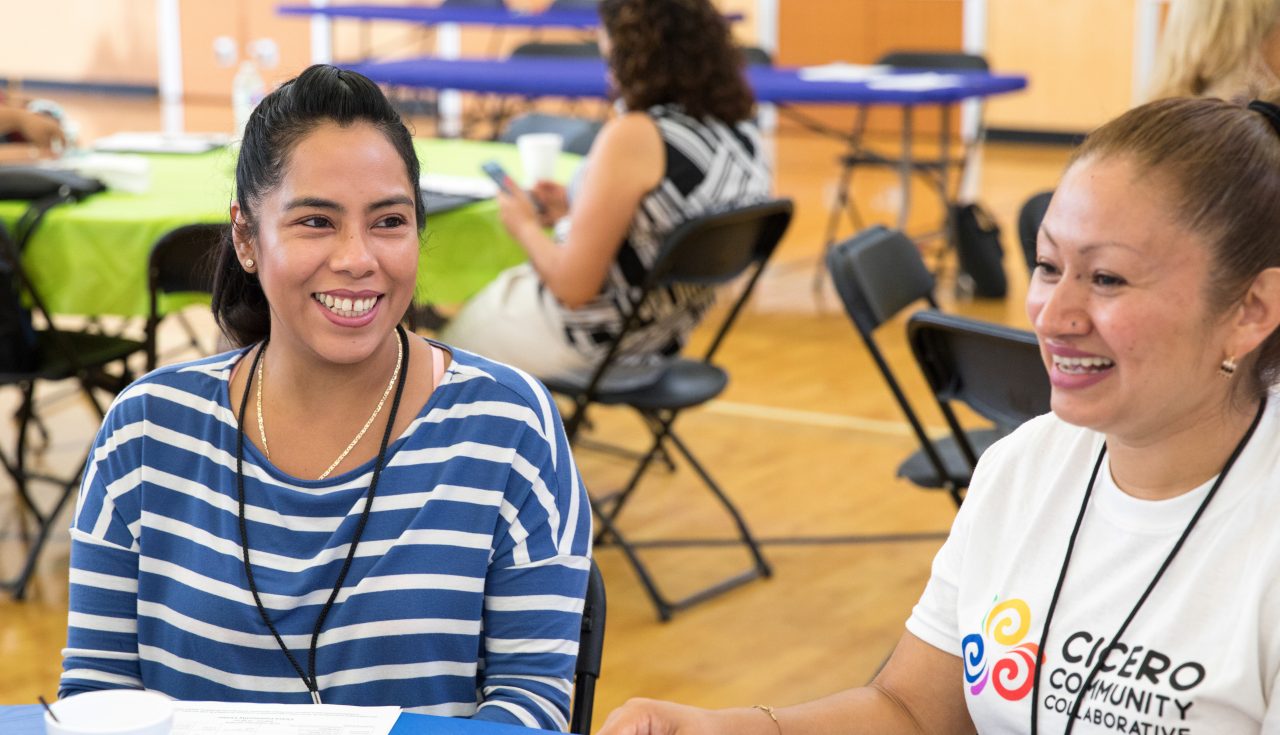 Parent Ambassadors Lucia Hernandez (left) and Araceli Diaz (right) attend a Cicero Community Collaborative meeting.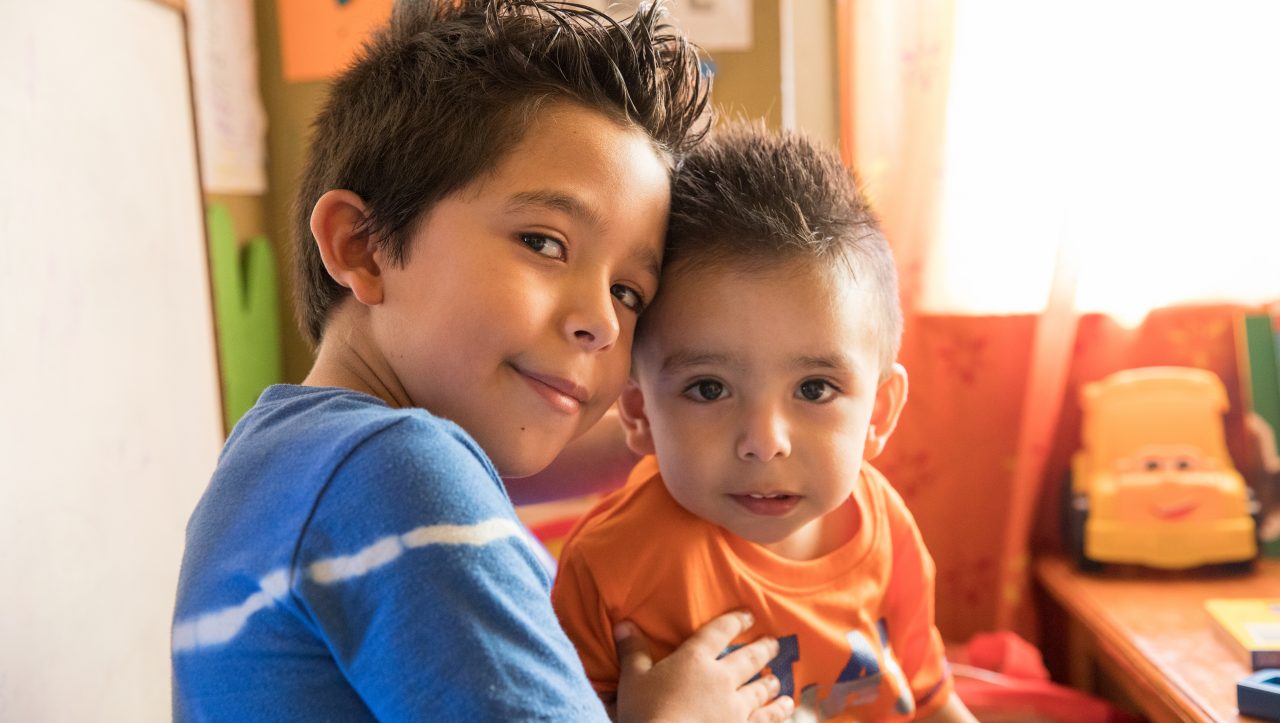 Estobon and Leonardo Pulido participate in a home visiting program run by the nonprofit Family Focus, which promotes the wellbeing of children from birth on.
Maru Morales, a mother of three who moved to Cicero 21 years ago, is a Parent Ambassador connecting young mothers to early childhood services. "I wish I had this," she says. "It's like taking someone by the hand and showing them the way."
Through CCC, more than 30 parents work as ambassadors, receiving a stipend that is funded by a grant from the United Way of Metro Chicago.
"Even though schools have plenty of help for students, sometimes parents don't know how to access that," says Araceli Diaz, an ambassador working with parents of high school students. She speaks from experience. Nine years ago, when Diaz was going through a divorce, her son struggled at school. Diaz says this forced her to learn more about how the school could help her family by directing them to counseling. "We've gone through some of the same issues of the people we're trying to help," she says.
The nonprofit Corazon Community Services, which focuses on services for young people, encourages teens to become peer-to-peer Health Ambassadors. At the J. Sterling Morton East High School, seven ambassadors work with a school-based health clinic to promote its free services, publish a health newsletter for students, and inform their peers about testing for sexually transmitted diseases and the importance of vaccination for the human papillomavirus.
"You have to be brave to speak about a topic that is not easy to talk about," says Fabiola Avitia, a student at nearby Morton College who runs the Health Ambassador program at Corazon.
Bernice Cruz, a 17-year-old senior at Morton East, is a first-time Health Ambassador. "I've never been part of something like this," says Cruz, who wants to go to college for law enforcement. "It does get you out of your comfort zone," she adds, by presenting new challenges and situations as both a learner and leader on issues of health.
Elida Ortiz, the CCC's coordinator, sees the value of passing the leadership baton to a younger generation: "It is gratifying to know that our children are going to be making a difference for the future generations."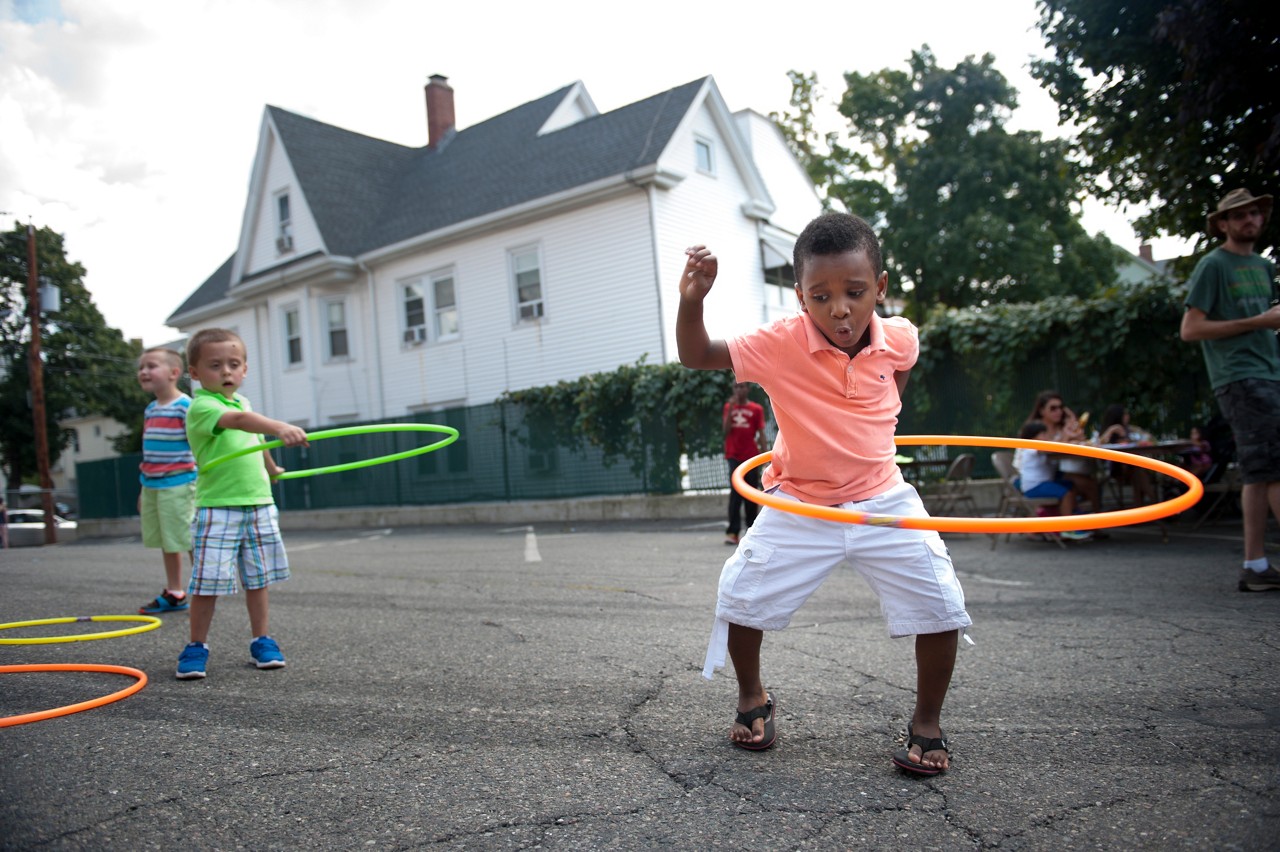 The Culture of Health Prize
The Prize honors and elevates U.S. communities working at the forefront of advancing health, opportunity, and equity for all.
You have to be brave to speak about a topic that is not easy to talk about.
—Fabiola Avitia, student, Morton College