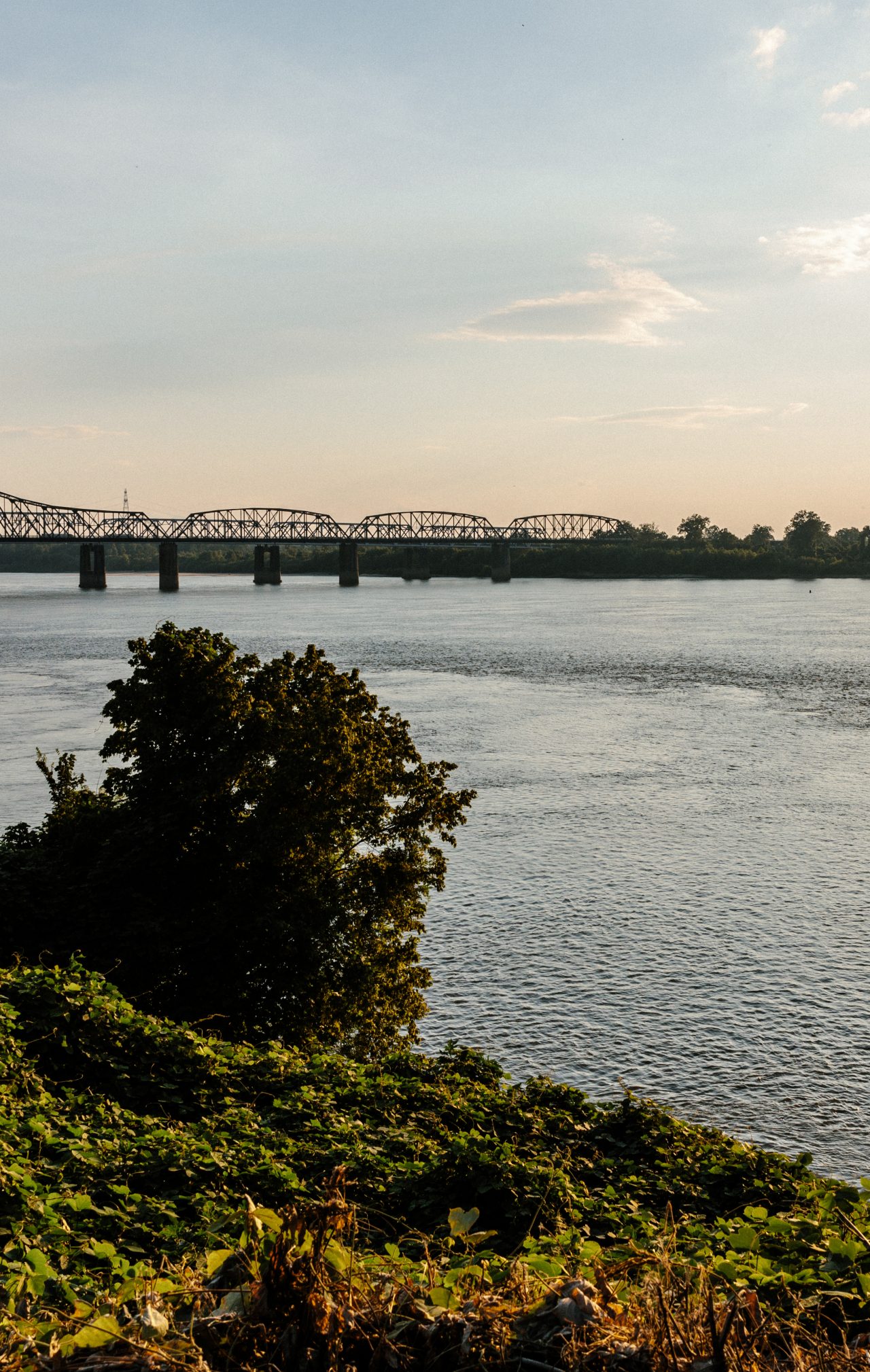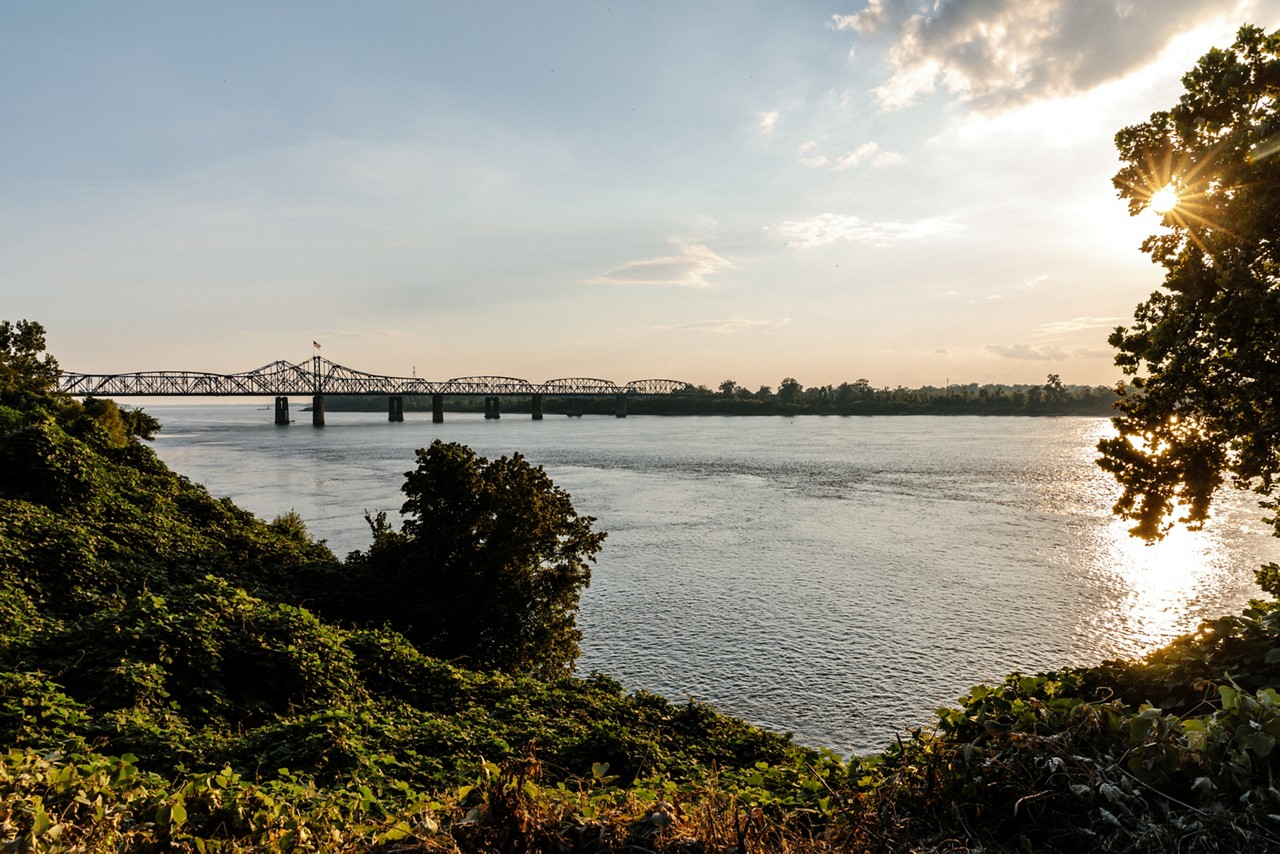 Vicksburg, Mississippi
2017 RWJF Culture of Health Prize Winner
'There's Something in the Air': A Unified March Toward Healthier Living
---
There is no better symbol of all that Vicksburg, Mississippi is trying to accomplish than the mighty Mississippi River. In 1876, Ole Man River abruptly cut through a narrow neck of land, straightening a horseshoe bend that used to take the waterway right past this historic port.
Today, the residents of Vicksburg are attempting to change course, too—by improving how they stay healthy, shape up, educate children, and grow the economy.
Perched on a bluff overlooking a canal that connects the Yazoo River to the redirected Mississippi, this city of 23,000 in the Mississippi Delta is working hard to make healthier living an easier choice. Efforts include partnerships among groups like Shape Up Vicksburg, the United Way and the Vicksburg Chamber of Commerce with the school district, city, county, and employers, including the largest one, the U.S. Army Engineer Research and Development Center.
The people of Vicksburg want to change how not only they see themselves, but how the rest of the country sees them. This motivation comes from frustration with Mississippi being typecast as poor, unfit and undereducated.
"We want to be what we want to be, not what others say we are," says Linda Fondren, an entrepreneur and community organizer who started Shape Up Vicksburg to promote a more active lifestyle under the banner, "Walking is cheap, life is priceless." She understands the challenge: More than 35 percent of the population in Mississippi is considered obese, making it one of only four states with such a high prevalence rate, according to the Centers for Disease Control and Prevention.
Groups have come together to set priorities and focus on core issues like decreasing the rate of obesity and increasing physical activity; raising high school graduation rates and improving the learning environment; and revitalizing downtown Vicksburg to spur economic growth.
"Everyone's mission is aligning, and we're all moving in the right direction," says Michele Connelly, executive director of the United Way of West-Central Mississippi. That means she's at the table when the school superintendent, Chad Shealy, is talking about education initiatives; he's at the table when she's talking about helping families achieve financial stability.
"I promise you there's something in the air," Connelly adds. "There's a sense of excitement about the community; there's a sense of ownership."
Walking is cheap, life is priceless.
Linda Fondren, community organizer
Shape Up Vicksburg
Slide Show
We're All Moving in the Right Direction
Kimberly Hopkins, executive director of the Vicksburg Main Street Program, stands on the second-floor balcony of The Valley apartment building, one of the many residential projects on Vicksburg, Mississippi's bustling Washington Street. Five years ago, "this block looked pitiful," Hopkins says. But Vicksburg has revived its historic district, using incentives and tax credits to spur preservation work. New restaurants, shops and housing units — the centerpiece of the city's redevelopment efforts — are replacing once-vacant buildings.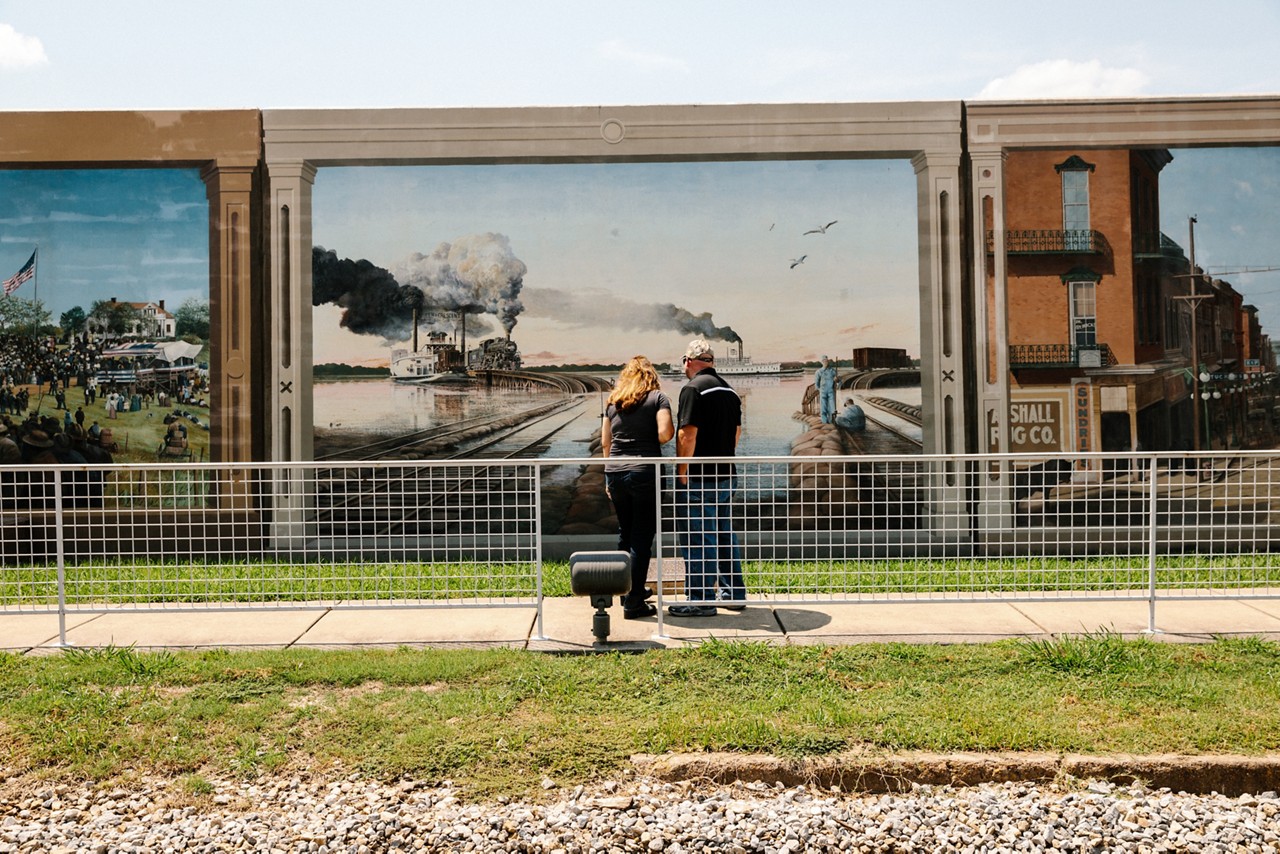 Visitors pause to inspect one of two dozen murals on the floodwalls along the Yazoo River, near Catfish Row in downtown Vicksburg. This one depicts the last of the ferries to transport train cars across the Mississippi. Vicksburg draws more than 500,000 tourists a year, including riverboat passengers and visitors to the Vicksburg National Military Park. The city's downtown revitalization has included the addition of more walking trails for visitors to learn about the history of the city and its buildings. "Downtown is our heart and soul," says Hopkins, of the Vicksburg Main Street program. "If downtown is thriving, then the rest of the city will thrive."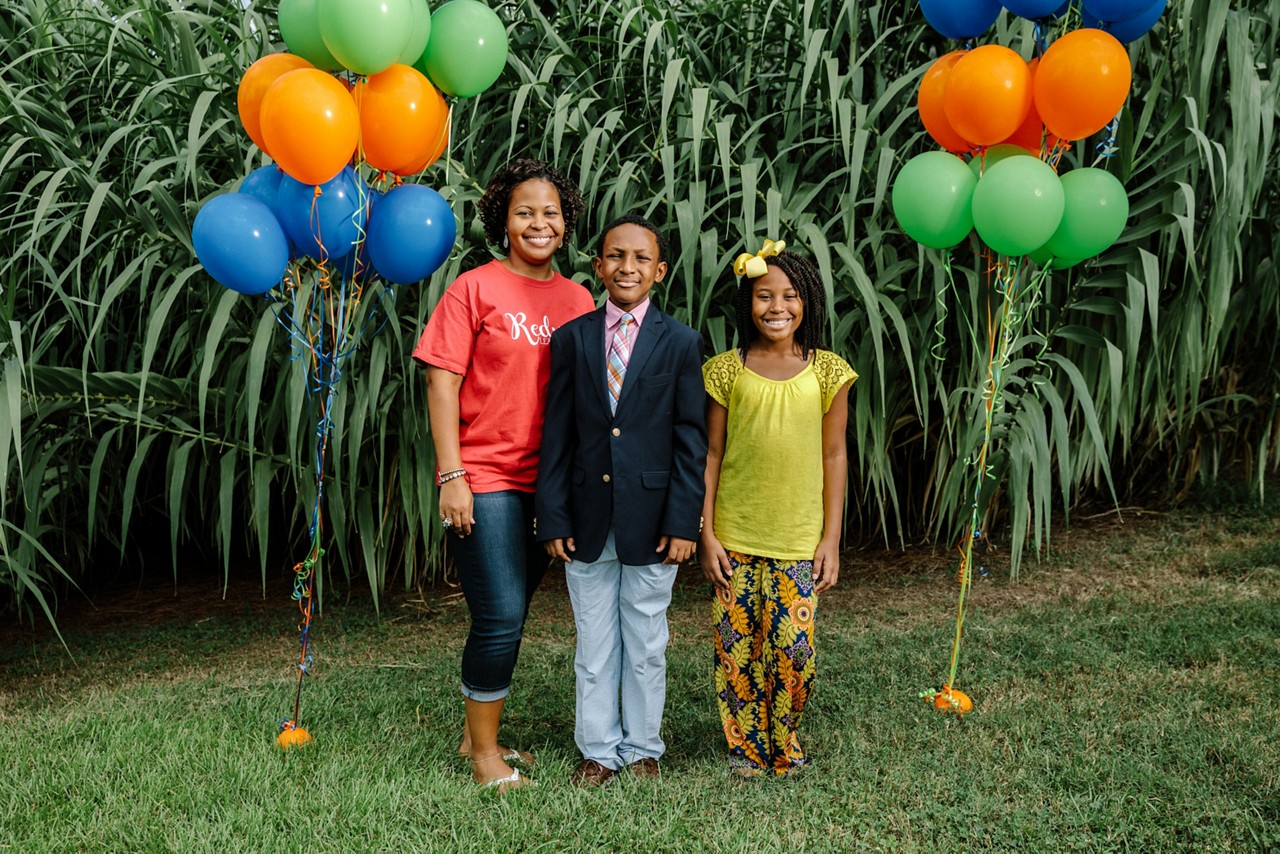 Zack Evans, 11, a 6th grader in the Vicksburg Warren School District, stands outside the Vicksburg Convention Center after a convocation ceremony with his mother Monica and sister Zion, 9. At school, Zack has learned how to incorporate the seven habits of The Leader In Me, a schoolwide student-empowerment model, into his life. His mother, a public school teacher, says the initiative helps students understand what it means to be a leader. "A lot of children don't know," she says. "It's a way of explaining, 'This is what we expect you to be now and as you grow older.'"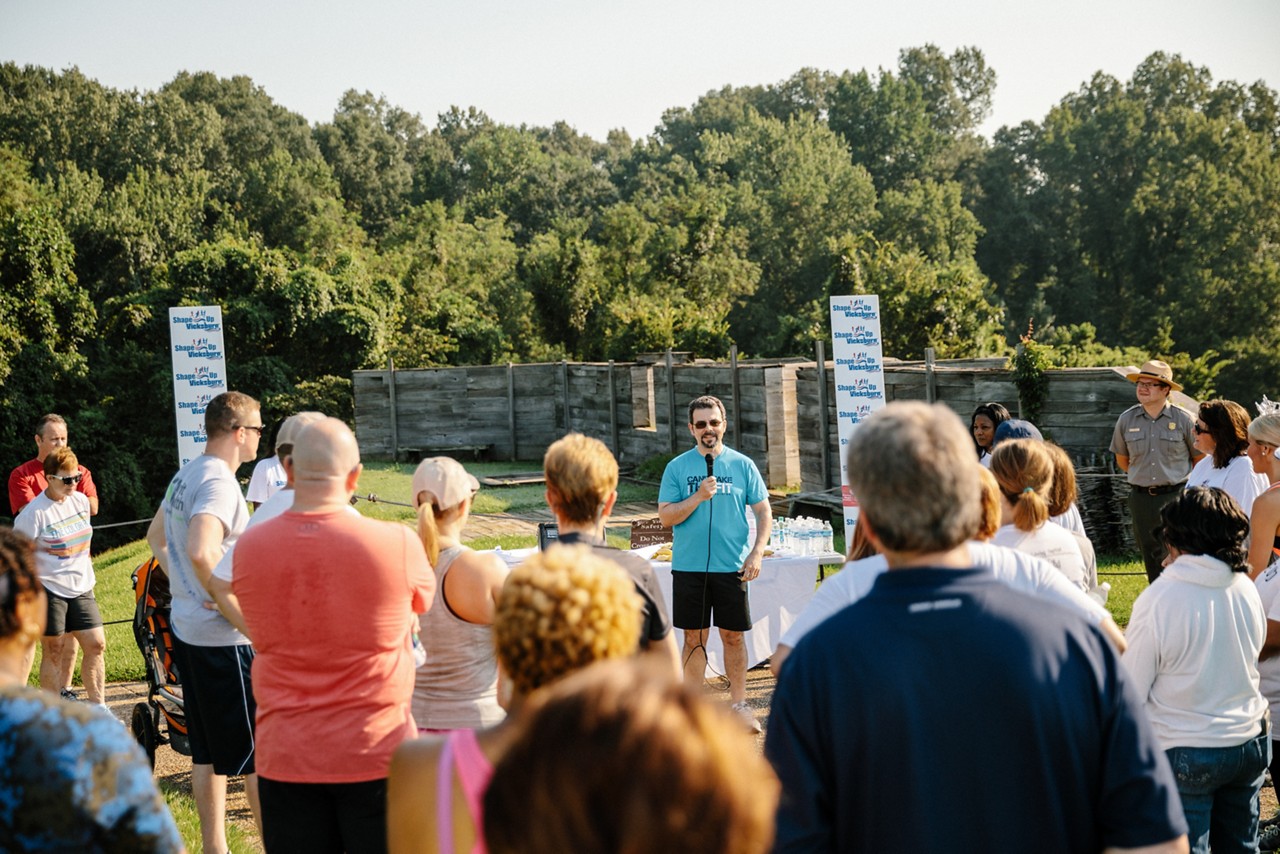 Carlos Latorre, a family physician, addresses a crowd gathered for a Walk With a Doc event at Vicksburg National Military Park. Latorre says being at the park, rather than in a doctor's office, people feel more able to open up and talk freely with him about health issues. "This is a very relaxed setting, and they have more time to talk," Latorre says. "We discuss basically any topic from diet to exercise, to 'I have pain in my elbow, what should I do? What can I do to increase my health?' No topic is off limits."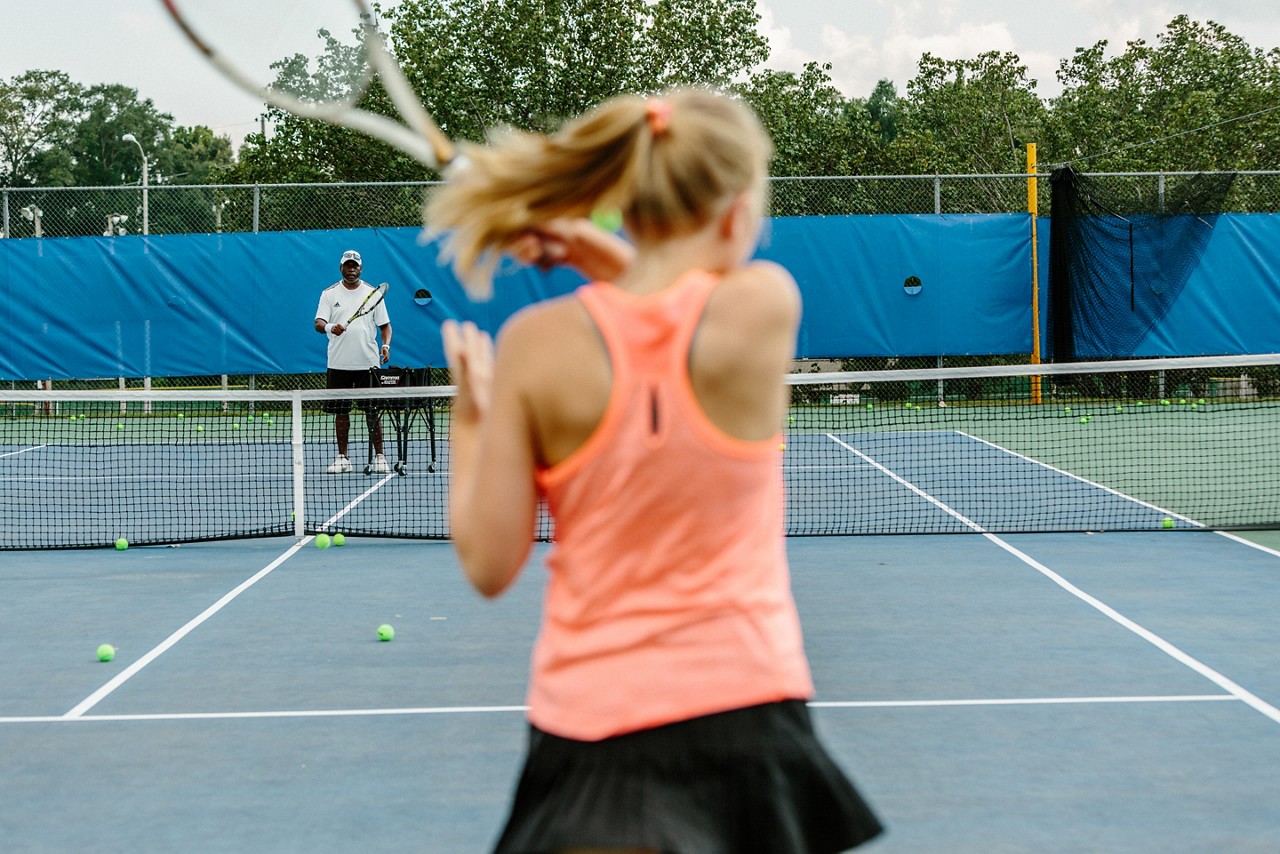 WillWidmerVicksburgMS20170804362.jpg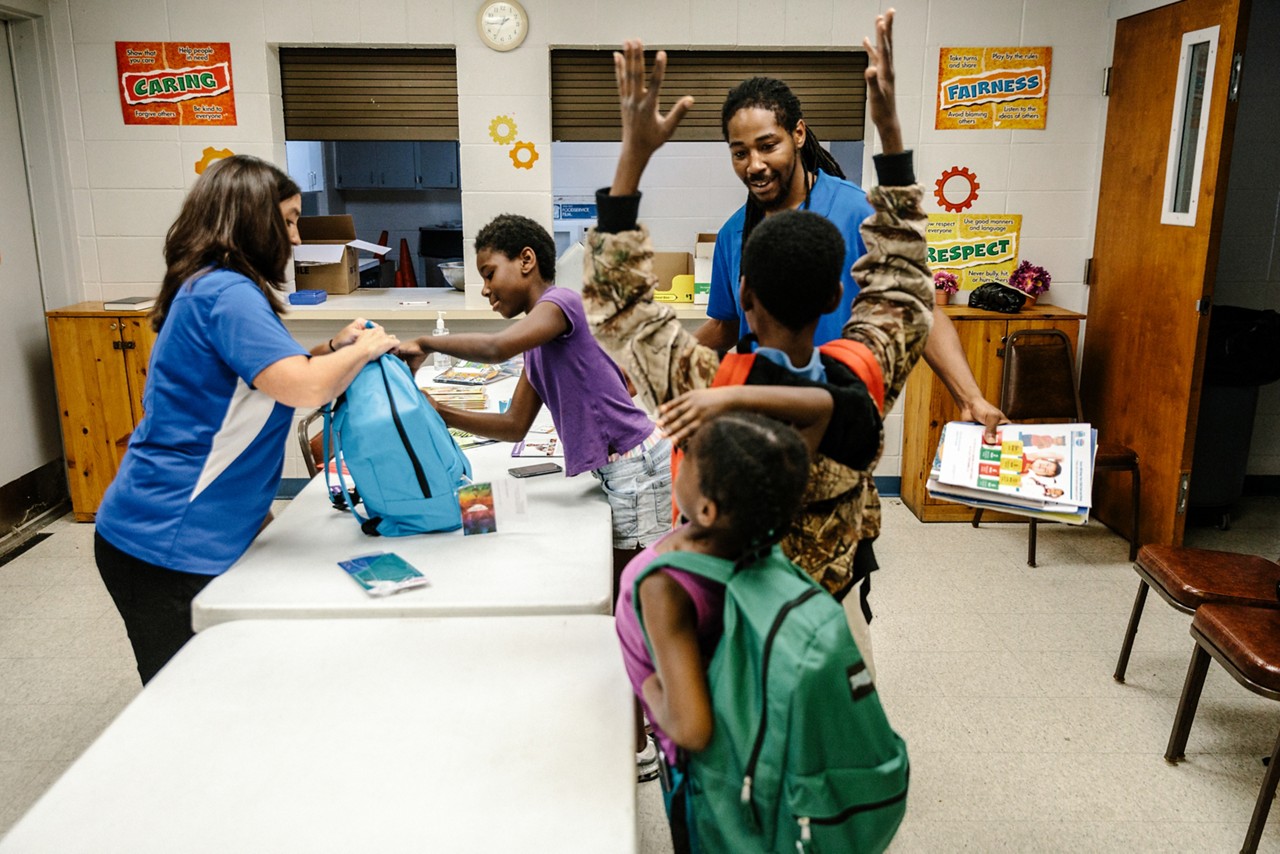 Back to School
Education Has Become This Community's Economic Ladder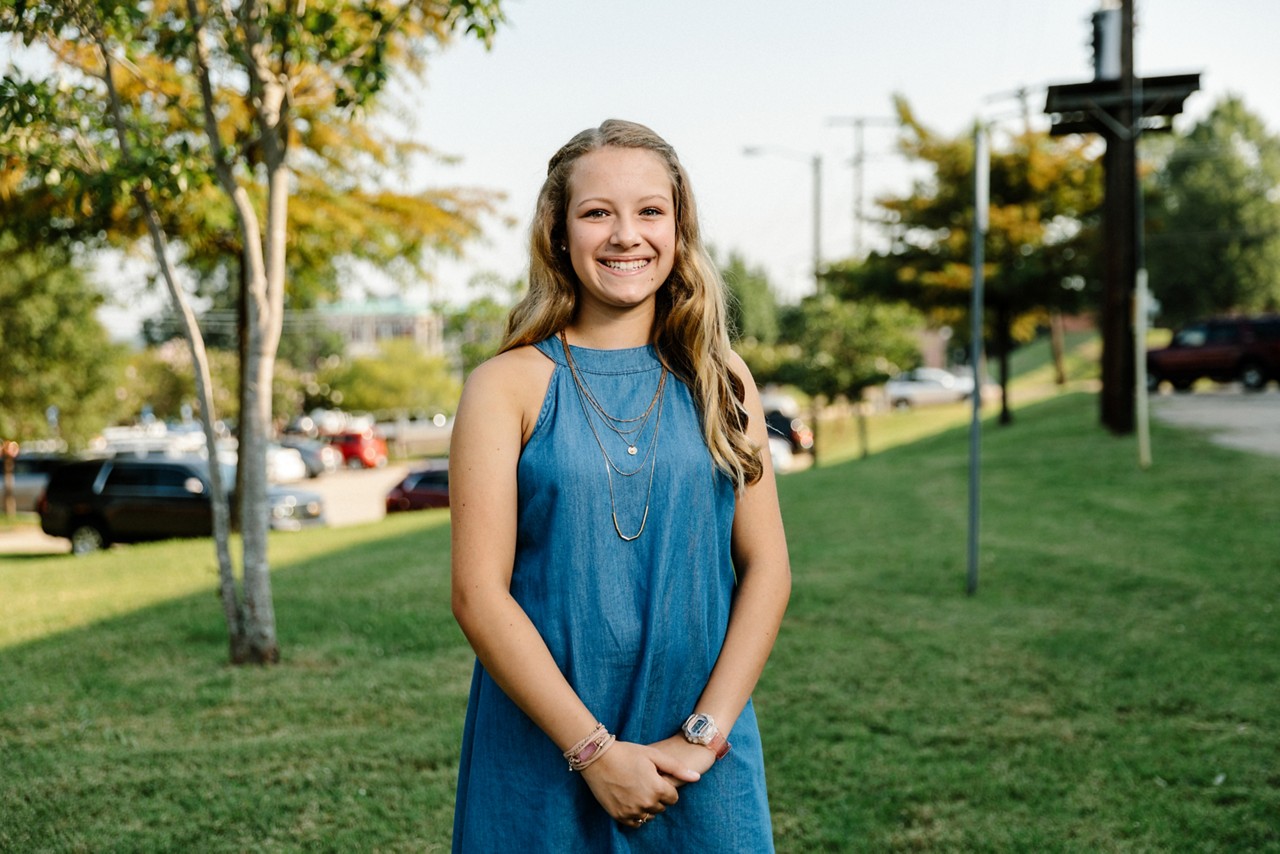 Marin Sherwin, 13, stands outside the Vicksburg Convention Center before a convocation celebrating the start of the school year for Vicksburg Warren School District students.
Thirteen-year-old Marin Sherwin is an effervescent eighth grader who loves cars and wants to grow up to be a mechanical engineer. Ask her what it means to be a leader and she will rattle off seven critical habits, including "sharpening the saw," shorthand for keeping her mind, body and soul in balance.
"All the habits have a way of changing you, have a way of making things better," Marin explains.
Students in Vicksburg talk like this. The Vicksburg-Warren School District, with the support of residents, local businesses and the Vicksburg-Warren Chamber of Commerce, has embraced The Leader in Me initiative for all of its schools. The approach, honed by the late author and leadership guru Stephen Covey, is seen not just as a tool to help young people set goals, but a way to start changing the very fabric of the community.
"You've got to inspire kids to want to take what they have, form it into something exceptional, and be able to market that in such a way that they feel fulfilled with the rest of their life," says Chad Shealy, superintendent of the Vicksburg-Warren School District.
It's a way of explaining, 'This is what we expect you to be now and as you grow older,' and they catch on.
Monica Evans, public school teacher
Can Learning Social Skills in School Pay Off Beyond the Classroom?
Building social skills in students as young as kindergartners can have long-term benefits, not just for the students themselves but for society as a whole.
Educators in Vicksburg are on the frontline of improving the city's Culture of Health, promoting everything from universal pre-K for young children to better preparation of high school students for college and careers through programs like the Ford Next Generation Learning initiative.
After decades of decline, the metrics are starting to improve. In the Vicksburg-Warren School District, which has 8,500 students, high school graduation rates have increased from 56.2 percent in 2012 to 70.7 percent in 2017, an improvement but still well below the national average of 83 percent.
With The Leader in Me initiative, two of the first 16 schools that have implemented the approach saw a 49 percent decrease in discipline referrals and an 8 percent reduction in absenteeism from 2011 and 2014.

Monica Evans, a public school teacher and mother of two school-age children, says she sees the impact in her classroom. "It's a way of explaining, 'This is what we expect you to be now and as you grow older,' and they catch on."
Like the rest of the city, the school district has tried to more effectively leverage assets in the local workforce, most notably the elite U.S. Army Engineer Research and Development Center (ERDC), which has 1,800 employees in the Vicksburg area. Professionals from the center assist robotics teams from elementary through high school; host a solar car competition for students; and lead a one-week summer STEM experience, called Camp Invention, for students in grades 1 to 6.
The district also collaborates with Hinds Community College to allow students to enroll in college courses while still in high school.
And if parents are impressed by what they are seeing in schools, they, too, will be able to participate. Using federal and state funding, the district is creating a 15-month course to help out-of-work mothers and fathers of school-age children train for job opportunities. Poverty, says Shealy, is "the number one issue."
"Schools are the center of this community," adds Linda Fondren, an entrepreneur and founder of Shape Up Vicksburg. "If we get the schools right, so many other things...just come together, fit together."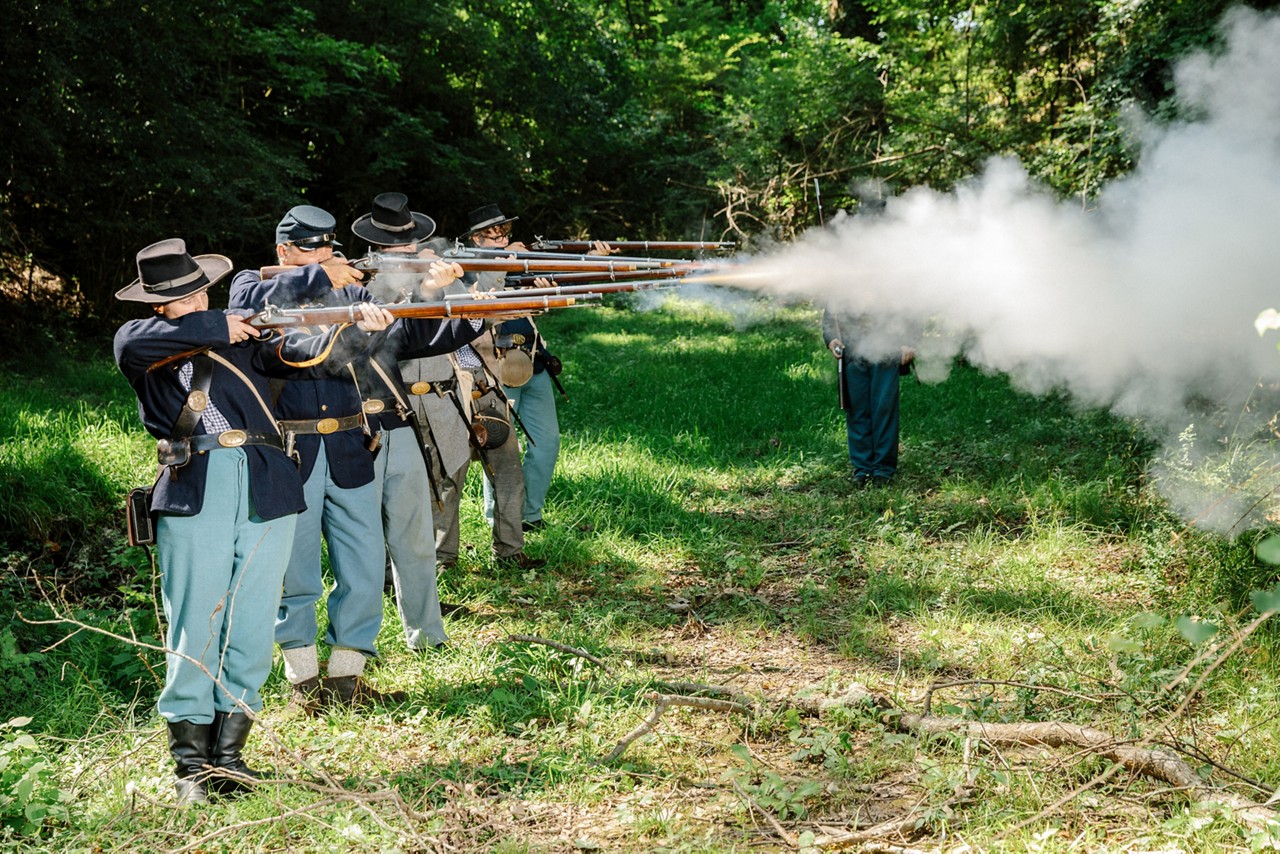 Civil War Demonstrators
Race, Health, and Unity Converge on a Civil War Battlefield
On an early August morning, already a simmering 80 degrees in the shade, a couple dozen walkers assembled around Linda Fondren, founder of Shape Up Vicksburg, ready to follow her on a 2-mile power walk through the Vicksburg National Military Park. The group included more women than men, with equal numbers of African-American and white walkers.
Seeing such a mixed crowd in the park was not always the case. Fondren, an African-American and veritable Pied Piper of physical fitness known throughout the city for her efforts to get people up off the couch and on the move, recalls being asked point-blank by a former park superintendent, Michael Madell, "Why do so few African-Americans walk in the park?"
To Fondren, the reason seemed obvious: "African-Americans feel that the park glorifies the Confederacy." And she added truthfully, "Exercise was at the bottom of a long list of priorities for most African-Americans."
A central theme to the Vicksburg story is the city's pooling of resources and leveraging of everything at its disposal to improve health. And yet, the largest parcel of open space—an undulating 1,700 acres with 12 miles of paths and 16 miles of roadway for biking—felt unwelcoming for the city's majority African-American population.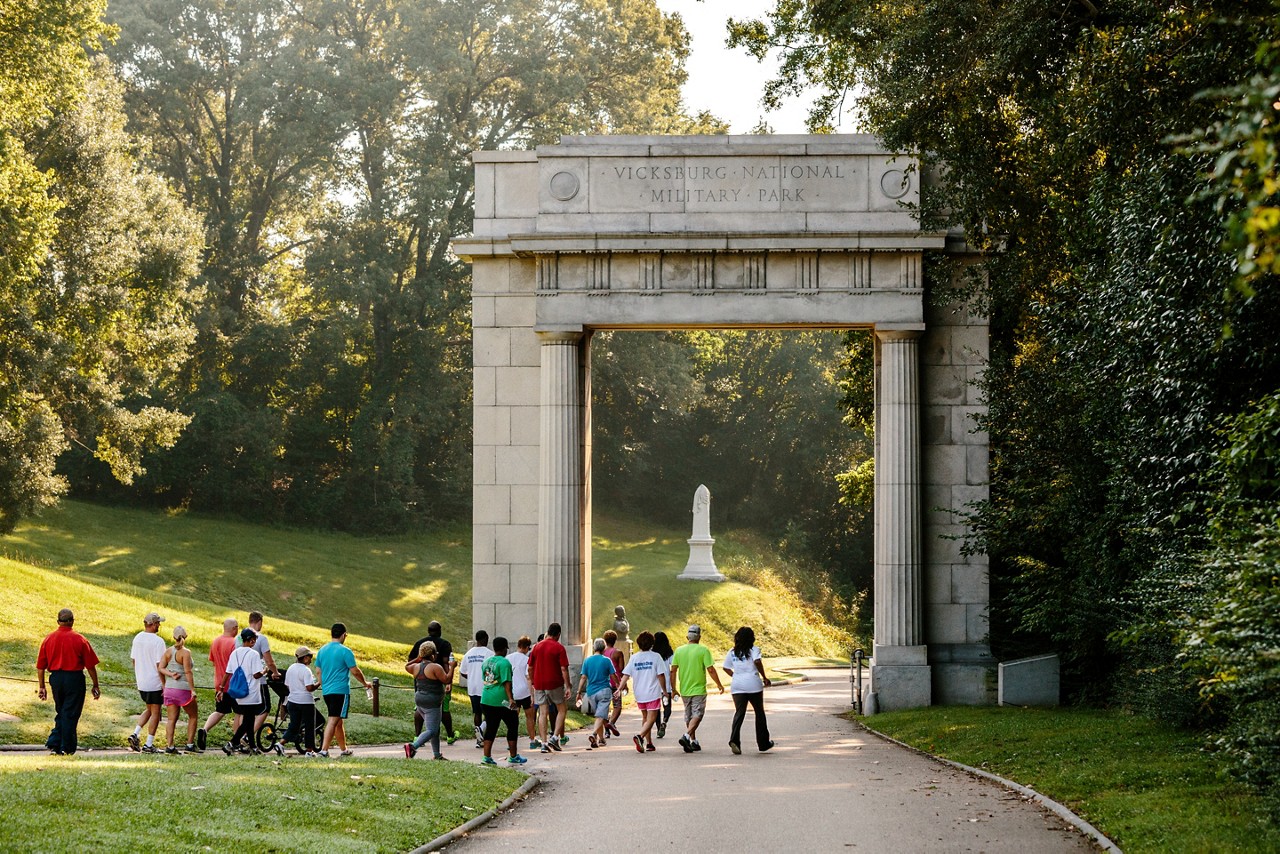 A Walk With a Doc event at Vicksburg National Military Park. The nationwide program encourages physical activity. Walks are led by local physicians.
A turning point in the Civil War, the 47-day siege of Vicksburg in 1863 gave Union troops control of the vital Mississippi, leaving 19,233 dead and cutting off Confederate supply routes. Just a mile from downtown, the park preserves the battle lines held by Union and Confederate soldiers.  
Fondren and park officials hashed out ideas for bridging the racial divide that the park represented. Seven years ago, they came up with a walk through the park to mark Black History Month, promoting it as "Our shared history, our shared community, our shared health."
Rangers led a walking tour past the United States Colored Troops Monument, representing African- American soldiers who fought on both sides of the war, and the Vicksburg National Cemetery, which includes 7,000 black soldiers among the 17,000 veterans who are buried there. The rangers told the story of the Battle of Milliken's Bend, just across the Mississippi, where African-American troops engaged in hand-to-hand combat to defeat Confederate attackers trying to seize a depot.
The reaction was "unbelievable," Fondren says. Some participants who had spent their whole lives in Vicksburg had never seen the monument, or even knew that black soldiers were buried in the cemetery. "We want people to look at that history when they go through there as restored self-respect," Fondren says.
The walk is now an annual event. "If we do not embrace all of our communities, if our communities do not embrace us, we're not going to succeed in what we do," says Scott Babinowich, chief of interpretation for the military park. "We want to make sure that we're a place that the community feels welcome, that we provide a place where they can explore, that they can exercise, that they can escape the city life."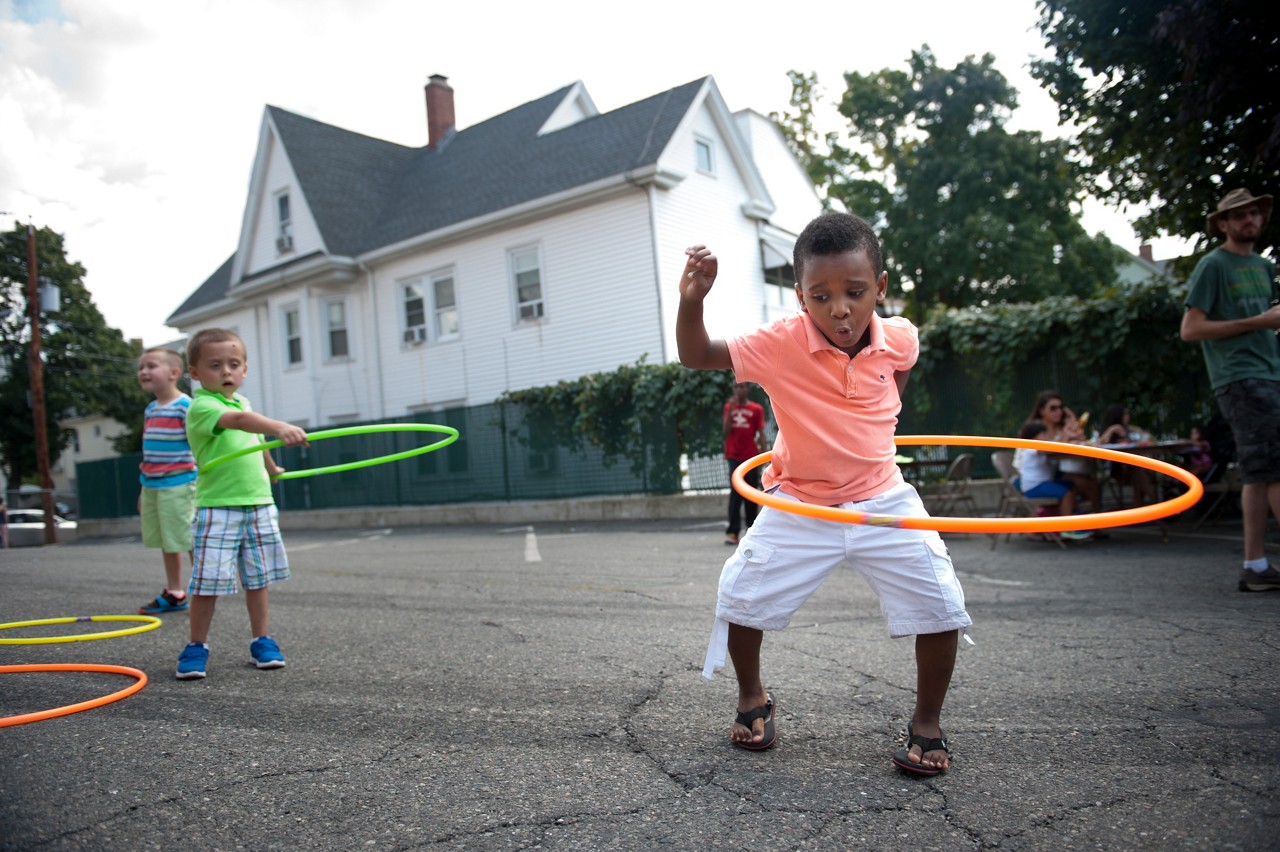 The Culture of Health Prize
The Prize honors and elevates U.S. communities working at the forefront of advancing health, opportunity, and equity for all.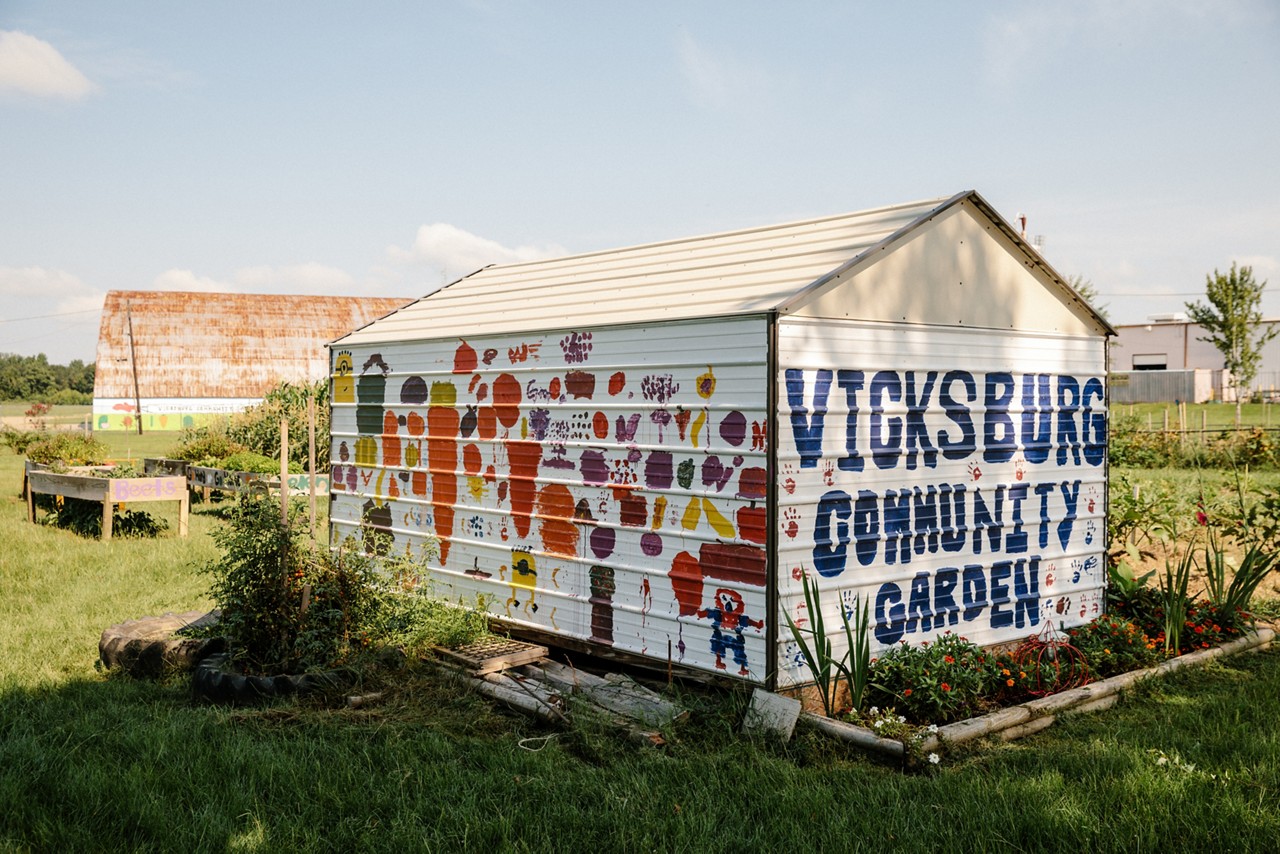 Seeds of Progress: A Community Garden That's So Much More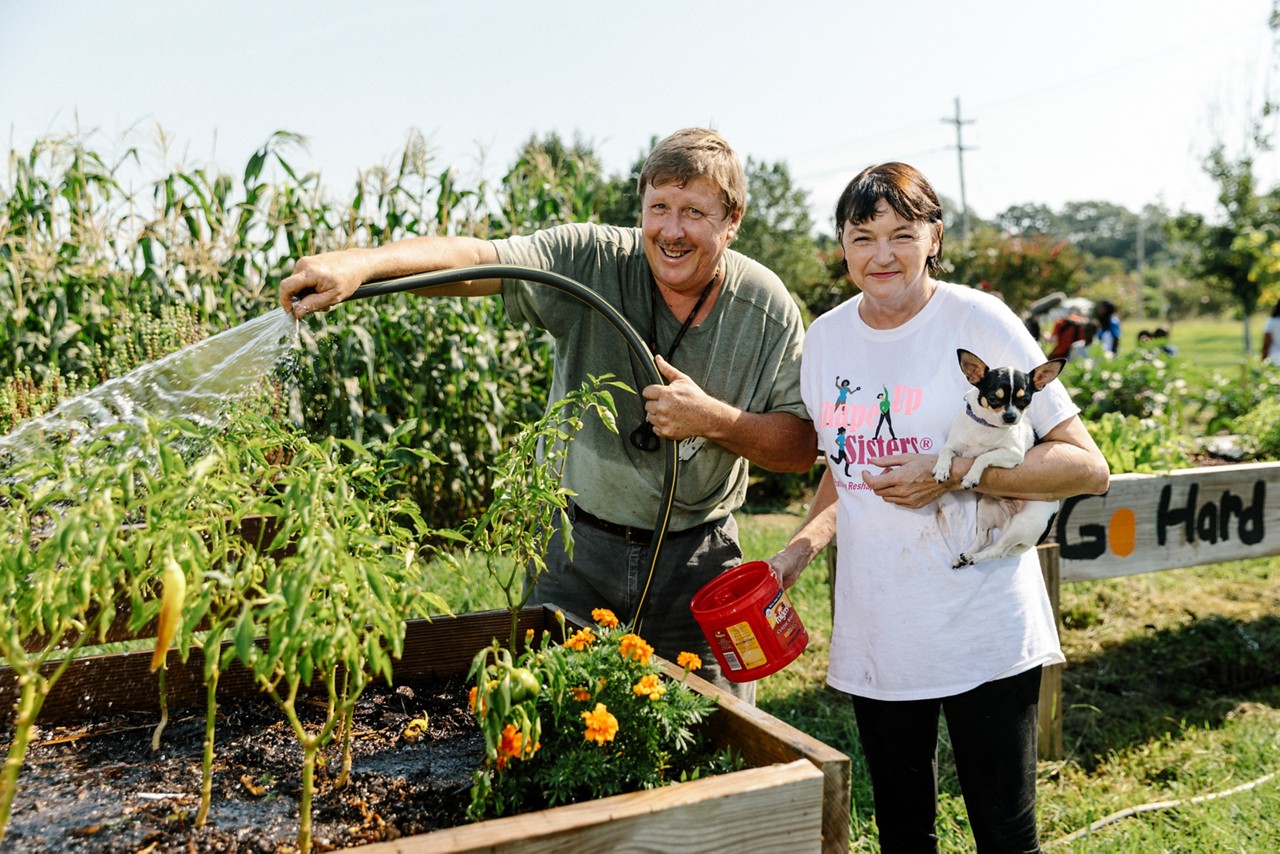 Barry and Sharon Batchelor water their plants at the Vicksburg Community Garden.
Children from the daycare center Kids R Kids visit with Linda Fondren of Shape Up Vicksburg and members of the United Way at Vicksburg Community Garden.
The Vicksburg Community Garden, a stone's throw from the Mississippi River, shines as an example of how groups in Vicksburg are working together to capitalize on the city's existing resources.
It's a trend in this city. With funding tight for any project—from revitalizing downtown Vicksburg to expanding career-building programs in schools—community partners are pooling financial resources and manpower, as well as reaching across boundaries to align goals and deliver the biggest bang for their efforts.
The community garden started when an agriculture expert from Alcorn State University reached out to Shape Up Vicksburg's Linda Fondren with an idea: Let's start a community garden to teach people how to grow their own food and maintain a healthier diet.
Fondren was a logical person to approach. She started a crusade in 2009 to get residents in her hometown to lose weight and to start walking as a first step toward fitness. More than 2,000 people signed a pledge to lose weight and over the course of 17 weeks, they lost a collective 15,000 pounds, roughly the weight of five vehicles.
A community garden could be a classroom on nutritious eating. But they needed the land. Fondren went to the city. "When she calls, we help," says Marcia Weaver, Vicksburg's Director of Special Projects. After viewing several potential plots, the group settled on a wide, open spot next to the Vicksburg Municipal Airport. The city agreed to pay for water and to mow surrounding grounds.
The raised beds and garden plots have been growing strong this year. Community members, master gardeners, civic groups and local schools have provided volunteers and supplies to help the garden thrive.
But could the garden be even more? My Brother's Keeper Inc., a nonprofit that works to enhance the health of minority populations, provided a grant for playground equipment and a walking trail around the perimeter of the property. "Now we have parents coming out and they're walking and getting involved in the garden," Fondren says.
Building on the children's interest in the garden, the United Way decided to establish literacy programs at the site. Why not bring books outside and read to children under the trees? 
On a summer morning in August, they did just that. Under the shade of birch trees, dozens of children of all ages from a daycare program, Kids R Kids, sat on tree stumps listening to Fondren read to them about how a seed becomes a plant. When the story concluded, they took off among the rows of corn and eggplants and searched for ripe red tomatoes to yank off vines. When a small girl couldn't find one, she picked an orange pumpkin instead.
2017 Culture of Health Prize Winner
All-In to Lower the Barriers to Healthy Eating
In Richmond, Virginia, advocates have made it a mission to help residents eat their vegetables, both as a matter of health and as a matter of justice.
What once was an unused plot of land now teems with activity, providing more than just a place to garden. In yet another use for the garden and park, young people in the juvenile justice system tend the plots as part of their community service.

Two neighbors who live nearby were intrigued by the land's transformation and now work in the garden—watering, weeding, seeding, and rotating crops.
"Let me tell you something," says Sharon Batchelor. "I was raised down here on the river. I'm a river rat. And as far as I can remember, there's been no growth, nothing to attract the public. And now we've met so many different people here."