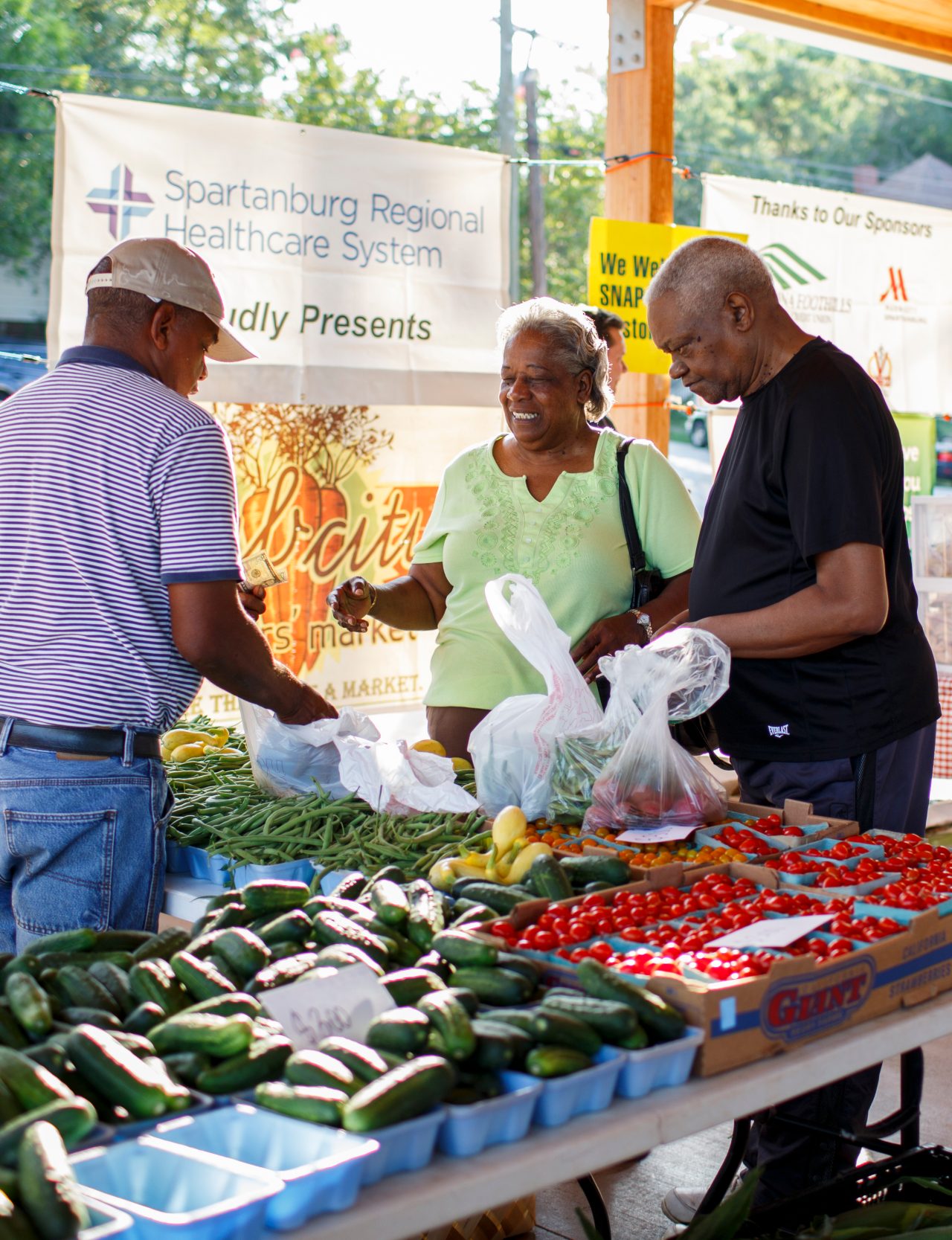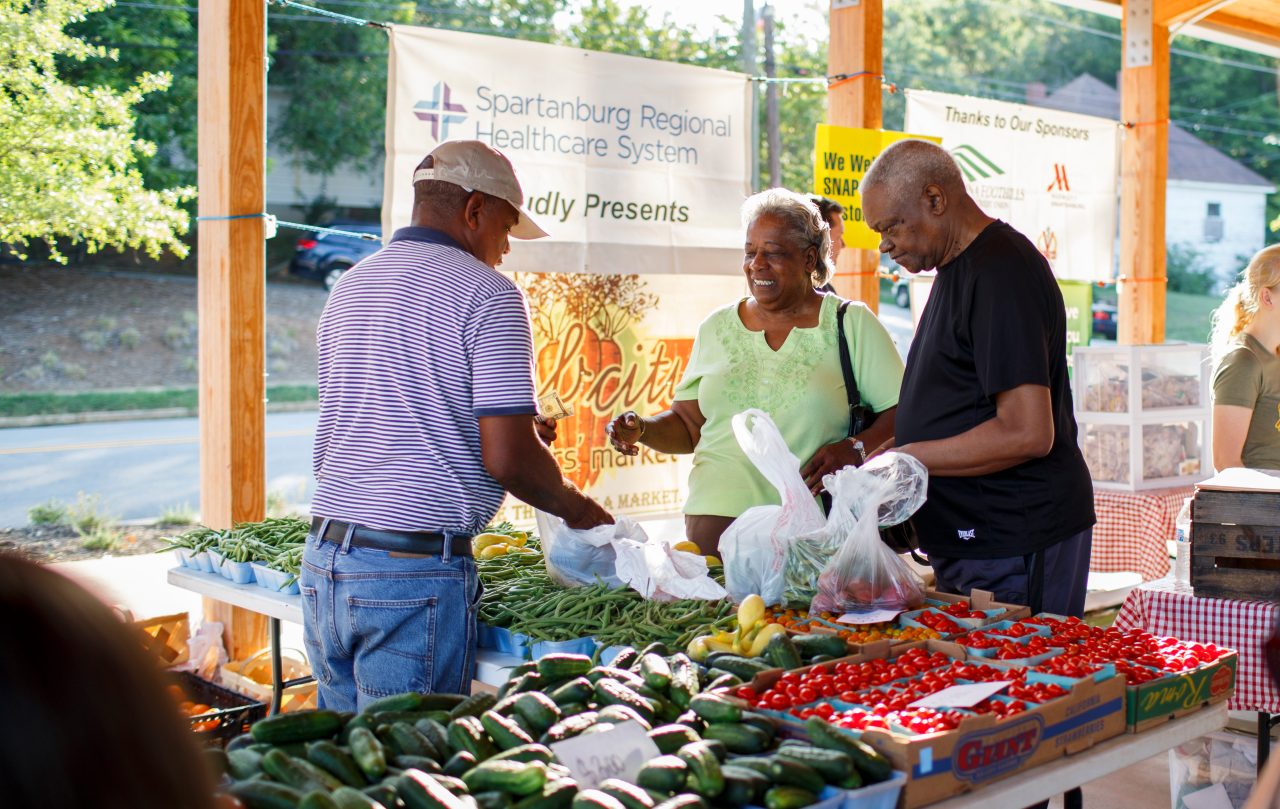 Spartanburg County, South Carolina
2015 Culture of Health Prize Winner
Spirit of Hope, Collaboration Lift Spartanburg County
---
Debby Moore lives in the Northside neighborhood of Spartanburg County, S.C., in the same home her grandfather built brick by brick. Everything they needed was within a few blocks—a grocery store, the church, a barber. Every adult seemed to have a job and every child had chores.
"We knew each other. The kids went to school together. The families worshipped together," Moore, 65, remembers.
The change, she says, came slowly. A mill closed and people lost their jobs. Anchor families moved away. Lots were left empty. The grass and weeds took over. When Moore returned to the community after college in the early 1970s, the neighborhood's best days seemed behind it.
"People were starting to lose hope," says Moore, a member of the Northside Voyagers, a group of respected community members who advocate for the neighborhood.
As the environment declined, so, too, did the health of its residents. The grocery store closed, taking fresh fruits and vegetables with it, so residents limited to corner store shopping turned to processed and fatty foods. A spike in crime caused stress and fear, as residents retreated into their homes instead of walking outdoors and engaging neighbors. The place where Moore and her family once flourished was gone.
Yet the strain of despair has been replaced by fresh optimism and hope, and the neighborhood—indeed, Spartanburg County as a whole—is on the rise, and the community's spirited approach has earned the county the RWJF Culture of Health Prize.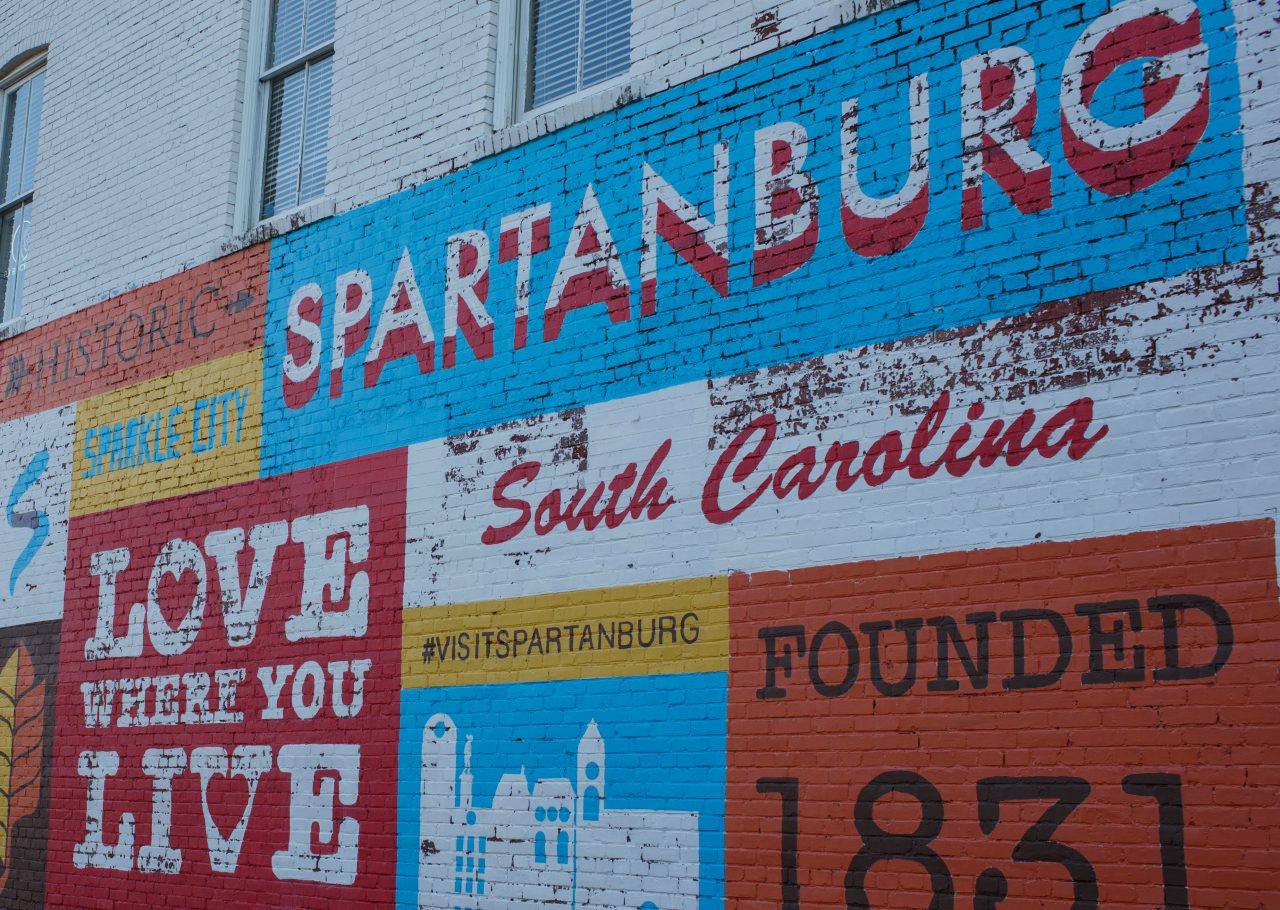 A mural with a welcoming theme is painted on the side of a building in scenic Morgan Square, the heart of downtown Spartanburg, S.C.
Northside is part of a national network of Purpose Built Communities that look to transform all the major aspects of a community—housing, education, jobs, wellness and infrastructure—to change the outcomes of the people who live there. Change here has arrived via brick-and-mortar investments and by applying new approaches to old problems:
Edward Via College of Osteopathic Medicine built a campus on the site of a former mill, investing more than $25 million. It is mission-driven and part of the community—bringing free clinic services, health fairs, youth education and diagnosis assistance to high-need neighborhoods.
Residents who not so long ago had to resort to corner stores now can peruse a farmers market, visit a small grocery store or stop in at a cafe.
An early childhood learning center and a community center are planned for the neighborhood.
CommunityWorks, a nonprofit, provides residents onsite financial education and services.
Vacant and blighted homes are being replaced with new affordable and market-rate housing.
Neighborhood residents have been involved in these changes from the start, unlike the days when Northside residents felt powerless as outsiders "would come and tell us what was going to happen," Moore recalls.
This singular neighborhood is emblematic of the new Spartanburg County—a safer place, a more attractive place and, critically, a healthier place.
"It's not a quick fix. It didn't get this way in a couple of years," Moore said. "People are taking hold of their visions."
An Informed Approach to Teen Pregnancy
The tide in Spartanburg County began to turn about eight years ago, when a group of organizations held a meeting to address the area's stubborn health deficiencies. They concluded that the only way to make real progress was to align their separate missions and work together. The Road to Better Health Coalition—now a mosaic of 40 diverse organizations—was born. The coalition's first act was to use existing health data to set priorities.
The data analysis brought to the forefront difficult issues such as teen pregnancy and the lack of behavioral health services that many of the organizations had long avoided. Tackling such problems as a coalition meant sharing responsibility, says Renée Romberger, vice president of Community Health Policy and Strategy at the Spartanburg Regional Healthcare System.
"The more we worked together, the more we realized that we needed each other," she says.
The first target was teen pregnancy.
Wanda Cheeks, a recreation specialist for the City of Spartanburg who also plays the role of community leader, mentor, innovator and motivator, recalls why she got involved. Cheeks gave birth to her first child at age 17, her second at 19 and her third at 21. Taking on so much responsibility at such a young age was tough, she says. That's why she has long worked on teen pregnancy prevention.
"That was my biggest mistake, not knowing, having three pregnancies back to back to back," Cheeks says. "A lot of the parents now were young parents themselves, and it's not that they don't care, but it's that they don't know how to educate. These kids, too, need to know you can't roll the dice and see if you'll get pregnant."

A community-wide approach to teen pregnancy prevention was adopted to include schools, community-based organizations, healthcare providers, the faith community, key leaders, parents, and young people. The effort was age-appropriate and included abstinence-based programs as well as access to contraception for sexually active youth. Unique partners—churches, the city recreation department, barber shops, community center staff and others—worked together to coach parents and young people about how to talk to each other about love, sex and relationships.
Talking about teen pregnancy prevention "became a norm, not a taboo subject," Cheeks says.
In 2012, the community and funders came together to re-energize The Point, a long underutilized teen health center run by the Spartanburg County Health Department. Rebranded, renovated and refocused, it is today considered one of South Carolina's premier teen health centers.
Teamwork across ideologies, an openness to partnerships with organizations at every level of government and a willingness to include area youth in the pregnancy reduction campaign have made a difference.
The resulting numbers in Spartanburg County are impressive: By looking to data, listening to and letting youth lead, rates have receded by 50 percent from 2010 to 2016 for all 15-19 year olds, and what's more, Spartanburg has closed its gap among black and white females. By 2010, nearly every teen who visited The Point—97 percent of them—said they regularly used birth control, including Long Acting Reversible Contraceptives (LARC). The number of teens using LARC went from 0 percent in 2010 to 37 percent two years later as a result of the dynamic work of an outreach coordinator and clinic staffers who introduce the contraceptive as a first option to patients.
"We are realistic. Some teens will be sexually active, but it's easier to talk to them now," Cheeks says. "They also now know they can feel safe coming to us."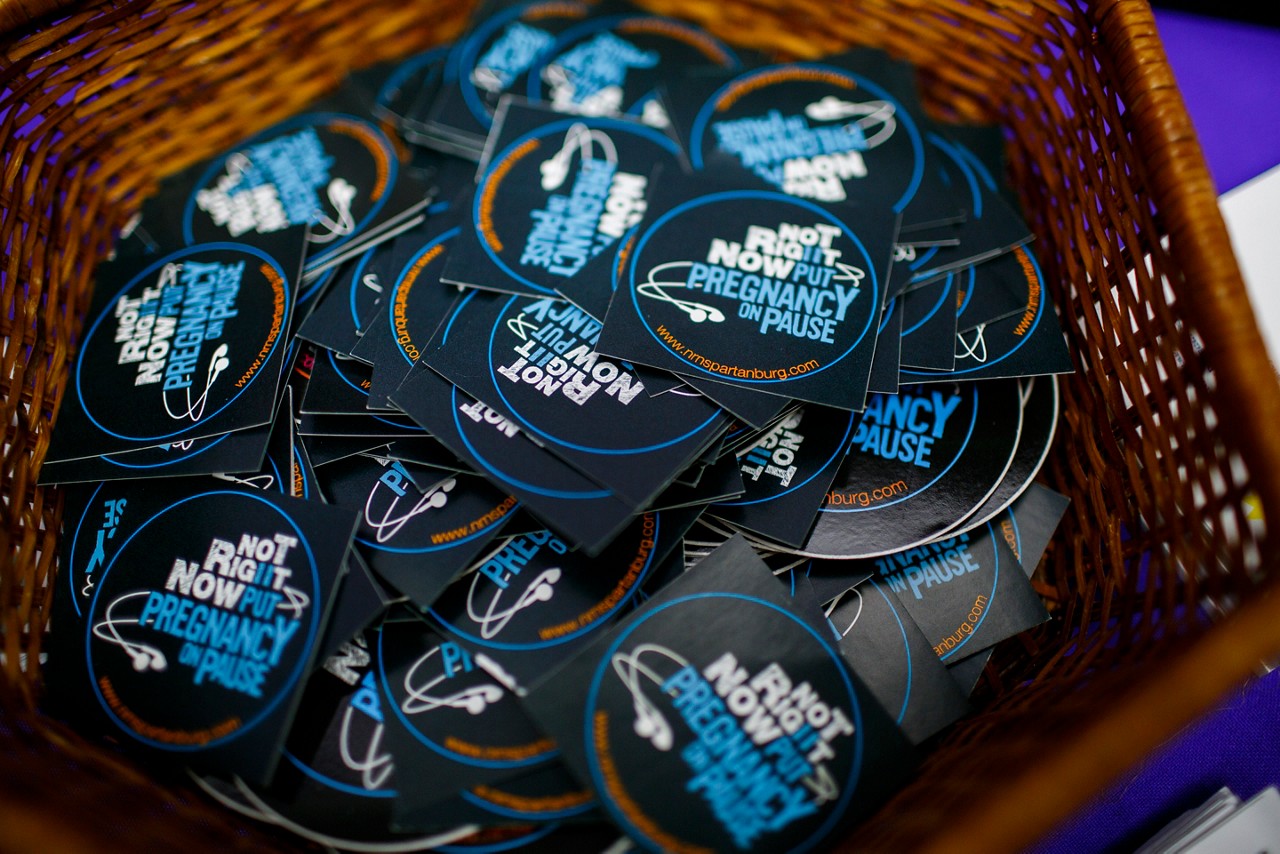 Anti-teen pregnancy stickers.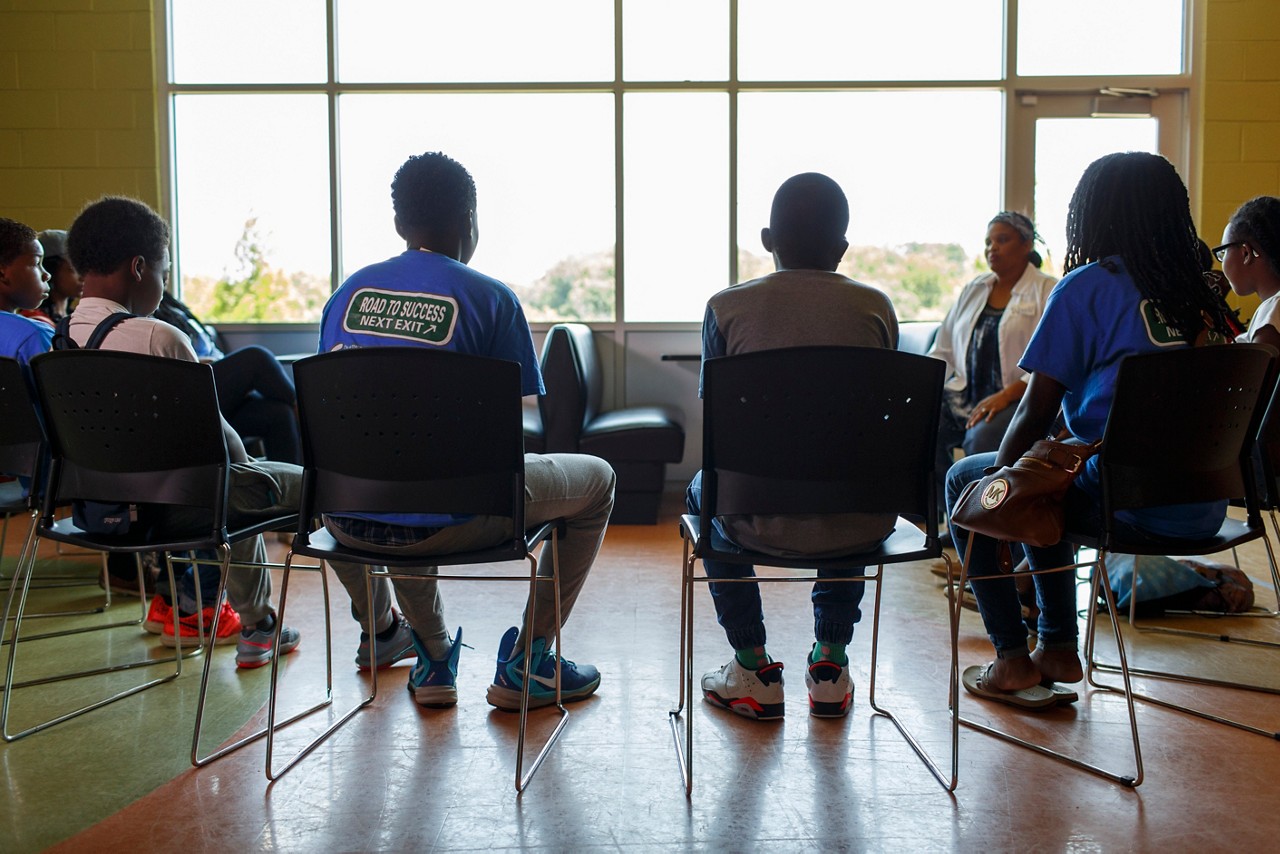 A group of youths have a moderated discussion about teen pregnancy at the CC Woodson Recreation Center in Spartanburg, S.C.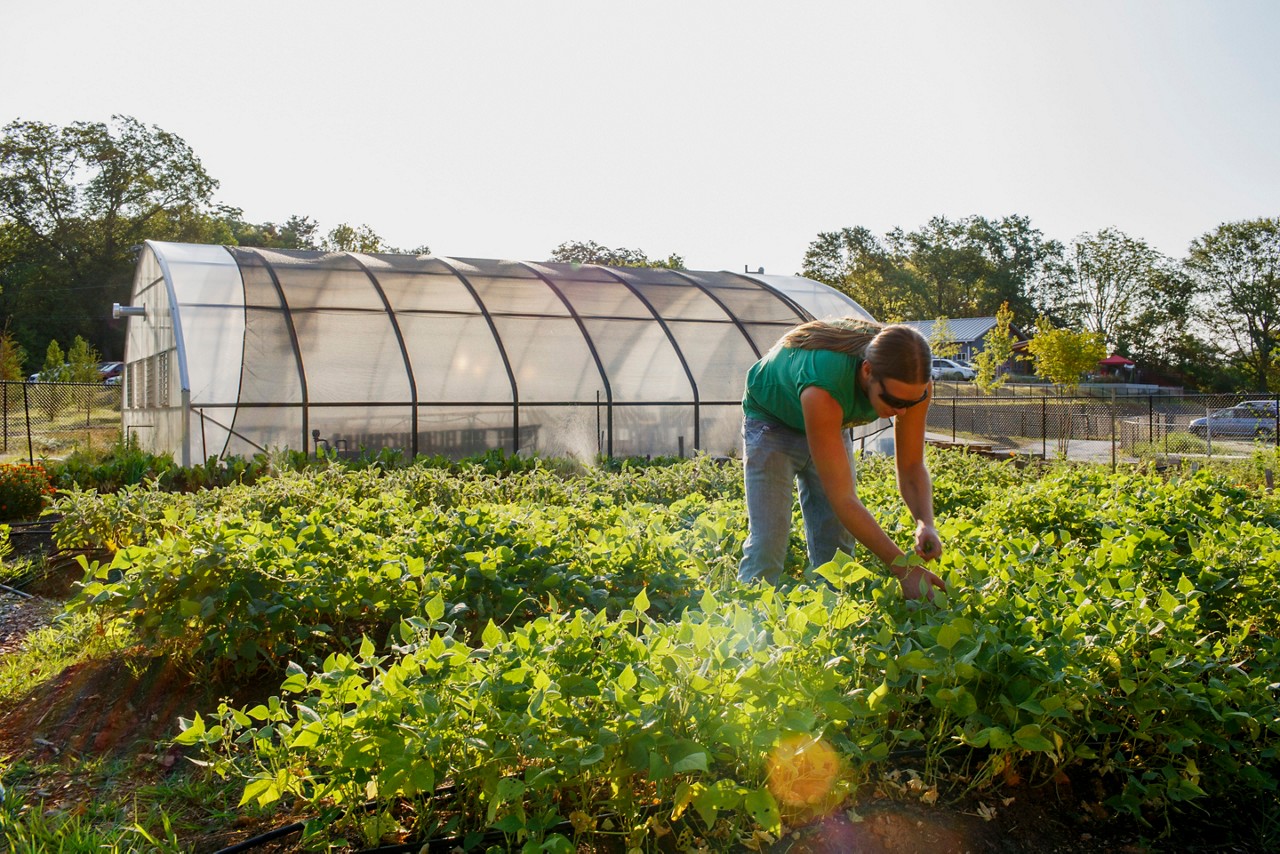 Jimmie Tate, the manager of Hub City Farmers' Market's Urban Farm in Spartanburg County, S.C., tends to the produce on-site.
A Holistic and Whole-Hearted Approach
Yet building a Culture of Health isn't about just one thing, a point AccessHealth Spartanburg understands quite well. The nonprofit helps residents navigate the health care maze while also addressing the social determinants of good health. It leverages community partnerships to connect low-income, uninsured county residents to a network of physicians who provide donated care and to additional community resources to help address their non-medical needs.
Director Carey Rothschild says she and her team help people identify the barriers to a healthier lifestyle and then put them on a path to overcome such obstacles.
"We can get anybody a doctor's appointment, but that's not going to make you healthy," she says. "We assess the needs and then see what resources are available through our community partners."
The barriers in just one aspect of life can be daunting, says Rothschild. Take the task of finding employment.
"Telling someone to help themselves by applying for a job is easy," she says. "Getting and maintaining the job is not. We think about what someone needs in order to have an interview: How to get there, the right clothes, deodorant, soap," she says. "You may have food stamps but they won't buy shampoo and toothpaste. How do you take care of that stuff?"
This is just one way AccessHealth looks to transform residents' lives outside of what happens in the health care space. And this approach is actually having a profound impact on clinical outcomes. Their comprehensive efforts cut hospital use by 31 percent among AccessHealth participants in 2014 while reducing costs by 42 percent.
Dwight Rice, a current client of AccessHealth, was behind bars, counting down the days until his release and worrying about his health when he encountered "these two white ladies saying they want to help me. It's like, 'Who are y'all? Is this a joke?'"
Rice had no insurance to cover the medications and equipment he relied on to live: an asthma inhaler, blood pressure pills and a sleep apnea machine. He was borderline diabetic and recovering from a hernia.
Rothschild was one of those ladies. She and a coworker had gone to the County Detention Center that day specifically looking for Rice and a few other men who the data had shown were frequent users of emergency services. On the outside, AccessHealth helped match Rice with free or subsidized health providers.
"It was about which agencies we could connect him to, not about us individually," Rothschild says. "We find the gaps and overlaps and the needs that still need to be tackled. The core of our organization is collaboration."
AccessHealth has a fan in Rice.
"If it wasn't for them," he says. "I probably wouldn't be talking to you right now."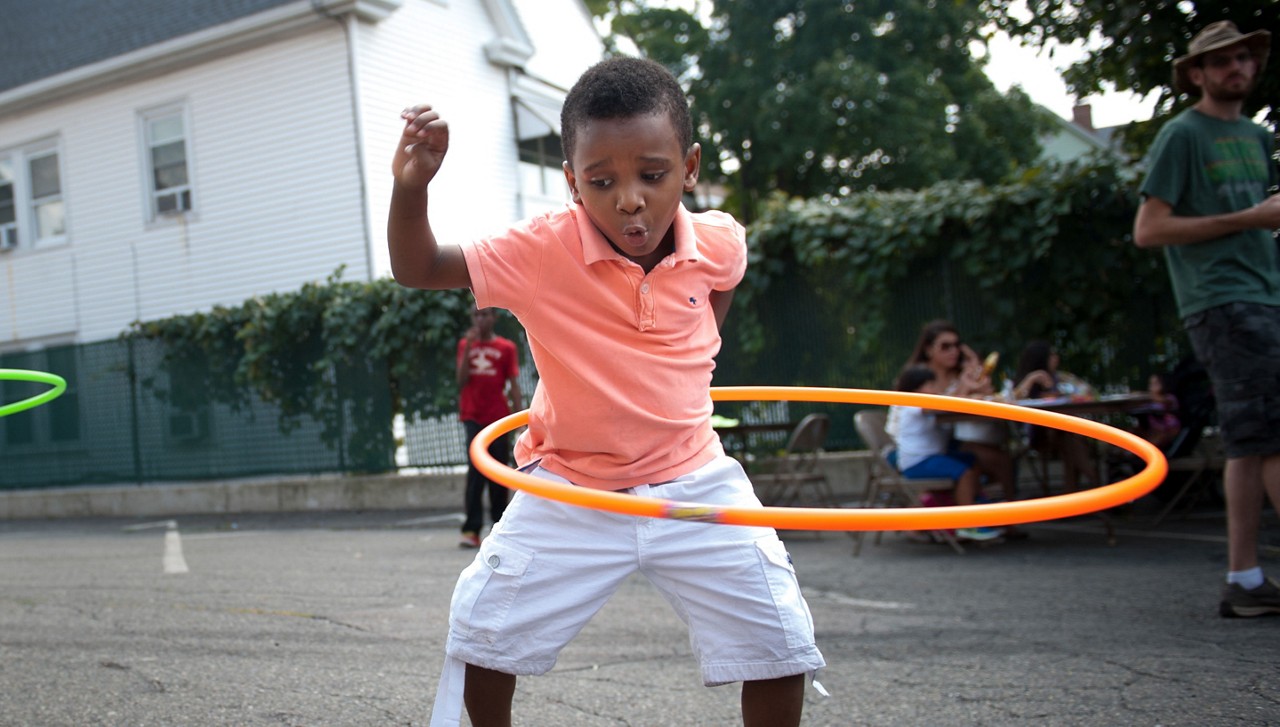 RWJF Culture of Health Prize
The Prize honors and elevates U.S. communities working at the forefront of advancing health, opportunity, and equity for all.
Northside's Bright Path Forward
These micro changes—such as the personal help for Dwight Rice—and the macro changes embodied in the Northside community revitalization have been steadily moving Spartanburg County to a better place.

Just ask Brendan Buttimer, who says when he moved to the county a decade ago, he was "scared to death" when his wife's volunteer work took her to the Northside. He now works there as executive director of the Hub City Farmers' Market.
Opened in 2006, the market brought fresh fruit and vegetables to a longtime food desert. The market has added vendors and customers in the ensuing years and gained a loyal following—a far cry from the early years when residents believed the stereotypes that farmer's markets were expensive and offered strange foods. Buttimer says enthusiasm has grown, and the markets have turned once-empty neighborhood lots into small farms.
Hub City is as educational as it is nutritional, he says, noting that volunteers field questions about small-space farming and gardening. "We're focused on being a community market, where people can connect—not a tourist attraction."
Many of the other vacant neighborhood lots fall under the control of the nonprofit Northside Development Group. CEO Bill Barnet, who is a former two-term mayor of the city of Spartanburg, says plans for making the community a healthier place include adding sidewalks, building more homes and encouraging retail development.
"I see this as a remarkable canvas upon which this community, by working together, cooperating, can do something very special for the ultimate health and welfare of the people who choose to live in it."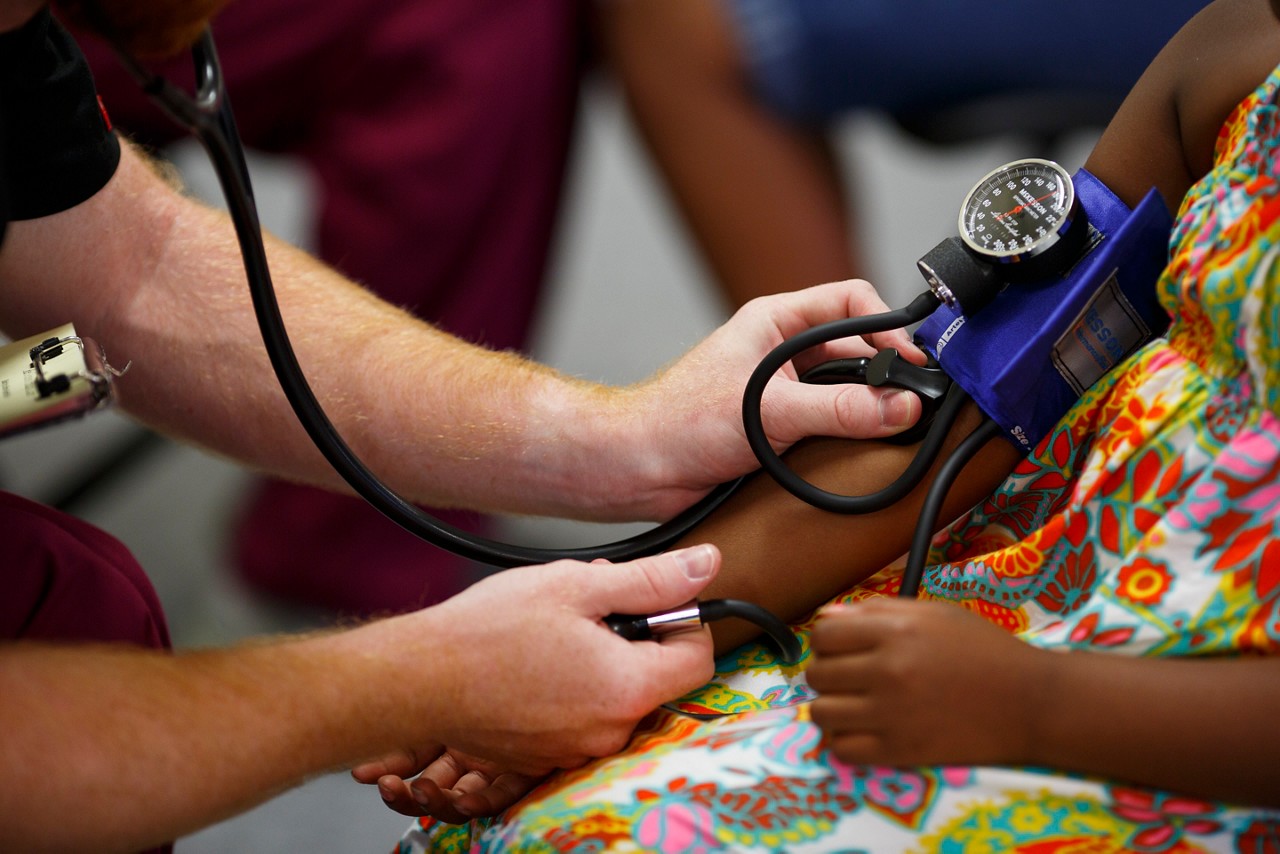 A young girl has her blood pressure tested during health screenings at the ReGenesis Back to School Fair in Spartanburg, S.C.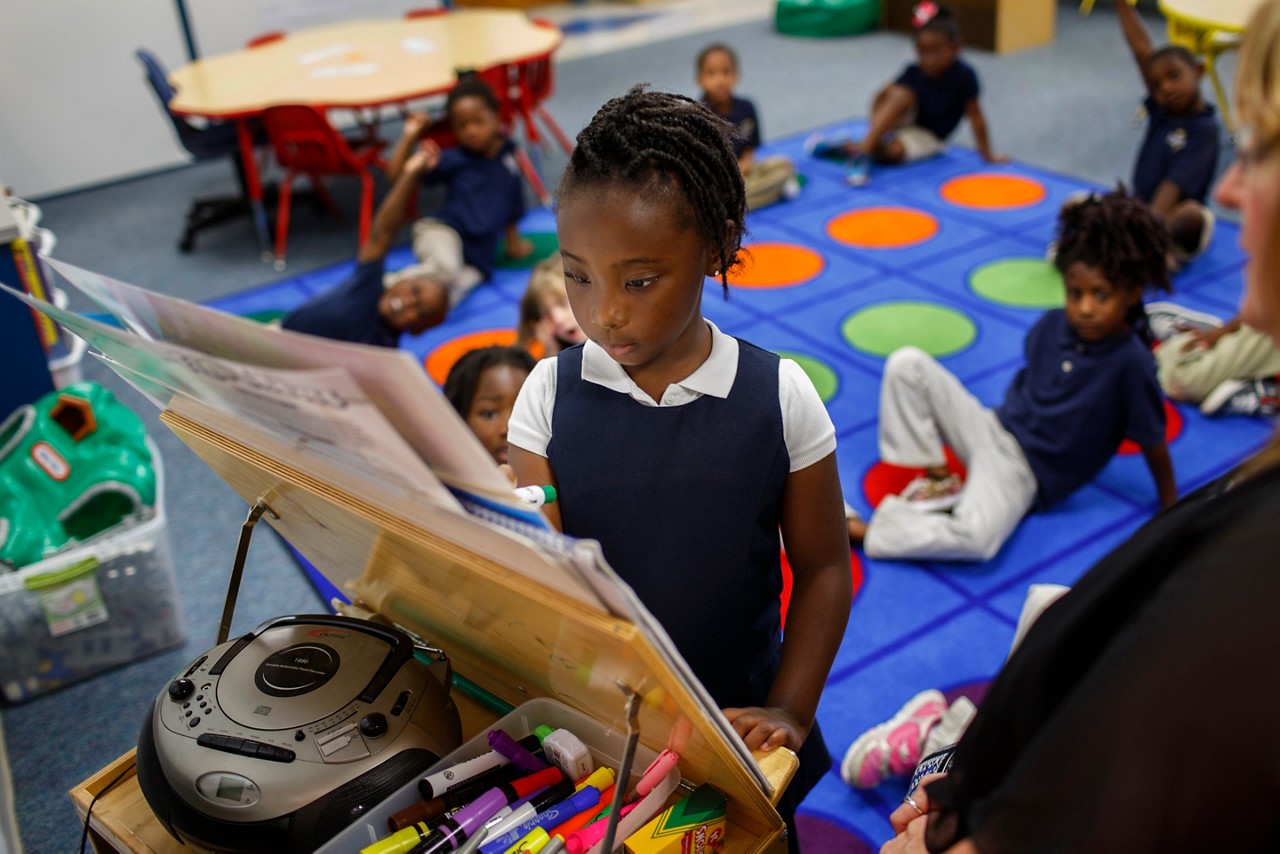 MaKenly Bryd participates in a reading exercise in Dana Holland's class at The Cleveland Academy of Leadership, an elementary school in Spartanburg, S.C.