Richard Besser, MD, Named New President, CEO of Robert Wood Johnson Foundation
News Release
Feb-13-2017
|
4-min read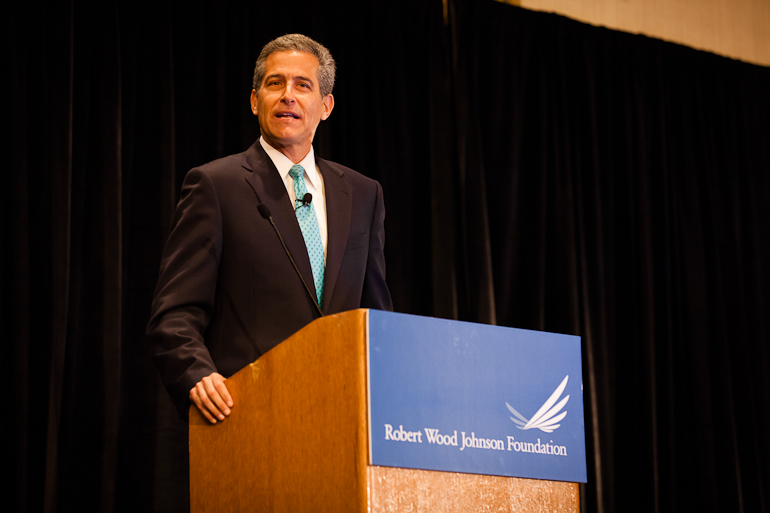 Princeton, N.J.—Richard Besser, MD, former acting director for the Centers for Disease Control and Prevention (CDC) and ABC News' current chief health and medical editor, has been named president and chief executive officer of the Robert Wood Johnson Foundation (RWJF), the nation's largest charitable foundation devoted exclusively to health and health care.
Dr. Besser will succeed Risa Lavizzo-Mourey, MD, who has led the $10 billion foundation for the last 14 years. During her tenure, the Foundation has focused its programmatic efforts on broad and important topics such as reducing childhood obesity, promoting health equity, expanding health coverage, and building a Culture of Health in America.
"Richard Besser is a superb choice to lead RWJF into the next stage of our work," said Roger Fine, chairman of the foundation's Board. "He is a smart, empathetic leader and communicator—someone who can build on the great energy we have been developing around our Culture of Health vision."
A Culture of Health—as championed by the Foundation—envisions everyone in America having the opportunity to live the healthiest lives they can, regardless of their financial situation, geographic location, job or background. The Foundation recognizes that access to healthy food, safe housing, transportation, education and jobs are all major determinants of whether someone is healthy or not. Building a national Culture of Health will enable all to live longer, healthier lives now and for generations to come.
"It is truly an honor to be selected to lead RWJF, a foundation so deeply committed to building a Culture of Health in this country," said Dr. Besser. "Working to improve the health and well-being of all Americans is a high calling. Doing it here, with an organization of such stature and credibility will be a great honor and privilege."   
Dr. Besser came to ABC News from the CDC where he served as director of the Coordinating Office for Terrorism Preparedness and Emergency Response. In that role he was responsible for all the CDC's public health emergency preparedness and emergency response activities. He also served as acting director for the CDC from January to June 2009, during which time he led the CDC's response to the H1N1 influenza pandemic.
He began his career at the CDC in 1991 in the Epidemic Intelligence Service working on the epidemiology of food-borne diseases. He served for five years on the faculty of the University of California, San Diego as the pediatric residency director, while also doing research and working for the county health department on the control of pediatric tuberculosis. He returned to the CDC in 1998 as an infectious disease epidemiologist working on pneumonia, antibiotic resistance and the control of antibiotic overuse.
Dr. Besser received his Bachelor of Arts degree in economics from Williams College and medical degree from the University of Pennsylvania. He completed a residency and chief residency in pediatrics at Johns Hopkins University Hospital in Baltimore. He volunteers as a pediatrician with the Children's Aid Society in New York City, and he is currently a Professor of Pediatrics at Columbia University and a Distinguished Visiting Fellow at the Harvard School of Public Health. He and his wife Jeanne, a food writer, have two sons, Alex and Jack.
There will be a period of transition during which time Dr. Lavizzo-Mourey will remain President and CEO of the Foundation. The exact date of the handoff is expected to be in April. The search was successfully conducted by the RWJF Board and the leading global executive search firm KornFerry.
"I know Rich Besser very, very well," said Georges Benjamin, executive director of the American Public Health Association. "He is smart, effective and absolutely committed to improving health. He will do an amazing job, not just for RWJF but for the nation. I can't think of anyone better."
In addition to building the Culture of Health movement, during her tenure Dr. Lavizzo-Mourey led the foundation's significant work to reverse the nation's childhood obesity epidemic. In 2007, RWJF committed $500 million to the effort, launching a national movement to raise awareness of the issue and to find solutions through funded research, communications campaigns and changes to public policy. In 2015, encouraged but not satisfied by the nation's progress, the foundation committed another $500 million to sustain the movement for another decade.
"Risa leaves big shoes to fill," Board Chairman Fine said. "She has been a remarkable leader and visionary. Richard Besser will bring his own wisdom and energy to our work. I'm confident that he will continue the strong, inspired leadership to which we have grown so accustomed."
About the Robert Wood Johnson Foundation

For more than 40 years the Robert Wood Johnson Foundation has worked to improve health and health care. We are working with others to build a national Culture of Health enabling everyone in America to live longer, healthier lives. For more information, visit www.rwjf.org. Follow the Foundation on Twitter at www.rwjf.org/twitter or on Facebook at www.rwjf.org/facebook.