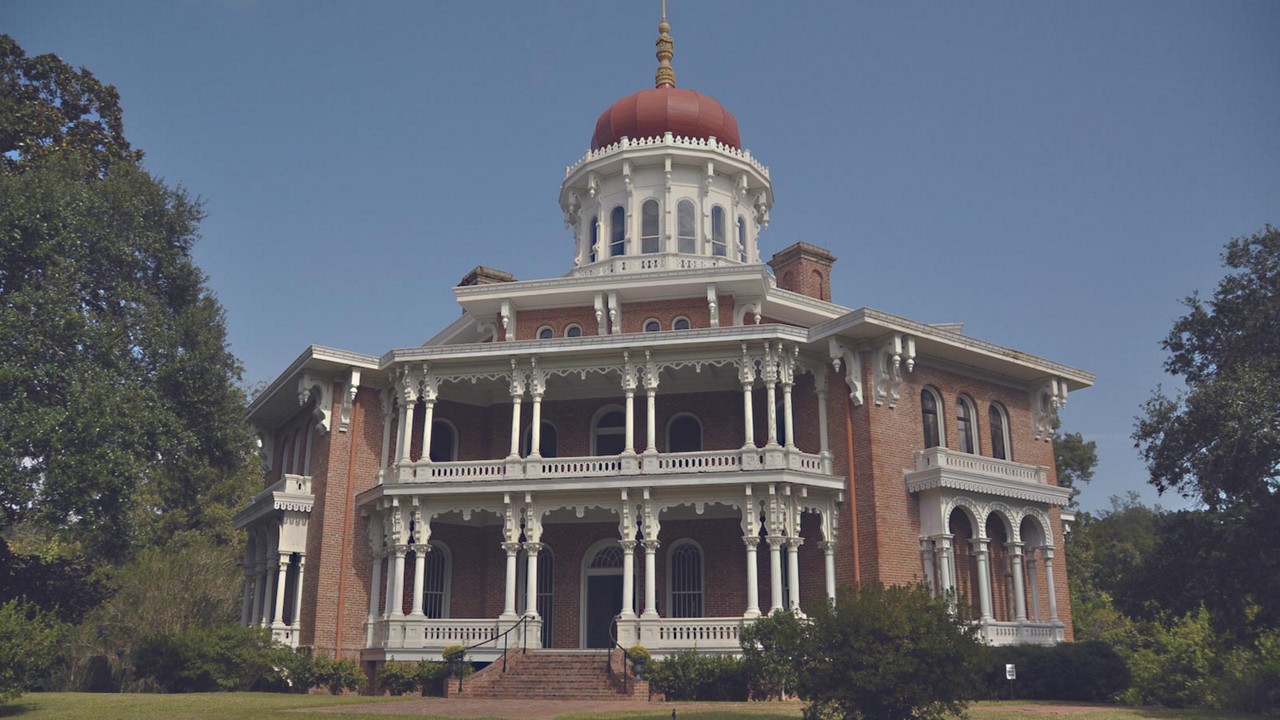 Adams County, Mississippi
Map
Located on Mississippi's southwestern border, Adams County is a federally designated Preserve America Community.
Considered the birthplace of Mississippi, Natchez is the county seat, the oldest town along the Mississippi River, and once a booming center of manufacturing and trade. Because of its prime location along the river, Natchez became Mississippi's first capital and a major producer of cotton, dependent on slave labor.
While the history and nostalgia for the Old South has helped the county's tourism industry thrive, antebellum tours make little mention of slavery, an omission that Black residents have challenged since the Civil Rights movement. Today, sharp disparities in poverty, employment, and health outcomes between Black and white residents underscore the importance of cross-initiative collaboration and meaningful engagement of all community members to ensure investments yield equitable, population-wide improvements.
Population and Demographics

Population: 31,737

SOURCES:
U.S. Census Bureau; photography courtesy Flickr user faungg, CC BY-ND 2.0.

Community Context and Challenges

After the Civil War, the local economy began to suffer due to a lack of diversification and manufacturing capability; by the start of the 21st century many major companies began departing or shutting down their plants, sparking severe economic disruption.
Adams County residents experience higher rates of infant mortality, smoking, obesity, and diabetes than the nation as a whole, with Black residents disproportionately affected.
Among Adams County children, 86% are eligible for a free lunch and 24% of Black residents receive food stamps, compared with less than 4% of white residents.
Just 80% of Adams County residents have health insurance, compared with 85% nationally, in part due to the state's decision not to expand Medicaid under the Affordable Care Act.
The county faces severe shortages of primary care, dental, and mental health providers.

SOURCES:
U.S. Census Bureau; photography courtesy Flickr user faungg, CC BY-ND 2.0.

Taking Action

Across Adams County, individuals and organizations are actively focused on creating a healthier future.

Local, state, and national initiatives to improve health equity in Adams County, Mississippi are designed to create jobs, improve built environments, and meet high priority community needs. Although many initiatives share common values and objectives, they do not appear to be coordinating efforts or working in close collaboration to maximize overall reach and impact.

Shared Commitment to Revitalization

Community leaders share a commitment to revitalizing the economy and environment to improve the well-being of residents. However, it remains unclear how much residents served by local initiatives participated in setting priorities for these initiatives.

Natchez Inc.

Natchez Inc., a local public/private partnership established in 2010 is the county's primary economic development agency. The group includes business professionals and elected officials from the Adams County Board of Supervisors, city of Natchez, Business and Civic League, Chamber of Commerce, and Natchez Now, a group representing private business interests.

Community Alliance of Natchez-Adams

Community Alliance of Natchez-Adams, a grassroots volunteer group with a mission to improve the built environment, initiated the Natchez Trails project. The team working on the project also included the city of Natchez, the Chamber of Commerce, the Downtown Development Association, and the Historical Natchez Foundation. The group secured state and federal funding to develop walking, running and biking trails in Natchez's downtown and along the river bluff.

Questions for Consideration

Individuals, groups, and corporations in Adams County are taking steps to revitalize the social and economic environment, which are key drivers of health inequities. Additional surveillance, data and information gathering, analysis, and reporting will examine how the initiatives are coordinated with each other and assess the impact of these initiatives on increasing employment, decreasing poverty, and improving health outcomes, particularly among Black residents.

The following questions could provide insights into the degree to which meaningful change is taking place and can be sustained:

How are the various initiatives communicating and collaborating with each other and the people they aim to serve, and how are underserved groups involved in decision making?
Which initiatives are addressing health inequities that disproportionately affect Black residents? How is success being measured?
In what ways have grassroots accomplishments, such as Natchez, Inc. and Natchez Trails, improved the social, economic, and health-related environments?
What evidence exists to demonstrate effects of the Natchez Trails Initiative or other initiatives on the decrease in residents' physical inactivity that occurred between 2011 and 2016?
Have public projects to increase access to physical activity through park facilities and trails had a measurable, equitable impact?
How is Adams County measuring the impact of completed and ongoing initiatives to create jobs and change the environment to support healthy behaviors?
What evidence is there that the initiatives are equitably improving the health and well-being of Adams County residents? For instance, what are the trends in employment and obesity prevalence among white and Black residents? Are any of the gaps narrowing?
How is Adams County sustaining or expanding the local and national initiatives, particularly given the community's serious economic challenges?