An ambitious collaborative effort is revitalizing a long-struggling city in ways that promote not only economic growth, but health and wellness.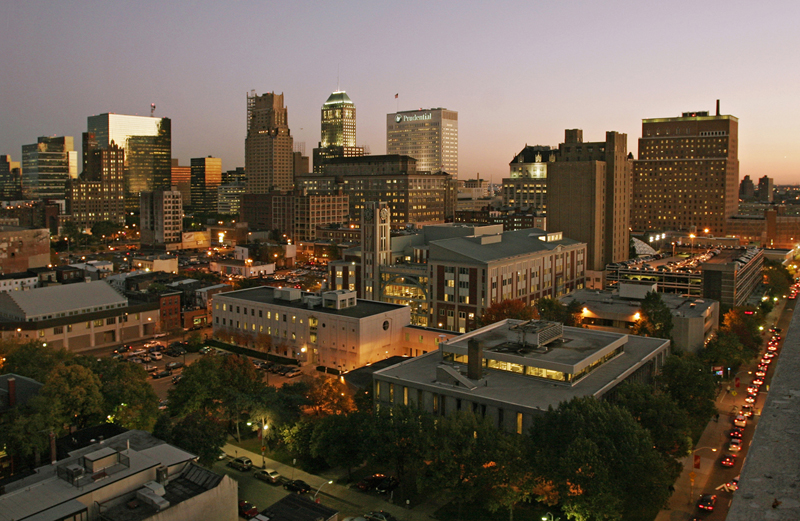 "Jobs in Newark, New Jersey are as rare as dinosaurs," says Barbara LaCue. She should know—the 51-year-old Newark resident was unemployed for more than five years after being laid off in 2008 from a steady factory job. She ended up living in a homeless shelter with her two sons.
Then, last October that dinosaur showed up. It took the form of a 67,000 square foot ShopRite, the first full service supermarket to serve the 25,000 people in the city's struggling University Heights neighborhood.
ShopRite took over a site that had been vacant since the infamous Newark Riots in 1967. It is in a neighborhood where the poverty rate ranges between 25 and 40 percent, and half the households do not have access to a car. ShopRite is the anchor tenant of Springfield Avenue Market, a planned $91 million dollar retail and housing development funded in part by The Reinvestment Fund, with support from the Robert Wood Johnson Foundation.
But to Barbara, what matters most are the 350 full and part-time jobs the store created, most of them filled by people from the community. She is a chef at the deli counter, and she sees the job as more than just a living—it is a creative outlet. Barbara makes a mac n' cheese to die for, and there are few people who can claim to love their job as much as she does hers. "This store is the best. I love this store."
Her colleague Donald Douglas, also a lifelong Newark resident, works in the produce section. No one in Newark wanted to hire people from the neighborhood before Shoprite came along, says Donald. "Now, this is my supermarket. We all greet people with a smile here, because we are part of the community."
"Every Community Deserves a Grocery Store"
That community spirit is evident throughout Newark. Shoprite is just one piece of a collaborative effort to revitalize this long-struggling city in ways that promote not only economic growth, but health and wellness. Businesses, government agencies, non-profits, investors, schools and community groups are all joining together to make Newark strong again. They are building parks in a city long short of green space. Mixed-income housing is going up in once-blighted neighborhoods. There's even the world's largest vertical indoor, aeroponic farm under construction in the city's historic Ironbound district, named for the long-gone ironworks that once drove Newark's economy.
The new economic drivers are a lot healthier than the polluting factories of old, as exemplified by Shoprite. The gleaming store is owned by Neil Greenstein, and it is just as up-to-date and well stocked as his other Shoprite in Bloomfield, a New Jersey suburb. Greenstein, a third generation New Jersey grocer, embraced the opportunity to build in Newark, because, he says, "every community deserves to have a grocery store."
Getting others to buy into his vision wasn't that easy, however. Greenstein says he initially approached traditional banks and lenders for financing, and he was turned down every time. No one believed a supermarket in the University Heights area could survive. He turned to The Reinvestment Fund's New Jersey Food Access Initiative (NJFAI), which provided $11 million in financing for the new store and the surrounding Springfield Avenue development. RWJF provided The Reinvestment Fund with a grant and a low-interest loan to support NJFAI, which gives low-interest and flexible loans for store operators throughout New Jersey who serve communities with limited supermarket access.
To make sure his store served the area's needs, Greenstein partnered with Uplift Solutions, another organization that bring supermarkets to underserved communities. He also spent two years meeting with community members before opening his doors, and he agreed to source produce from the Greater Newark Conservancy community garden across the street. The store also has an on-site dietician, café, and pharmacy, and in the works is a health clinic, an important amenity in this medically underserved area.
Shoprite and its financing partners exemplify the collaborations between community leaders, philanthropic organizations, and socially conscious investors that are the linchpin to revitalization projects throughout Newark—ensuring that support is both robust and broad. These partners are not just looking to create economic opportunity, but to incorporate a Culture of Health into the city's marrow.
From Superfund Site to Park
For proof, one need only walk over to the riverfront park emerging along the banks of Passaic River. The Passaic was once an economic engine for the city, but a century's worth of pollutants dumped into its waters led to its designation as a massive Superfund site in 1984. For decades the community was alienated from the river, and its banks served as a blighted, trash-strewn symbol of Newark's decline.
But where most saw pollution, the nonprofit Trust for Public Land (TPL) saw space for a vibrant park. Supported in part by a $750,000 grant from RWJF, TPL put together a combination of public and private funding to build the Newark Riverfront Park on 16 acres of remediated land, connecting the river and the working-class Ironbound neighborhood. And it made sure the community had a say in the design of the park, holding multiple public meetings and other forms of outreach to gain buy-in.
The park, with its colorful orange boardwalk and sculptures, now hosts parades, concerts, festivals, and Zumba and yoga classes. There are boat tours of the river and a kayak launch is planned. A health and wellness trail is under construction, and sports fields, playgrounds, and a running track are all connected to the park. Riverfront Park is driving development in the surrounding area, raising environmental awareness, and improving physical and psychological health for residents.
ShopRite, Riverfront Park, new housing, job creation initiatives—they are all part of a turnaround that is getting noticed in the world outside Newark, and even outside New Jersey. Last March, Politico Magazine caused a stir with a long feature, part of its What Works section, titled Is Newark the next Brooklyn? Perhaps Newark doesn't have Brooklyn's hipster reputation, but the city will soon have a Whole Foods, sharing space in downtown's long-vacant Hahne & Company department store with Rutgers University-Newark's Department of Arts, Culture and Media, along with a mix of market-rate and affordable apartments. That's pretty hip—and healthy.