Impact Investing to Improve Health, Wellbeing and Equity
The Robert Wood Johnson Foundation uses grantmaking, policy change, and impact investing to address barriers to health and wellbeing.
Impact investing expands the Foundation's toolkit and builds on its decades-long work changing systems and policies to improve health, especially for those facing the greatest obstacles.
RWJF is working to build a Culture of Health where everyone has the opportunity to live a healthier life, including those who face barriers because of who they are, where they live, how much money they have, or the discrimination they face. Poor health disproportionately burdens people who live in places that lack opportunity and investment, creating gaps in health outcomes that are costly and preventable.
To help address this, RWJF has established a $200 million pool for impact investments. Building on a legacy portfolio of about $100M, the Foundation seeks to attract more capital for health and racial equity from co-investment partners such as banks and insurance companies to deepen the impact of its grantmaking and policy change efforts. By channeling capital markets, we aim to bolster a durable system of community investment through intermediaries that are exclusively dedicated to delivering capital and financial services to persons with low incomes and communities of color.
Frequently Asked Questions

Why did RWJF make a renewed commitment to impact investing?

RWJF has a modest legacy portfolio of program-related investments, but the new capital commitment is the Foundation's first formal effort to incorporate impact investing into the way we work. For decades, we've worked to change systems and policies in order to make the healthy choice the easier choice—especially for those facing the greatest obstacles to good health. We are now doubling down on deploying impact investments as a way to shift capital markets and crowd in more capital for health and racial equity from a range of co-investment partners. We know that impact investing plus grantmaking can be a powerful combination.

What are the key elements of your impact investment portfolio?

Our investment portfolio will include loans, equity investments, and guarantees in organizations and intermediaries working in areas of programmatic importance or in the community development finance system. These investments will align with our grantmaking and maintain a steady focus on advancing health equity. We won't do project-level financing and instead will work through intermediaries, who are in the business of investing capital in communities.

How can impact investing foster systems change and why is this important?

RWJF has long believed that to truly move the needle on health and well-being, we must change the underlying systems and policies that affect the health of many people. Through impact investing, we can work with a range of investors to help "crowd in" capital for health and racial equity. We can do this by bearing risk or accepting terms that are not tolerable for other investors. However, we will make these decisions after weighing the financial and social impacts of a transaction, as preservation of capital is one objective of the Foundation.

What does success look like—in terms of both capital leveraged and new partners?

We expect that by 2025, the $200 million initial allocation will be leveraged threefold to fivefold, bringing $1 billion from other private and public-sector investors. We plan to invest alongside a range of commercial investors to crowd more capital into low-income communities and toward health equity. We also expect that we will evolve the way we work significantly as we get comfortable deploying investments alongside grants and better understand how we can use our resources to engage new partners. While the Foundation will treat these resources as investments and seek a return of and on our capital, we fully intend to take risk—including losing money—when the opportunity for social impact warrants it.

How much of the $200 million has already been invested?

As of January 2021, the Foundation has approved six investments (loans, guarantees and deposits) totaling $45 million.

These inaugural investments are outlined above.

We will share updates on our impact investment website landing page when more information is available about future investments. Generally, we have a 3-year timeframe for deployment.

Are there any areas where you do not invest?

Our impact investment portfolio will not include single real estate assets, medical research or devices, or direct investment into companies.
Our Strategies

Current strategies where the Foundation is actively making grants, loans, equity investments, and guarantees are the following:
Advancing Racial Equity
Investment opportunities and partnerships that bend the arc toward racial equity by expanding ownership, promoting quality jobs, and innovating wealth-building for people of color.
Program Directed Investments
Investments that are linked to the Robert Wood Johnson Foundation's specific programmatic priorities (e.g., access to stable, affordable housing).
Community Development Finance System
Investing and partnering with intermediaries that ensure the durability and expansiveness of capital deployment into low-income communities.
Check out ImpactAlpha's Muni Impact beat, featured with support from RWJF, for news and stories about how municipal bonds—a $4 trillion market in the U.S.—can be used to promote health and racial equity in communities.
From the Blog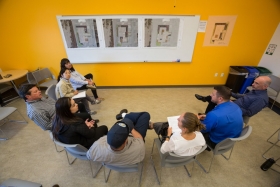 The Social Impact and Community Investment practice works closely with local organizations and residents to understand their needs and vision for a healthier future.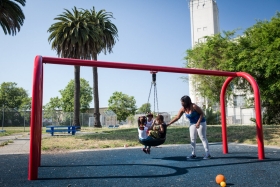 Hospitals have a long tradition of serving as anchor institutions for community investment—not only by providing healthcare, but by hiring local workers and contractors and building new clinical facilities within their communities.
Networked and entrepreneurial approaches to partnerships offer public health professionals with resources and allow them to reduce the negative externalities of the economy.
Contact Us
Impact Investments staff: