Impact of Menu Labeling on Consumer Behavior
More and more chain restaurants and cafeterias are labeling menus to provide consumers with calorie and other information about standard menu items. This trend is driven by the adoption of menu labeling regulations and other policies by states, localities, and institutions as they seek to prevent and reduce obesity. The Patient Protection and Affordable Care Act requires chain restaurants with 20 or more outlets to list calories and other nutrition information on menus and menu boards, and the Food and Drug Administration is working to finalize national menu labeling regulations in 2013.
Key findings from this review show that there is a high degree of public support for providing nutrition information at the point of purchase, and menu labeling in cafeterias and restaurants increases consumers' awareness of nutritional information.
Studies from Healthy Eating Research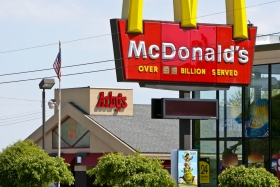 Diners at fast-food restaurants in New England significantly underestimate the number of calories in their meals. This study found that teens underestimated the most, believing that their orders had about one-third fewer calories than the meals actually contained.
Read the study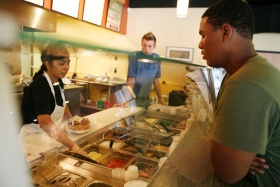 Adults and teens who used calorie information posted on menus or menu boards in Seattle-area (King County, WA) chain restaurants purchased up to 143 fewer calories than customers who did not see or use the calorie information.
Read the study
18 mo's after menu labeling began in Seattle, ppl who used info bought 143 fewer cals per meal